Maxime Luvara has come a long way from his mother's kitchen in Calabria. Once helping her make the gnocchi for Sunday lunch, he now oversees the culinary operations at Badrutt's Palace Hotel, where he and his team have been busy serving up elegant new dishes, such as scallops served with slow-cooked endives, orange juice, walnut and black truffles (his current favourite), which satisfies both guests and visitors alike – and now locals, too, thanks to the introduction of a home delivery service last year.
And since he arrived in August 2020, he's been busy forging links with local suppliers and raiding his little black book of producers from much further afield, drawing on contacts built up over years working for some of the world's most prestigious hotels and restaurants. But who is the real Maxime Luvara? And how did this indomitable southern Italian find his way into the Swiss mountains?
"Being away from Europe for more than 20 years, having my two sons studying in the UK, and missing being close to the family, my wife and I felt that it was time to come back to our good old continent," he says. "And the position made sense, having worked in many of the great hotels and restaurants around the world. And now I'm here, it's a great feeling being part of this legendary Swiss 'palace'.
"And we've missed this environment. After being in Dubai and Hong Kong, it's a shock to breathe this pure, fresh mountain air. We can't get enough of cycling around the lake, hiking with the kids, and, of course, skiing – it's by far the best snow I've ever skied on!"
You can also thank, in part, Alain Ducasse for Luvara's success. The legendary French chef, who has more Michelin stars than anybody (20 at the last count), took Luvara under his wing back in the day, eventually entrusting him to run his first outpost outside France, Le Spoon des Iles at the One & Only Le Saint Géran in Mauritius, in November 1999. "I was 29 years old, and representing Ducasse outside France weighed heavily on my shoulders, but it was so rewarding," he remembers. "Key things learned? Finesse, product combination and organisation."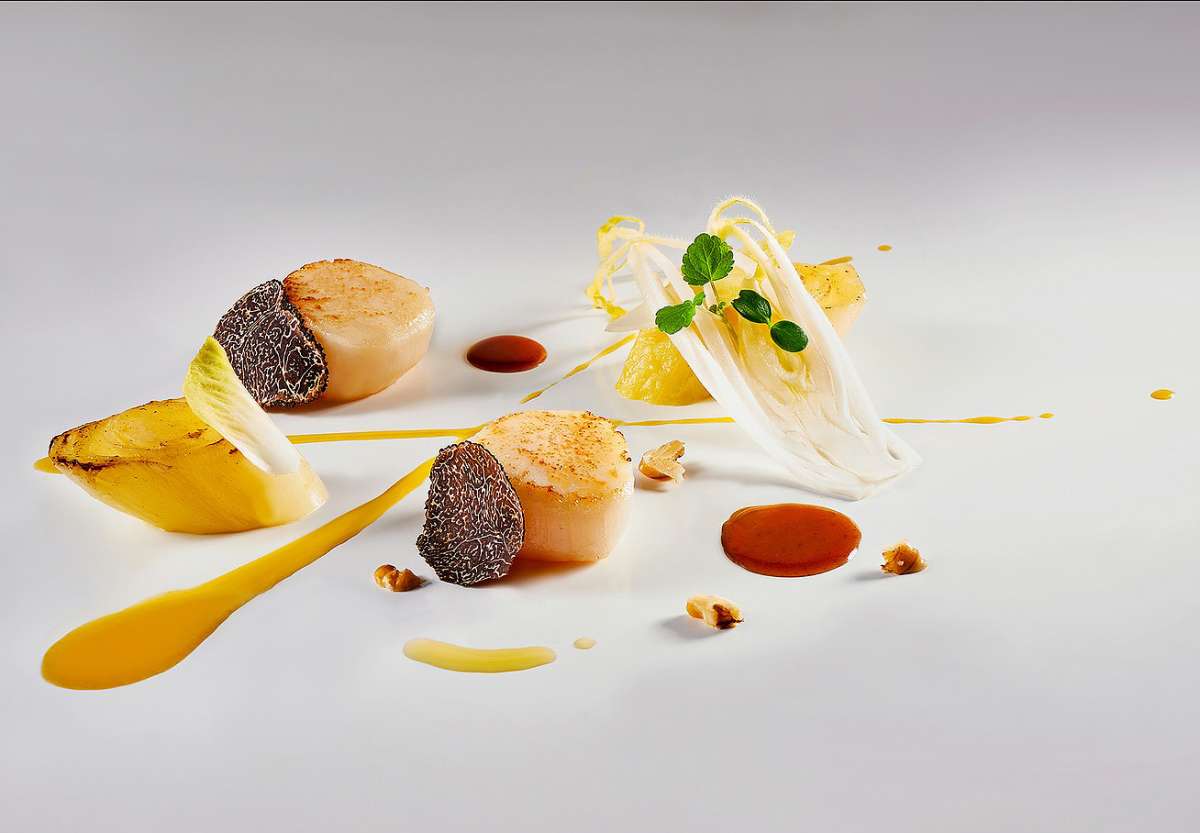 Go back even further, and another French culinary legend looms large in Luvara's life – Jacques Maximin. "After completing hotel school in Nice, I jumped at the chance to work for Jacques Maximin at a two Michelin-starred restaurant. I was 19 years old and it was the toughest experience of my entire career, but one of the most interesting in terms of knowledge and technique," he reveals.
So how have these two kitchen greats influenced his cooking today? "The knowledge that every single detail counts," he explains. "From the freshness of the main ingredient, to a seasonal and creative garnish, through to the simplicity of a jus – and how bringing this all together can create memorable dishes. Also, a good dish has to tickle our taste buds by using acidity, bitterness, sweetness and saltiness, otherwise it's just boring."
What ingredients does he enjoy using. "It's important for chefs to work with seasonal products, wherever they are," he says. "And supporting our loyal suppliers is also very important, not only because they bring us the seasonal products we need but because it also promotes the region."
Though Luvara believes that a chef's key mission is to get the very best out of seasonal products, it doesn't always have to be local. "In St. Moritz, we have access to suppliers that can bring us products from around the world, from fresh spices such as galangal and turmeric, to artisanal jams and butter from France," he reasons.
Luvara has worked in some exotic destinations, including the Burj Al Arab Jumeirah in Dubai and the Intercontinental Hong Kong (now the Regent Hong Kong), and those cuisines have influenced his palate. He says: "I've learned so much about many different products, spices, condiments, marinades and cooking methods. In Hong Kong, I had a two Michelin-starred Cantonese restaurant, which served the best suckling pig and Peking duck in town – dishes that might look easy to make, but when you see the complexity of the cooking method and the technique needed to achieve those results you realise that this kind of simplicity is not within everyone's reach."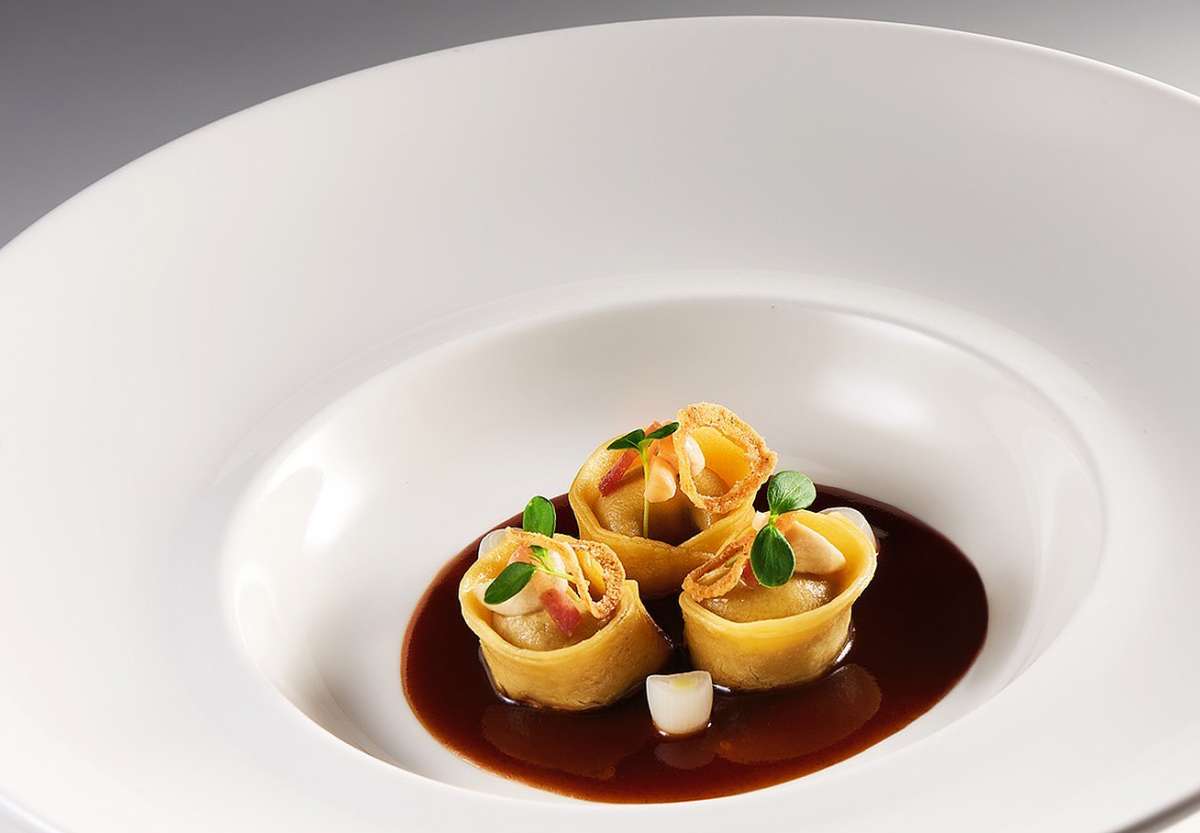 Luvara sums up his style of cooking today: "I like to show simplicity in my cuisine – creations that look easy to make but in reality require a lot of work in terms of technique and flavour combinations. I like to showcase one product in a variety of different ways, especially vegetables. For example, we have seabass with artichokes on the menu. The artichokes are cooked in a barigoule, a purée, shaved raw and dried in chips, and also used in the sauce."
So what's his vision for the menus at Badrutt's Palace in the coming months? "While there are certain traditional dishes that we could never take off the menus as they have contributed to the culinary success of the Palace, the menu needed a contemporary touch, so I have added 30 new dishes across the hotel's restaurants, from new fine-dining options for Le Restaurant, sandwiches and comfort food at Le Grand Hall, healthy salads and vegan options at La Diala. And I've worked on new creations for the spring and summer menus," he promises.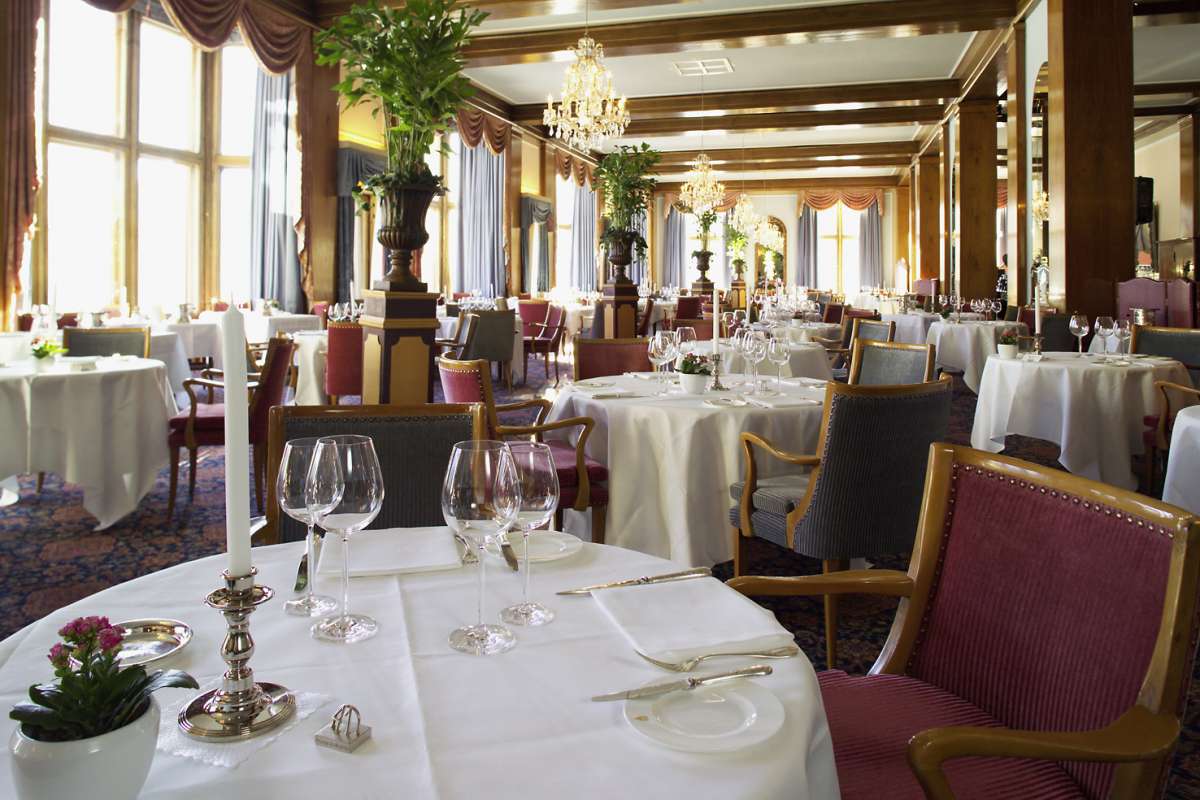 The new food delivery service is Luvara's response to the continuing pandemic. "Because we couldn't welcome outsiders during the pandemic, we decided to bring the Palace's culinary experience to people's homes," he explains. "The menu offers a wide selection of preparations present on our menus from Matsuhisa, Igniv, Le Restaurant, and Chesa Veglia. The smile on our customers' faces at being able to order Palace food in their homes says it all."
When he's not creating fireworks in the kitchen, Luvara likes to eat out with his family in a pizza restaurant. "We are big pizza lovers. The pizza at Caruso in St. Moritz is very good, perfectly cooked in the wood oven, with great dough and quality toppings. But I must say that our pizza in Chesa Veglia is by far the best in town," he winks, donning his whites, ready for the evening service.