How do you improve on an icon? How do you iterate on a classic? How do you take one of the most beloved mountain spots in the Engadin Valley and make it even more, well, beloved? It is simple really: you add a dash of Badrutt's Palace panache.
Paradiso Mountain Club & Restaurant is blessed with a unique and striking setting. It has a commanding position high above St. Moritz at 2,180 metres (7,152 feet), surrounded by mountain peaks. Paradiso's limited access – it is reached on foot, snowshoes or chairlift in winter, and on foot, by bike or in a Land Rover shuttle in summer – also adds to its allure.
When Badrutt's Palace assumed the management of Paradiso in late 2021, the hotel brought its impeccable service, exceptional fine-dining expertise and reputation for hosting the best parties in town to this exclusive venue, further elevating its distinguished reputation.
In winter, St. Moritz's chic crowd head to Paradiso to enjoy an exceptional mountain-side lunch or après-ski, with guests spending afternoons on the sun-drenched terrace, sipping champagne and cocktails, and partying. The upper Music Deck is the social hub with a spacious terrace, bar and DJ booth, where DJs, musicians and entertainers perform as everyone dances, drinks and eats. Forward to summer, and Paradiso takes on a more chilled ambience, attracting walkers, cyclists and outdoor enthusiasts popping in for a well-earned lunch, homemade ice-cream or coffee and cakes.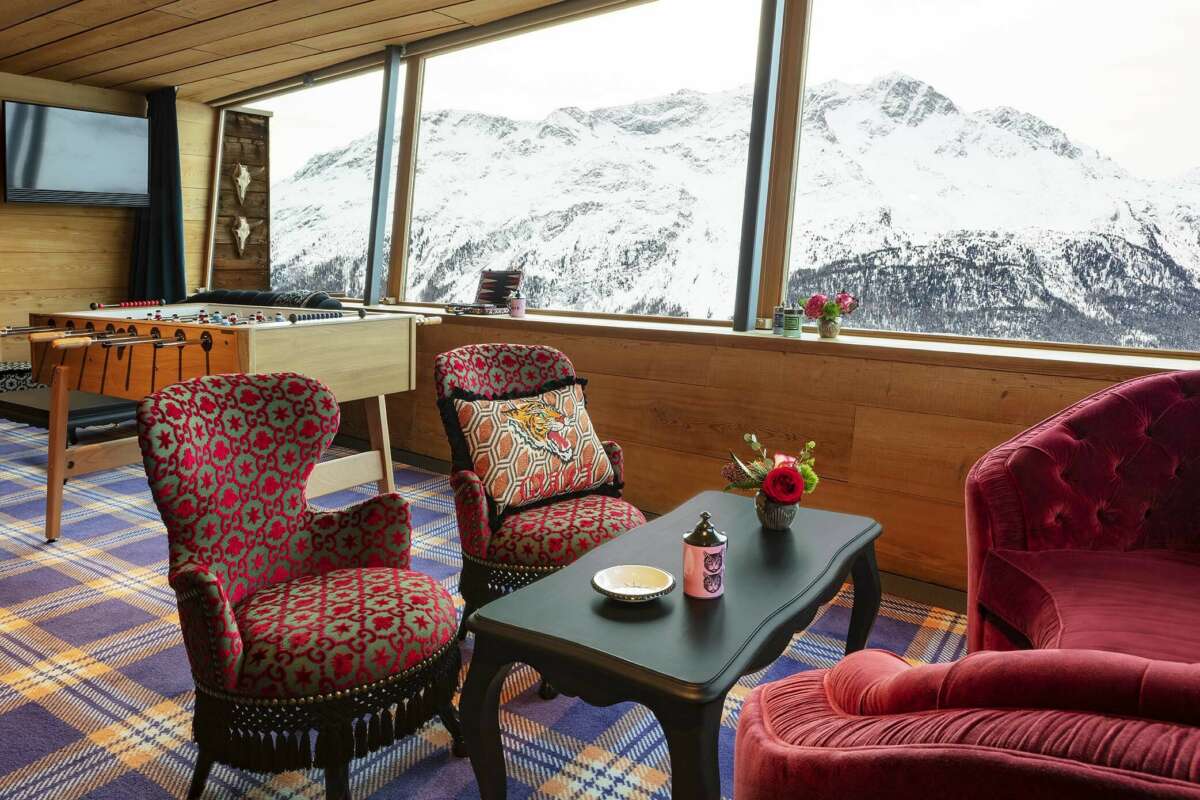 Whether visiting Paradiso in winter or summer, guests can relax in the sumptuous Gucci-designed lounge. The high-fashion vibe extends to the staff, too. In the colder months, they wear chic ski suits created by French luxury brand Fusalp, complemented with boots exclusively made for Paradiso by the high-end Italian shoemaker Santoni; when the weather warms up, the Paradiso team don stylish polo shirts by Fusalp.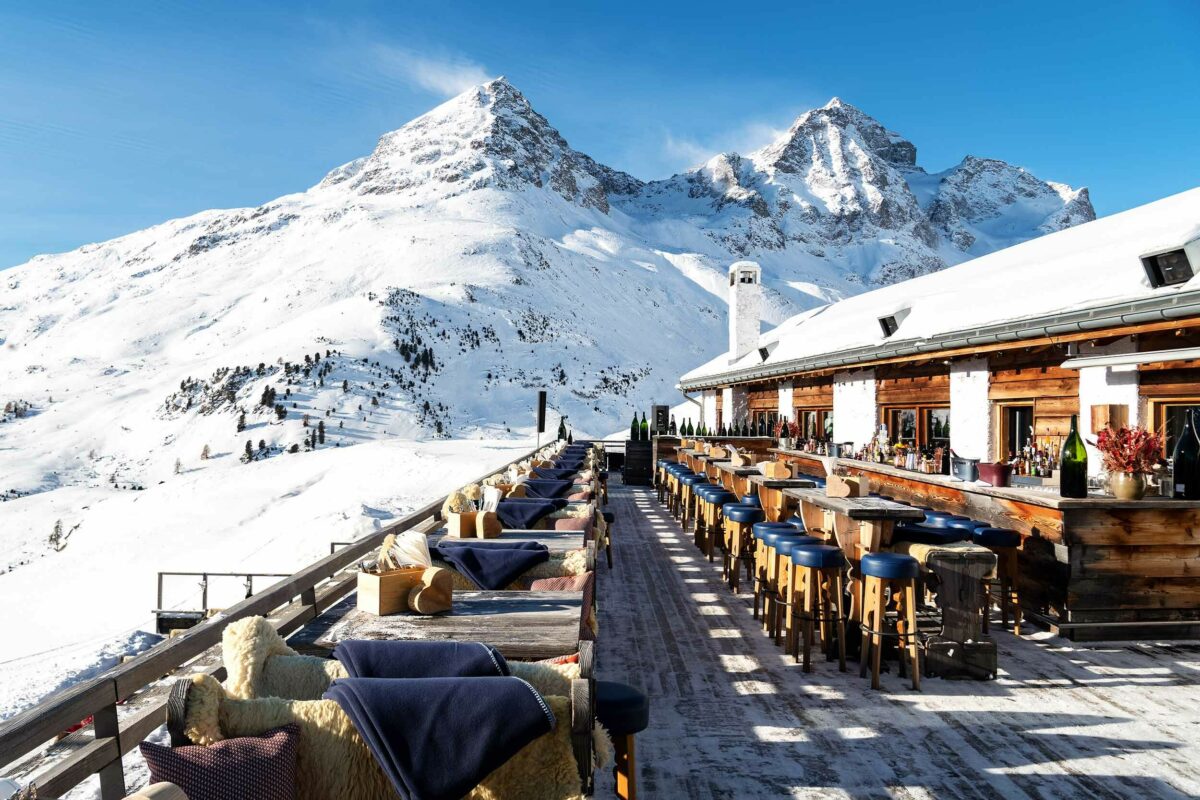 Lunch on the terrace
On a recent visit to experience the refreshed Paradiso, I am eager to try the High Altitude Brasserie, where I have planned to meet friends for lunch on the sunny terrace.
On arrival, the influence of Badrutt's Palace is palpable – and I soon notice there are even a few of its greatest hits. Palace Club Sandwiches (more of which later) and Palace Burgers share the menu card with fresh turns on classics, such as Champagne Risotto or a Grande Chouquette Profiterole for two (we think three people will be happy, too).
Each menu item is designed to ring familiar and yet inspire a curiosity. This playfulness stems from the close collaboration between the Palace's kitchen and management team, who also jointly came up with the idea to incorporate pétanque bowling into the upper deck during summer.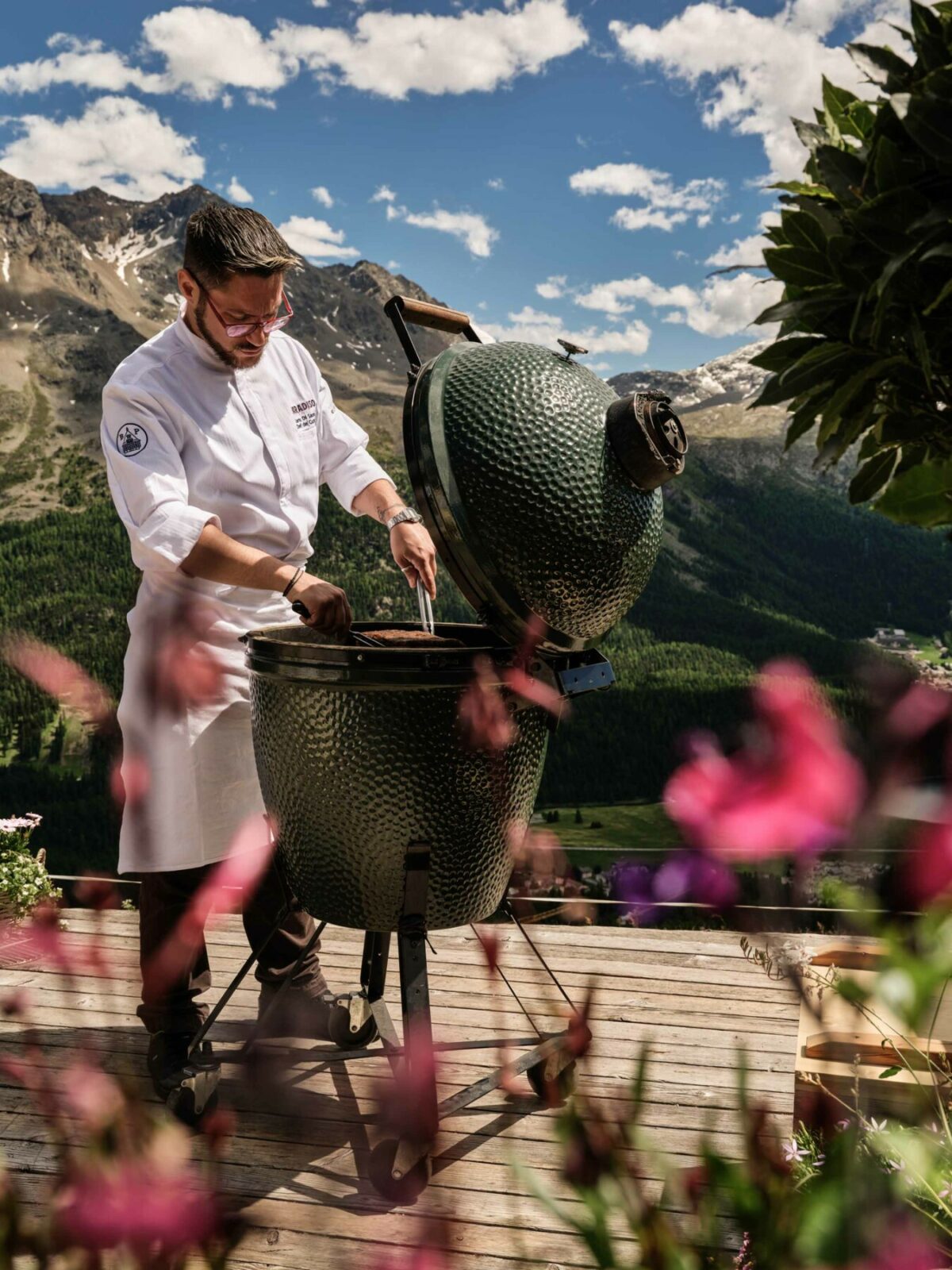 Taking culinary inspiration from the Mediterranean in summer, with more robust regional French, Swiss and Italian dishes in winter, Chef Loris Di Santo has created a menu bursting with flavours, using fresh, high-quality, locally sourced, seasonal and sustainable ingredients.
Di Santo, who returned to Badrutt's Palace in winter 2022/23 to take up the position of Executive Sous Chef, began his career more than two decades ago under the watchful eyes of some of the best Michelin-starred chefs in the world. "Chef Pino Lavarra and Chef Andrea Aprea both gave me the knowledge and the experience that I would need for my career in haute cuisine," he explains. "Each chef was respectively awarded two Michelin stars, and for a young cook you cannot imagine the exceptional training that this provides, and the inspiration that makes you desire a career in the kitchen."
The experience he gained propelled Di Santo to seek his first role within the Palace family, starting with sushi chef Nobu Matsuhisa, whose cuisine was his first love in the mountains. "Nobu inspired me, and it was his restaurant environment that encouraged me to travel the world working for him for 11 years," he explains. "I became head chef of his signature restaurants in Munich, Athens and Mykonos before returning to St. Moritz.
"I had the chance to work in diverse and challenging environments, often in cultures that were very different from my own. When I returned to St. Moritz I had accumulated experience far more valuable than most could hope to earn in the same time elsewhere."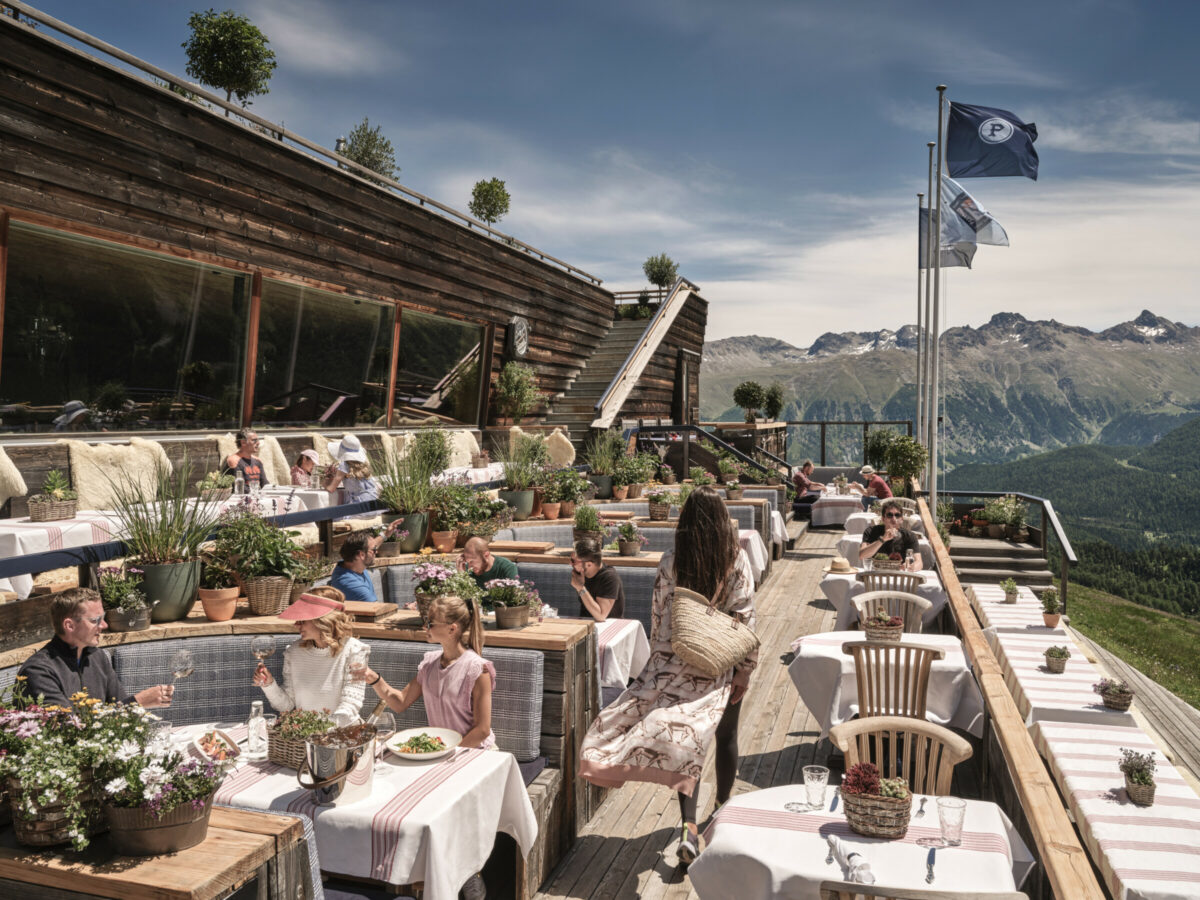 High-altitude challenges
While running a restaurant at sea level provides its own logistical challenges, to work isolated on a mountain top is a completely different experience. He explains: "Every tomato, every bottle of wine, every tin of caviar needs to be completely studied and cared for in a special way because of the location. If we don't have something we can't just run into town – we are isolated for the entire working day, to say nothing of situations arising from fast changing weather or quickly developing snowstorms.
"This adds a level of preparation and care that most restaurants and chefs will never have to consider, and it makes us very thoughtful in our approach. It also means we all need to be completely committed to the vision and the lifestyle that comes with working at altitude. It is not always easy, but it is extremely rewarding."
This commitment does have a few safety nets. "Several times in a season we will have a group of guests who are interested in something that we could not have anticipated at Paradiso," Di Santo says. "So, at times, it is necessary to call in a helicopter to quickly get something from the Palace up to us. Last season, a customer wanted a very special caviar and a specific selection of champagne. It was very quickly organised, arriving shortly after it was ordered via helicopter. I can't think of many other restaurants in the world that could organise something like this. It turned out to be a special party, and a really memorable day for everyone."
Rest assured, however, that there is no shortage of choice on top of the world. Head Chef and the Sommelier have worked together to bring an impressive 500-bottle selection to the cellar, with a strong emphasis on the best wines available from the region and beyond. And thanks to Paradiso's special location, guests can enjoy the venue's own bottled water, sourced from high natural springs nearby and naturally purified and enriched with minerals to give it its own pure, fresh flavour.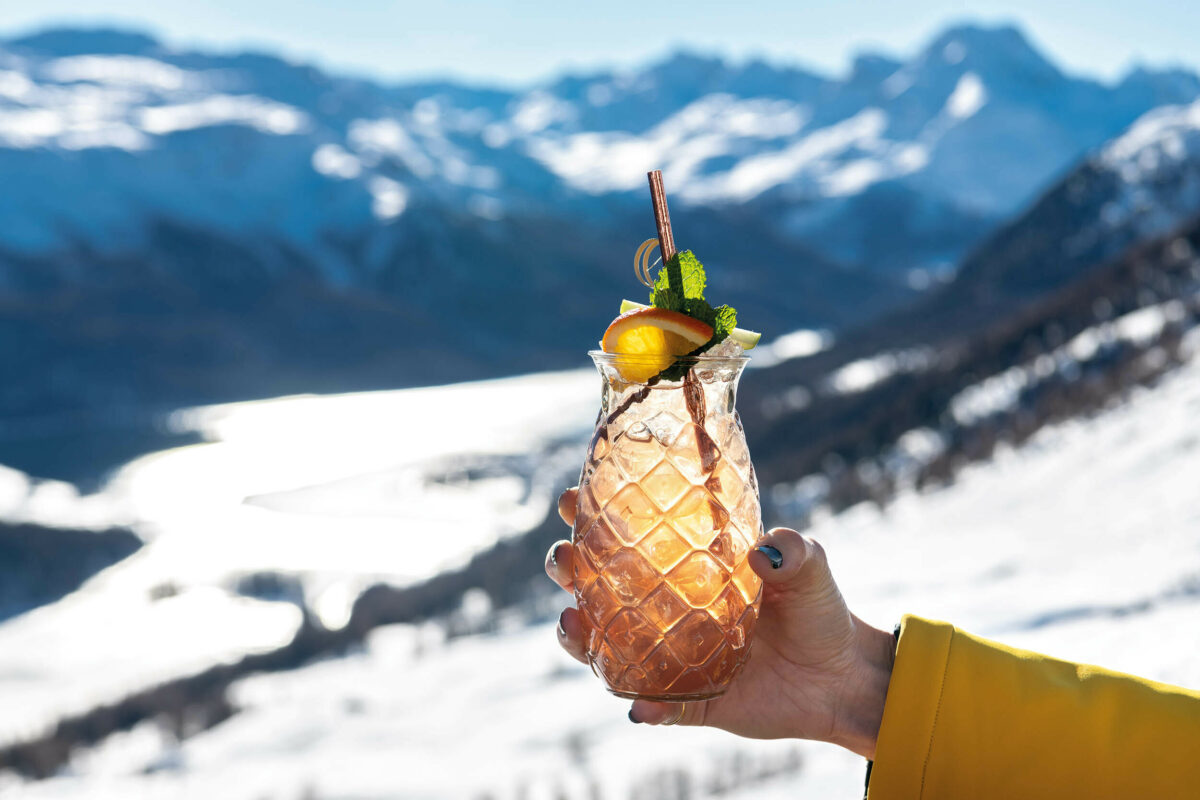 The best of the best
As regular hotel guests know, there are several items on the menu at the Palace that are iconic, including the Palace Club Sandwich. Naturally this has been replicated with extreme precision at Paradiso. Just like everything else on the menu it requires diligent preparation to achieve perfection, as Di Santo confirms: "Ask anyone and they will tell you that you have to use the best ingredients of the highest quality and freshness. What sets our Club Sandwich apart from the rest is our commitment to timing and layering.
"The bread must be perfectly toasted and its construction must begin while it is still warm, but not hot. The homemade mayonnaise must not melt when it touches the bread. The turkey must be perfectly juicy and at room temperature. Without each of the ingredients hitting that exact window of freshness and temperature, the sandwich loses its integrity and becomes a bit of a mess. We have perfected the playful arrangement of creating layers to give maximum perfection when you take that very first bite. This technique sets our sandwich apart from the rest."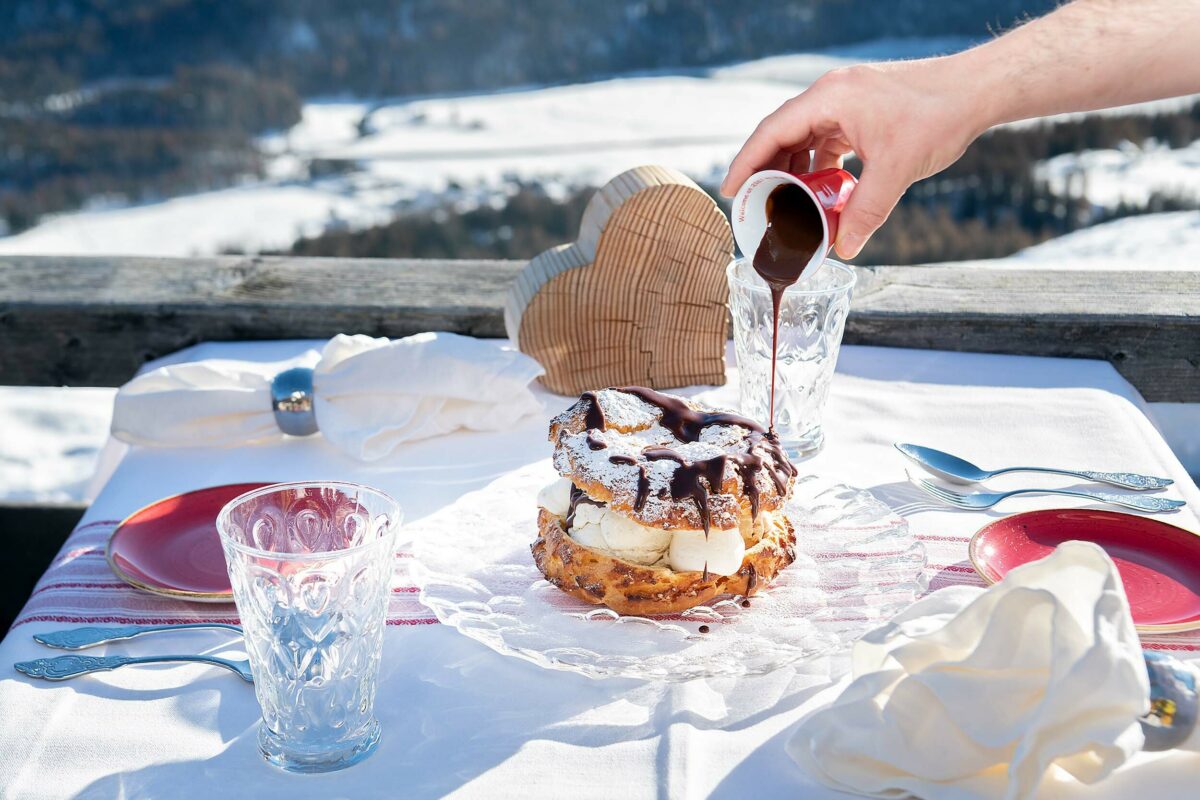 It is this meticulous approach to everything the Paradiso team do, whether preparing sublime food to fuel active days in the Alps or creating show-stopping cocktails for whiling away the afternoon, that makes time spent at Paradiso so special. It is also why more generations of visitors to St. Moritz will continue to come to experience life at the top of the mountain.

The Paradiso Mountain Club & Restaurant menu is subject to change and not all dishes mentioned in this article will be available.