"The Space Between is intentionally ambiguous," says the 40-year-old multidisciplinary British artist Thomas J Price as he explains the title of his current solo exhibition at the Hauser & Wirth gallery in St. Moritz, Switzerland. He elaborates that the title of his show "speaks to the idea of a space between objects, people and understanding". But it goes beyond the immediate and alludes to the ability to make room for an alternative perspective, or "a volume of potential for new understandings", as Price puts it.
Take Sonic Work (Collective Palette #01) for example, one of his many sculptures currently in residence at the Hauser & Wirth gallery. The piece captures the invisible space between the outside world and our innermost thoughts by casting the inside of an ear. Price presents it in an abstract bronze figure, calling into question how we translate what we experience into what we think about the world.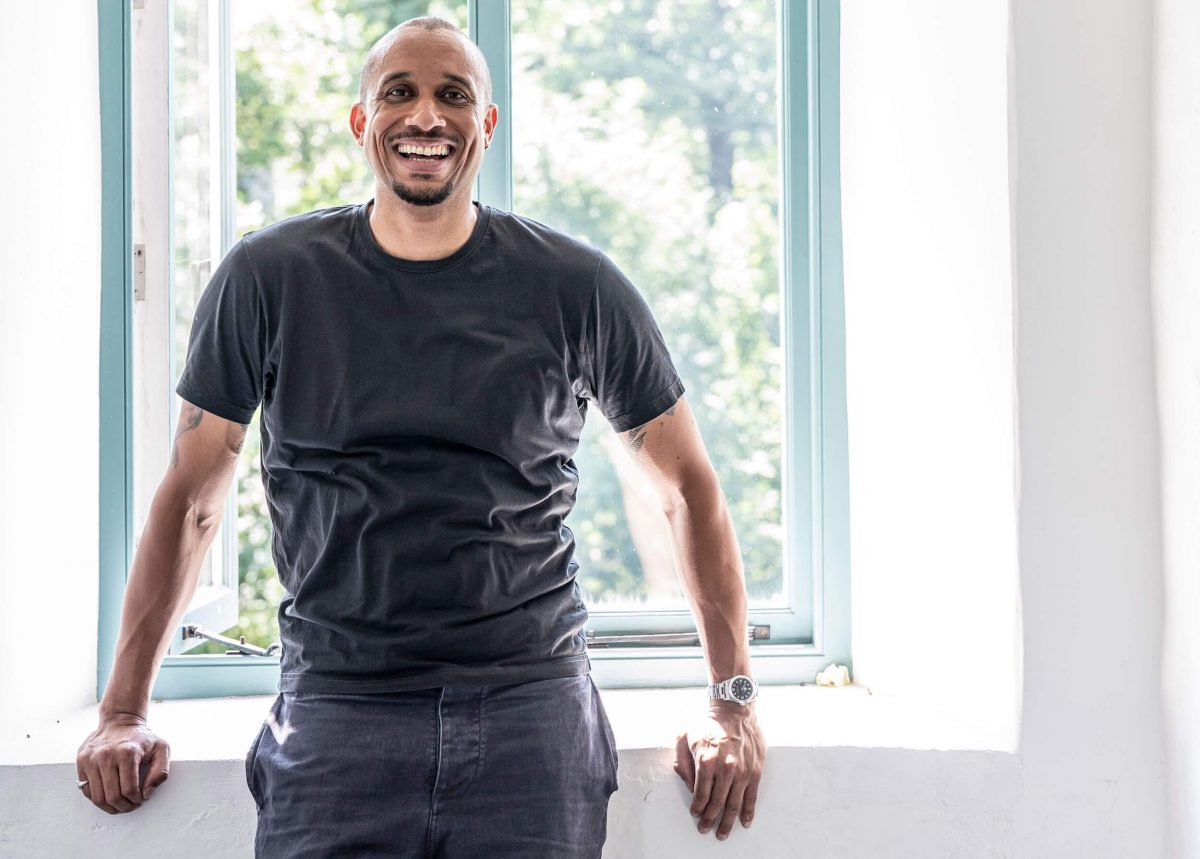 Influences and inspiration
Born in London to a British mother and a Jamaican father, Price was brought up in a creative home. His mother studied textiles at the Royal College of Art (RCA) before he himself attended Chelsea College of Art and the RCA. He says he had wanted to be a physiotherapist, only embracing an artistic vocation in his late teens. "It wasn't until my first day of my art foundation course that I realised that I absolutely wanted to be an artist," he reflects. "I loved the freedom and the way it allowed me to filter my life through the process."
Price began to attract attention in 2001 with a performance piece called Licked. It involved him repeatedly licking a gallery space wall, in the hope of creating an invisible piece of art, but his tongue bled leaving red smears across the walls. In the 20 years since, he has manipulated materials, scale and traditional methods of creating art to challenge the assumptions and expectations we have when viewing art. His work has been exhibited internationally at prestigious venues such as The National Portrait Gallery and Royal Academy of Arts in London, UK, and The Power Plant in Toronto, Canada.
The Space Between unites pieces from across Price's career, including two video works with a selection of small and large-scale sculptures. The two floors of the Hauser & Wirth gallery in St. Moritz are dotted with faces and figures that appear to be immortalising someone significant but are actually composites of numerous sources, from stereotypes in the media and observed individuals, to links to ancient, classical and neoclassical sculptures.
"I wanted to challenge the value system of portraiture and monuments to individual excellence" says Price of creating anonymous sculptures. "My fictional amalgams are an attempt to critique a power structure that indoctrinates us into conformity with the implied promise of social reward (praise and fame). By removing the emphasis from an actual individual and the narrative around that, which is often fabricated, I want to make people aware of the psychological truths we share and the way that monuments are used to maintain hierarchies of status."
Representation and identity
Precious materials, such as marble, gold leaf and bronze contrast with the casual expressions and informal postures of Price's subjects. Rather than immortalising someone they immortalise anyone; a man adjusts his hoodie in Cover Up (The Reveal), a woman sends a text message in Reaching Out, a male bust lifts his chin to acknowledge an acquaintance in Mental Structure #19 (Just Beyond This). The sculptures reframe the experience of a Black person, unpicking the archetypes often present in the Western media by both normalising it and elevating it – the Numen (Shifting Votive) series uses the everyday material of aluminium (used in soft drink cans, cars and planes) to create forms reminiscent of ancient Greek, Roman and Egyptian traditions.
Price finds it "interesting" that people often assume that he makes work to try and alter how white people think. "My first depictions of Black people were inspired by familiarity and a fascination with how people connect to one another emotionally," he says. "Their perceived race wasn't a particular consideration of mine until it was pointed out by a white audience. I then continued to sculpt Black people as an attempt to normalise it, but mainly it was to allow people to recognise themselves in the work, either superficially or in terms of an 'everyday' attitude."
Many of Price's large-scale sculptures have found their homes outdoors: looking out across a Californian vineyard, in the British countryside, or on the banks of Lake Ontario in Canada. So, during his first visit to St. Moritz earlier this year to open his show, Price imagined seeing his works in this dramatic setting of the frozen lake with mountains surrounding it while he enjoyed lunch on the terrace at Badrutt's Palace Hotel's veranda.
"As soon as I saw the incredible and dramatic landscape, I had ambitions to site some of my larger sculptures in it and show them to their best advantage," he smiles. "I have a 12-foot-tall bronze figurative work titled All In that I think would be very effective, as well as a 'monumental' sized version of Sonic Work (Collective Palette #01) that would be perfect against this magnificent backdrop." In the meantime, visitors to St. Moritz can admire the work – both large and small – of this exciting British artist inside the Hauser & Wirth gallery.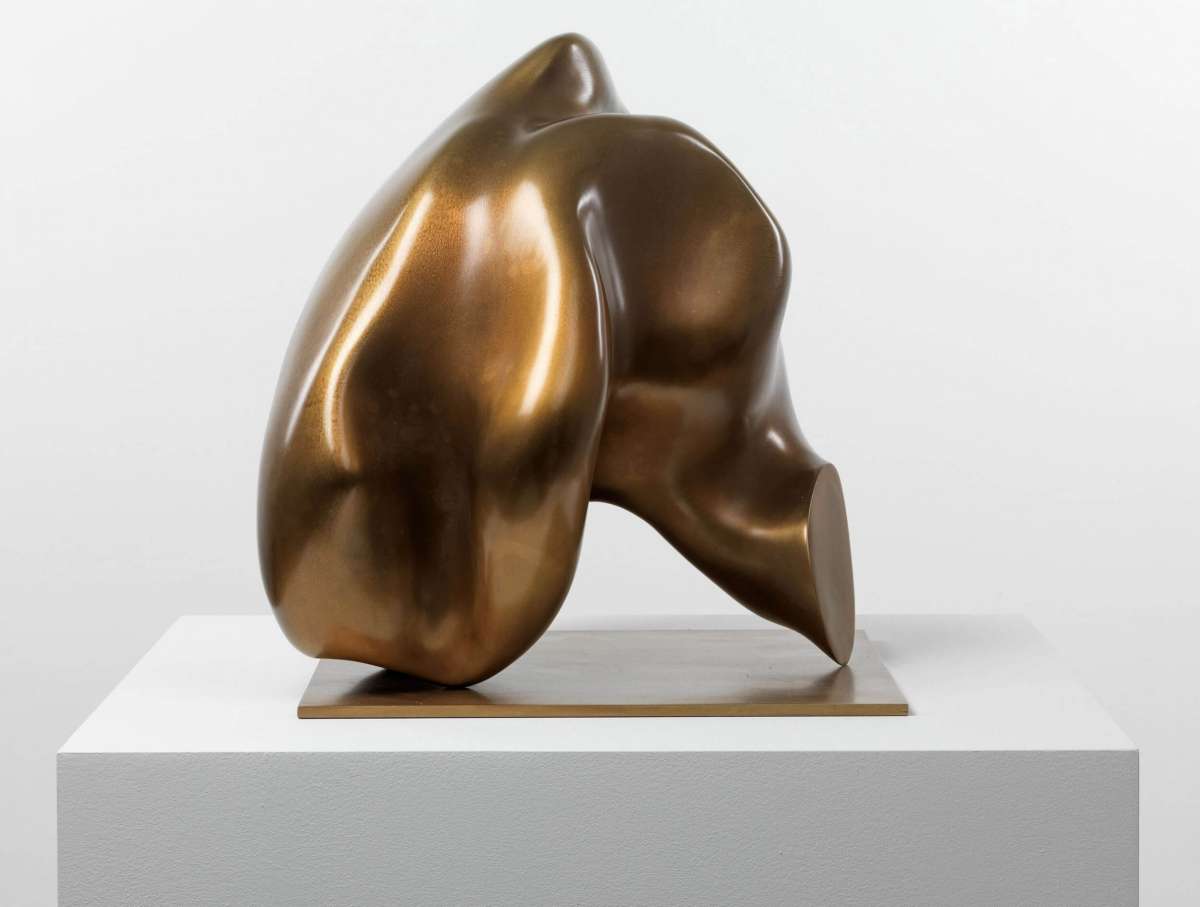 Thomas J Price: The Space Between is at Hauser & Wirth St. Moritz until 18 April 2022. Visit the gallery website here for more information.