Photographers are different from us. Driven by endless curiosity and blessed with razor-sharp eyes, their power is to transform split-second moments into images that encapsulate a day or a decade, a mood or momentous change.
We're all familiar with the sailor and nurse kissing in Times Square on VJ Day and Buzz Aldrin walking on the moon. These are images that once seen are never forgotten. Indeed, Badrutt's Palace Hotel has its own standout moments captured on film, from legendary New Year's Eve parties and an elephant standing at the hotel entrance to ice-skating waiters skimming across a frozen lake.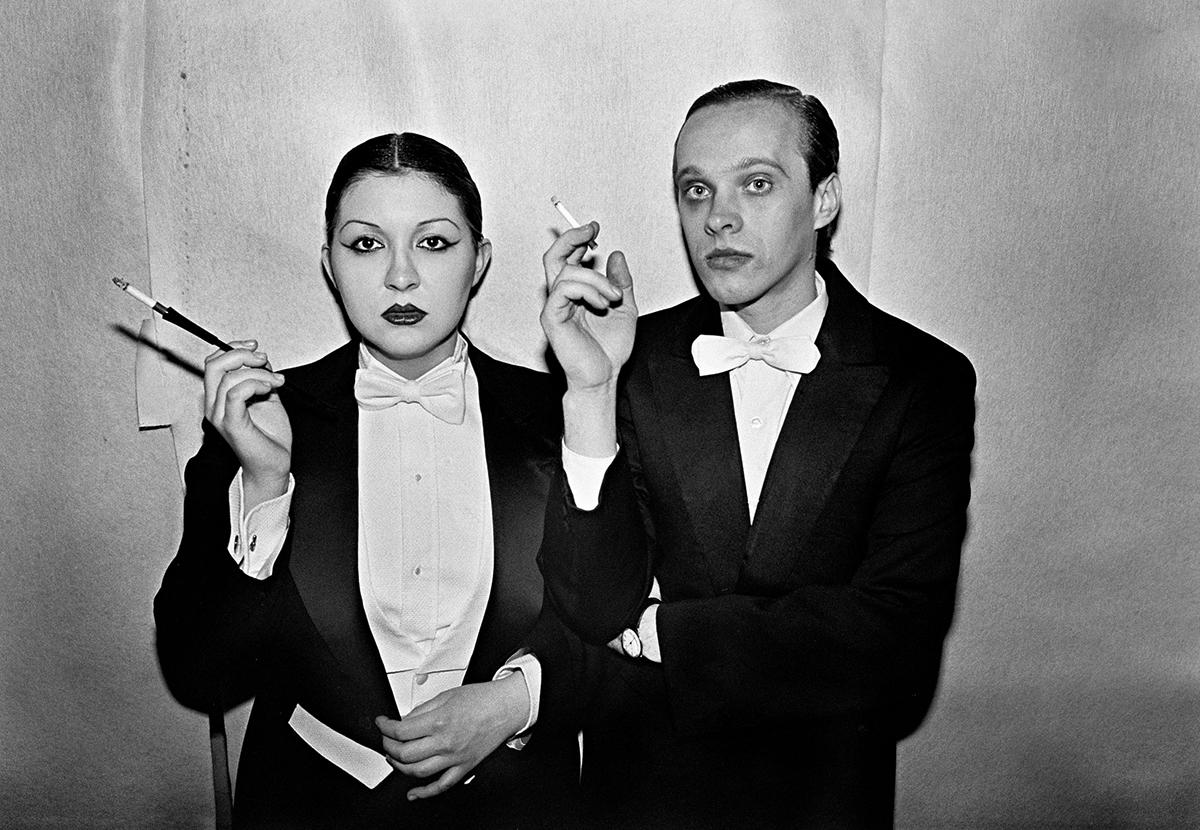 The 1970s dance scene
Bill Bernstein knows more than most about evoking the spirit of an age. His name is synonymous with the nightclubs of 1970s New York, thanks to his images of key players in a years-long party. Curated for his 2015 book Disco: The Bill Bernstein Photographs, they have acquired a legendary status.
As a child in the 1950s, Bill agitated the chemicals as his amateur photographer father developed pictures in their basement. Later, he studied graphic design and by the 1970s had discovered that photography could be a career as well as a passion.
An early Village Voice assignment led him to New York's party scene where a new culture was emerging, embracing freedom of expression, pre-Aids sexual liberation and marginalised groups – women, the LGBT community – joyfully finding a voice.
"There were rich photographic pickings for a young man with a keen eye, and Bill instinctively felt the potential of the evening"
He had begun the evening photographing attendees of an award ceremony in Studio 54 held for Lillian Carter, the mother of Jimmy Carter. But once the black-tie guests started to leave, the regular crowd began to arrive. There were rich photographic pickings for a young man with a keen eye, and Bill instinctively felt the potential of the evening. He stocked up on film from a fellow photographer and settled down to capture the crowd, who danced to an irresistible disco beat in a celebration of individualism.
Bill was the right man at the right place at the right time, but he now says: "It was not until many years later that I realised what I had in this unique mix of subcultures."
Golden age of disco
Bill stepped into the 1970s disco party with a street photographer's savvy. "It's a very intuitive thing," he says. "You have a sense something might happen and are curious to see it. An odd assortment of people, someone dressed in a particular way or with an interesting attitude – something would capture my imagination.
"I was trying to catch the mood of the time but in the days of film, I wouldn't know whether I had it or not until the image was developed. Or I might sense I had captured something, but not know what it was until I saw the picture."
Bill subsequently worked for years as Paul McCartney's personal photographer and has created memorable portraits of rock star Keith Richards, entrepreneur Richard Branson and American composer and pianist Philip Glass. But in 1970s New York the non-VIPs – cool, confident, stylish – were the stars. "The celebrity scene didn't really mean that much to me," he says. "The people and their attitude were more interesting. In their own minds, they were celebrities."
"The anarchy, the gender fluidity… that was what I was looking for"
Take the charismatic couple staring boldly from the cover of Disco: The Bill Bernstein Photographs − androgynous in immaculate evening dress, they could have stepped straight out of a 1930s Berlin nightclub. "I love the picture," says Bill. "That image was my muse for that time. The sense of the underground, the anarchy, the gender fluidity… it was what I was feeling and looking for."
His iconic nightclub images continue to inspire. A recent New York exhibition of his pictures led him to photograph interesting visitors, many young and gender fluid like his original subjects. He says: "New York has always been a place of inclusion, where people are free to express themselves. It's pretty special in that regard."
Society photography
Dafydd Jones' four-decade career has regularly cast him in the role of photographic eavesdropper in worlds often closed to outsiders. Images of privileged 'bright young things' in Oxford in the early 1980s led to a role at Tatler; later, he relocated to New York to join Vanity Fair, where assignments included the magazine's glamorous post-Oscar gatherings. While there he caught Liam Neeson and Ralph Fiennes conferring behind the back of an oblivious Alex Kingston, and captured Tony Curtis monopolising Madonna while bopth of them sideline Mick Jagger.
"I think parties are fantastic to photograph," Dafydd says now. "It's the interaction of people and what they do. On the face of it, the event might not be very interesting but you never know what is going to happen – and that makes it more fun."
"I think parties are fantastic to photograph… You never know what is going to happen – and that makes it more fun"
As a seasoned observer of social gatherings, he adopts a subtle approach. "Some photographers are very demanding," he says. "I'm a low-key sort of person, not very bossy or noisy. I walk around in circles, people get used to me, they relax, and I'll usually talk to them when I'm photographing them."
The rich material of celebrity parties inspired Dafydd to create an elaborate panorama of an event by combining a series of images into one. These intricate still lifes, hinting at his fine art background, obsessed Dafydd, who enlisted various publications – The Sunday Telegraph ran them weekly for five years – to support the time and labour-intensive production process.
Capturing the moment
Most recently, his work has included limited-edition Exhibition in a Box sets of silver gelatin prints and his 2019 book Screen Time (Circa Press), documenting people's fascination with their smartphones, even at the heart of the glitziest party.
"The light emitted by the phone can be very flattering. There is something beautiful about someone transfixed"
As Dafydd writes in the introduction: "In 2008, I was sent to Miami to cover a party hosted by Vogue Italia. Although it was one of the week's most glamorous parties, I noticed a single man apparently oblivious to the fabulous group of women he was with, so engrossed was he in his phone. Then gradually I began to see the same thing happening more and more.
"The light emitted by the phone can be very flattering," he says. "There is something quite beautiful about someone transfixed in that way, almost in another world, isolated in a crowded scene."
A snapshot in time
Capturing timeless images of life's golden moments is Holly Clark's mission, taking her to weddings, parties and red carpet events worldwide. She has captured glamorous weddings in locations including Lake Como and the Cap Ferat villa built by Béatrice de Rothschild, and special occasions, like an unforgettable 70th birthday trip to Kenya and Irish singer/songwriter Ronan Keating and his family celebrating his 40th birthday. She's also immortalised some famous faces: 'king of portraits' David Bailey; actors Olivia Coleman and Judi Dench; and Victoria Beckham and Facebook EMEA Vice President Nicola Mendelsohn, for International Women's Day. It is images like these that led to her being named Top Society Photographer by Harrods in 2018.
In the fast-moving environment of a wedding or party, achieving natural, spontaneous images requires intense pre-planning. "Being in the right place at the right time, as well as ensuring the best composition, is everything," she says.
"This takes a lot of preparation: discussions with the planners, venue recces, in-depth briefings with my team, knowledge of the lighting and being constantly alert. I always ask for the dress code. If it's a white party and I'm wearing black, I'm definitely not going to be the discreet photographer I want to be.
"You can never be too prepared… for the unexpected too. You have to blend in, always on the move, engaging with guests, making them feel comfortable around you. I pre-empt moments by gauging situations – constantly scanning the party and 'hovering' for that brilliant shot.
"My favourite moments are those beyond the press walls – they give us a glimpse into the atmosphere behind the scenes"
"For red carpet events, my favourite moments are those beyond the press walls, the moments around the dinner table of Kate Winslet laughing, perhaps Olivia Coleman clutching Judi Dench's hands or Emma Stone caught up in a moment of excitement with her friends. These, to me, are more interesting than the usual red carpet shots. They give us a glimpse into personalities and the atmosphere behind the scenes. Candid, real moments are the best."
A favourite image encapsulates what she seeks to achieve in images destined to become family heirlooms. "The dance duo LMFAO was the guest DJ and as Champagne Showers played, I captured the groom, best man and LMFAO with their arms round each other having the time of their lives, being sprayed in bubbles from a dancer hanging from the ceiling. They are soaked in champagne from head to toe and couldn't look happier."