With so many breathtaking features on its doorstep, it can be difficult to know where to point your camera in St. Moritz. The scale of the high mountains with their jagged peaks and glaciers leaves one awestruck, while the lakes and forests, which offer tranquil refuges both for us and for their wildlife inhabitants, capture our imaginations.
These amazing scenes offer many photographic opportunities, which is why it is so difficult to put your camera or phone down. To help those looking to exercise their creativity while on holiday in St. Moritz, professional photographers Andrea Furger and Fabian Gattlen, who work extensively in the Engadin, kindly agreed to share their tips and recommendations for taking the perfect picture.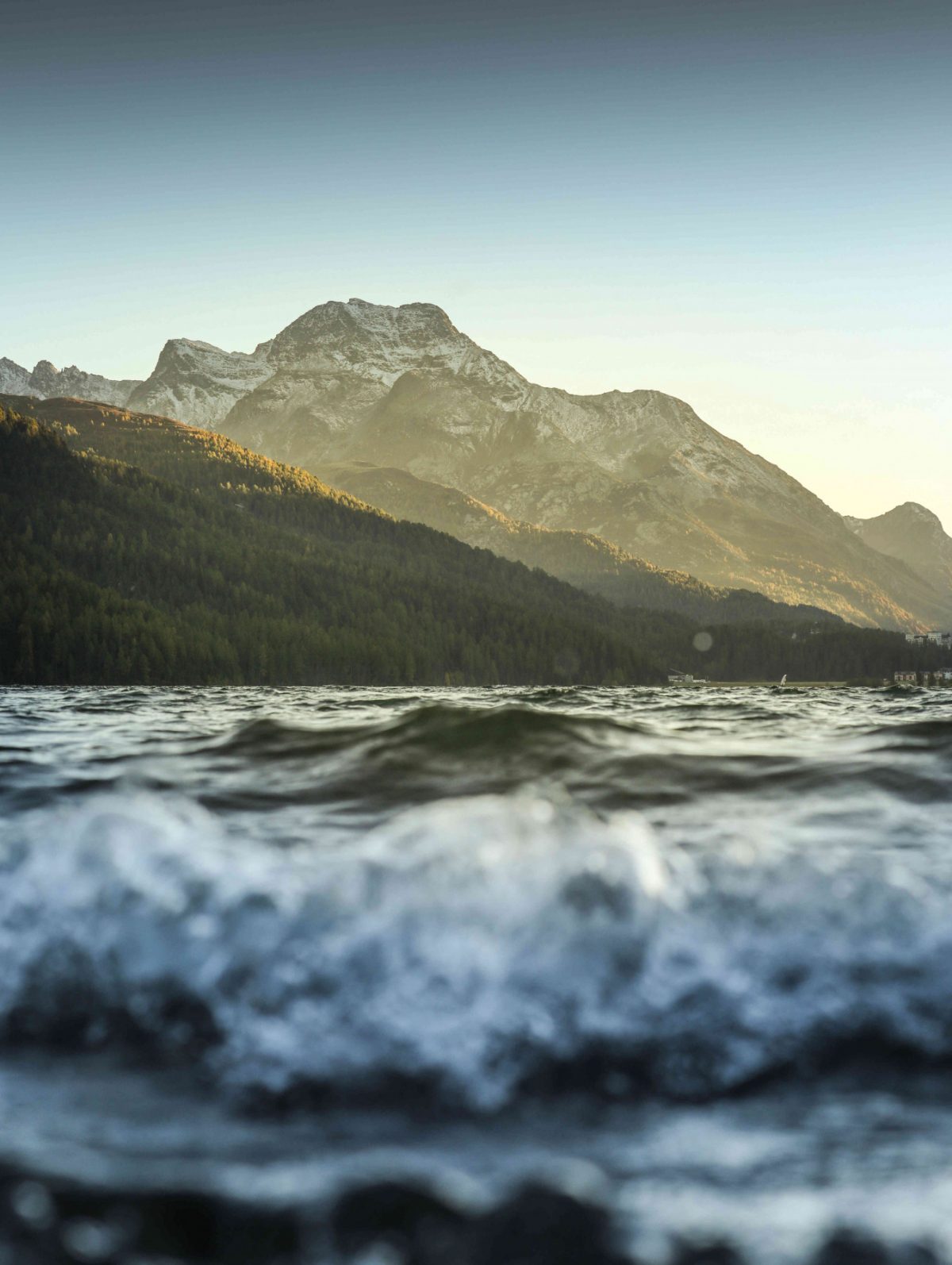 Gleaning inspiration
"The lakes and scenery in the Engadin are special across all seasons," says Furger, "with each passing month providing unique opportunities." Fellow Swiss photographer Gattlen agrees: "The mountains and lakes around St. Moritz deliver some of the best playgrounds for landscape and action sports that I have ever seen." He adds that every season has its own magic: "Winter offers skiing, white peaks, glittery ice-cold mornings and frozen lakes. Summer provides long days with deep blue lakes and people out and about windsurfing, biking, playing golf and sailing. And autumn delivers some of the most amazing golden colours of trees."
Skiing dominates in the winter months. Then, as temperatures rise, the landscape becomes a platform for windsurfers, sailors, hikers and golfers. The bold colours of windsurfers on Lake Silvaplana against the natural colours of the background can make for a very impactful image, adds Furger.
When faced with all these choices, a good starting point is to skim through some existing photographs taken in the area. Visit the websites of photographers such as Furger and Gattlen (see details at the end of the article) to generate inspiration, or simply search online for images that catch your eye.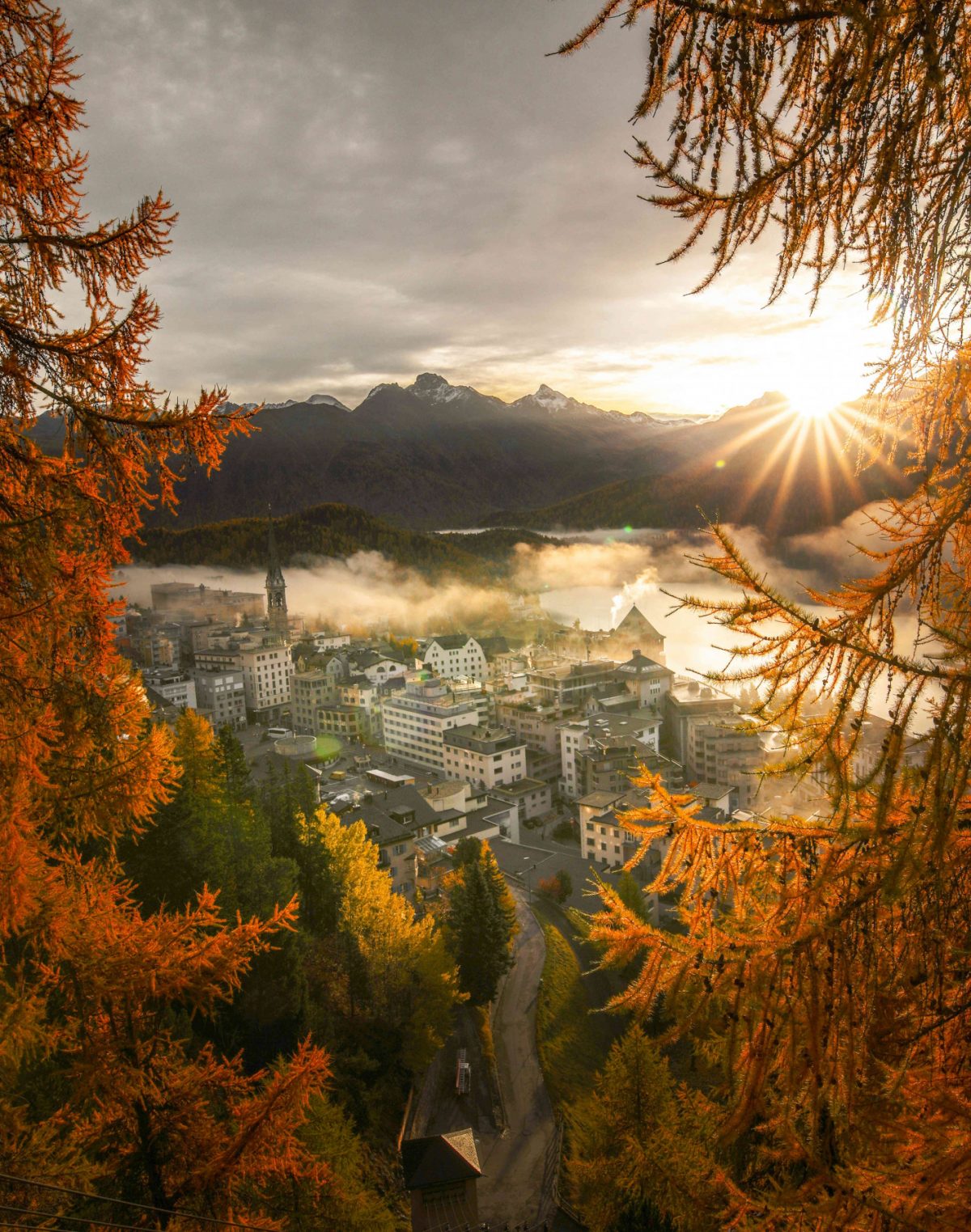 Quality not quantity
Having generated an idea of the type of image you are seeking, it is time to set out with a camera or smartphone in hand, and batteries charged. It is advisable to have a target in mind, but also to be flexible as things rarely turn out as expected. At this point, it is worth noting that a good photograph incorporates some or all of the following elements:
• An interesting or beautiful subject.
• Good composition with key features carefully placed within your captured scene so they are clear and noticeable, and also convey a pleasing sense of balance.
• Appropriate light direction and quality to enhance your subject matter.
• A capacity to evoke an emotional response in whoever views the picture.
In terms of lighting, a sunrise or a sunset provides opportunities for dramatic and colourful skies. The 'golden hours' just after sunrise and before sunset generally offer more emotive light levels. Also, at these times of day, if you choose a scene with the sun shining in from one side, the low angle of the incoming light serves to reveal and define the contours of the landscape very well.
For photo composition, Gattlen recommends arriving early at your location and spending plenty of time exploring the area: "Take time to find a viewpoint that will enable you to include the most important features in a nicely defined way and without other unwanted elements that would serve as distractions," he suggests.
This particularly applies if you are aiming to capture the immensity of the mountains and rock faces. Often it is worth including something – such as a person or a building in the scene – to provide a sense of scale. You should also be prepared to handle various technical challenges when you are out and about photographing. For example, when capturing a scene that is largely covered in snow, cameras operating in automatic modes tend to underexpose. If using a smartphone, Furger suggests pressing on the brightest part of the scene before taking the shot to adjust the exposure. And if you photograph in 'burst' mode, which allows you to take many shots in quick succession, you have plenty of options if your chosen subject moves or blinks.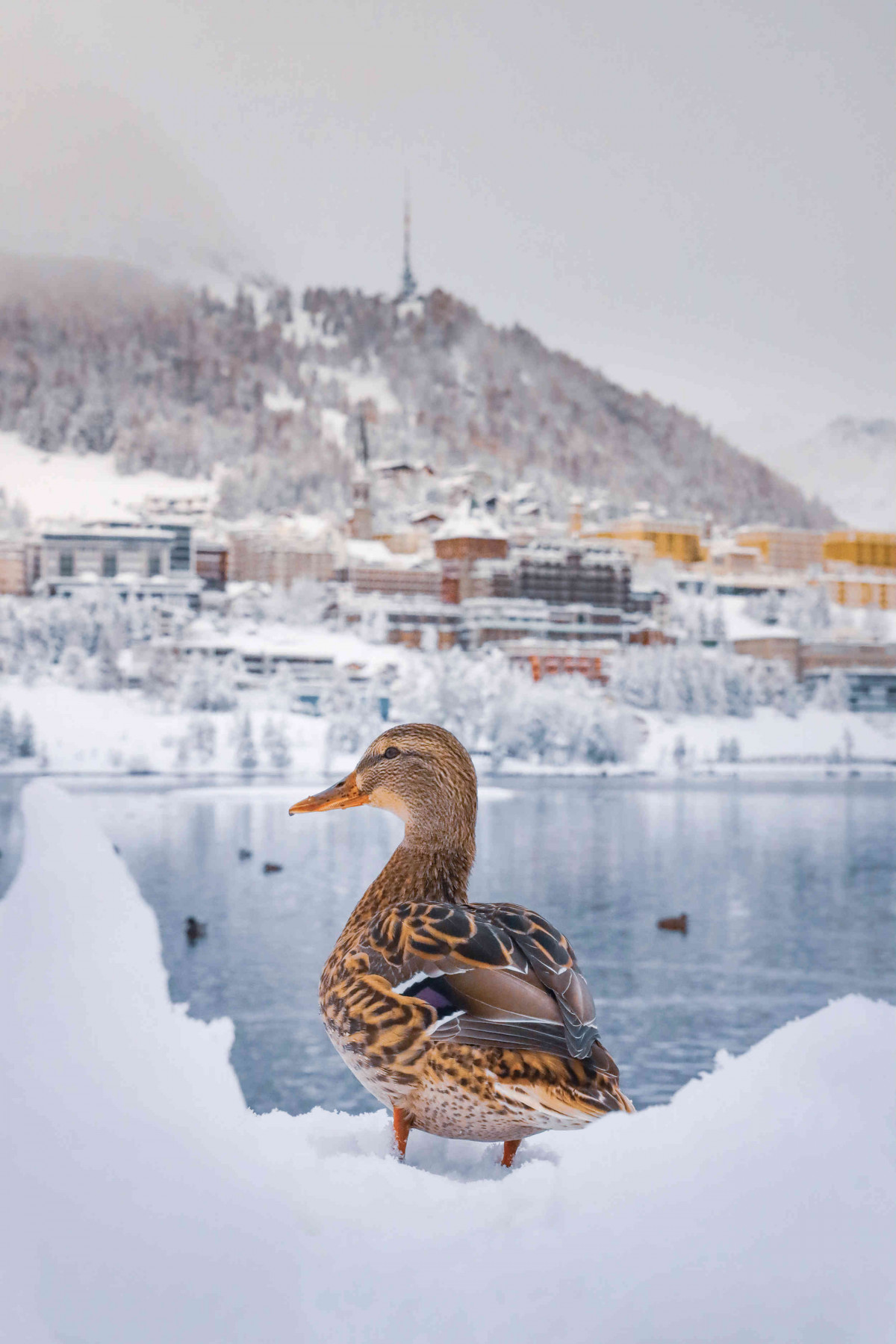 Where to go
The photographers suggest you visit these photogenic locations in and around St. Moritz:
Muottas Muragl
A high vantage point (2,454 metres/8,051 feet) with stunning views across the valley. Spectacular at sunset, and easy to reach via the funicular railway running late into the evening.
Lej da Staz
Visit this picturesque lake at sunrise, which is easy as it is just a short walk from St. Moritz-Dorf. In autumn, you may even see mist hovering over the water.
Lej Nair
In autumn, visit this lake at dawn for the reflection of yellow larch trees in the water.
Chasté
A beautiful walk around the wooded peninsula in Lake Sils; good for sunrise and sunset.
Zuoz
A picturesque village with old, classic Engadin buildings.
Isola
A village with appealing architecture and scenic surroundings. This is about an hour's walk on the hiking trail from Sils towards Maloja, with photo-worthy views along the route.
St. Moritz
The town is picturesque and is a great location for architectural photography with a number of boldly designed buildings, including the bubble-like Chesa Futura by Norman Foster.
For a different perspective on the landscape, you could consider a helicopter flight from Samedan Airport. Closer to home, how about a viewpoint from Badrutt's Palace Hotel (see below)? Gattlen also recommends the view from outside the Dolce & Gabbana shop, with the hotel framed by the arch of a tunnel. You could also venture up Via Tinus to snap the Chantarella to Corviglia funicular with the town and lake in the background.
Whatever photos you choose to take during your stay in St. Moritz, the guidance of our two local photographers will ensure you capture the best of this beautiful area. So much so that when you are reviewing your holiday snaps back home you won't be able to resist booking a return visit.
Andrea Furger discovered the Engadin during a carpentry apprenticeship, and began filming with drones and taking photos. He enjoys capturing nature. He started his business in 2020.
Fabian Gattlen is a freelance film maker and photographer who specialises in landscape and action sports. He founded photography company fourthvisuals in 2015.
Richard Garvey-Williams is an award-winning fine art nature photographer and author of instructional books and articles on photography.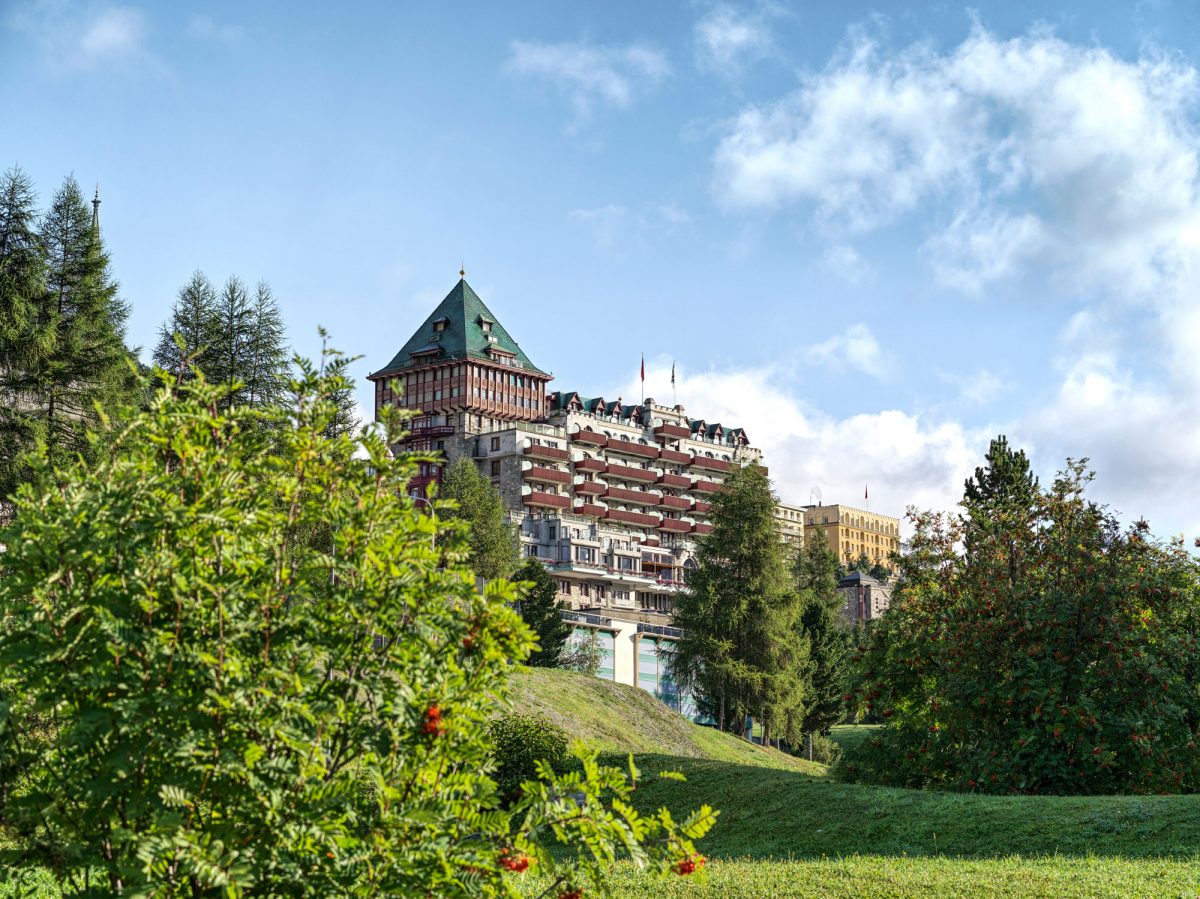 Top five selfie spots at the Palace
Outside Chesa Veglia
The rustic architecture and natural backdrop make it perfect for posing – with a pizza, of course.
Le Grand Hall big window
The most beautiful frame for ​you and the view ​of Lake St. Moritz.
On the terrace
There is nothing like a meal with a vista, so make sure you capture your enjoyment on camera.
Palace Wellness
For a more relaxed selfie, put on your robe and head pool-side.
The main hotel entrance
The sweeping archways create an architectural frame for your picture.