At the Morteratsch Alpine cheese dairy in the village of Pontresina, visitors find themselves transported back to the year 1900. Processes there have remained the same for more than 120 years. Even the equipment used by master cheesemaker Hansjürg Wüthrich and his team is exactly the same. Copper cauldrons, soot-blackened on the outside, coarse cloths, heavy wooden ladles. The heat required to warm the milk is still provided by a fire, the long flames of which flicker upwards from an open hearth. It's hard to believe that up here on the Alpine peak of Nova, they had stopped producing cheese 70 years before Wüthrich and his wife Evelyne fulfilled their dream of establishing their own cheese dairy there at the end of the 1990s.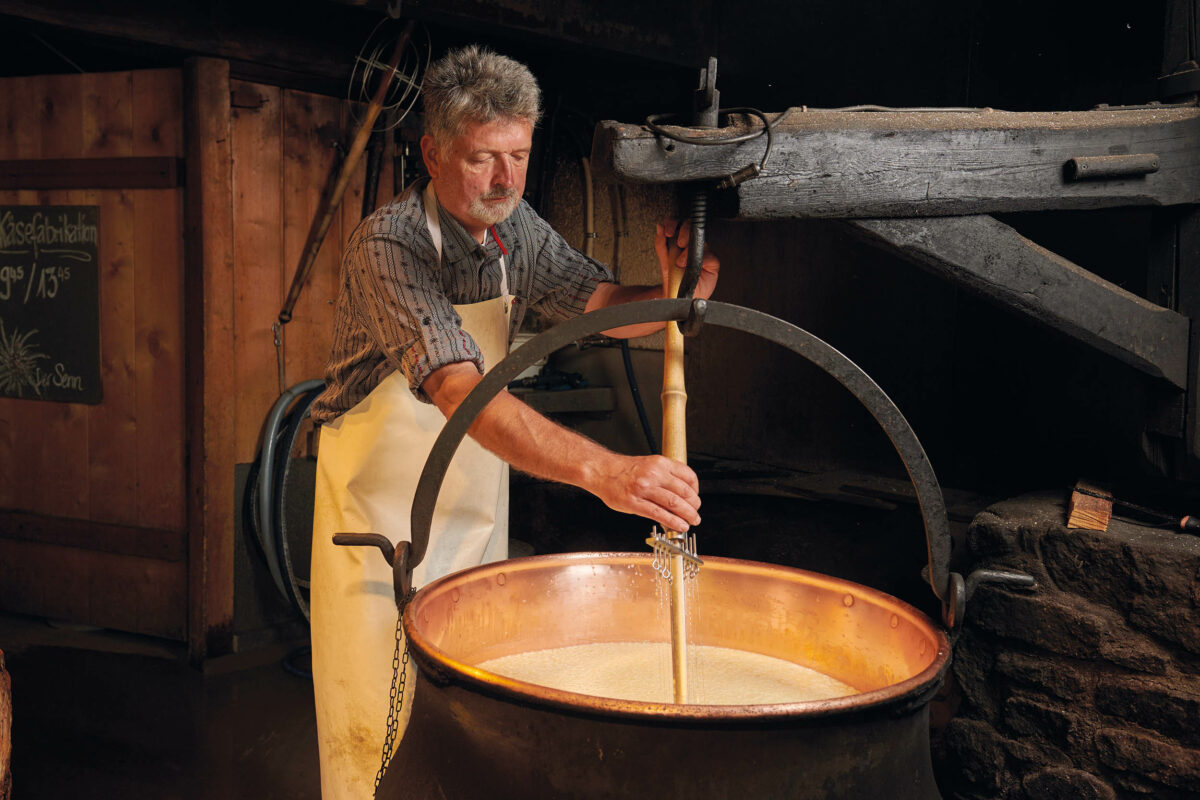 "It means a great deal to me to be able to demonstrate my craft to visitors," says the Sennerei Pontresina dairy owner. "If this place didn't exist, knowledge of the techniques of artisanal cheesemaking would disappear even more quickly."
The mighty copper cauldrons hold around 200 litres (44 gallons) of milk. "We source our raw milk from the surrounding Alps and from the village of Pontresina. Although it is more difficult to process, it just tastes better," explains Wüthrich. "By contrast with pasteurised milk, almost all the original nutrients and flavours are retained."
Turning raw milk into cheese requires additional bacterial cultures as well as rennet, which is required for the milk to coagulate properly. The coagulated milk is then cut with a wireframe into cheese curds. Heating and stirring continues until the cheese has reached the desired firmness. Then it is put into traditional round cheese forms and is pressed in order to remove excess whey. The cheese is salted in brine and even more whey is removed, and the rind begins to form. The taste becomes more intense. Finally, the rind is allowed to fully form in the ripening cellar, the cheese changes colour and the famous holes appear.
One of the Engadin specialities made by the expert hands of what is certainly the most traditional cheese dairy in Switzerland is Gletscher-Mutschli (Glacier Mutschli), a mild yet aromatic pleasantly fresh semi-hard cheese. It bears this name because the demonstration dairy is situated at the foot of the Morteratsch Glacier, located five kilometres (three miles) from Pontresina.
Other cheeses include Heutaler, perfect for those who like full-flavoured and tangy cheese. The milk for this distinctive semi-hard cheese comes from the Bernina district, and more specifically from the Val da Fain, which means 'Hay Valley'. On the Nova peak, Molkenziger, or ricotta as the Italians call it, is produced from the whey. It is the epitome of culinary versatility as it tastes delicious both on its own or sweetened with jam, fruit, sugar, honey or cinnamon or savoured with salt or herbs.
Cheese is an important ingredient in Graubünden (Grisons) cuisine. The famous Swiss capuns, which comprise spätzli dough wrapped in blanched chard leaves, are given a finishing flourish of grated mountain cheese. Maluns, which are crisp butter-fried balls of mashed potato and flour, traditionally accompanied by apple purée, taste twice as good with a hunk of cheese. Maxime Luvara, Executive Chef at Badrutt's Palace Hotel, is also a fan of the local cheeses. He says: "Our guests come to us from all over the world. To show them what this country and this region have to offer in terms of cuisine is one of the most important jobs of any chef."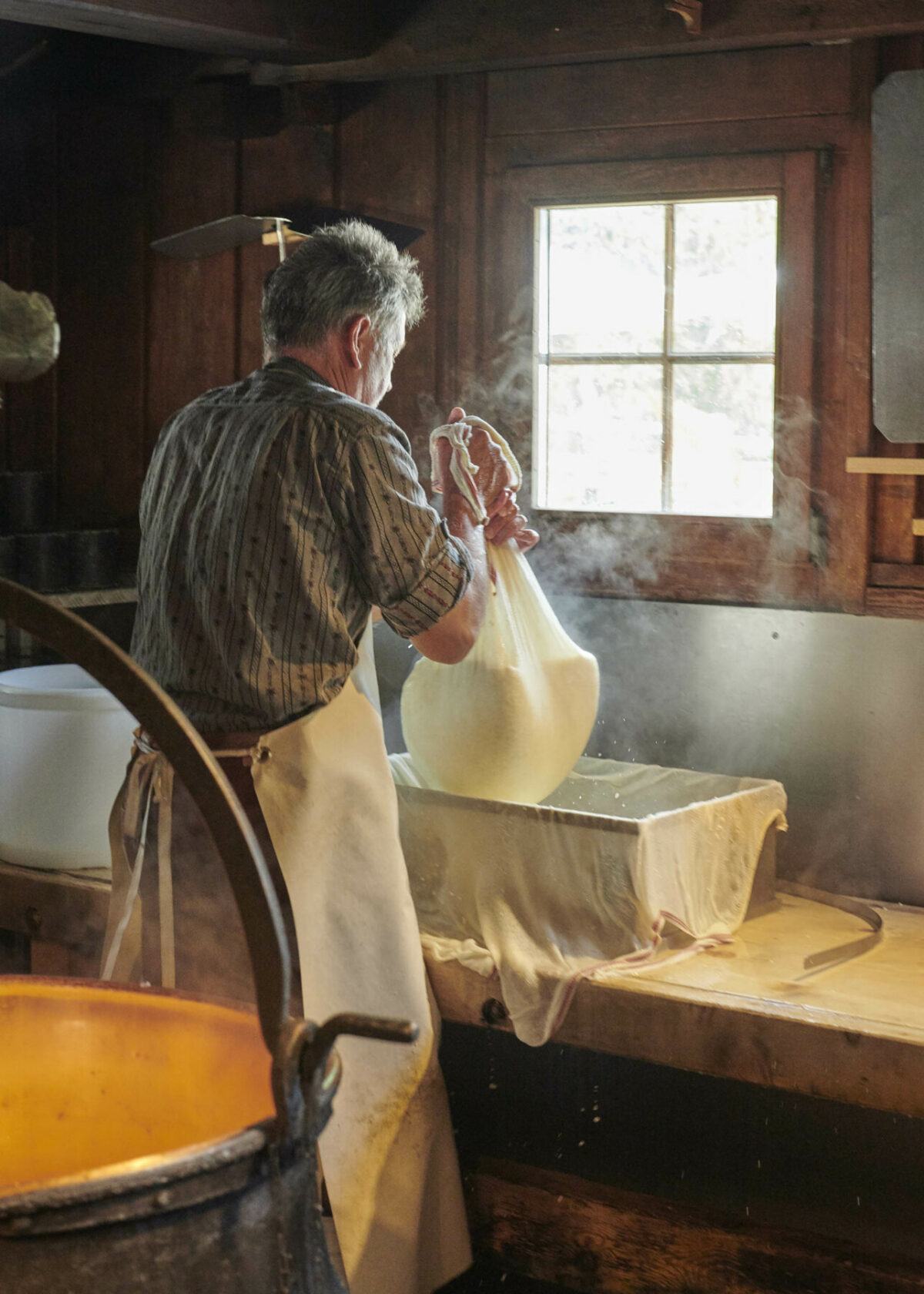 At Sennerei Pontresina, you can buy not only Graubünden cheeses but also select products from other regions of Switzerland. One such is Sbrinz cheese. "This hard variety is matured for almost two years and is one of my great favourites," declares Luvara. "With its aromatic, savoury taste, it can be used in the same way as Parmesan. I can't imagine anything more mouthwatering than a plateful of home-made gnocchi with porcini mushrooms and Sbrinz grated over them by the waiter at the table."
Switzerland makes around 450 different varieties of cheese. The most popular are Gruyère and Emmental. They are all at their very best when served at room temperature. After being refrigerated, cheese needs a little time to develop its full flavour. One excellent option – in particular in winter – is, of course, a fondue. Sennerei Pontresina offers this speciality in six different varieties, including the great classic Moitié-Moitié, made from Gruyère and Vacherin cheeses. It's an absolute treat with a glug of white wine and Kirsch. And, for an authentic touch of Graubünden, try the Engiadinais Glacier fondue laced with Prosecco and Kirsch with Engadiner cheese. Indulgent and delicious.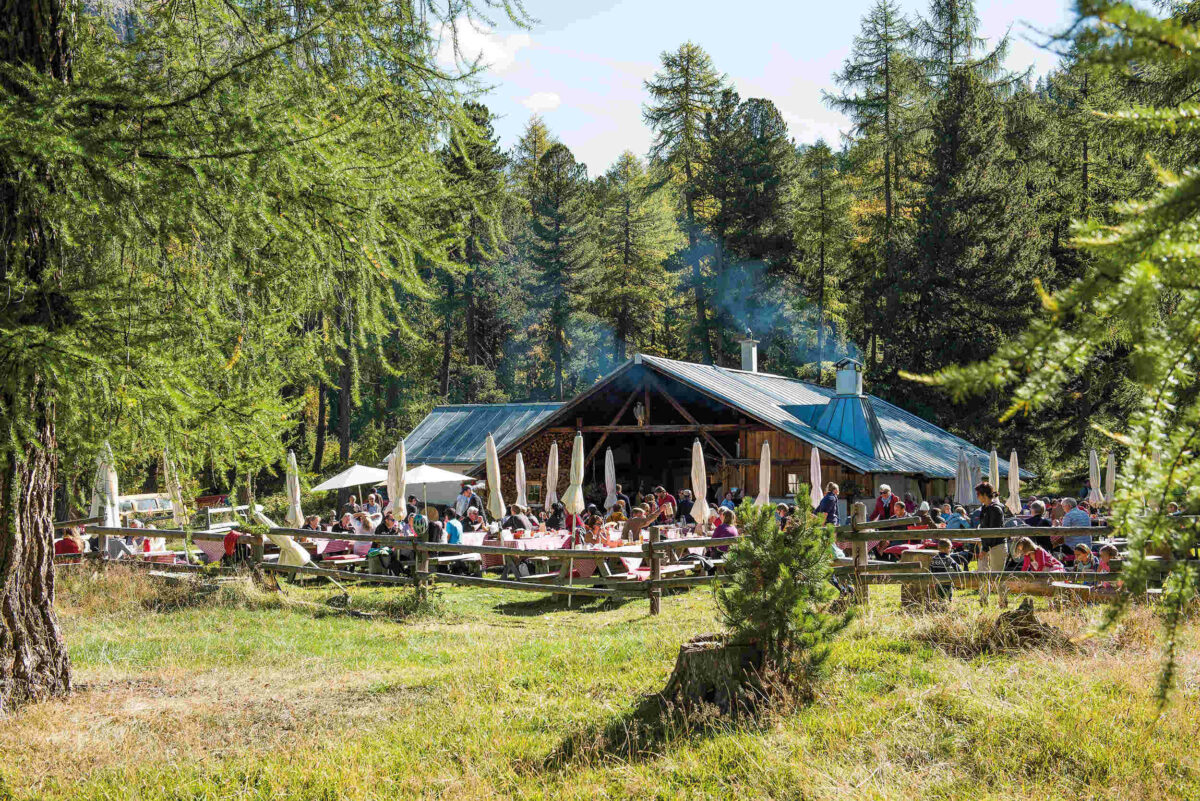 From meadow to plate
The Sennerei Pontresina cheese dairy is located at the foot of the Morteratsch glacier, a short drive from St. Moritz. Here, using the finest Alpine milk, cheese is produced by hand in the traditional way as it was a century ago. From mid-June to the end of September, visitors can take their place at the outside tables of the dairy's restaurant to enjoy a rustic Alpine brunch or lunch, surrounded by forests and views of the Bernina Massif. With award-winning artisan cheeses to try as well as other specialities, including a selection of fondues, visitors can also watch the cheesemaking process. After the cheese is made, there is an opportunity to immerse oneself in a bath of warm whey; the natural active ingredients are said to soothe and rejuvenate the skin. Open 16 June to 2 October 2022.