Taking in the pristine ski runs, spectacular lakeside scenery and buzzing après-ski scene of St. Moritz is enough to brighten anyone's mood. But for Alexandre Fauvet, who is not only a fanatical skier but also CEO of heritage skiwear label Fusalp, it's a scene that truly gladdens the heart. "Seeing St. Moritz so alive again is fantastic," he says. And he doesn't mean just for business at his boutique on Via Serlas, opposite Badrutt's Palace Hotel, in the Swiss mountain resort. "Recent times have made us realise how important it is to be in nature," he adds. "To relax, and to do the things that we're passionate about."
Even in recent times, the Fusalp team has continued to look to the future. "We stayed positive," he beams. "We knew we'd come back better than ever." Fauvet has overseen a hugely successful refocus into ready-to-wear, opened a cutting-edge garment technology laboratory at its Annecy headquarters in France, and spent time delving into the company's archives to produce a stylish coffee-table tome that celebrates the company's 70th anniversary in 2022.
The book, The Joy of Movement by Mohamed El Khatib, tells the tale of Fusalp's history and heritage through archive imagery ("even though the styling is dated, the pieces actually still look super inspiring and modern today," says Fauvet); old advertisements and interviews with employees; and elite athletes the company has partnered with over the years. And ­– spoiler alert – the story is a compelling one.
Iconic and innovative
Fusalp was founded in 1952 in the heart of the French Alps, by two tailors, both keen skiers, who wanted to fuse sartorial cuts with high-performance fabrics and a sleek, streamline design. Innovation was key to the company's success: in the '60s it invented the first stirrup ski pant, and by the '70s the company's skiwear had become the gold standard for competitors and the go-to brand for affluent skiers in Europe's smartest resorts.
However, by 2013 the brand had passed through several ownerships and was surviving on its former reputation, which the Lacoste family set to restore when it purchased a majority stake. It appointed Fauvet, formerly executive vice president at Lacoste, as CEO, and Mathilde Lacoste, the long-time Lacoste designer, as creative director. "We've worked together so long we feel like family," says Fauvet.
The turnaround of the brand has been remarkable. Today, sales have more than doubled over the 2021-22 winter season – and the company has a series of collaborations in 2022, which follow on from the two ready-to-wear capsule collections produced with the French high-fashion house Chlóe. "We're bolder about getting out of our comfort zone," says Fauvet. "Fashion collaborations allow us to explore style in a really uncompromising way."
Fusalp's modus operandi has always been to balance of-the-moment style with a timelessness. Take young Nordic ski-racer Kaspar Kindem, who still sports his grandfather's Fusalp jacket from the 1970s. "We hear lots of stories like that," says Fauvet. "Our customers keep sending their really old Fusalp garments back to us for repair so they can continue to wear them. It says a lot about how beautifully they are made." The company is so committed to ensuring the longevity of its clothes – and so confident in its quality standards – it now provide a five-year warranty on new items and a lifetime of repair.
The company's design ethos, he says, can be summed up as "beau and bon": beautiful and good, by which he means ultra-functional. So, a women's jacket in the spring collection, for example, has a sleek, figure-hugging cut made possible by an innovative material just a few centimetres thick. It has been tested to withstand temperatures as cold as -10° Celsius (14° Fahrenheit) and offers the same protection as a bulky padded coat. "And that's only the beginning," he adds. "The next thing we're working on is outerwear that automatically thermoregulates, using Bluetooth, to adjust to the temperature outside."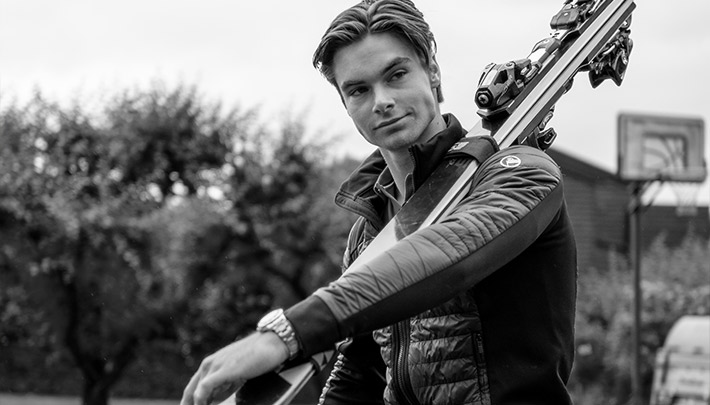 Supporting elite skiers
Fusalp's partnership with word-class skiers is another element that the team was keen to resurrect. In 2019, the company launched its Young Champions programme, which supports young athletes through master classes and mentoring with existing Fusalp ambassadors, such as former Olympic gold medallist Antoine Dénériaz. The athletes also test out new products and provide feedback. "They shape us and push us to always do better," says Fauvet.
Fusalp recently became official kit suppliers to the British Alpine and Para-Alpine ski teams. "Watching Dave Ryding win Britain's first alpine skiing World Cup gold medal in Kitzbühel in January was unbelievably exciting," says Fauvet. "It makes us wonder what he can achieve at the Beijing 2022 Olympics." It was a proud moment too. "At the start of the season Dave and the rest of the team told us how much they loved the feeling of wearing our ski suits," he adds. "That they made them feel more confident. It's just a small thing. But we all know that skiing is a sport where confidence is everything."
Lindsay Macpherson is a UK-based freelance fashion writer and the Fashion Features Editor at Harrods Magazine. For more information on Fusalp, visit fusalp.com