The memories made at Badrutt's Palace in the 20 years the Schüpbach family have been visiting the hotel are part of the glue that binds them together. "Holidays are so important to us because they offer us an opportunity to get to know each other as a family in a different way than back home," says Christine Schüpbach. "You share lots of common adventures together."
She remembers when she and her husband Martin brought their three children to Badrutt's Palace for their first summer in 2002. "Our first impression was that it was very luxurious, but also so welcoming to families," she says.
Swiss-born Christine and Martin have, for the last 35 years, made their home in Dallas, Texas. But, with two of their three children (Nicolas, 36, and Stéphanie, 33) living in Switzerland, family holidays at the Palace have become more meaningful. "There hasn't been a year when we've not had at least two of the children spend it with us in St. Moritz." Next year their couple's two granddaughters – the children of their eldest son, Philipp – will join them for the first time.
The couple always time their annual summer vacation at the hotel to coincide with Swiss National Day on 1 August. "It means a lot to us to celebrate our national day," says Martin. "We have always made sure the children know of, and are proud of, their Swiss heritage, and the Palace celebrates it beautifully. There are Swiss flags everywhere, the national anthem is sung and there is the most incredible buffet dinner with many regional specialities, such as meat from Grisons, Engadin capuns and Zurich Geschnetzeltes."
Their visits to St. Moritz are so regular now that the hotel has come to feel like a second home. Key to the welcoming ambience, they say, is the staff that they see year after year. "It very much feels like we are returning to visit family," Christine says. Martin gives a special mention to the concierge team who welcome them each year, along with the bar staff. Such is the bond that when some of the Palace team visited Dallas a few years ago to promote the hotel, they were invited to dinner at the Schüpbachs' home. "We know them so well, it was like family visiting family," laughs Christine.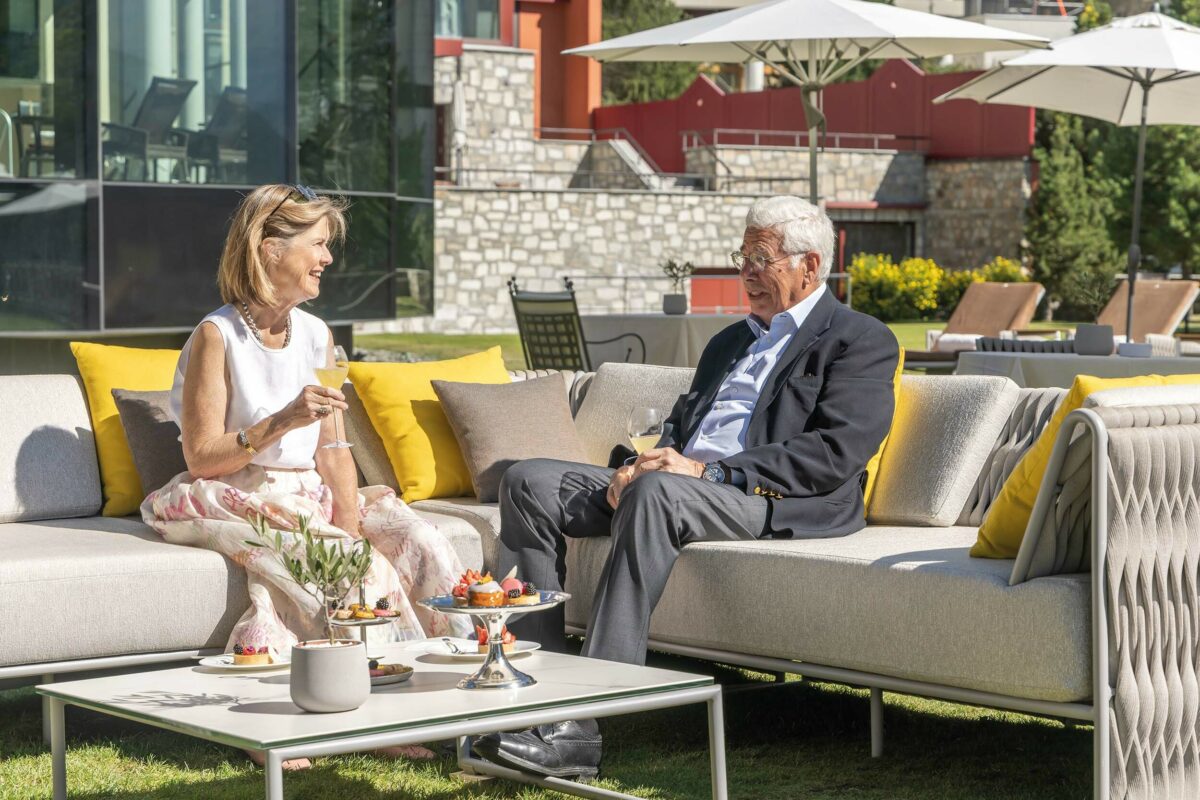 Rocks and mountains
In 2022, the couple celebrated their ruby wedding anniversary, marking 40 years together. They recall that their first meeting was thanks to Martin's mother, who knew Christine because she used to pass her future mother-in-law's house on her way to work and would often stop to chat. "One day, she asked me if I was working that evening – I was a flight attendant for Swissair – or if I could join her for dinner, as her son was back in town," she explains.
Martin, who has gone on to have a successful career as a leading geologist and entrepreneur in global oil and gas exploration, had been in Houston studying for a PhD and was by then working for ExxonMobil on projects all over the world. "One assignment was in Hanover, Germany, so I drove over to visit my family," Martin adds. The pair met that night, "and a year later we were married," Christine smiles.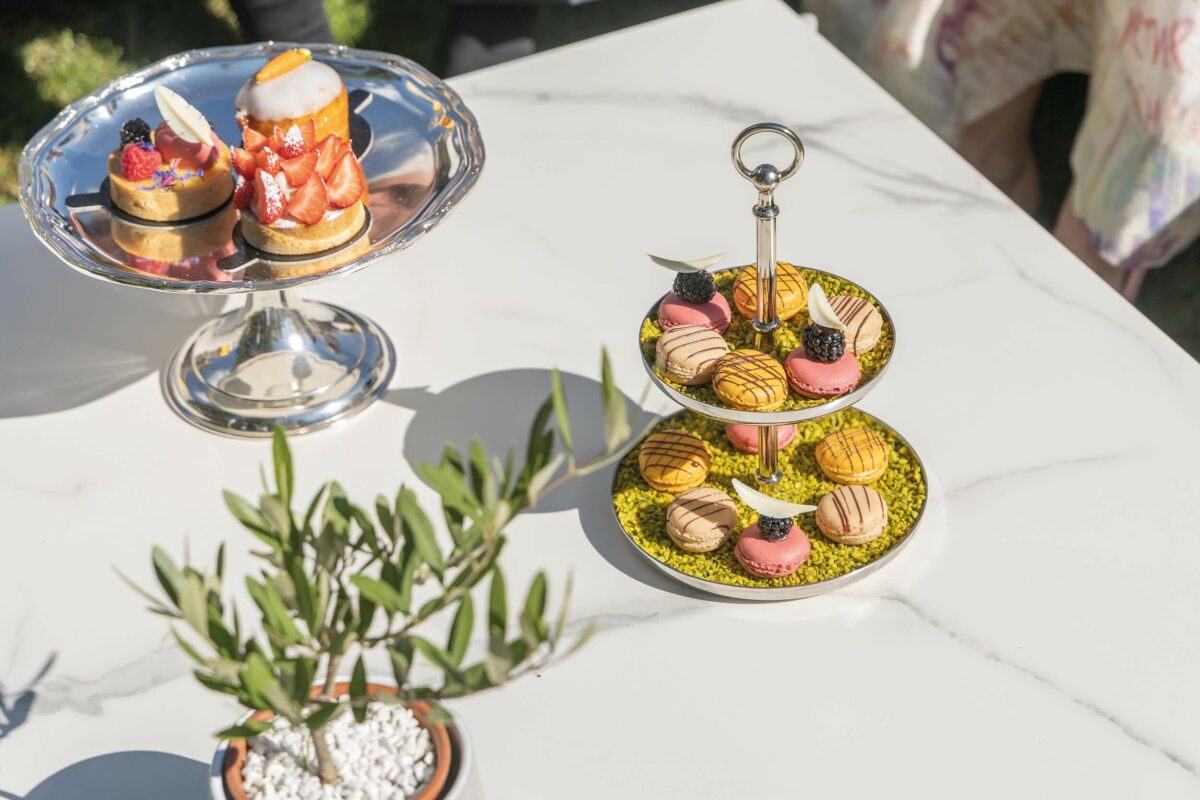 Their annual holidays back to Switzerland started with trips to Braunwald, a small resort town in Glarus Süd. "But we realised that we had walked every inch of hiking trails, and we needed a new destination," she adds. So they decided to visit St. Moritz in the Engadin, an area that was well known to Martin, who as part of his master's degree had been assigned an area close to Pontresina. "I spent two summers there mapping the geology of the mountains," he recalls.
Hiking and exploring the great outdoors are embedded in the family's DNA. As a geologist, Martin has always been drawn to the outdoors and been fascinated by mountains and rock formations. "There hasn't been a hike where we didn't stop to look at rocks, but they have always been a lot of fun," laughs Christine. "For us it was never a matter of dropping off the kids and seeing them at the end of the day – we would do everything together. So, we'd plan a beautiful hike near St. Moritz with a wild swim in a mountain lake halfway along, or go out biking for the day. As a result, the children are very independent but also have a strong sense of belonging together because of the adventures they've had."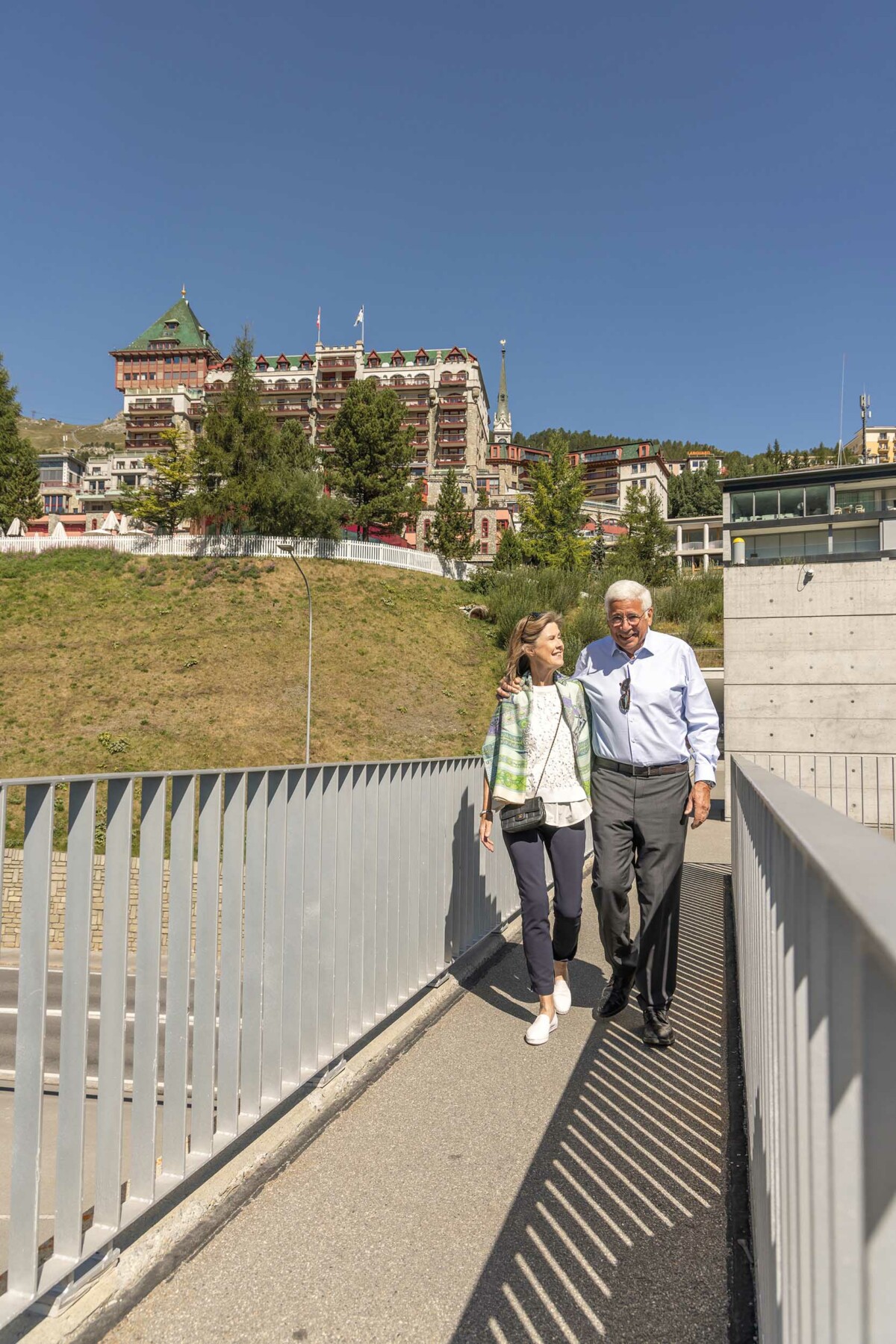 Out and about
Christine and Martin occasionally visit St. Moritz in winter, which they describe as a very different experience. They enjoy the thrill of heading out onto the glistening white snow and exploring the slopes on skis. After an action-packed day out on the mountains, they always look forward to the ride back to the Palace. "When the hotel shuttle picks us up in the afternoon, they pass around a tin of special Palace chocolates. They are so delicious, I start dreaming about that in the morning," jokes Christine.
But it is not all high-octane activities – or chocolates – that the couple enjoy on their holidays in St. Moritz. "We like to shop for arts and crafts – Butia Rominger in town sells beautifully crafted wooden pieces, home accessories and gifts. We also love the knitwear from Cashmere House Lamm," says Christine. "And we enjoy browsing the art at the Hauser & Wirth gallery, just across the road from the hotel."
After a day out, they both look forward to coming back to relax at the Palace. Before dinner, Martin will use the swimming pool and jacuzzi at Palace Wellness. Christine loves "to sit in the garden and enjoy the breathtaking scenery". They are also regular visitors to the legendary Renaissance Bar. "It has a fun, friendly atmosphere and the cocktails are excellent," says Martin.
The gourmet food at the Palace is a huge attraction for the couple, too. Along with the annual Swiss National Day dinner, they look forward to another summer gastronomical experience. "It starts in the hotel wine cellar with cheese and cocktails followed by a risotto served from a huge carved-out wheel of Parmigiano Reggiano. It then moves to the kitchen for a different course and finishes in the pastry station. It's a fantastic evening " says Christine.
A keen cook herself, Christine is always happy to meet up with Stefan Gerber, Executive Pastry Chef, when they stay at the Palace. "Stefan is one of my best friends," she laughs. "I love desserts and I love making them, and he is so gracious with the insights he shares. Last year, we discussed the perfect chocolate to make the best chocolate mousse, and just before I left, he sent me an enormous 1.5-kilo bar of Swiss chocolate to take home with me." Then she adds bashfully: "And when we had the pleasure of hosting him at home in the US, Stefan said he was impressed by my chocolate mousse!"