There is a unique pleasure to owning a personalised suitcase customised to your tastes and needs. It is the ultimate expression of your personal style and represents your dreams of travelling to remarkable places and experiencing extraordinary things.
Since the 1900s, luxury designers have been using everything from simple monogramming to complete bespoke creations to create designer luggage that is as personal as their customers' journeys. Take the revered French heritage luggage maker Louis Vuitton. It made Ernest Hemingway an exceptional library trunk with secret drawers for pens and stationery and snug book shelves, inspired by the American author's imagination and his travel needs. The Louis Vuitton luggage was rediscovered in 1956 in the basement of The Ritz in Paris and contained notebooks that would form the novelist's posthumous Paris memoir, A Moveable Feast.
A celebrity love affair
Actress Greta Garbo wouldn't travel anywhere without her personalised Louis Vuitton steamer trunk, designed to carry her bespoke Salvatore Ferragamo shoes. Other advocates of the designer luggage included film stars Marlene Dietrich and Mary Pickford, both guests at Badrutt's Palace Hotel, who would often travel with 30 pieces of Louis Vuitton luggage each. In the 1960s, Hollywood legend Audrey Hepburn, another regular visitor to the St. Moritz hotel, was often photographed with her Louis Vuitton travel bag. Her request to create the bag in a smaller size resulted in the timeless Speedy 25 (pictured above).
The association between some of the most world's most stylish women and the iconic label Louis Vuitton epitomised the celebrity love affair with luxury luggage brands. Other distinguished travellers, including royalty and adventurers, have long used Globe-Trotter, the British creator of handcrafted luggage and leather accessories. Queen Elizabeth II was gifted a Globe-Trotter suitcase in 1947 for her honeymoon. So renowned was the luggage's sturdy construction that explorer Robert Falcon Scott took it on his 1910 expedition to the North Pole, as did Sir Edmund Hillary on his successful quest to reach the summit of Mount Everest in 1953.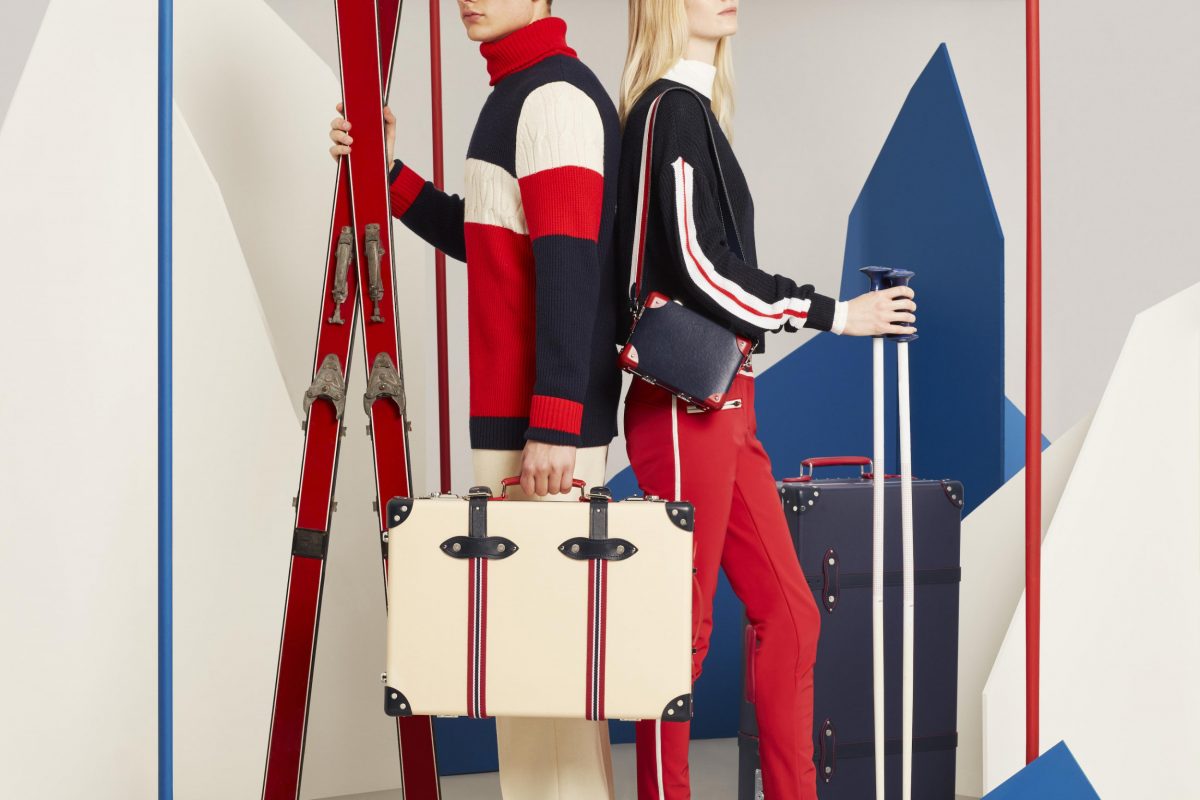 The personal touch
A brand with equal heritage is French label Goyard. Known for its custom-made trunks and hand-painted chevron patterns, its suitcases were favoured by the Duke and Duchess of Windsor, who adorned their personalised luggage with their full titles. Coco Chanel had all the hardware on her black leather Goyard wardrobe trunk finished in a gold colour with the addition of two red Cs as well as silver and red horizontal stripes. Karl Lagerfeld even commissioned Goyard to create a bespoke travel case for his famed companion, Choupette the cat.
Personalised suitcases for today's jet-set
Heritage luggage brands have continued to forge their reputation over the decades with unique pieces to meet the needs of the international jet-set. And epitomising the bespoke needs of today's modern globetrotters is Grammy- and Brit-nominated electric cellist Tina Guo, whose distinctive sound has graced such films as Wonder Woman and The Lion King.
She spends a large part of her life travelling around the world to perform and record. Organisation and streamlining are her main luggage considerations, but she has one other requirement. "If I were commissioning my dream bag, it would be a Rimowa hard luggage piece featuring a giant print of a slice of pineapple and pepperoni pizza on the front," she laughs. "Travelling as much as I do, it's reassuring to know your luggage can keep up with you, and the bright colours would make it easy to find at the baggage claim."
All levels of customisation
Today's luggage brands know their customers want something individual to ensure each journey is special. That's why Globe-Trotter offers various levels of luggage customisation at its flagship store in Mayfair, London. Its Made-to-Order offering ranges from vulcanised fibreboard and leather colours to metal finishes and linings. Its Bespoke service also allows customers to personalise the leather trim, fittings and stitch colour. With its Design & Build option, you can have a one-of-a-kind piece made to your chosen size and external and internal specifications.
"I've seen some incredible designs featuring intricate techniques and craftsmanship, from a bespoke guitar case to a travelling walk-in wardrobe," says James Fisher at Globe-Trotter. "This year, we created a bespoke suitcase for Her Royal Highness The Princess Royal when she came to visit our factory in England."
"One commission involved creating a trunk that would enable a Chinese customer to watch television and serve coffee to his friends, wherever he was in the world"
As you would expect from a company that started out as saddlers, carpenters and locksmiths, Louis Vuitton prides itself on accommodating any personalised requests. It receives around 450 special orders a year, with fifth generation Patrick Louis Vuitton overseeing the process at the company's workshop at Asnières-sur-Seine, just outside Paris. One commission involved creating a trunk that would enable a Chinese customer to watch television and serve coffee to his friends, wherever he was in the world. The finished item featured two solar panels, linked to a flat-screen TV, a two-way radio and, of course, a coffee-maker.
The company's My LV World Tour personalisation service is inspired by the traditional hotel, transport and travel destination stickers that adorned the luggage of yesteryear. Drawn from the private collection of Gaston Louis Vuitton, the grandson of the label's founder, they are available on a range of classic Louis Vuitton bags and luggage.
Chic and timeless
Someone who has taken full advantage of the company's personalisation service is international fashion designer Justin O'Shea, who never travels anywhere without his Louis Vuitton Keepall Bandoulière 55. "It's the bag I have always used for overnight trips," he says. The company even gave his son, Walter, a monogrammed carryall bag for his birth present, while his international model and style influencer wife, Veronika Heilbrunner (above), always travels with Louis Vuitton suitcases. "They are chic and timeless, they never break and you can wipe them when wet," she says.
Tailor-made travel
Opportunities for personalisation continue to be developed. Guccio Gucci was inspired by the luxury suitcases he observed while working at the Savoy Hotel in London in the 1900s. Today, the company he founded offers an online service that enables you to add a letter to its Ophidia tote bag (above). Using a fashionable font alphabet in a variety of colours and materials, the service also lets you first visualise the finished product using computer imagery and photography.
"Today's stylish traveller understands that the pleasure of a journey starts with the bags they are carrying"
Not to be outdone, Bottega Veneta has launched a service that allows customers to personalise their tote, duffel or holdall with graphic shadowed letters in three different sizes, either stamped or embossed, with six colours to choose from, all at no extra cost. By contrast, Goyard's Art of Marquage service provides an array of personalisation options to create an item of luggage from the ground up, with customisation features ranging from names and stripes to initials to numbers, allowing easy identification of luggage when in transit.
Today's stylish traveller understands that the pleasure of a journey starts with the bags they are carrying. That's why so many see the value in investing in the ultimate statement of individuality: personalised luggage. Bon voyage.