As the great 19th-century naturalist and outdoor lover John Muir wrote: "In every walk with nature one receives far more than he seeks." Never was a truer word written. Hiking in nature brings so many surprising pleasures. Clearly it is good exercise for the body. It is also a tonic for the mind, making us feel calm and happy as only nature can do. It opens our eyes to an entirely new world – and it is a fantastic cross-generational activity: something to enjoy with friends and family of all ages.
When you think of St. Moritz, you likely picture the white pristine slopes of Corviglia, a wooden ski bar hut and the wintery landscape of the Engadin. However, this beautiful valley and the surrounding mountains really do come alive during the summer months and offer a haven for hikers.
It is easy to access the trails – approximately 580 kilometres (360 miles) of them – in the Engadin, and there are plenty of bucket-list spots to explore. There are also hiking routes that start within walking distance of Badrutt's Palace, such as the trail along Lake St. Moritz to Lej da Staz, with options for hikes that take just a few hours to a full day.
You can also take the cable car from St. Moritz Bad (a 20-minute walk from the hotel) or catch the Chantarella funicular railway (a 5-minute walk away from the hotel) up the Corviglia mountainside. Here, there are plenty of hiking trails to follow and you can enjoy the elevation without having the physical exertion of reaching that height on foot. Alternatively, a second cable car ascends even higher up to Piz Nair, which is 3,056 metres (10,026 feet) above sea level, offering stunning views of St. Moritz and the lakes and even more hiking options. Serious hikers might prefer to walk down the mountain, which takes approximately five hours.
Here we have selected some of our favourite routes to suit different levels, all you have to do now put on your walking shoes and start exploring…
For food lovers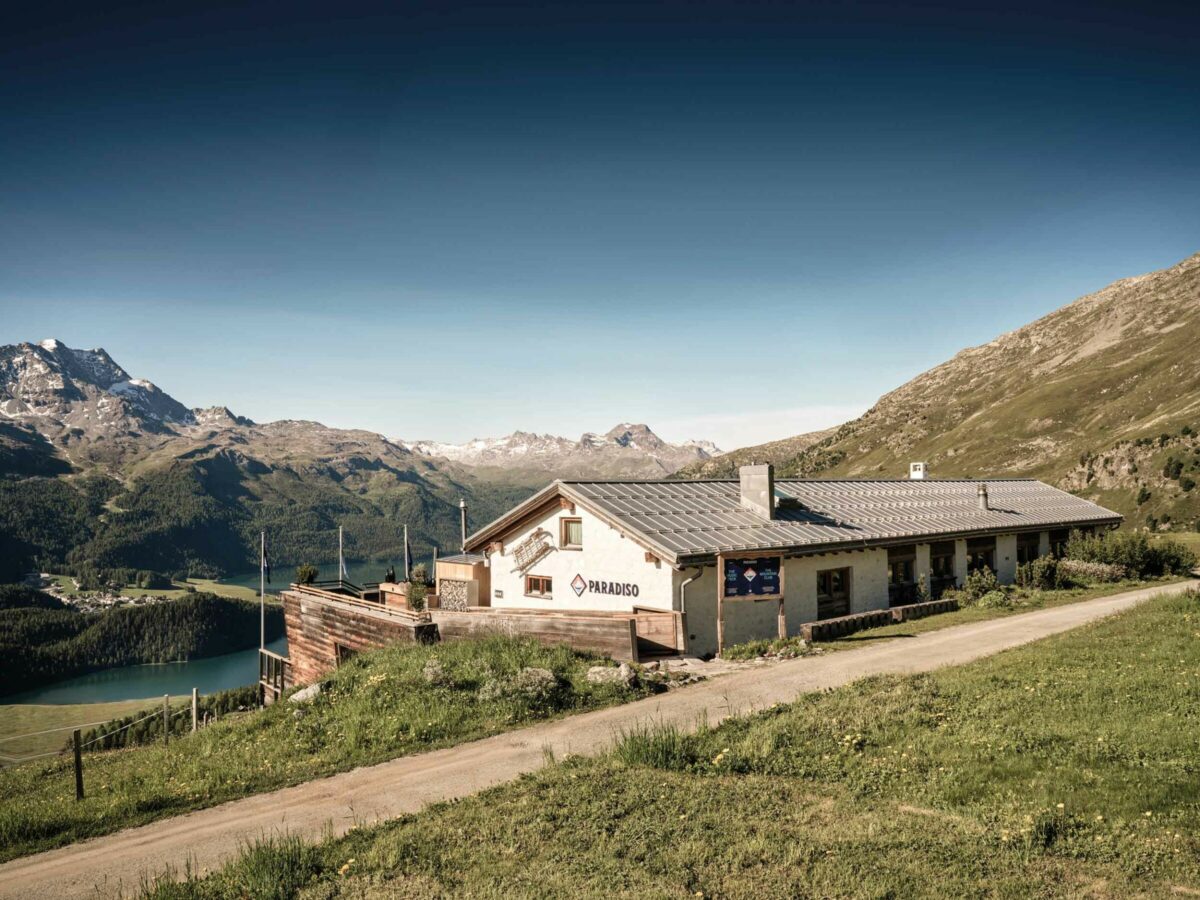 If you are thinking about trying out the welcoming Paradiso Mountain Club & Restaurant, located high up in the mountains at 2,180 metres (7,1562 feet), why not go there on foot and enjoy the unspoilt nature on the way. From the hotel, head across town to the Schellen-Ursli Trail. The wooden figures along the way tell the story of Schellen-Ursli, a Swiss children's story following a little boy's adventures as he attempts to take a large cow bell from a hut to a village parade. Halfway along, join the Salastrains path, which will take you higher with views of mountains and lakes that become ever more majestic. A well-deserved lunch, gourmet snack or refreshing drink awaits on the sunny terrace at Paradiso. Take the hotel shuttle back to the hotel, or hike down.
Top tip: enjoy a fun game of pétanque on the upper terrace of Paradiso.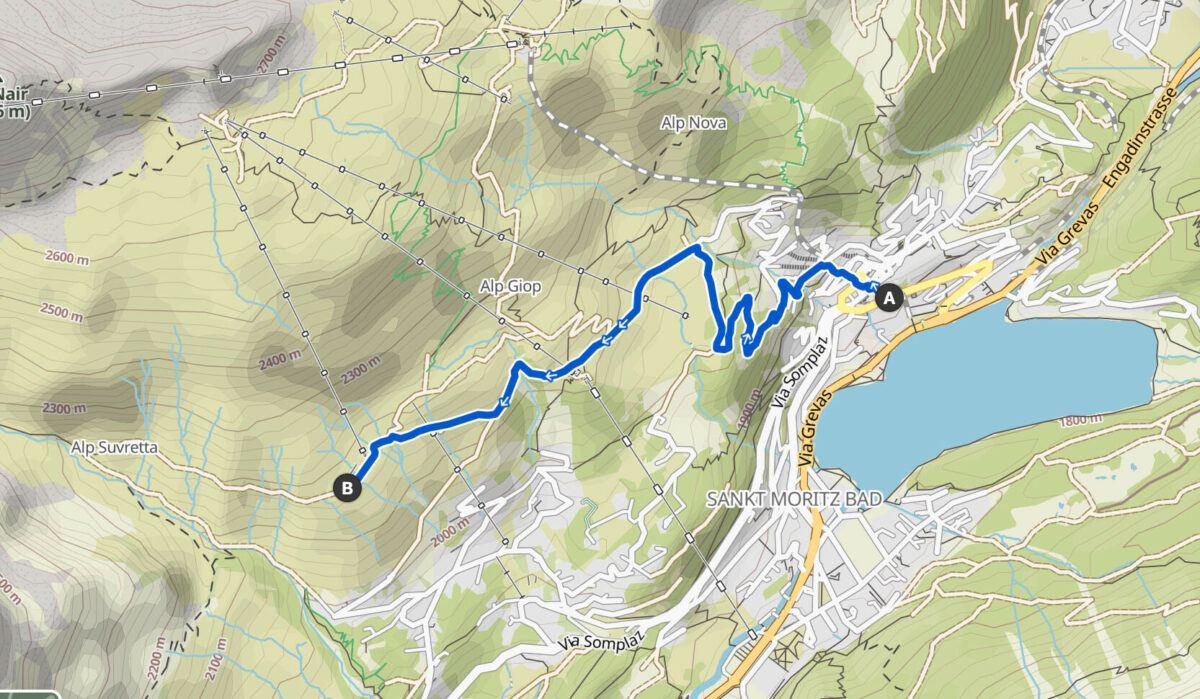 Start: Badrutt's Palace
Finish: Paradiso Mountain Club & Restaurant
Length: 5km/3.1 miles
Highest point: 2,180m/7,152ft
Duration: 1.5 hours
Level: Moderate
For adventurers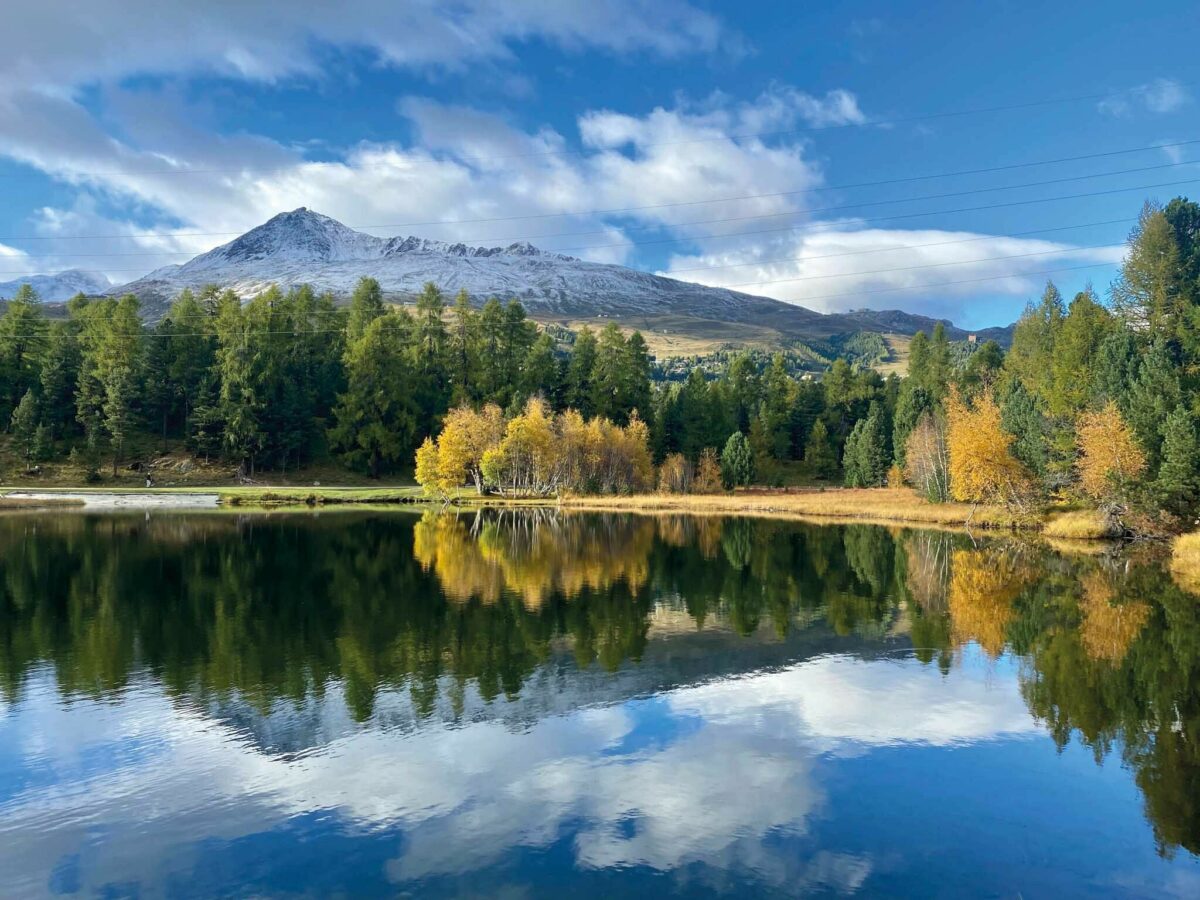 Follow the banks of Lej da Champfèr, then go up the mountainside heading towards a viewpoint overlooking Lake Silvaplana, where you can enjoy the mountain scenery and breathe in the invigorating mountain air. Then climb up to Hahnensee, at 2,153 metres (7,064 feet) above sea level, where there is a restaurant. Continue your hike downhill and finish at Lej Marsch, a beautiful swimming lake with a small beach, which is the perfect place for a refreshing dip. The name Marsch means 'lazy', but you are anything but if you make it to this point.
Top tip: ask the hotel to prepare you a gourmet picnic to enjoy by one of the lakes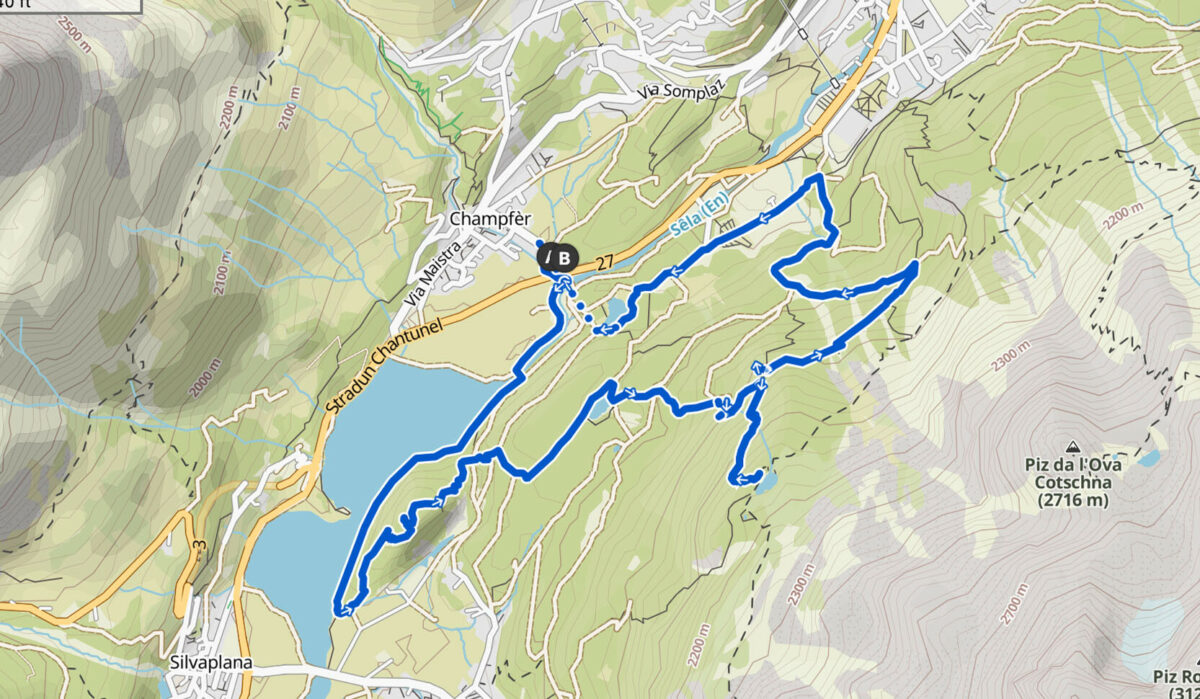 Start: Champfér car park
Finish: Lej Marsch
Length: 12km/7.5 miles
Highest point: 2,141m/7,025ft
Duration: 4 hours, plus allow time for a swim
Level: Moderate
For wildlife lovers
gett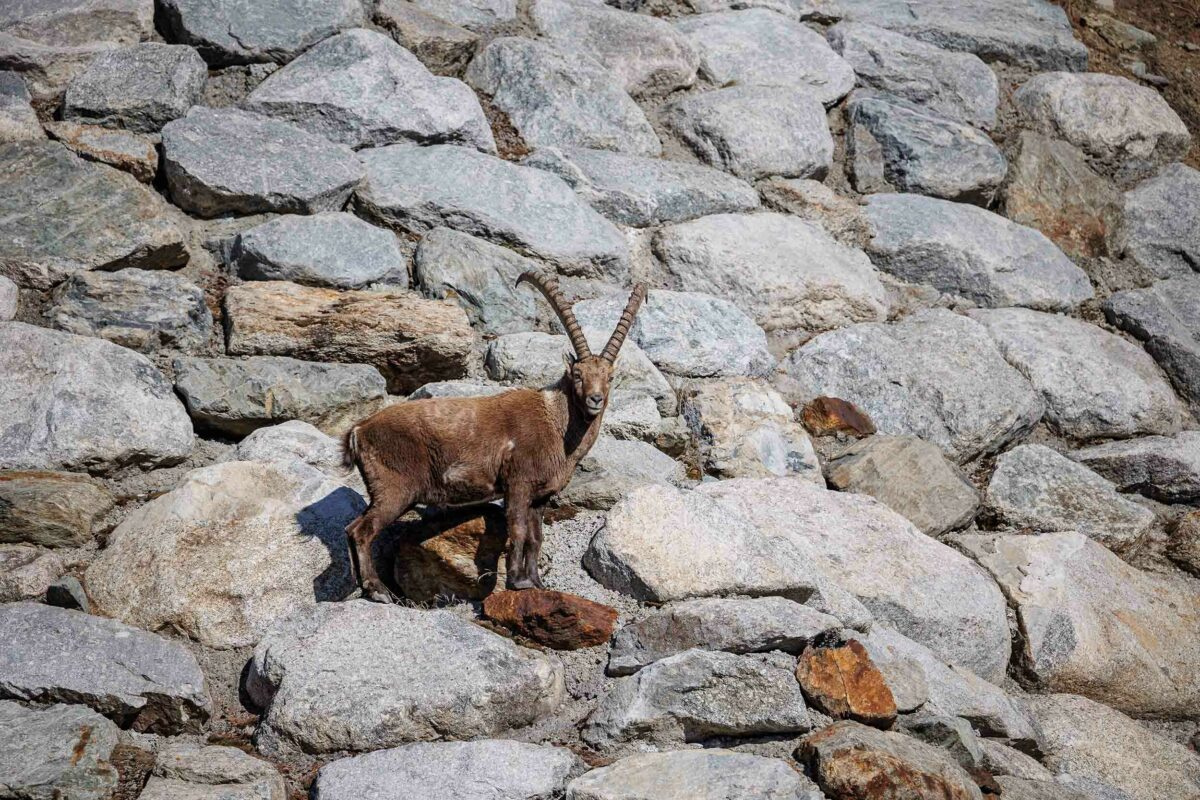 The trails above Pontresina not only offer splendid views of the Bernina mountain range, but they are also the perfect place to spot alpine wildlife. They call this area 'Ibex Paradise' for a good reason, so you may be lucky and see one of these wild mountain goats (seen early in the morning, evening or at night). The ibex, also known as Steinbock, is the king of the Alps and is an excellent climber that prefers living in the rocky, steep areas high up in the mountains. You may also spot marmots running in and out of their underground tunnels; they are most active in the morning or late afternoon/early evening. The largest member of the squirrel family, they have short, stocky legs and make a chirping sound (similar to birds) to warn each other of danger. This is also an attractive hike if you like butterflies and, depending on when in summer you are walking this trail, you can also see a wide range of wildflowers, including orange lilies, yellow gentians and alpine rock-jasmine.
Top tip: pick a beautiful day and take your time to admire the views on this scenic hike. Start early to avoid the clouds that typically move in as the day progresses. Hiking poles are recommended on this walk.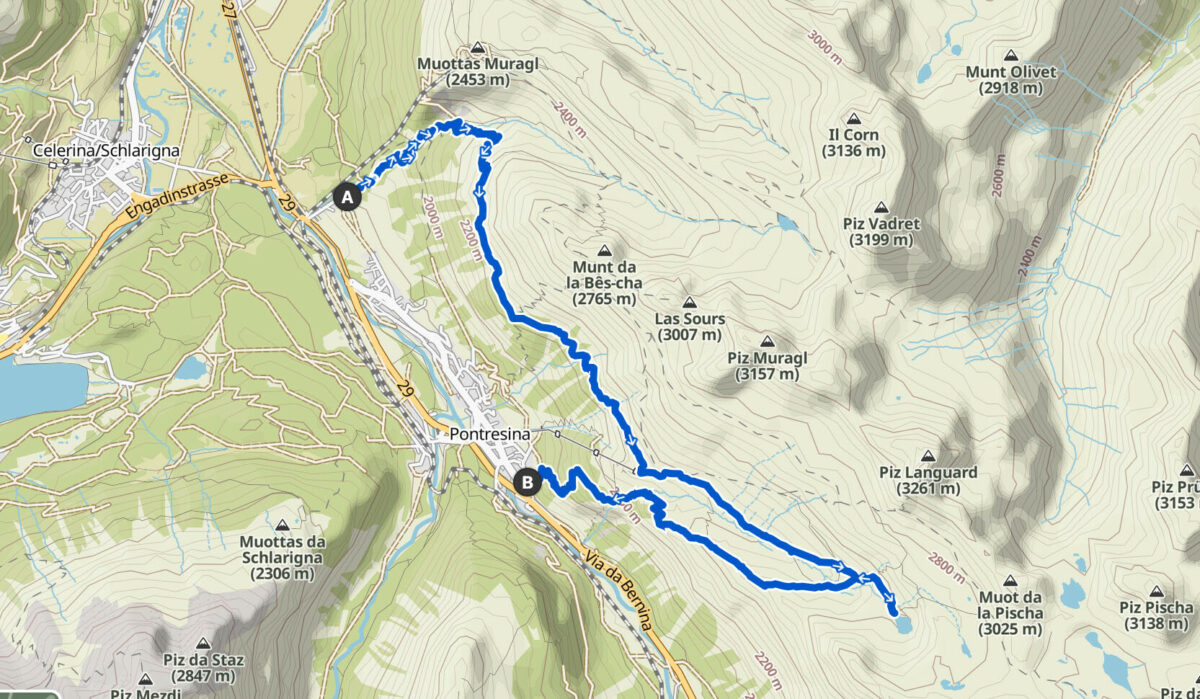 Start: Muottas Muragl car park
Finish: Pontresina
Length: 15km/9.4 miles
Highest point: 2,591m/8,500ft
Duration: 7 hours
Level: Hard
For art and culture lovers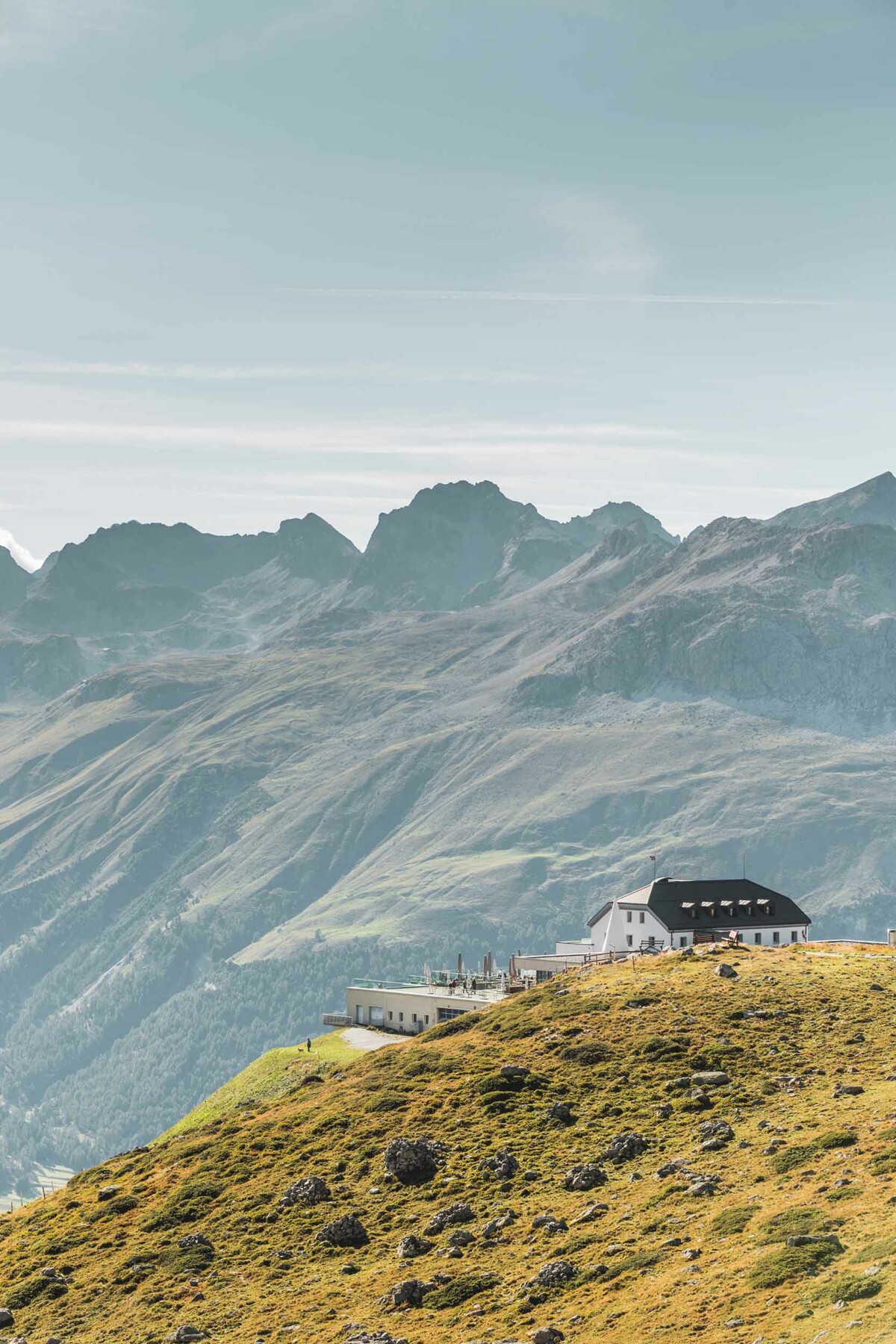 Take the funicular to Muottas Muragl and follow the Philosophers' Trail, a popular winter snowshoe route, which starts at a height of 2,438 metres (8,000 feet) and has recently been adapted and opened as a summer hike. It retraces the footsteps of great historians and writers, including the Swiss feminist and historian Meta von Salis and the Swiss writer and journalist Annemarie Schwarzenbach. Enjoy their wise quotes and the panoramas along the way.
Top tip: choose one of the well-placed benches on the route to take a deep mountain breath and enjoy the enchanting Engadin views.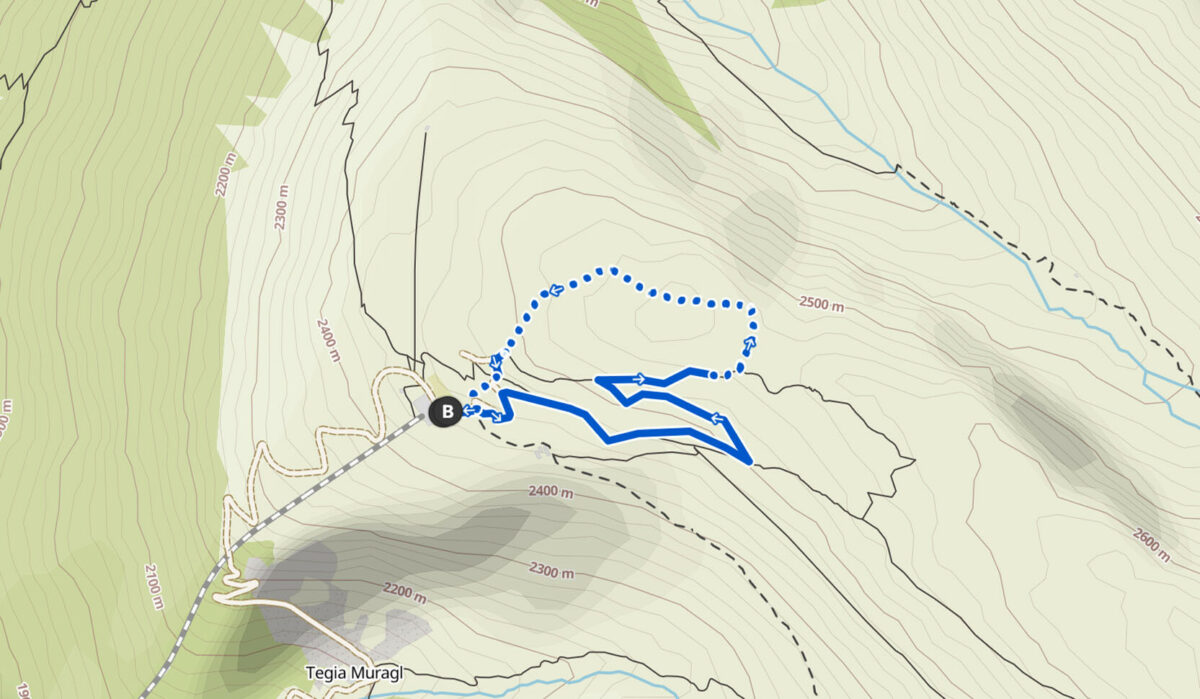 Start: Muottas Muragl
Finish: Muottas Muragl
Length: 2.7km/1.7 miles
Highest point: 2,553m/8,375ft
Duration: 1.5 hours
Level: Easy
For small children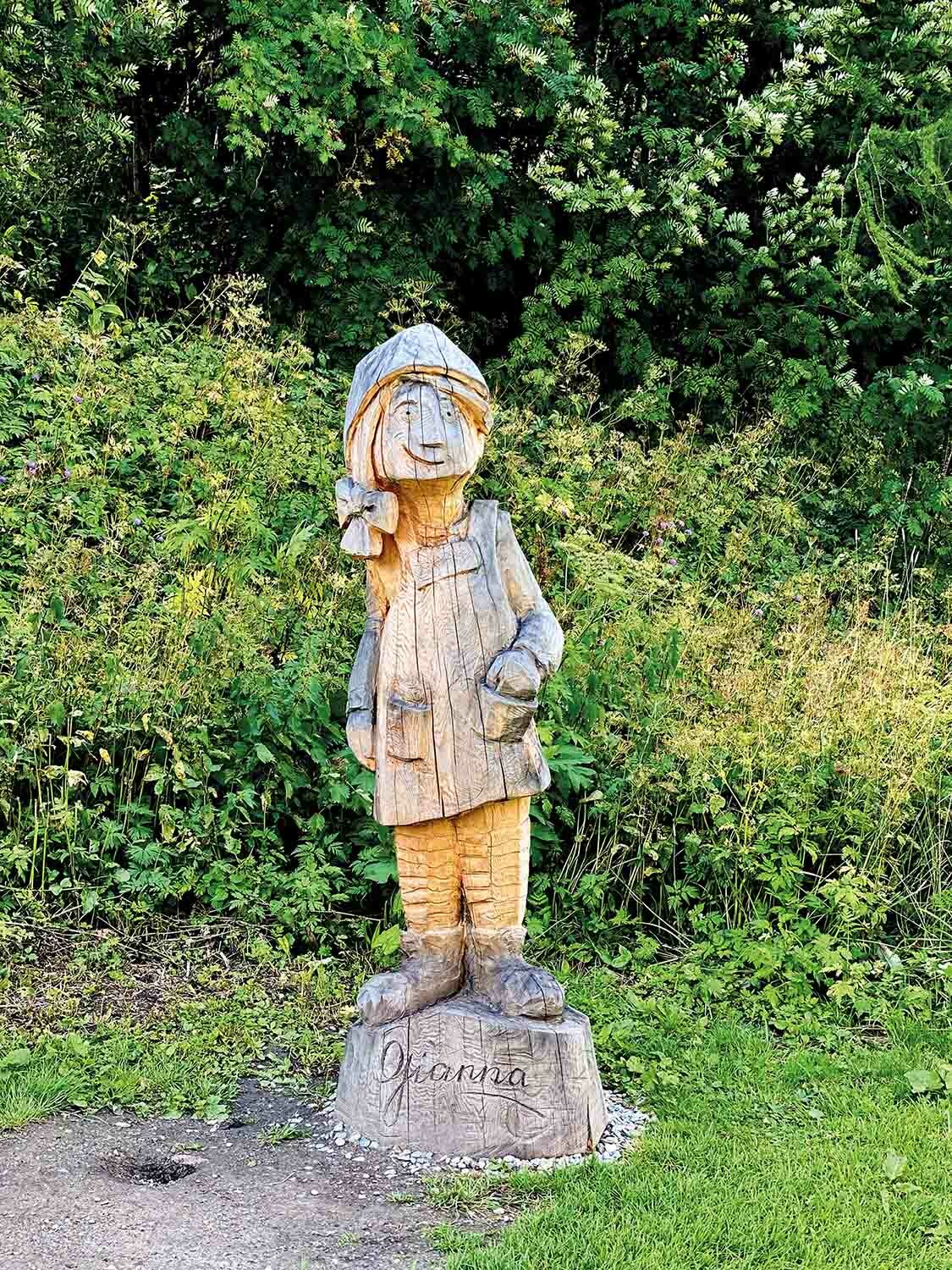 There are many well-maintained and child-friendly hiking paths that the entire family can enjoy together. One of the best routes is the forest hike in Sils on the Fairytale Trail, or the Senda da Gianna, an entertaining circular walk with exciting secrets and encounters along the way.
Based on the children's book by Claudia Carigiet, it follows the story of the brave goatherd Gianna as she searches for a young boy Karl, who has lost his way in the forest of God Laret. Will she find him? The themed wooden sculptures offer lots of fun photo opportunities on the route.
Top tip: at the end of the walk, there is a surprise for the children; pick it up at the Sils Tourist Information, opposite the post office in Sils.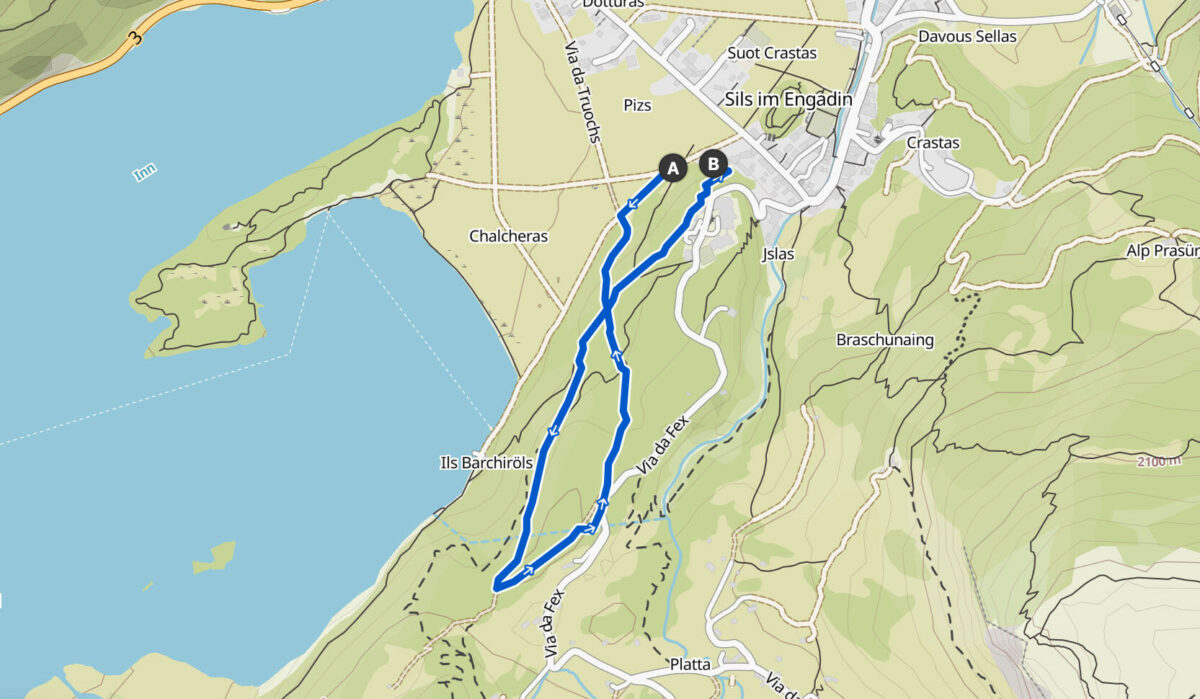 Start: Alpenrose, Sils
Finish: Alpenrose, Sils
Length: 2.5km/1.6 miles
Highest point: 1,890m/6,200ft
Duration: 1.5 hours
Level: Easy