Taking in the famously dramatic mountain scenery is one of Switzerland's greatest draws, whether you admire it on the ski slope, dining on a terrace, or from your hotel room. But nothing tops the view than when you see it from a valley lake.
Take the Engadin Valley, which is known for its beautiful lakes, particularly the big four: Sils, Silvaplana, Champfèr and St. Moritz. But Lej da Staz (Lej means lake in Romansh) just might be the best loved, a peaceful respite and the perfect spot to spend a day away from it all.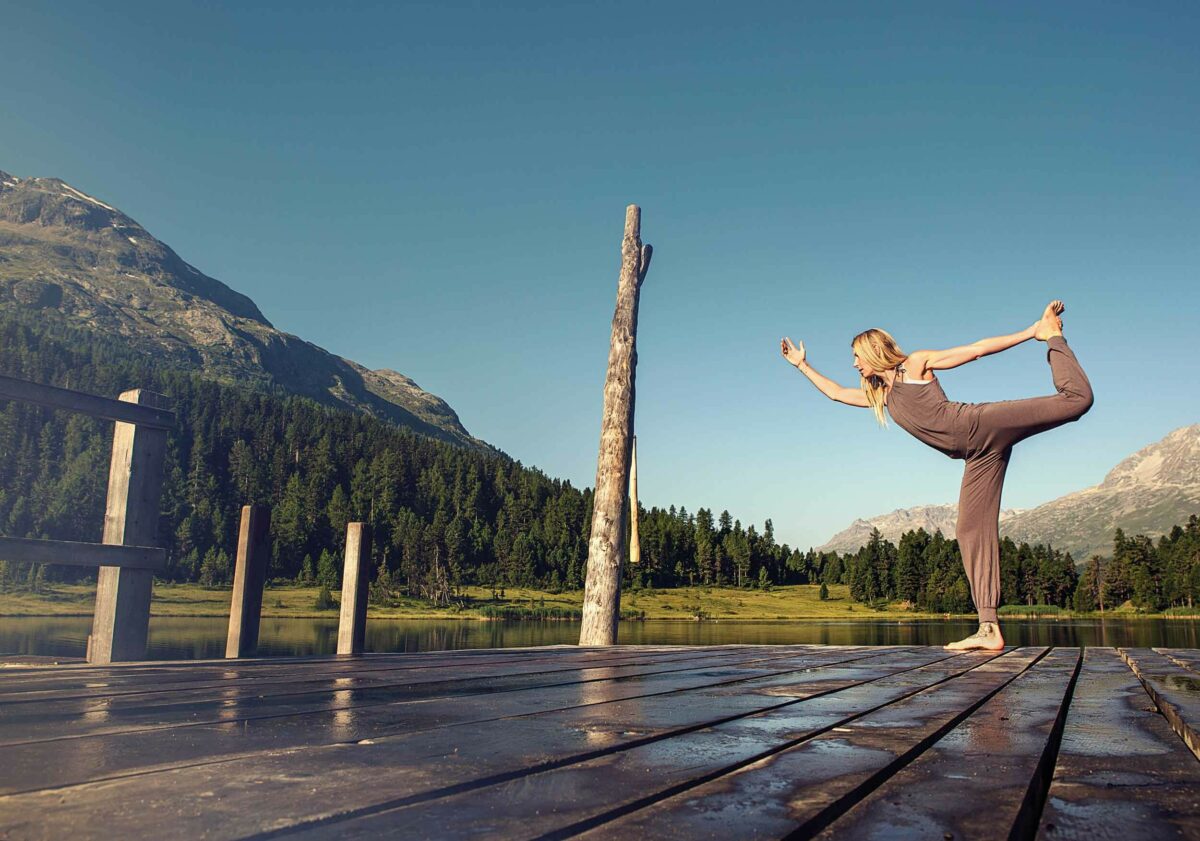 At 1,809 metres (5,935 feet) above sea level, Lej da Staz is nestled in a wide, open clearing in the vast Stazerwald forest, between St. Moritz and the quiet village of Pontresina. During winter, the lake is transformed into a glistening ice-skating rink surrounded by cross-country skiing trails. Once the temperature rises though, locals and tourists alike trade in their ice skates for bathing suits and cross-country skis for hiking boots.
One of the reasons Lej da Staz is such a blissful spot is that no cars are permitted. To reach the lake, take the short bike ride (use one of the hotel's electric bikes) or easy 25-minute walk from Badrutt's Palace, which takes you through striking scenery. As you make your way out of town towards the lake, leaving the bustle of town behind and passing the eastern shores of Lake St. Moritz, you go through magical forests with trees that climb high towards the sky.
Lej da Staz is a swimmers' paradise, its pristine, clear waters flowing down from the glaciers of the Bernina Alps. Wide jetties provide easy access to the shallow waters. And, since it is not as deep as its neighbouring lakes, it is also much warmer, reaching 20˚Celsius (68˚Fahrenheit) or more in summer, a perfect temperature for outdoor swimming. After a dip in the lake, it is time to spread out a towel in between the reeds and bask in the Engadin sunshine, perhaps reading a book or spending the afternoon people-watching. It is easy to think of the lake as your own personal al fresco spa. Whether practising yoga, meditating at the water's edge or admiring the views of mountain peaks that stretch as far as the eye can see, Lej da Staz promises to bring you to a calm state of mind.
The idyllic setting allows you to reconnect with nature in a meaningful manner, helping you leave the stresses and strains of everyday life behind. You can also experience the forests around the lake in a mindful way. Head to the trees and practise the Japanese relaxation tradition of forest bathing, or shinrin-yoku, observing everything around you while breathing deeply. You will instantly feel relaxed.
The children will also love Lej da Staz. There is a small beach and a playground for little ones to have fun in the fresh mountain air, or bring a ball for them to catch around the water's edge.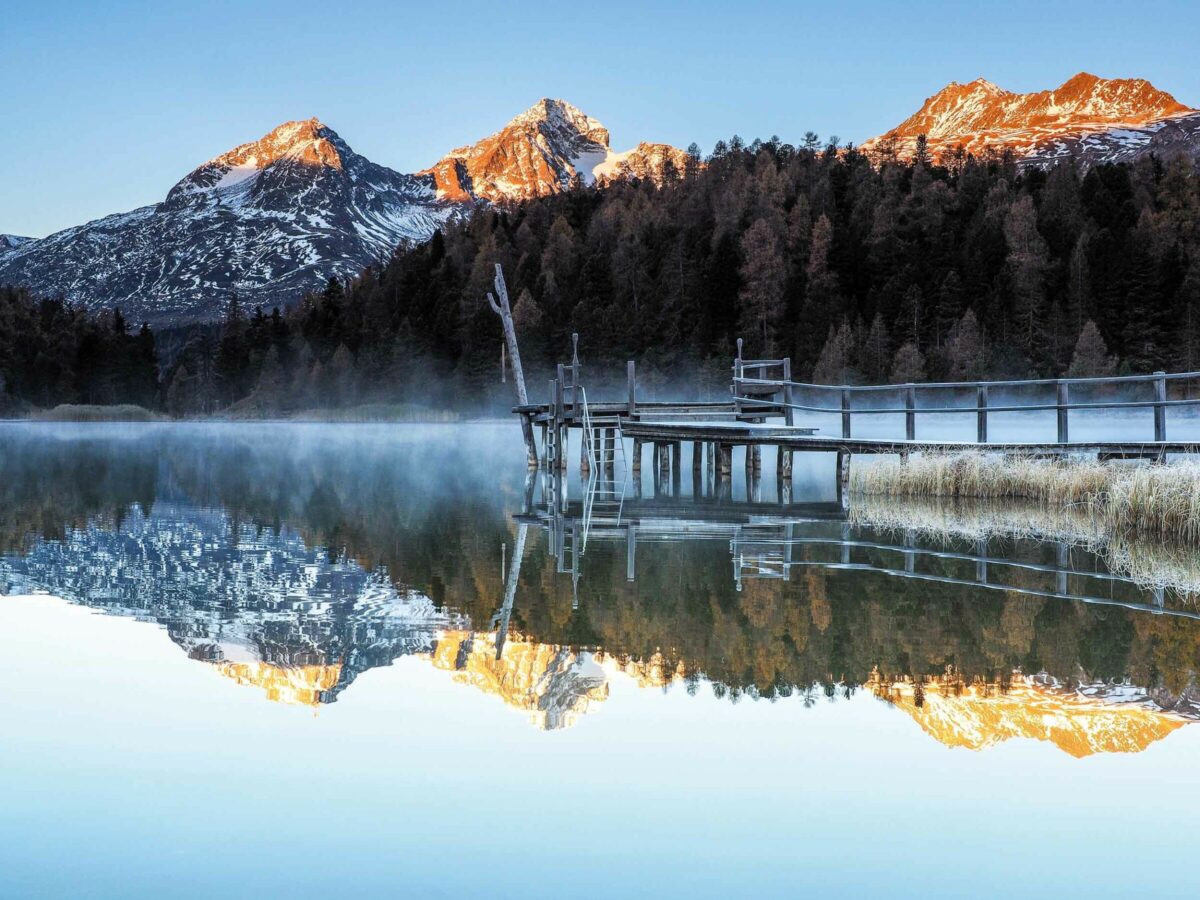 There are plenty of hiking and biking trails around Lej da Staz too, with one to suit every fitness level. To get a very different perspective of the area – as well as a touch of whimsy and romance – horse-drawn carriage rides are also offered in both the summer and winter.
All this activity can work up an appetite. The chef at Badrutt's Palace can prepare you a special gourmet picnic lunch to take with you so all you have to think about is finding the perfect spot to savour the fare and admire the captivating views.
If you want to take in the lake at its most mystical, arrive early in the morning when the lake is cloaked in fog, making the floating islands of reeds and marsh clover appear even more magical. The beauty of the Engadin Valley is magnified in mysterious ways.
Take the plunge
Discover these other beautiful local bathing lakes…
Lej Marsch
This delightful lake located in a nature reserve has pleasant water temperatures and is protected from the wind. It is just a short walk from St. Moritz's Olympic ski jump and accessible by bike.
Lej Nair
Reached only on foot, and a 15-minute walk from Lej Marsch, the name of this small, secluded lake means 'black lake'. It is named after its peaty soils, which absorb the sun's rays to warm up the waters quickly. Try to time your visit here to catch one of the enchanting sunsets.