Standing in the tumbling, clear waters of the Inn river, I cast my line tied with an imitation caddisfly upstream. I'm knee deep in the Upper Engadin valley of the Swiss Alps, working my way upstream and casting to any likely spot that might hold a fish. The river flows around and past me under towering snow-capped mountains until it empties into Lake St. Moritz and continues beyond into Austria, flowing into the Danube and eventually entering the Black Sea.
My fly meanwhile is suddenly sucked in by a small feisty fin-perfect brown trout. I quickly bring it to hand, admire its colours and red and black spots, before promptly releasing it. Looking up again at the alpine meadow that surrounds me, the pine forest foothills and the granite peaks that rise above them, I breathe in the cold fresh mountain air and enjoy the moment. The sun has made its way from the east and has crept up on me unnoticed. I feel its warmth and smile knowing that I have the whole morning ahead of me. It's late July and there is no place I'd rather be.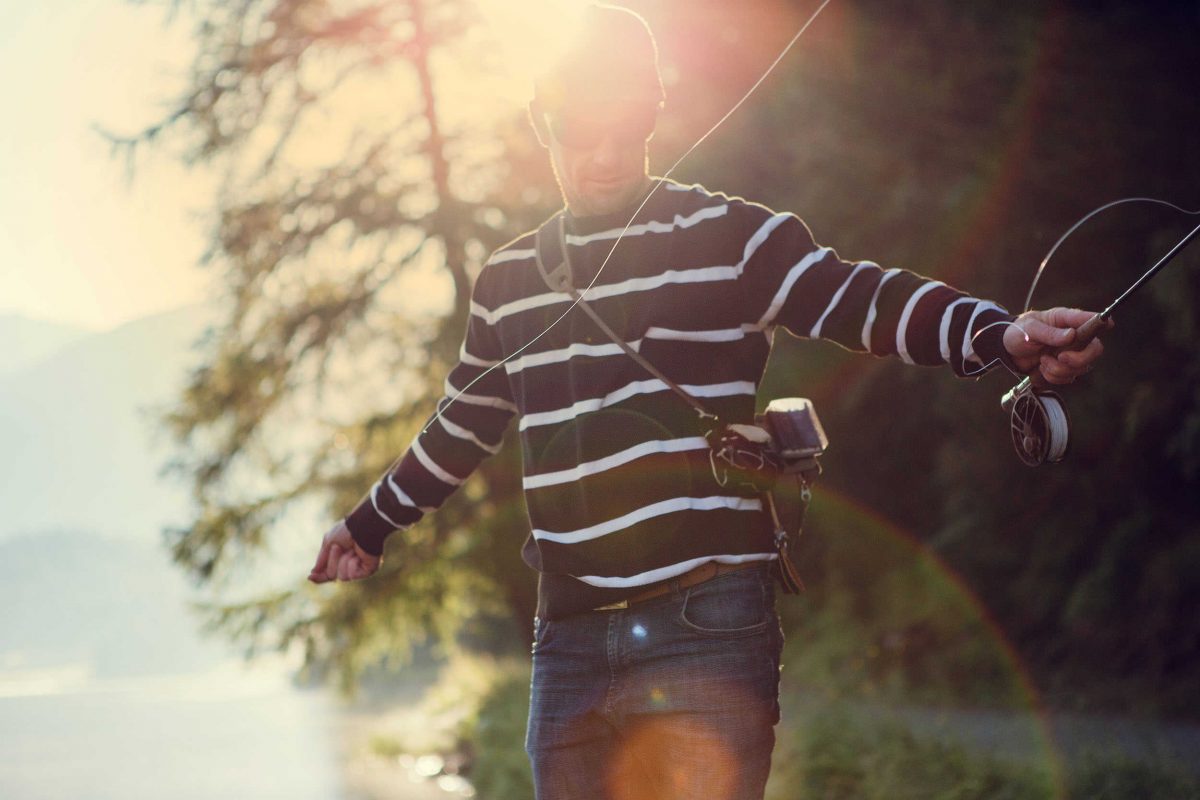 Fly fishing is a technique of angling that uses an artificial 'fly' to fool the fish into taking it. Requiring good technique and timing, it is an activity that is increasingly attracting a younger set, and also a growing number of females. Actors Emma Watson and Zac Efron, and singer Rita Ora, are all said to be enthusiasts. The sport is even inspiring high-end streetwear, with fly-fishing-influenced clothes recently seen on the catwalks of the most exclusive designers, including Louis Vuitton.
It is easy to understand why it is attracting a legion of new fans. It's a pastime that connects you to nature and the great outdoors, it challenges you both mentally and physically, and it is extremely rewarding. The moment you step into a river you become immersed in the activity and any other thoughts you might have are washed away with the current. It cleanses, heals, gives perspective and balances out what is often a full and hectic life. Whether you practise it on your o­­­­­­­wn, with friends or with other members of your family, it is an activity that provides a lifetime of enjoyment and learning.
Downstream from where I stand is the legendary Badrutt's Palace Hotel, where I'm currently staying as a guest. The Engadin offers many options to outdoor enthusiasts and the hotel has catered to those that visit the area in the summer months since its inception. On this occasion, the hotel has kindly organised my fishing for the duration of my stay. It can provide you with a qualified fly-casting instructor or guide who caters for both beginners and advanced practitioners. Located in the Graubünden canton, you have access to rivers, streams and lakes ­- both in the valley and up in the mountains, where you can fish for grayling, brown trout, arctic char, brook trout and lake trout (namaycush), from either land or boat. Daily and weekly courses are available, whether you want to learn how to fly fish, tie your own flies, or simply to perfect your cast. Guided day trips are also available and popular.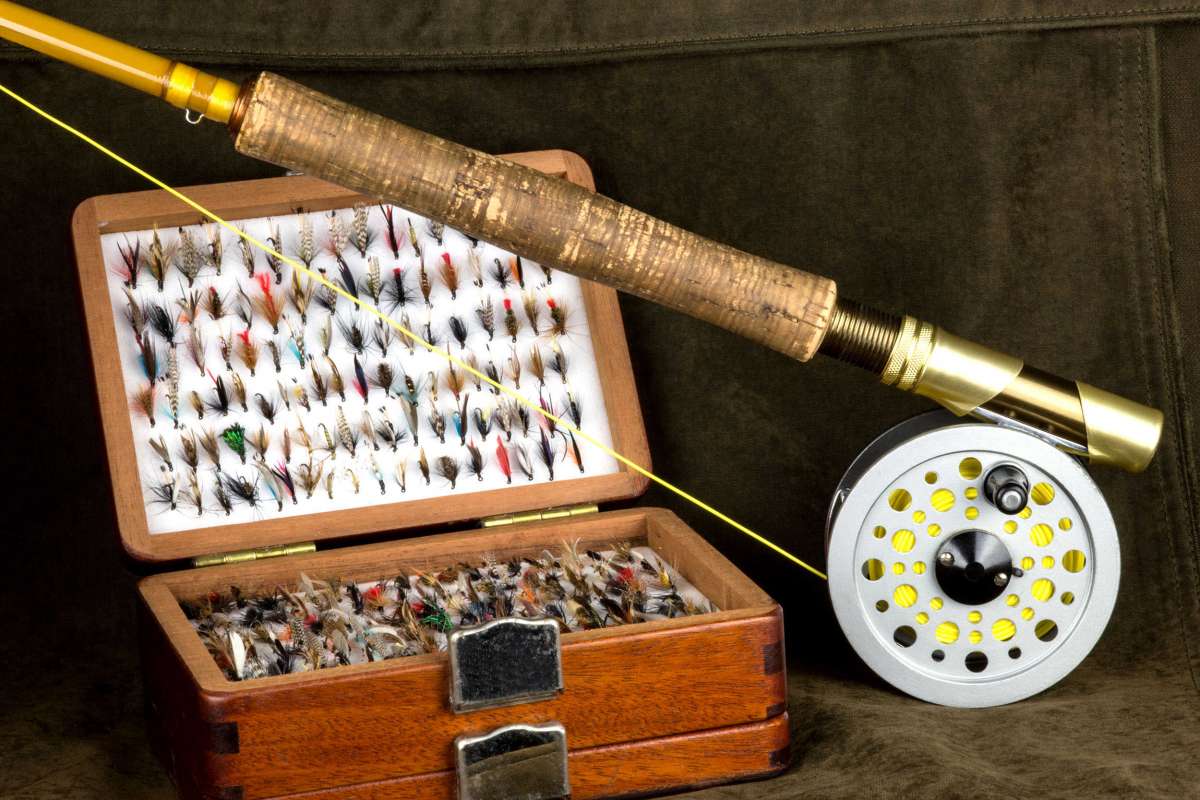 All tackle can be hired but should you wish to bring your own, a 9-to-11-foot, 3-to-7 weight rod and reel are advised, depending on what you plan to fish for and where (river or lake). If you are targeting trout, stonefly, caddisfly and mayfly (upwinged flies), patterns work well – in different sizes and covering the different stages of the lifecycle. Otherwise, apart from nymphs, streamers can be used in rivers and lakes when you are looking for fish that feed lower down the water column.
Back in the river, I become part of nature and animals that are naturally drawn to water no longer see me as a threat and often approach me unawares. In the Engadin, if you start off early in the morning, expect to see anything from marmots, to red and roe deer, chamois, ibex, red squirrels and mountain hares. While above you, buzzards, eagles and alpine choughs swoop and dive, and somewhere in between you'll hear woodpeckers and see finches.
The Engadin valley is fragrant and splashed with the colour of wildflower at this time of year. It runs west to east along the Swiss Alps and is bordered by towering mountains – Bernina (4,049 metres / 13,284 feet), Nair (3,056 metres / 10,026 feet) and Muragl (3,157 metres / 10,358 feet) among others, which reminds me of being in an amphitheatre where the stage is the river before me. As I continue to work my way up the valley, I encounter hamlets, where farmers have grazed goats and cattle and made cheese since before memory, and where the timeless houses are rugged timber and stone constructions. I pick up fish here and there but my sight is constantly distracted by the beautiful scenery around me. I stop and think about how I would like to share this with you.
The Engadin offers some of the best rivers and lakes for fly fishing in the Alps. The fly-fishing season lasts from 1 May until mid-September (rivers) and until 31 October (lakes). The concierge at Badrutt's Palace Hotel will be pleased to recommend a guide.