The door opens and we bundle out onto the white expanse below. Snow swirls around us in a tornado, its icy coldness whipping our cheeks as we keep our heads and eyes down and avoid looking up at the whirring beast above us. The maelstrom gets stronger, and just when we think we will be blown away, the helicopter rises up and away, disappearing from sight within seconds.
As the snow settles, we check we still have everything – backpack, gloves and skis. Now in complete silence we take in the spectacular high Alpine landscape of Fuorcla Chamuotsch with its pristine deep snow. Then we make our exhilarating descent, cutting fresh lines down the mountainside.
Heliskiing in Switzerland
For the uninitiated, heliskiing is off-piste downhill skiing where the beginning of the trail is reached by helicopter rather than ski lift. Helicopters were mainly used to reach remote areas in mountainous regions. However, in 1965 Hans Gmoser commercialised the activity in Canada by combining lodging, transport and guiding. Today, there are an estimated 15,000 annual heliskiing flights in Switzerland to 42 landing sites.
From St. Moritz, the best heliskiing option is Fuorcla Chamuotsch, a five-minute flight away. Once you've been dropped off by helicopter at nearly 3,000 metres (9,500 feet) above sea level, you will enjoy breathtaking routes down through Valletta dal Güglia or Val Suvretta.
The helicopter will drop you on one of two peaks, where there is a choice of about 20 different routes, from steep-face skiing to easy, gentle rollers. The start is exposed with no trees. Then you can choose to ski down to different valleys, possibly ending at the Julier Pass or St. Moritz, where you can extend the run with a short hike here and there.
"If you enjoy ski touring and are fit, I'd recommend flying up by helicopter, skiing down the valley, hiking up, skiing down and making a traverse," adds Lukas Mathis, a St. Moritz mountain guide who works with heliskiing operator Swiss Helicopter. "It's beautiful; you feel like you are in Alaska."
Accessing untracked powder slopes by helicopter should be on the bucket list of any proficient skier or snowboarder. It's thrilling to fly directly into an untamed winter wilderness and explore untouched powder snow. Even the flight over dramatic mountainous terrain is an adventure.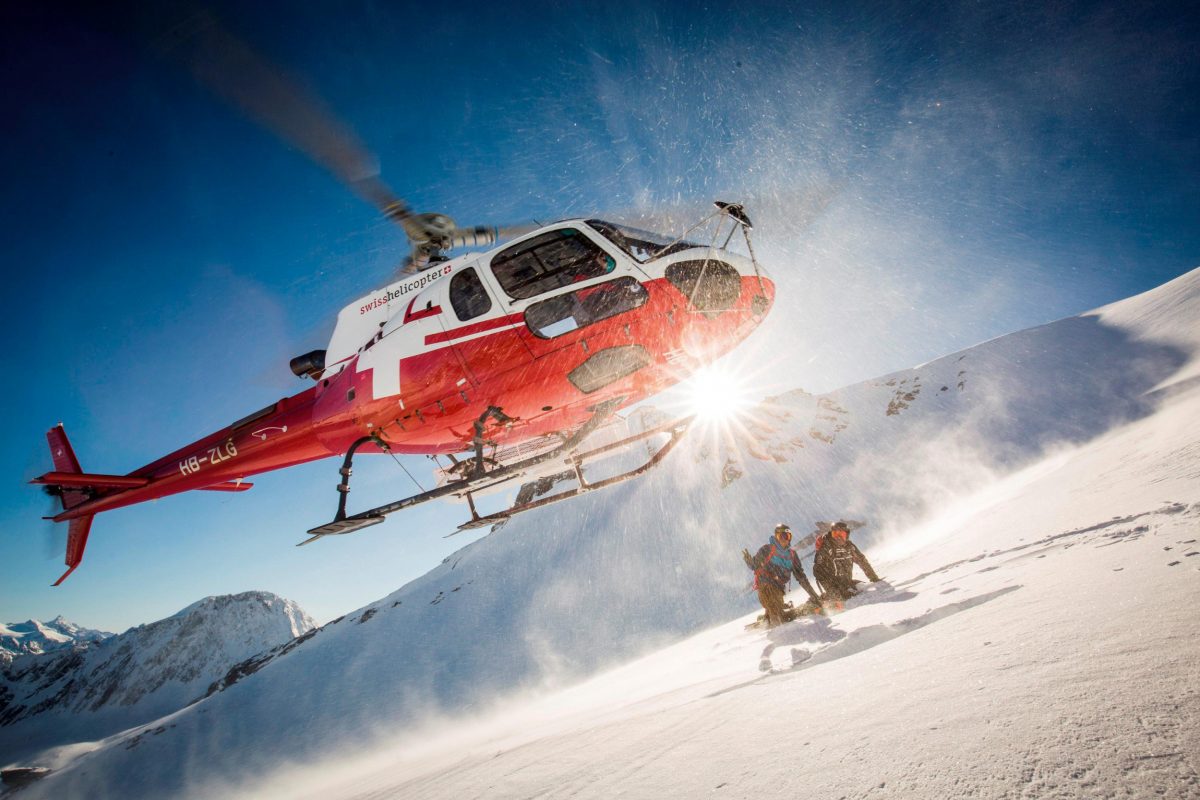 What you need for heliskiing
The avalanche risk of skiing off-piste and in rarely visited areas such as Fuorcla Chamuotsch means that there are certain things you will need:
• A certified mountain guide – this is mandatory to lead you through the snow and work with the pilot to make disembarkation as easy as possible.
• A transceiver
• A probe
• A shovel
Some off-piste skiing experience can also be useful: "When there are spring corn-snow conditions on Fuorcla Chamuotsch, I can guide skiers with no off-piste experience," explains Mathis. "When we have powder snow, I will only take experienced off-piste skiers."
With many mountains protected for conservation reasons, a lot of traditional off-piste skiing around St. Moritz is accessible by lift (see below). But the runs from Piz Corvatsch and Fuorcla Grischa, also used by several heliski operators, should not be discounted.
As we look back up at the tracks we have made from our heli-drop on Fuorcla Chamuotsch we agree that this is a day we will never forget.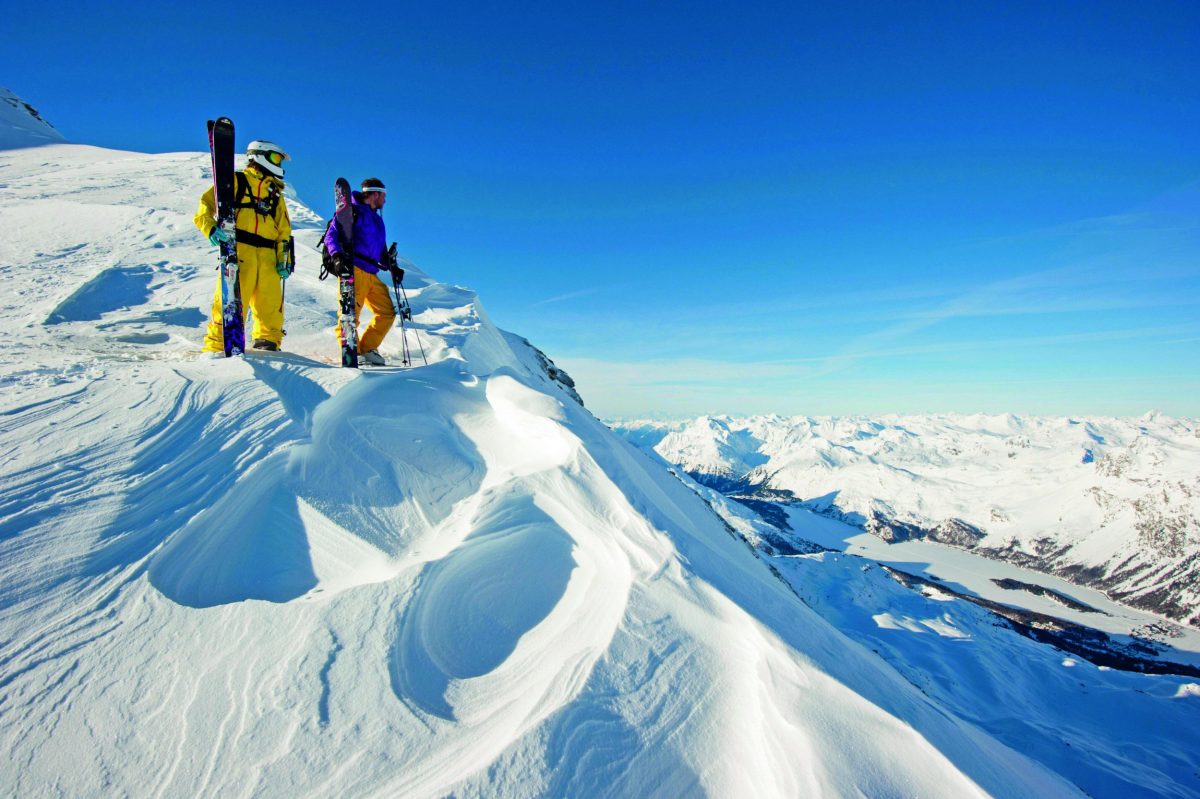 Off-piste in St. Moritz
St. Moritz also offers some challenging routes for expert skiers, without the need to take a helicopter. "The off-piste terrain here rarely gets tracked out as quickly as other resorts," says Lukas Mathis, who advises always taking a guide. "It has some of the best freeriding in the Alps, including 45-degree ski chutes from the lifts."
Piz Corvatsch
The Corvatsch glacier is snowsure, with a height of 3,305 metres (10,843 feet). From the steep top section, the glacier quickly opens into a north-west facing powder-filled apron. Longer expeditions include a ski down to the Roseg Valley.
Diovelezza
This spectacular route off the back of 2,973-metre (9,754 feet) Diavolezza provides a 10-kilometre (6.21 miles) descent down the Moreratsch Glacier. It includes the longest glacier run in Switzerland – 1,200 metres (3,608 feet) of powder cruising with a testing 300-metre (984 feet) section.
Corviglia
This area offers many off-piste routes, all easily reached from lifts.
Maloja
A short drive from St. Moritz is a T-bar lift leading to a 300-metre (984 feet) tree run. After a heavy snowfall, it can have up to a metre of powder. "It is guaranteed to put a smile on your face," says Mathis.
Abigail Butcher is a qualified ski instructor and writer specialising in adventure and skiing.