Snowshoeing takes winter hiking to the next level. In St. Moritz and the Engadin, this means going where hiking boots might sink, along spectacular routes that make the most of the region's high altitude and incomparable setting.
Thanks to the "floatation", or weight displacement, offered by the snowshoes – which are essentially an aluminium, composite or EVA foam frame with straps that fit over your shoes or boots – you stay on the surface of the snow.
"What I love about this part of the Engadin is that there are so many areas to enjoy snowshoeing," says professional mountain endurance athlete Alexandra Nemeth, who leads private snowshoe tours in St. Moritz with her company Alex7Summits."If you get good snow on one side of the mountain, you go there. If you want to make the most of the sunrise or sunset, or just explore quiet trails, there are so many places to choose from."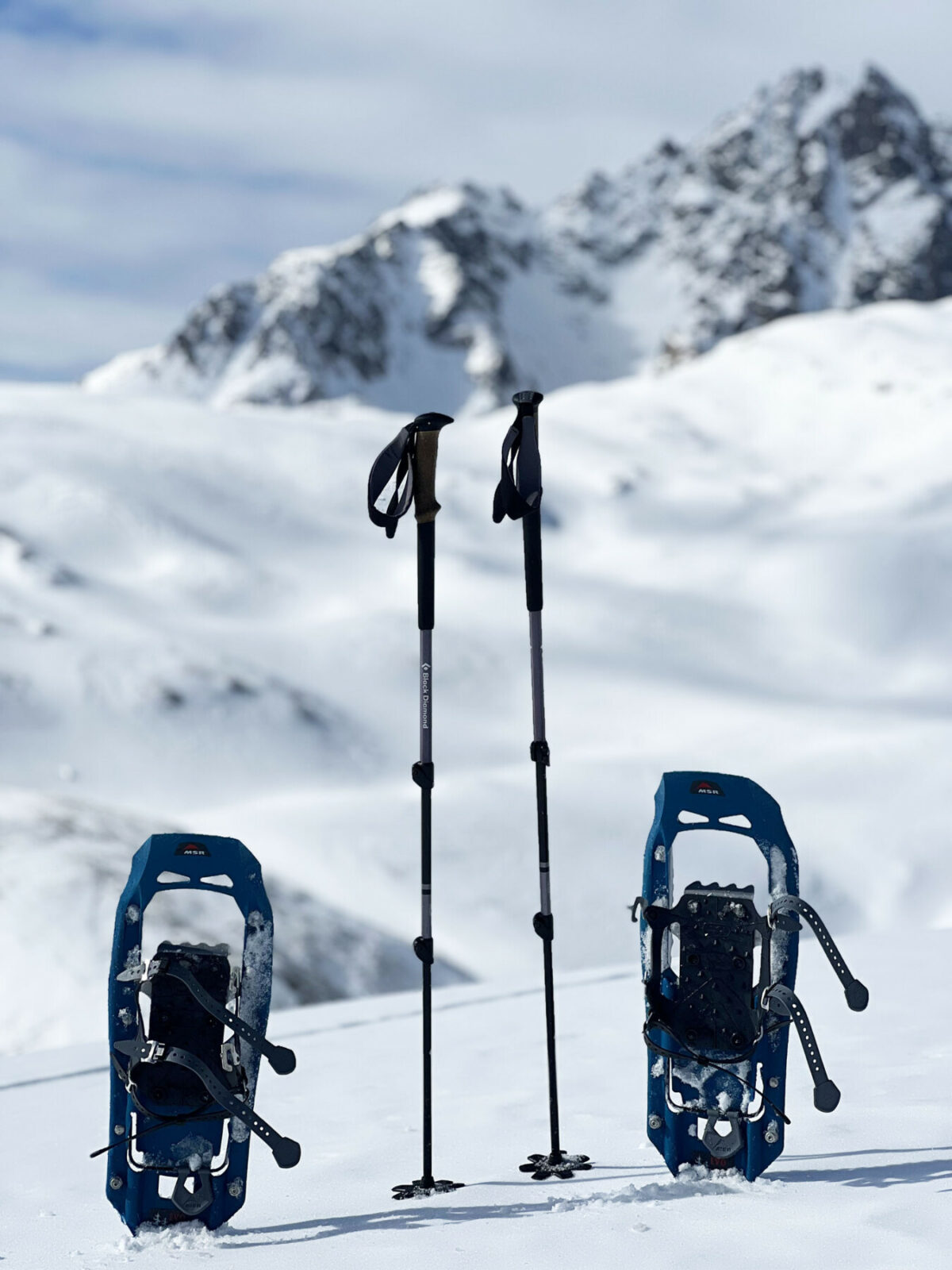 It is thought that snowshoes originated around 4,000 years ago in Central Asia as a "shoeski" – a solid piece of wood with a binding – that people used to migrate over the Bering Strait. Nowadays, they are lightweight and available in a range of designs, some with in-built crampons for icy or steep traverses. And snowshoeing is a popular winter activity enjoyed in ski resorts around the world.
As well as a pair of snowshoes and walking poles with baskets (available in sports rental shops resort-wide), you will need an avalanche transceiver, shovel and probe, especially if you plan on venturing into the back country. Everyone should also take plenty of water, a snack, a Swiss Army Knife, sunglasses, sun cream and blister plasters. Nemeth recommends you take a guide who knows the local terrain and avalanche risks if it is your first time.
Even when it is sunny, you will need to layer up: Nemeth suggests a base layer of merino wool, a stretchy warm mid-layer, warm gloves, socks and a hat, as well as a down and a waterproof / windproof jacket. "You won't need your jackets when you're climbing, but it can get chilly when you stop to enjoy some Engadiner Nusstorte, hot punch and the views," she says.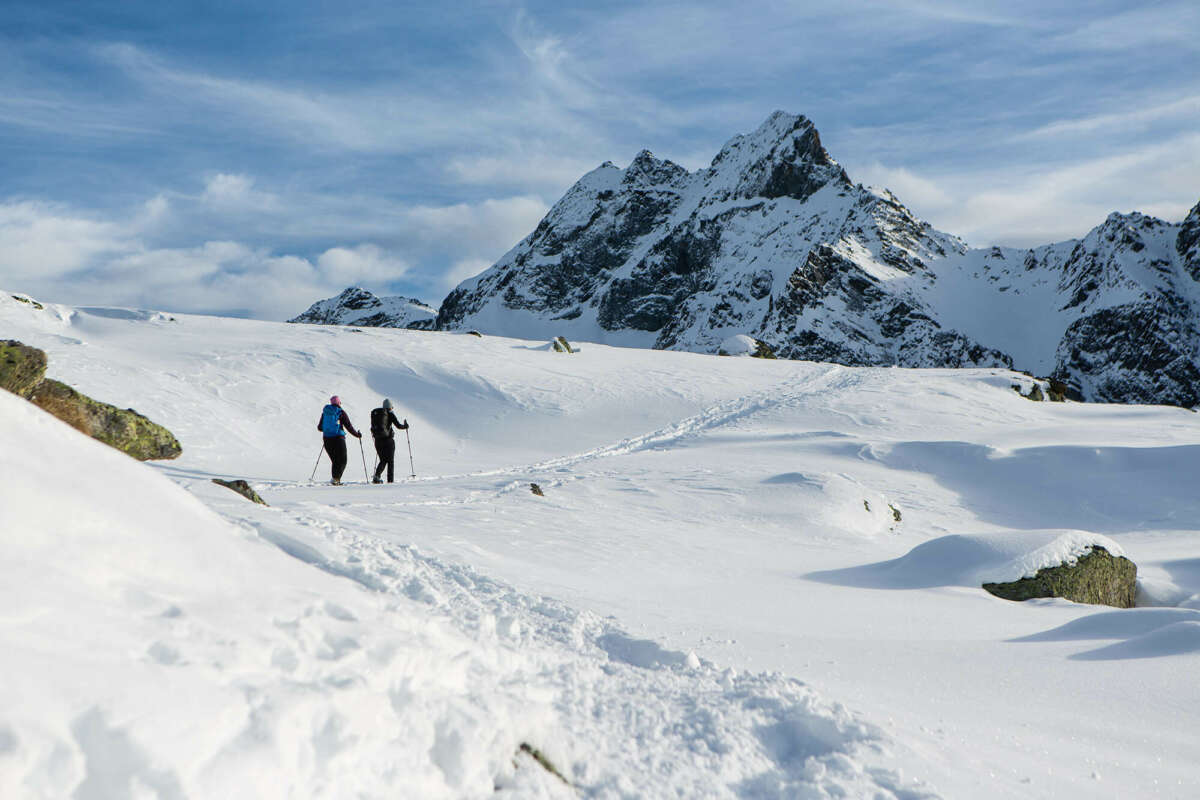 Benefits for body and mind
You might think of snowshoeing as an extension to walking: it brings the same benefits of activating the quadriceps, hamstrings, glutes and calves, but it is more aerobically challenging as you are often breaking new snow.
You also have to balance as you move, which engages your back and abdominal muscles, while the snowshoes act like little ankle weights. But snowshoeing is equally good for anyone with joint concerns, as the soft surface of the snow acts like a buffer, and you do not need to be particularly fit to give it a go.
The "really wonderful thing" about this sport, according to Nemeth, who spends six days a week on snowshoes in winter, is that you can make it as easy or as hard as you wish. "Snowshoeing is for everyone," she summarises. "Whether you're a beginner or need a break from skiing, fancy trying a new sport or want a fantastic heart-pumping, leg-burning exercise – you'll fall in love with it." And you will feel the benefits of spending time in nature, inhaling the fresh mountain air.
Snowshoeing tours for everybody
For beginners: St. Moritz to Alp Laret
This accessible 4.5-kilometre (2.8-mile) trail (below) departs St. Moritz along Via Brattas, which meanders into the forest on the edge of town. As you climb out of the trees, the view expands across Muottas Muragl, Corvatsch and Piz Julier. Climbing gently, it takes about an hour to hike to Alp Laret, where you can have a picnic and play in the snow. Follow your footsteps back to St. Moritz.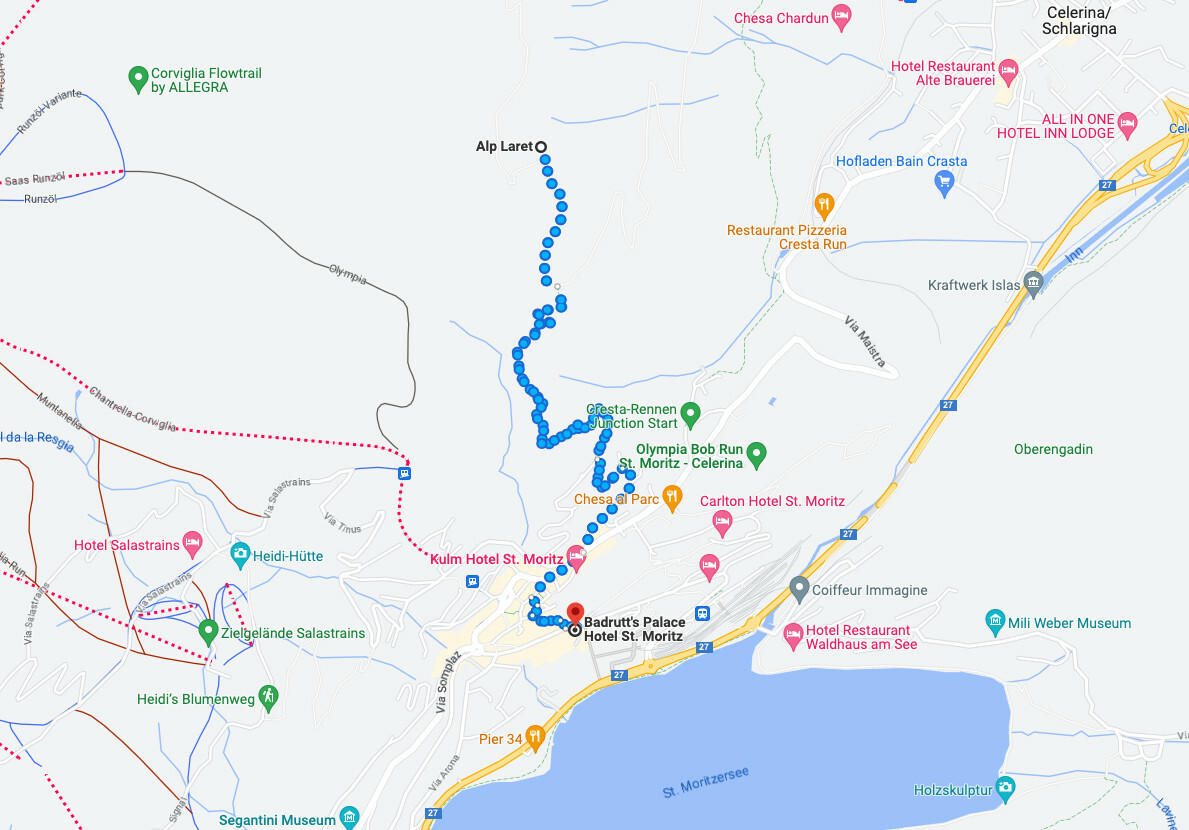 For young families: Pontresina to Celerina
Ideal for families with young children, this easy trail (below) is 4 kilometres (2 miles), signposted and flat. It starts at Pontresina railway station then plunges between the ancient larch and Swiss pine trees of Staz forest and across moorland clearings where children will enjoy looking for animal prints in the snow. Keep your eyes and ears open: you might spot squirrels and nutcrackers. From Celerina, you can return to St. Moritz by train.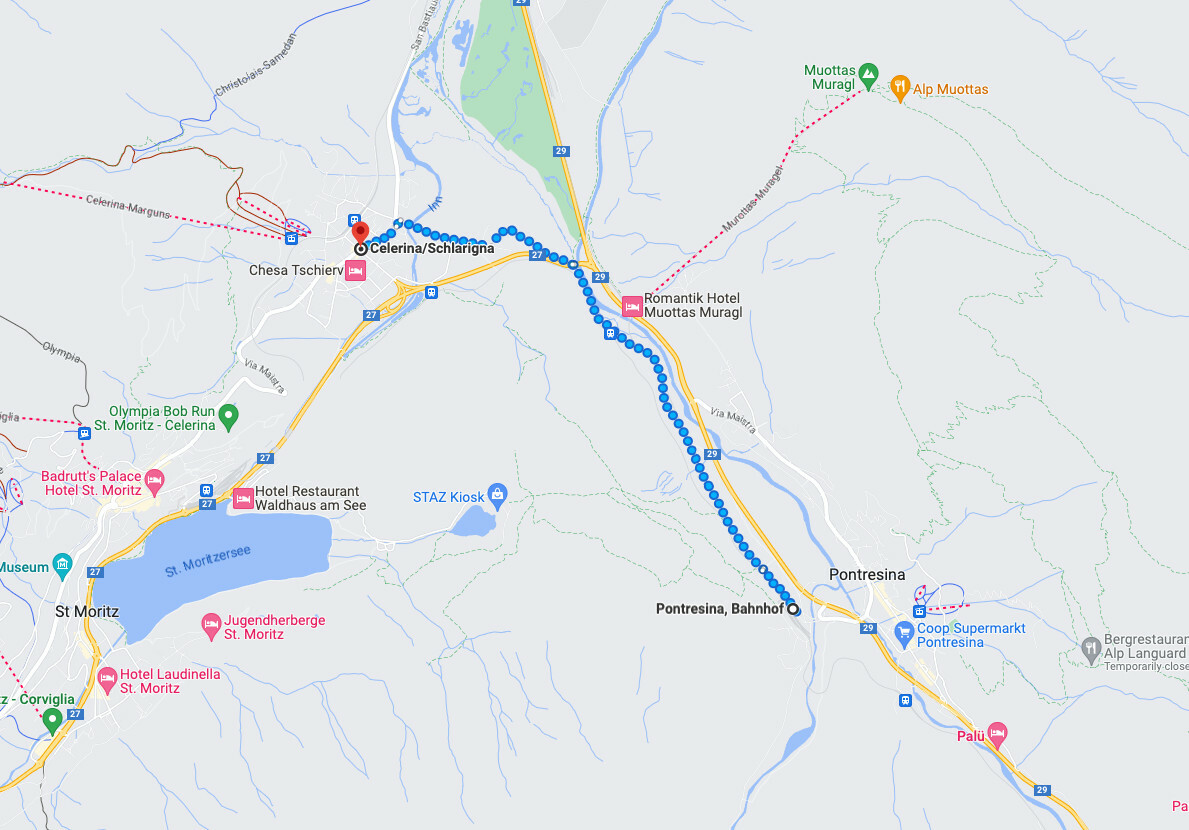 For adrenaline seekers: Diavolezza ascent
Physically demanding, this 6-kilometre (3.7-mile) snowshoe ascent (below) starts on the ski touring track to the right of the red piste at Diavolezza valley station. It zigzags into the back country, where you must beware the steep drops and pay attention to avalanche warnings, before returning to the piste-side, where the going is steep but stunning. Ahead of you are the triple summits of the Piz Palü massif and the highest mountain in the eastern Alps, Piz Bernina (4,049 metres; 13,284 feet). Continue to the viewpoint Sass Queder, at 3,066 metres (10,059 feet) above sea level, then return by cable car from Diavolezza mountain station. For something extra special, join one of Alexandra Nemeth's full moon tours of the route.