It is safe to say that Melissa Ganzi (pictured above) is always thrilled to be involved with the Snow Polo World Cup St. Moritz. In 2019, she entered the history books by becoming the first woman to win the coveted trophy when she captained Team Badrutt's Palace to victory.
The achievement is all the more remarkable given that the Engadin event is a high goal – the highest level the sport can be played at – tournament. It is also the only one played on snow at this level.
"Travelling to St. Moritz and playing for Badrutt's Palace Hotel has become part of my annual routine, and it's become even more special after Badrutt's Palace won its first title with me after 35 years of being part of the event," she explains.
"I feel very fortunate to share that victory and those wonderful memories. Snow polo is unique, and the frozen lake adds an element of danger and adrenaline. The snow-covered mountains in the distance, the historic hotel in the background, the snow polo village and the field-side fans all make it a spectacular venue. It's both majestic and exhilarating at the same time. And although it will have been a year since I visited, it is as if nothing at the hotel has changed — the same wonderful faces greet you and welcome you by name. The warmth of the staff and the gorgeous setting make it a world-class home-from-home."
Although based in Wellington, US, where her family owns Grand Champions Polo Club and Santa Rita Polo Farm in Wellington and Aspen Valley Polo Club in Colorado, Ganzi admits that she "loves being in the mountains in winter".
Each year, she makes a point of travelling to Europe to compete on snow, where the season culminates with her participation in the annual Snow Polo World Cup. The event is spectacular, played out on the frozen lake in front of around 22,000 spectators over three days. For Ganzi, the event is very much a family affair; in 2022, she again captained Team Badrutt's Palace, playing alongside her son Grant.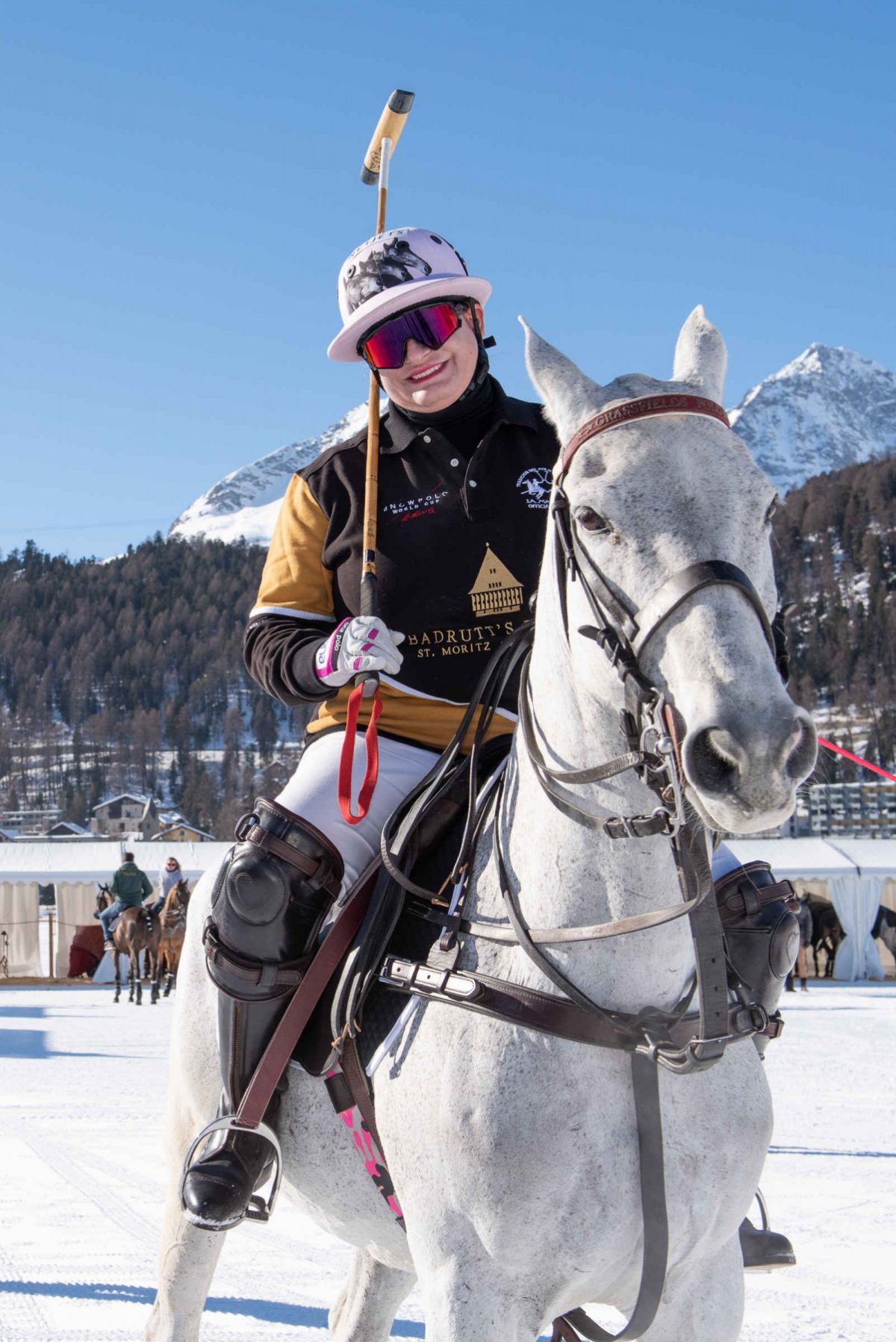 A role model
Of her polo-obsessed family she says: "Whether it's grass, snow, arena polo or beach, we are very competitive. We all love the game and horses, and we bring out the best in each other. We have all played together and against each other in various tournaments. The thing I cherish most about the sport is being able to play with my children and my husband Marc; my happiest times are playing with them."
Although she grew up around horses and has competed in many equestrian disciplines, from dressage to show jumping and eventing, it wasn't until December 2000 that Ganzi discovered her passion for polo, when her father-in-law and polo player Wally Ganzi bought her a polo pony for her birthday. Now, as a top amateur player who competes with and against professionals year-round, she says her goal "is to carry on my work promoting the sport at all levels and watching it grow".
While she continues to work tirelessly in order to raise the profile of all versions of polo, she hopes her legacy will be "to leave the sport just a little bit better than I found it".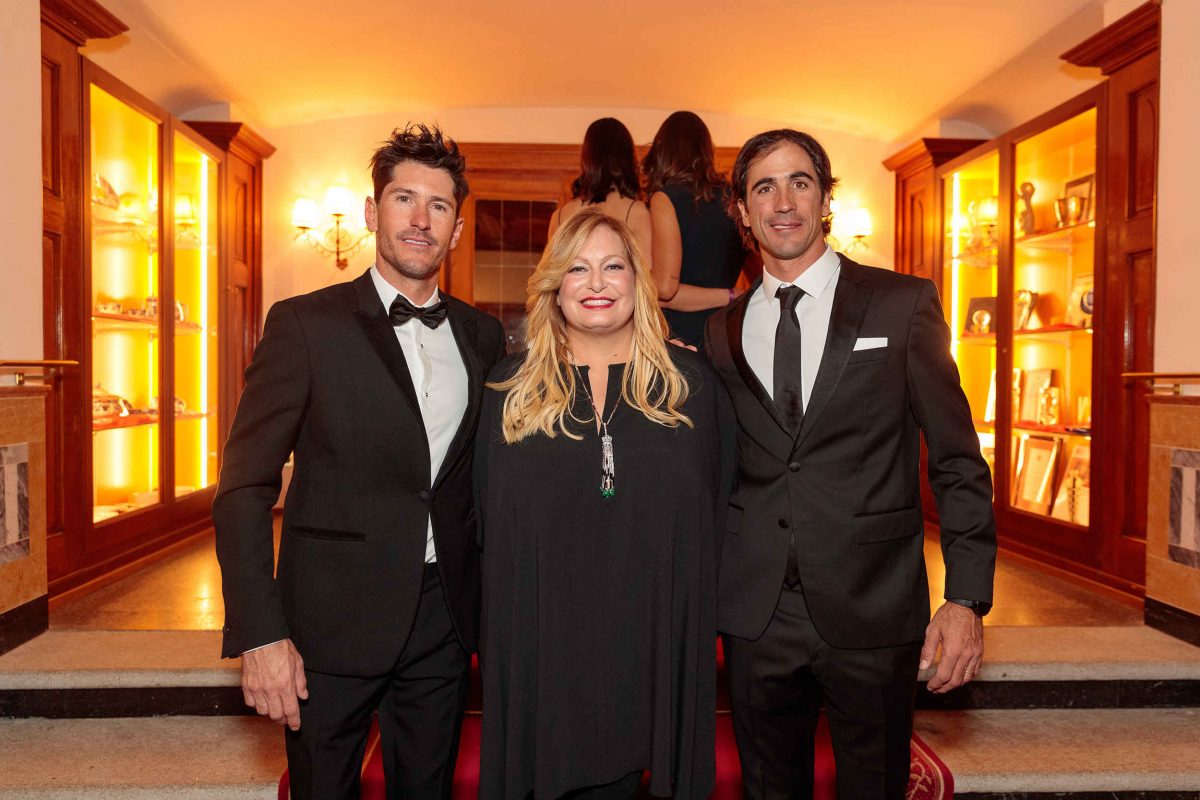 She is particularly keen on showcasing women's polo and admits that she is happy to be a role model for those interested in playing the sport. "It's important to empower girls and women in polo and inspire them," she says. "I want to be a positive influence on them. The women's sector is the fastest growing in the sport. There are now more opportunities out there for women in polo at every level. And as women in polo are generally equestrians first, they tend to relate more to the horses than male players. Horses are the shining stars of the sport and sometimes it is more easily seen with a female player.
"I do enjoy being the 'first woman' to compete and win various tournaments such as the St. Moritz Snow Polo World Cup. It shows other girls and women coming up in the sport that anything can be accomplished if you have a passion and work hard."
The Snow Polo World Cup St. Moritz takes place 28 to 30 January 2022. Entry to the Snow Polo World Cup St. Moritz is free. Buy tickets for reserved seating and entry to the VIP area here.