Have you ever hankered after spending time alone with just your thoughts, immersed and surrounded by the mountainous beauty of St. Moritz and the Engadin? Well, stand-up paddleboarding (SUP) may well be the activity for you.
Stand-up paddleboarding's popularity has skyrocketed over the last decade. The premise of paddleboarding is simple: kneel or stand on a board while gliding over the water, steering with a paddle. With both inflatable and rigid boards available to hire or buy, paddleboarding is a sport accessible to everyone, everywhere.
The sport is thought to have originated thousands of years ago in Polynesia, South America and Africa as both a method of transport and a recreational activity. In recent years, it has gained a much more glamorous appeal as celebrities such as Orlando Bloom, Lady Gaga, Tom Hanks and Kendall Jenner have all been photographed enjoying the sport.
Lakes, rivers and oceans are the typical floating grounds for paddleboarders, with each requiring different experience levels. Paddleboarding on the ocean calls for a great deal of experience in order to navigate changing tides and currents as well as strong winds and waves. Lakes, rivers and other bodies of inland water require less experience, and generally offer a gentler, more relaxing experience.
"Paddleboarding has been around in some form ever since humans first interacted with water," explains Harvey Bentham, a British paddleboarding enthusiast and instructor. "It has hit the mainstream more recently due to its ease of use; paddleboards can be packed down and stored away, and within a few minutes of pumping it back up you can be out exploring the coast… The freedom the board offers is its biggest asset; you're not locked in a certain position, you can move around the board and be playful, and it opens up lakes or coastlines to be explored in an entirely new way."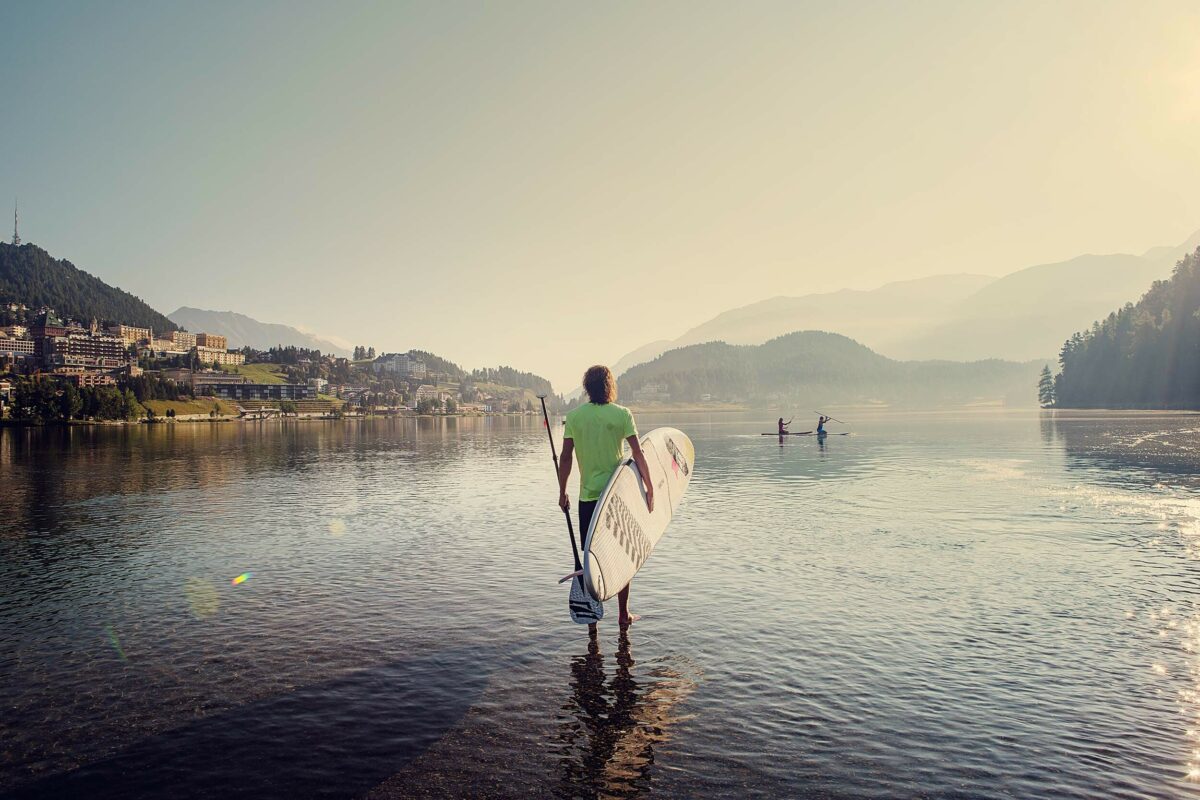 Health and wellness
Another reason that the sport is so appealing is its health benefits. It provides a gentle, cardiovascular workout for people of all fitness levels. Bentham explains: "Paddleboarding is a great sport to physically work out the body. It is a low-impact activity so it doesn't deteriorate the joints and it utilises the entire body giving you a workout from head to toe. It is a sport that relies heavily on a strong core, so by activating these muscles and helping them grow and remain flexible it translates to much more positive movements in other areas of life, too." Once more, studies have shown that paddleboarding has been proven to have a positive impact on your mental health. "There is growing research in the 'blue health' concept, which is finding correlations between time spent on or in the water and increased emotional wellness and resilience," explains Bentham.
Studies have shown that just 30 minutes of paddling will drastically reduce the cortisol (the hormone that contributes to stress) level in your body. In addition to feeling less stressed in your day-to-day life, practicing mindfulness while paddling can have other great benefits, such as creating a stronger immune system and stimulating the brain.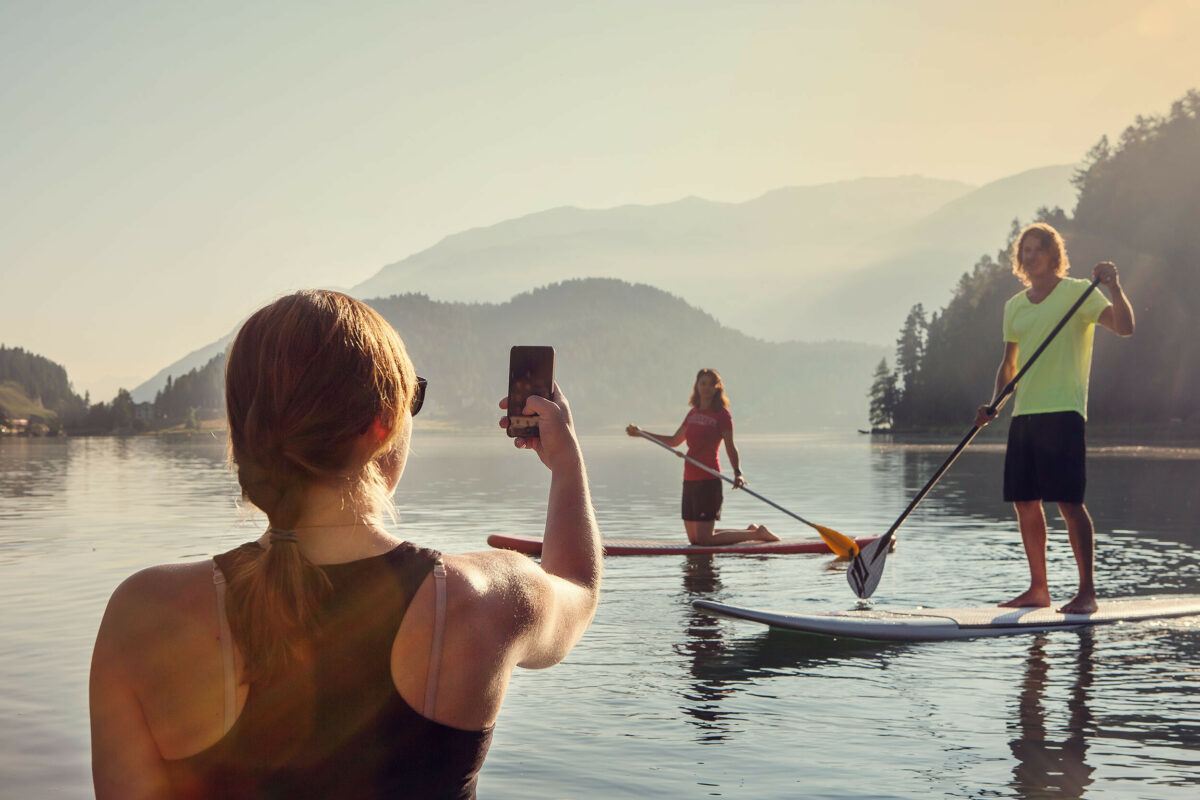 Paddleboarding in the Engadin
Paddleboarding on the lakes of the Engadin is a unique way to explore the area's natural surroundings. And, with three lakes – Silvaplana, Sils and St. Moritz – paddleboarders are truly spoilt for choice.
Each lake offers paddleboarders the chance to take in the immersive expanse of Engadin's natural beauty and all offer rentals on site: at the Sailing Club St. Moritz on Lake St. Moritz, at Plaun da Lej on Lake Sils and at the Swiss Kitesurf centre on Lake Silvaplana. Paddleboards are also available for guests at Badrutt's Palace Hotel; ask the Concierge team for more information. "Paddleboarding is possible on all the lakes in the Engadin and is a really great and incredibly beautiful experience," explains Renate Herold, an advisor at Silvaplana Tourist Information. Herold says the best time to go out on the water is during the summer months, between 10:00am and 10:30am, giving you enough time to board before the arrival of the Maloja wind, a strong south-westerly wind that blows through the upper Engadin from approximately 11am. 
If you're lucky enough to visit the Engadin in the hotter summer months (July and August), wetsuits are not required and a dip in the tranquil lakes could be the refreshing end you need after a morning of paddling. If you are new to paddleboarding, lessons are available at Swiss Kitesurf on Lake Silvaplana so even the wobbliest of paddlers can experience the wonders of the sport in the Engadin's gorgeous surroundings. In fact, the hardest aspect of paddleboarding in the Engadin is choosing what lake to paddle in first!