Winter walking is as simple as putting on your shoes – in St. Moritz, it is as easy as following the hot pink waymarkers that sign more than 150 kilometres (93 miles) of winter trails between glacier-clad mountains, through white forests and across frozen lakes.
Unlike skiing, which demands strength, endurance and skill, winter walking is open to everybody. "Engadin St. Moritz has countless winter walking routes for different levels of ability," says local walking guide Guido Demont. Many of the routes can be shortened depending on how you feel, and there are plenty of options where the terrain is flat . There is some kit you will need, though. Guido recommends shoes with a good sole; layers – including a base layer and a warm down jacket; sun protection, even on cloudy days; and walking poles. It is also a good idea to carry water and a snack, although there are lots of mountain restaurants where you can stop for refreshments.
It is important not to overlook technique. Walking coach and the creator of the WalkActive app Joanna Hall explains that "poor posture and muscular imbalances caused by sitting at our desks can mean that when we walk, we do it sub-optimally". On her app she shares exercises to strengthen the core for better posture when walking, and in the winter she encourages clients to practise "hip lift" exercises – this improves balance, which is helpful if the ground is slippery. She also recommends stretching the hips and ankles before embarking on a winter walk, to "reduce strain on the knees and hips, as well as enhance the functionality of the feet".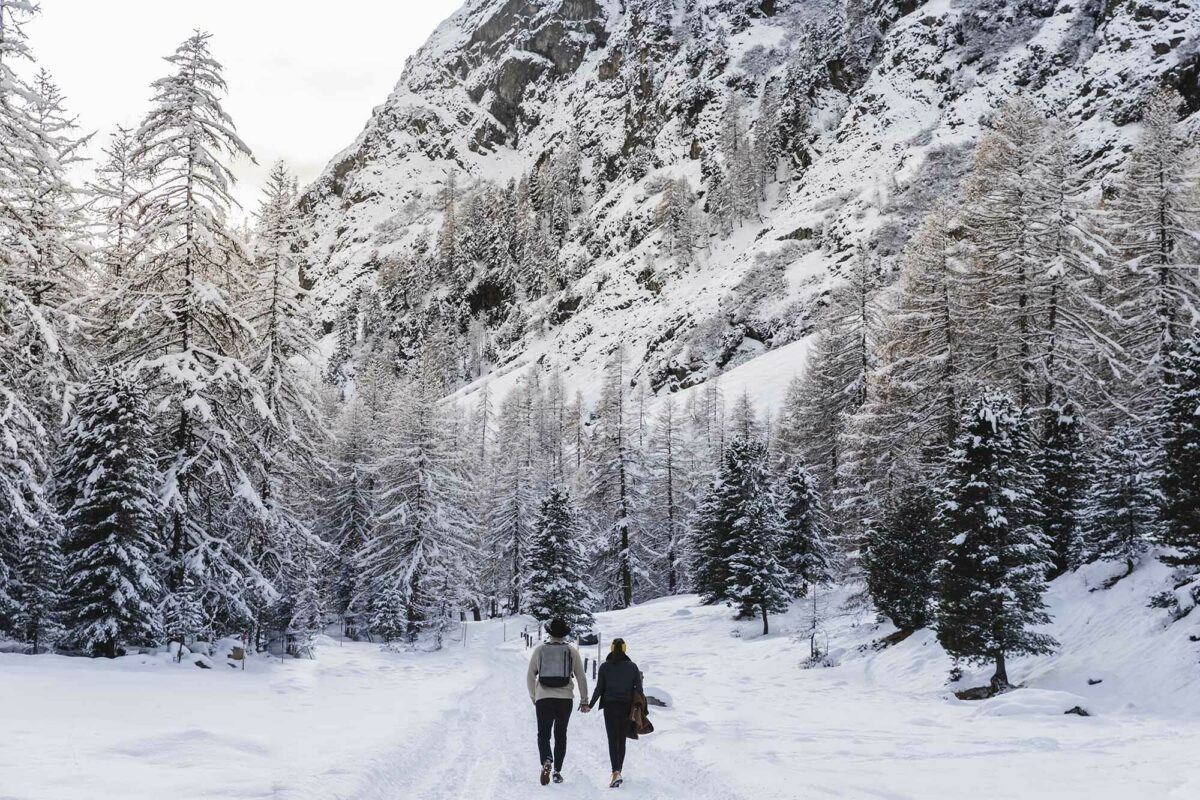 Benefits for body and mind
While winter walking doesn't require athletic levels of fitness, the discipline is incredibly good for your body. It's like walking in the summer but on steroids: the cold activates brown fat, which is known to burn more effectively than white fat, says Hall. A study published in the American Journal of Biology found that exercising in the cold resulted in participants burning up to 1,000 more calories compared to in warmer weather. Also, in colder temperatures, your heart does not have to work as hard, which can help lower blood pressure and improve aerobic capacity.
Winter walking also has benefits for the nervous system: the shorter daylight hours stimulate the body to produce melatonin – the hormone that helps us sleep – and the crisp mountain air of the Engadin is deeply soothing. Local snow sports coach Sabrina Nussbaum-Berger explains that because the entire valley lies at 1,800 metres (5,900 feet) above sea level the air is thinner. "This makes you move more slowly, which is very calming for the body," she says.
Hall advises walking in the morning to make the most of these benefits. "Cardiovascular exercise early in the day has been shown to boost mood and cognitive productivity, and the bipedal movement when walking supports this," she says. An early start also allows you to experience the morning light of St. Moritz, when the mountains appear silver. "The light here is unique," says Nussbaum-Berger. "Even when it's snowing, there is a special light. It's a winter paradise with views you'll never forget."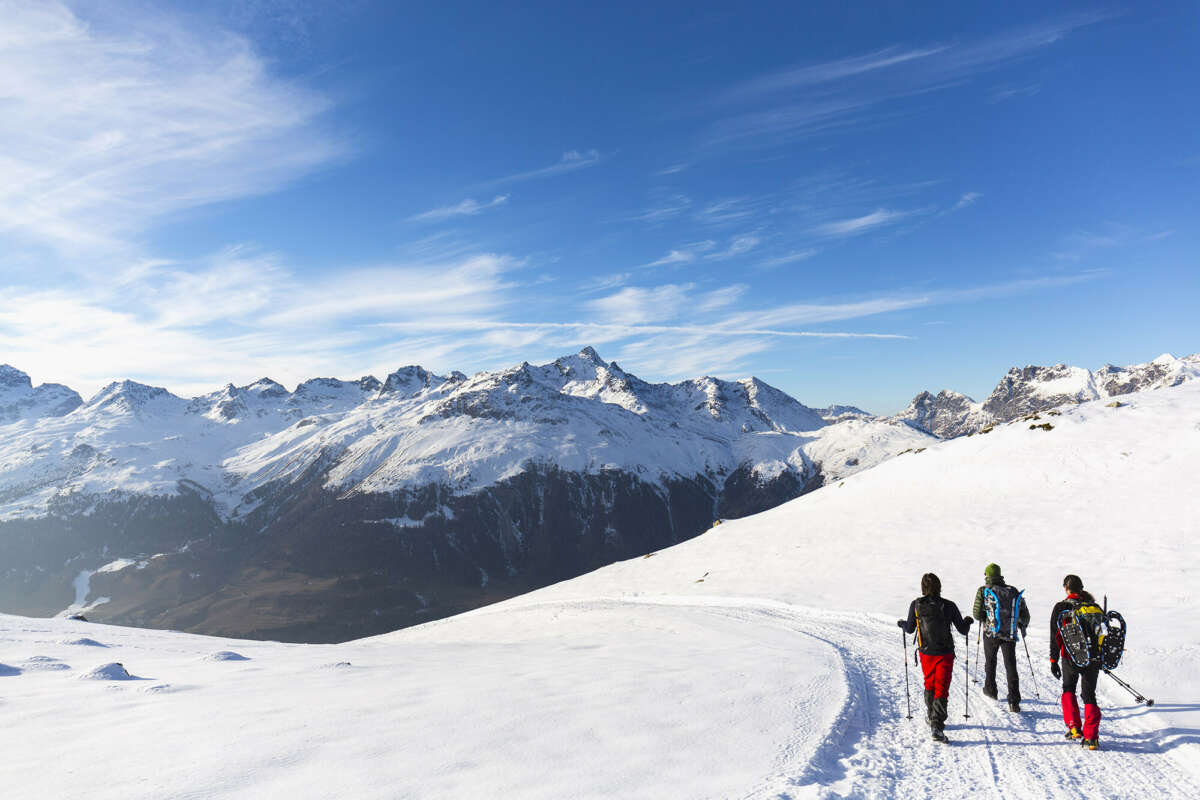 WINTER WALKS FOR EVERYONE
For families: St. Moritz to Lej da Staz
Starting at Badrutt's Palace, this 4.5-kilometre (1.5 miles) pushchair-friendly walk (below) takes in the magical surroundings of St. Moritz. You follow the trail alongside Lake St. Moritz, then meander into sparkly white pine woodland that soon opens onto the frozen lake strewn with snow crystals. Either retrace your steps or continue through the woods to the village of Celerina, where you can board the train back to St. Moritz.
For nature lovers: Val Bever to Spinas
For pleasure seekers: Chantarella to Paradiso Mountain Club & Restaurant
Corviglia is an Olympic snowsports area, but this 6-kilometre (3.7 miles) (below) return panoramic walk (above) lets you absorb the world-class surroundings at a sedate pace. Take the cable car from St. Moritz Dorf to Chantarella and join the gently ascending path to the sunny plateau of Salastrains. After a while, follow the tunnel under the World Cup slope and you've almost made it: put your feet up at Paradiso Mountain Club & Restaurant and enjoy delicious food and drink on the terrace or the live DJ set on the music deck. In winter, there is the option to take the chairlift up to Paradiso and return by transfer, which can be pre-arranged via the hotel.
For sporty walkers: Pontresina to Val Roseg
This half-day walk (below) showcases one of the most beautiful valleys in the Swiss Alps. From Pontresina train station, the path climbs gently between glacier-topped peaks. It's never steep but watch your pace, as each way will feel much further than 7-kilometre (4.3 miles) in the snow. After putting around 200 metres (650 feet) of ascent behind you, you reach Hotel Restaurant Roseg Gletscher on a sun-drenched meadow. You have the option to return by horse-drawn carriage – but check the timetables and make sure you wrap up warm.