Who can resist a fondue? This bubbling pot of velvety-smooth melted cheese is loved the world over for its rich, indulgent and delicious flavours. Even better when it is enjoyed with friends or family, either after a morning on the snowy slopes, in front of a crackling fire or at one of Badrutt's Palace's fine restaurants.
To be clear, when we talk about fondue, we are mostly referring to the Swiss dish of melted cheese. But there are other fondues – a broth or oil-based fondue for cooking meat, chocolate fondue and the latest, vegan fondue. But it is the original cheese fondue that continues to melt hearts.
Essentially a dish created by rural communities in the Alps with limited access to fresh food, fondue was originally conceived as a clever way to use up old ends of cheese and stale bread, and is thought to date to the late 1800s. Fast forward to the 1930s, when the Swiss Cheese Union declared fondue the country's national dish.
For the rest of the world, however, fondue is synonymous with dinner parties of the 1960s and 1970s. Nevertheless, sales of fondue pots are on the rise again, and restaurants are offering increasingly imaginative versions of the original sharing dish.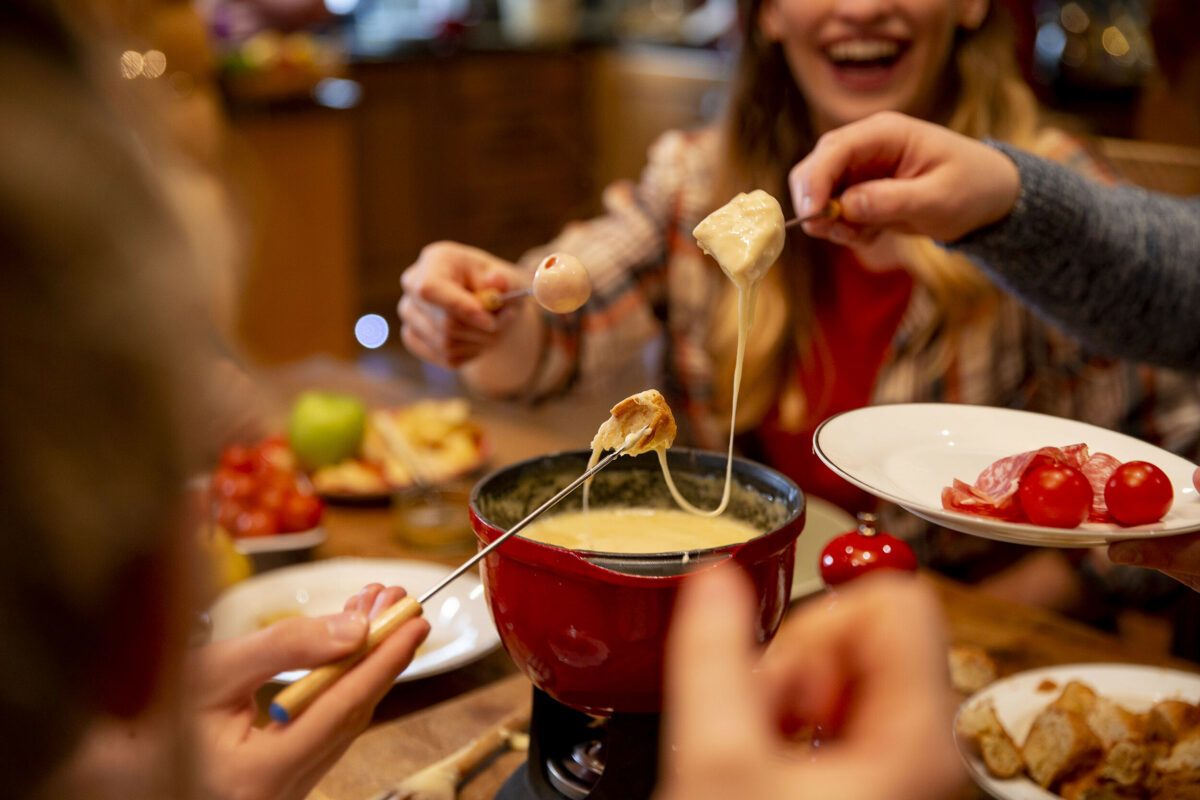 Fondue in St. Moritz
The best restaurants in St. Moritz certainly know how to elevate a fondue, incorporating the very highest-end ingredients, including white truffles (available December to early January), morel mushrooms and even Champagne, which is used as the base instead of wine. All these versions of the Swiss national dish can be enjoyed at the exceptional Badrutt's Palace restaurants, including in the intimate chalet Krüg Stübli, hidden in the hotel's famous wine cellar, and outside on the sun-drenched terrace surrounded by mountain peaks at the iconic Paradiso Mountain Club & Restaurant. "Paradiso's unique location on top of the mountain makes its fondues one-of-a-kind," explains Jeremy Degras, Executive Chef at Badrutt's Palace. "The recipe has been tweaked to account for the high altitude so that diners get the maximum taste sensation for their taste buds. We work with the Pontresina Dairy in the Engadin, choosing specially selected cheeses made from the best cow's milk. The blend is half Gruyère and half Vacherin Fribourgeois, in a mix we Swiss like to call moitié-moitié [half and half]."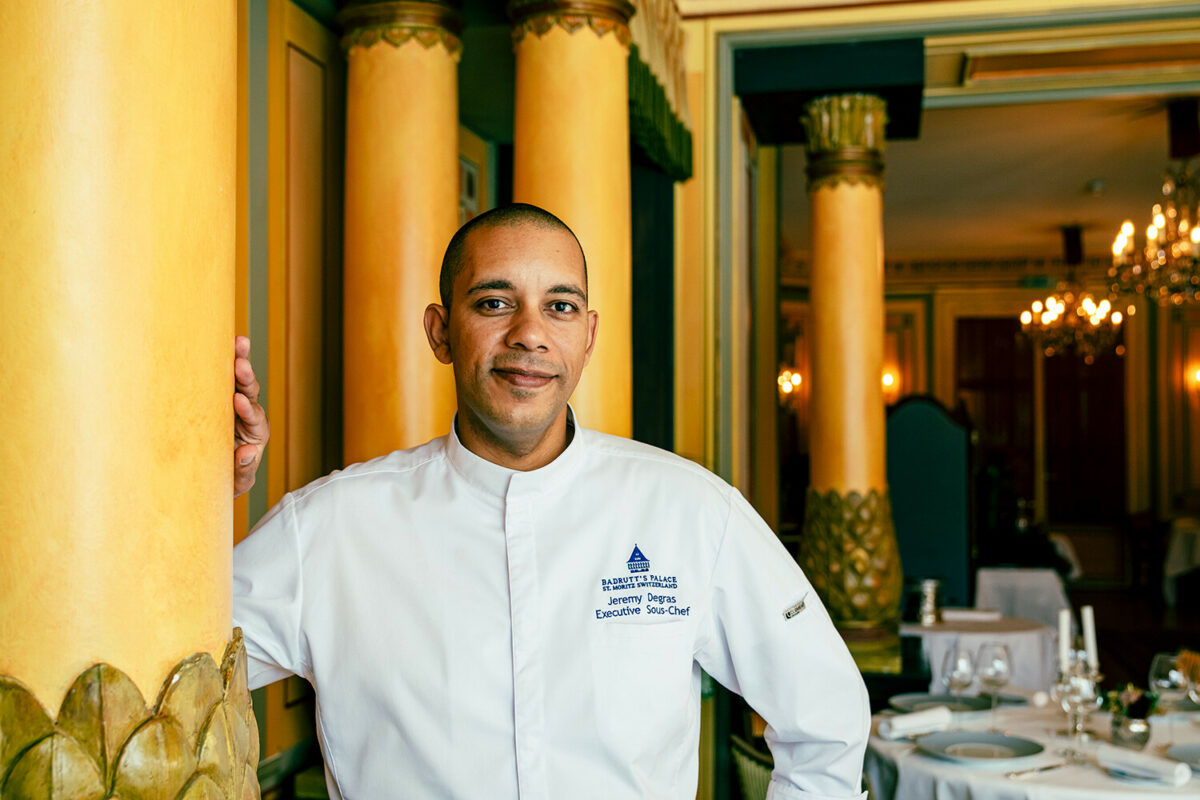 So, what is the secret to making the perfect fondue? French-born Degras, who was Badrutt's Palace's executive sous chef until recently, explains: "Firstly, choose your cheese carefully. Secondly, grate it before melting it, which eases the preparation. Next, choose a dry white wine, such as Pinot Blanc. You mustn't add all the cheese at once either, but do it gradually, over a low heat. Finally, finish the fondue with kirsch. To dip? I'd suggest lightly toasted sourdough bread croutons."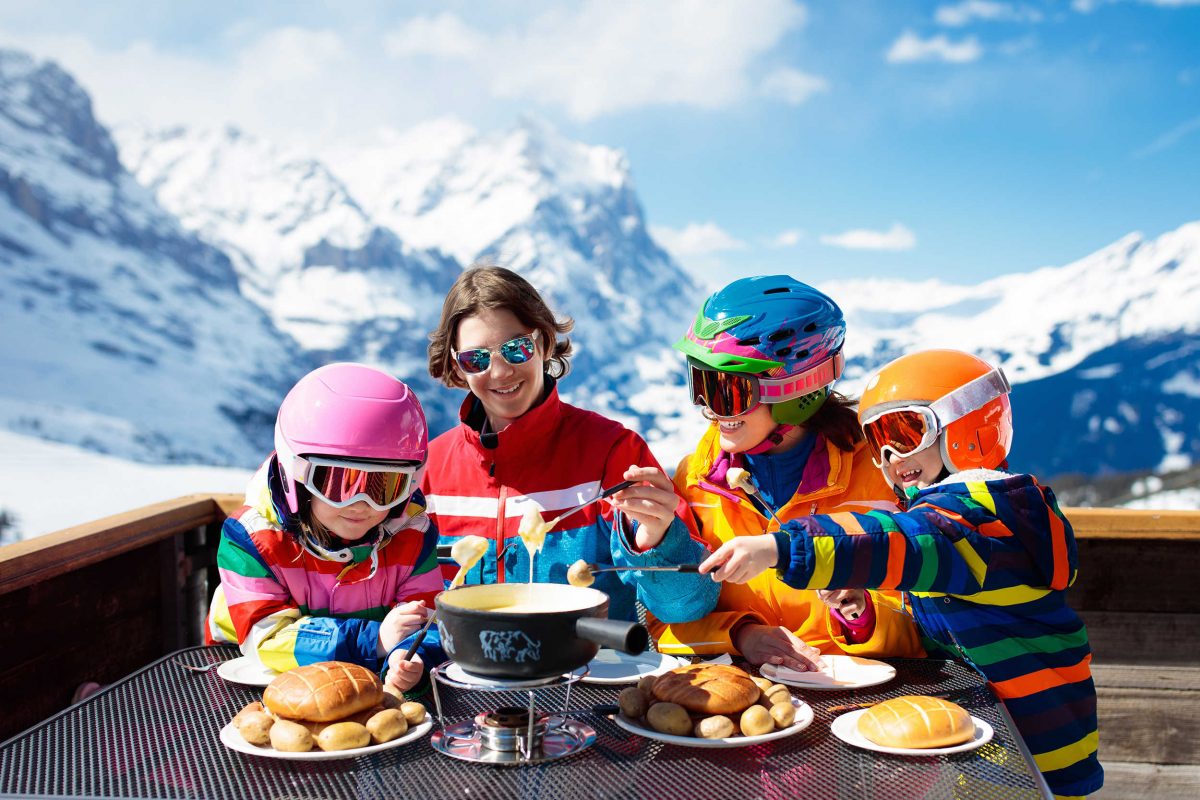 The Swiss way
There is an etiquette to fondues to consider as it is a sharing dish. "Firstly, it's important to take the bread off your fork with your front teeth, or better, slide it onto your plate and use a regular fork," advises Degras. "Secondly, you should never double-dip, in other words take a bite and then dip back in the bowl for more source. And, in terms of drink to accompany your fondue, avoid drinking water – you need the acidity in the wine to help with digestion. Most Swiss people choose white wine rather than red, as the tannins don't work well with the cheese."
Then there are the party games. "If your bread falls into the pot, custom dictates that you must drink a shot of kirsch, and, if you forget to stir, you must serve your next forkful to the person on your right. If you break the rules and put your fork into your mouth, you must kiss the person to your left," laughs Degras. "Fondue is about much more than just eating it."
How does Degras enjoy his fondue? "I love to dip the first few croutons into schnapps, and then into the cheese fondue," he says. "My favourite is La Vieille Prune from Switzerland, which works perfectly as an aperitif," he explains. But if Champagne is more your preferred tipple, he advises choosing a young, fresh, less complex one, such as Pol Roger Brut NV.
It is easy to see why the Swiss are so proud of their delicious gooey delicacy and why it has become such a national culinary icon. To find out more about the dining options at Badrutt's Palace Hotel restaurants, visit here.