With its lofty position high up in the Swiss Alps overlooking the lake of the same name, and its very own castle in five-star Badrutt's Palace Hotel, St. Moritz is like a fairytale kingdom. It is also the birthplace of the winter sports holiday as we know it.
The story begins on a September evening in 1864 when St. Moritz hotelier Johannes Badrutt had a wager with a group of young, well-to-do English guests. They were visiting the Alps during the summer and bemoaning the prospect of returning to a cold, wet winter at home. Badrutt suggested that they come back to St. Moritz in winter; if they didn't like it, he would reimburse them for their efforts.
It was a bet too good to resist and the holidaymakers returned in December. They enjoyed St. Moritz's blue skies, warm sunshine and snow-covered slopes so much that they stayed until Easter. To keep his adventure-seeking guests entertained, Badrutt organised activities such as skating, skiing and sledding expeditions. Back home, word soon spread of this sun-drenched wonderland, and the first winter resort was born.
London to St. Moritz flights
With the St. Moritz and the Engadin region establishing strong ties to British tourism from the outset, it is perhaps no surprise that the first Switzerland to London flight took off from frozen Lake St. Moritz in 1920. Piloted by Swiss aviation pioneer Alfred Comte, who was taking British actor John Loraine back to England, it marked the start of an air link between both destinations.
To celebrate the 100th anniversary of Comte's achievement, Badrutt's Palace Hotel launched its own private plane service from the UK capital to the Swiss resort on 14 February 2020, with a series of flights that month to coincide with the half-term winter school holidays in the UK. Emissions were offset by investments in global carbon reduction projects to make the flight as carbon neutral as possible.
Appropriately for a place renowned as the ultimate destination for the international jet-set, this was a special service. Passengers on the 30-seater luxury plane were attended by uniformed butlers, who served champagne and an onboard menu created by Michelin-starred chef Jason Atherton of King's Social House, a fine dining restaurant in Badrutt's Palace Hotel.
After the one hour 45 minute flight, which included a magnificently scenic descent over the Swiss Alps, passengers were welcomed at Engadin Airport ― the highest airport in Europe ― by chauffeur-driven Rolls Royces, which whisked them away to the five-star Badrutt's Palace Hotel in St. Moritz, just a 10-minute drive away.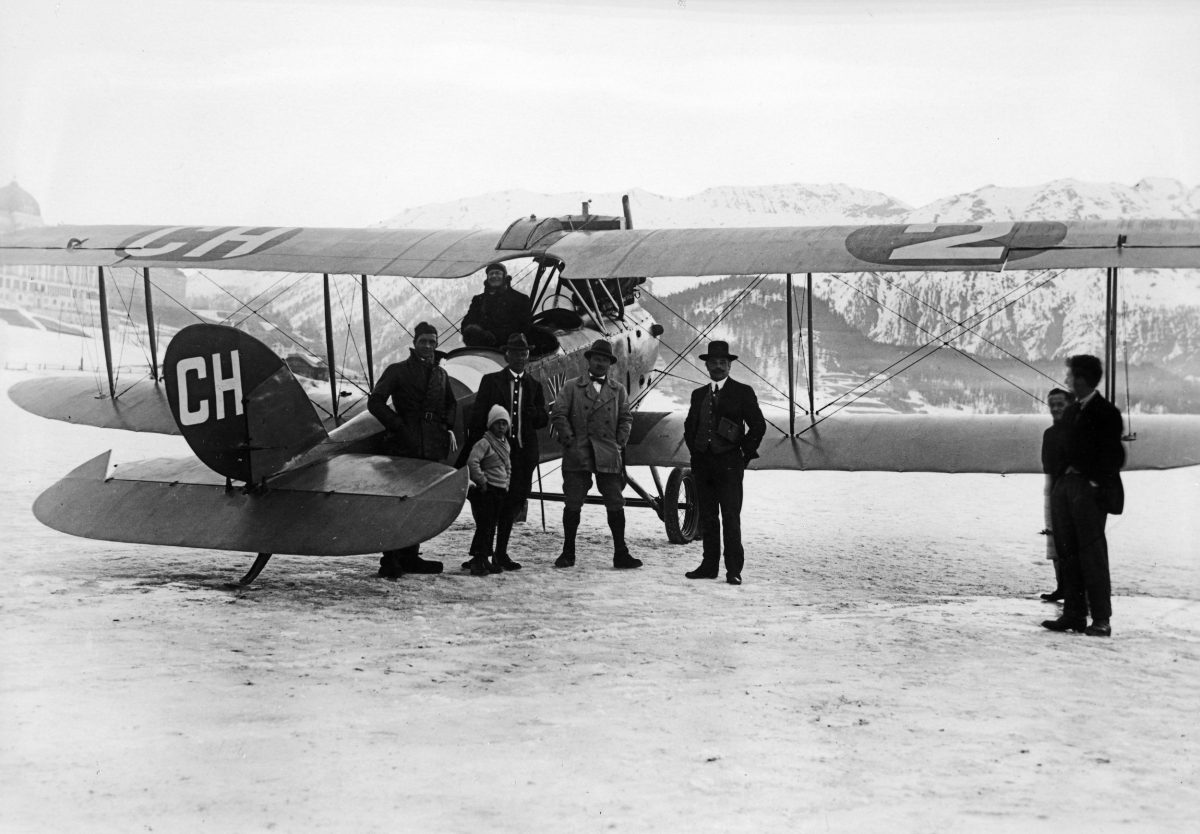 Travel to the Swiss Alps
The 'Palace in the Air' flights were a truly memorable ocassion and the start of an on-going trial by Badrutt's Palace Hotel to explore the viability of offering hotel guests and visitors to the Engadin region more direct flights from key destinations at peak holiday times. Not only will it encourage tourism and boost the regional economy in the future, it will offer private jet passengers an alternative way to travel to St. Moritz.
In fact, since the first passenger flight arrived in the newly built Engadin Airport in 1938, travel to St. Moritz by air has often been the preferred way for visitors ‒ including royalty, celebrities and billionaires – to arrive.
Over the decades, everyone from the Shah of Iran to supermodel Kate Moss, Russian heiress Dasha Zhukova and British royals Prince Edward and the Countess of Wessex have touched down in their private jets at Engadin Airport at the start of their exclusive getaway in the Swiss Alps.
At the end of 2019, the airport upgraded to IFR (instrument flight rules), making landing in bad weather and low visibility safe and easy; an essential component for regular, scheduled flights. In anticipation of more people choosing to travel by air, plans are currently underway to modernise the airport, with the first phase is due to start in 2021
"Badrutt's Palace Hotel has been pivotal in making St. Moritz the legendary destination it is today and we want to continue to support the resort town and region," says Richard Leuenberger, Managing Director of Badrutt's Palace Hotel. "We are delighted that the introduction of IFR coincides with the 100-year anniversary of the first flight between St. Moritz and London and we did not want to miss the opportunity to celebrate this occasion in a special way."