It was the Scottish-American naturalist and great outdoor lover John Muir who famously wrote: "The mountains are calling and I must go." It is a phrase that resonates with anyone who is attracted to these captivating high places.
The majesty of the mountains of the Engadin has proven inspirational to countless generations, including renowned artists such as Giovanni Segantini, Alberto Giacometti and JMW Turner; thinkers such as Friedrich Nietzsche; and, of course, many climbers.
What makes the mountains so alluring and why do they have a capacity to move us? Why do so many of us want to live and work among them, and what draws us back to them when we have to leave? Here, Tower Revue speaks to three people intoxicated by these high places…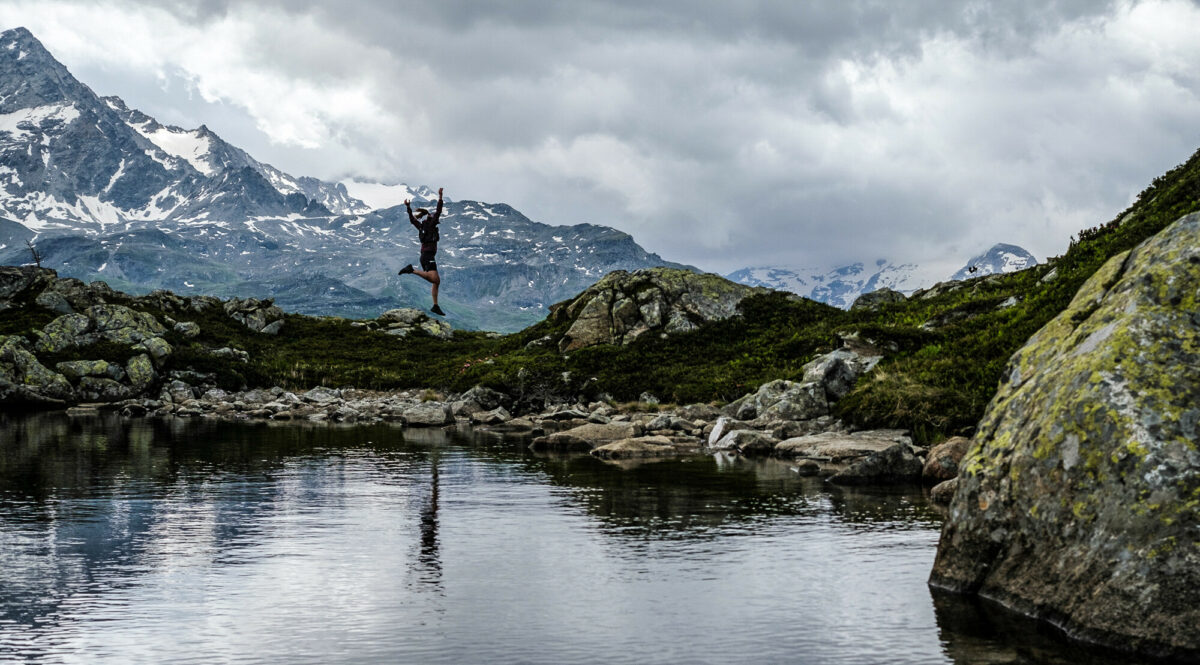 ALEXANDRA NEMETH, MOUNTAINEER
St.Moritz-based Alexandra Nemeth had her first taste of climbing mountains in winter 2012 on a solo trek in the Nepal Himalayas. It was a life-changing experience and it inspired her to set one of the most ambitious goals of her life so far – to climb the 'Seven Summits', the highest mountain on each continent. Remarkably, within four years, she summited them all on her first attempt, completing the challenge when she stood on top of the world's highest mountain, Mount Everest, on 18 May 2018.
"I learned that you have to give each mountain its due respect," she says. "It's not just the physical training, it's finding a mental strength that comes from doing absolutely all you can to prepare to climb each one."
Having completed the Seven Summits, she set her sights on new challenges, exploring other breathtaking places – the Arctic Circle, the Sierra Nevada, Scotland, the Pyrenees, the Alps and Patagonia – on her mountain bike.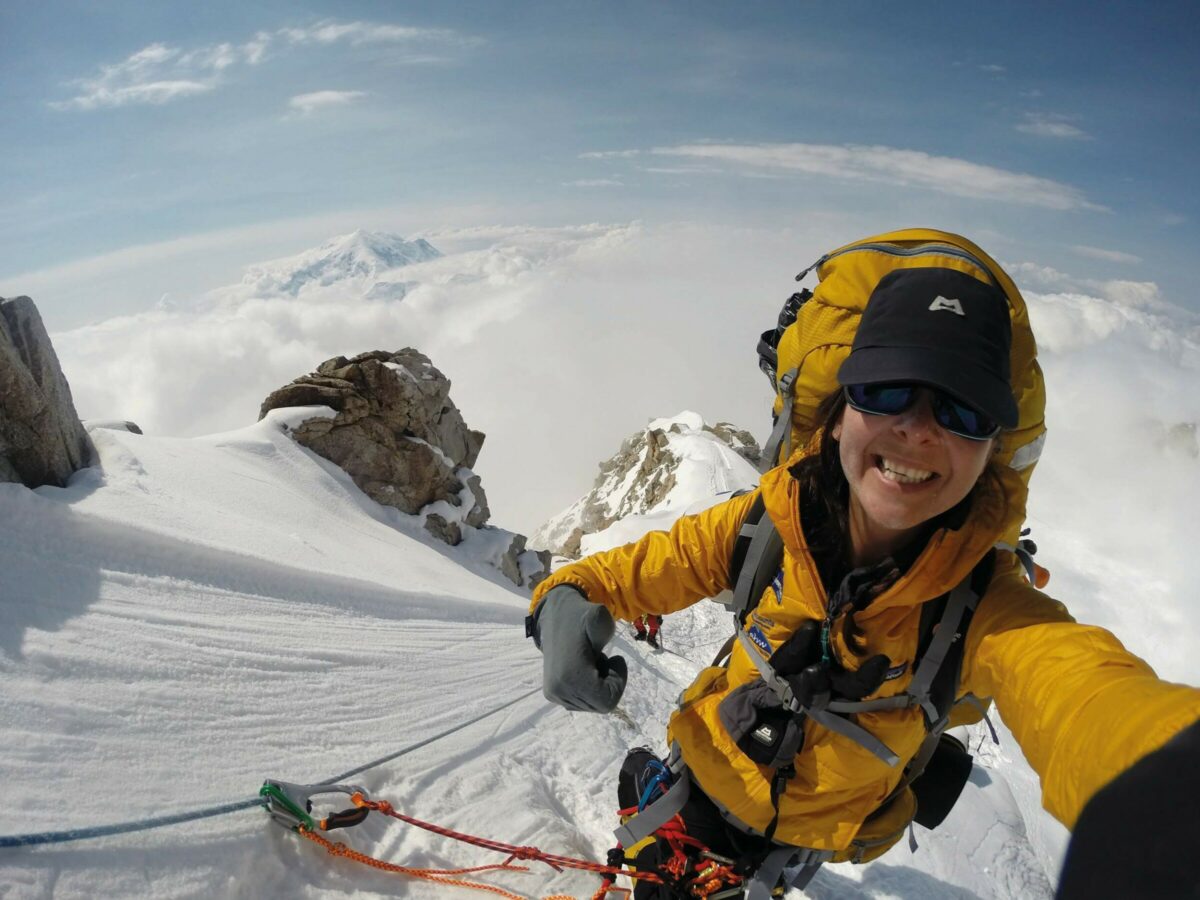 In 2020, she decided to move to St. Moritz to pursue a career in the great outdoors. She now leads tours, from winter snowshoeing to mountain biking. "It makes me happy to help people realise they can also push their limits and get out of their comfort zone," says the qualified mountain bike leader, running coach, high-peak remote first aider and soon-to-be mountain leader. "The sparkle in their eyes watching the full moon rising above the peaks or smiling ear to ear when we ride through the spectacular Alpine landscape is priceless."
Nemeth is an enthusiast for taking in the 'Engadin Colours' – the turquoise of the lakes, the golden browns and deep greens of the forests, the white of the snowy peaks. "You get soul food from mountains like these. You come back from a climb and feel rich inside. I am very privileged that the Engadin is my playground now. It's seriously one of the most beautiful places in the world, and I have been around," she laughs.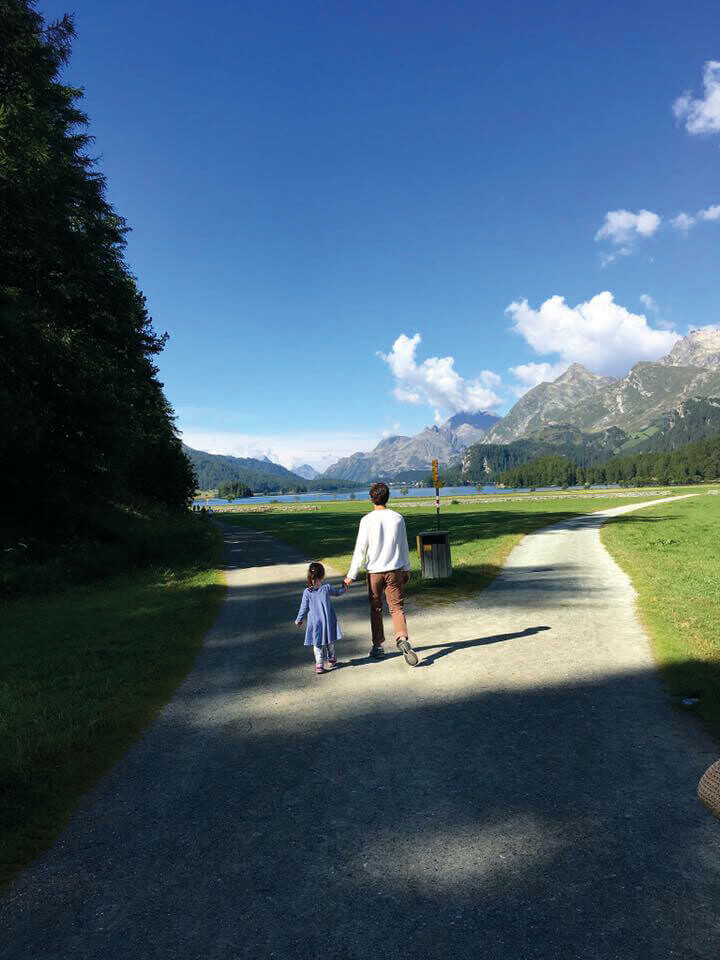 JOHN KAAG, PHILOSOPHER
The philosopher, author and University of Massachusetts professor John Kaag visited the Engadin when he was 19 and then again when he was 36. The first time was to hike and to ruminate on the ideas of Friedrich Nietzsche, living in the great thinker's summer house. The second time, he was joined by his wife and daughter, and he wanted to explore if Nietzsche's notion that one can and must come to terms with oneself in order to live fully could still apply later on in life. It resulted in Hiking With Nietzsche, published in 2018 by Granta Books.
"How do you stay awake to life at the front edge of middle age, when life can be excruciatingly boring? How do you balance your dreams with the responsibilities of adulthood? Pondering those questions made my second trip there a very different experience to the first time," laughs Kaag. Not least because, now a parent, he found his sense of drive and daring somewhat in flux (on his first visit he would hike for 15 hours at a time, get lost and spend three nights in the wilderness).
"Nietzsche says when you climb a mountain in older age you realise you're mortal, fallible and what he called 'amor fati', which is when you learn to love those facts. Mountains are the places to really own your limitations and finitude," explains Kaag. "It's that feeling of the sublime, which both elevates and crushes you."
And it's in the Alps of the Engadin – and especially hiking through them – that this lesson is most readily felt, Kaag believes. In part that is a product of how walking, he argues, opens up one's vision and provides some physical but also critical distance from those things that might restrict it. But it's also a product of this particular part of the world.
"The Alps are unique in the sense that it's very civilised at the bottom – the fields, the grand hotels, which can draw you in as a spectator and a romantic – but as you climb you leave civilisation behind very quickly. There is no hyperbole up there. It's all real," he says. "It's a place for self-acceptance. And I did come to something like that there. I got a taste of the good, the bad and the ugly in me."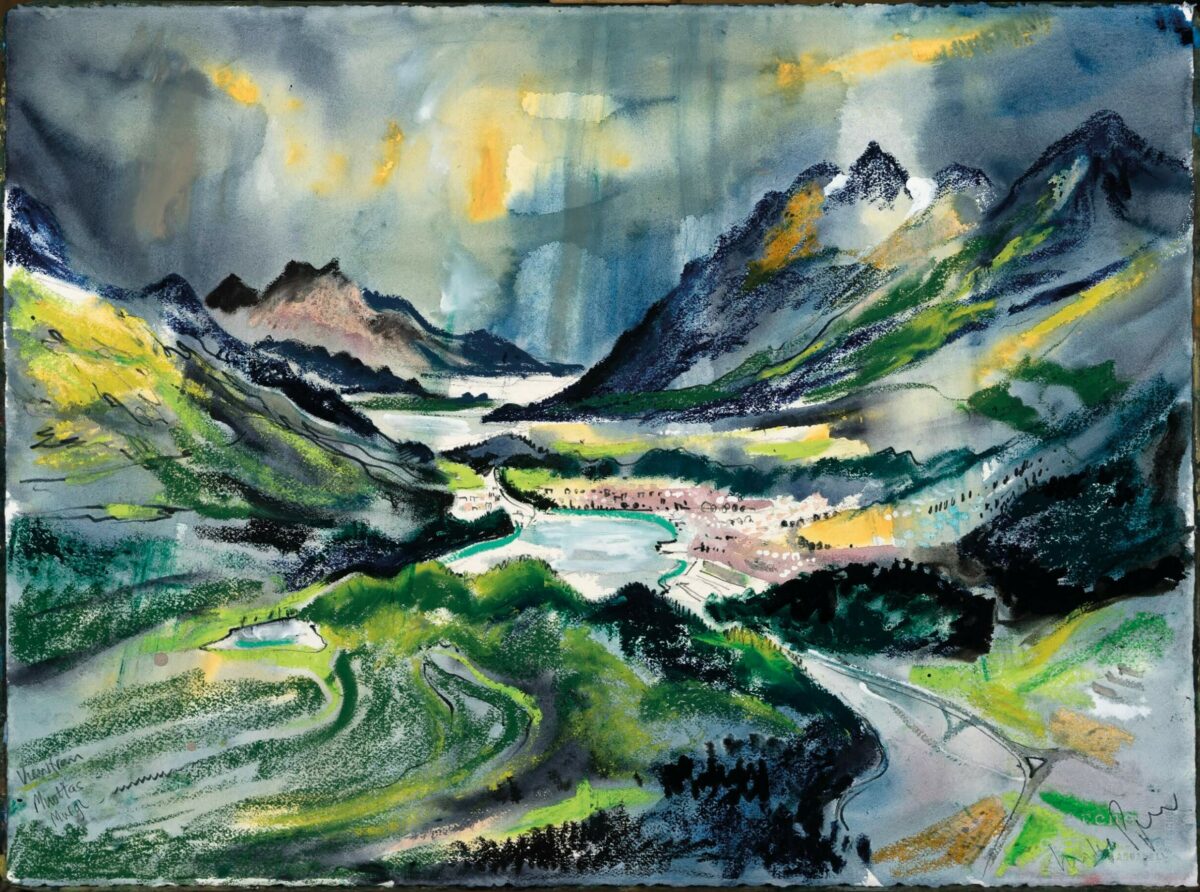 LUKE PIPER, ARTIST
Luke Piper necessarily works at speed, in a race against the weather, sometimes in a battle with his setting. "I've lost paint boxes while being perched on a rock a number of times, and had gusts of wind blow the canvas away and rain make the colours run," says the acclaimed English painter, who recently exhibited his works of St. Moritz and its surroundings. "But I don't work in a studio precisely because I hope to re-create the one-to-one experience of being wherever I am. That way your palette is limited but you gain that sense of immediacy. You become deeply involved in the spot you're in."
For his St. Moritz 'Summer of Love' watercolour series, Piper – who has a long artistic pedigree being the son of artist Edward Piper and ceramicist Prue Piper, and the grandson of librettist Myfanwy Piper and painter and printmaker John Piper – spent time around northern Italy and southern Switzerland. Unusually for most artistic impressions of this geography, he wanted to capture the views without the snow.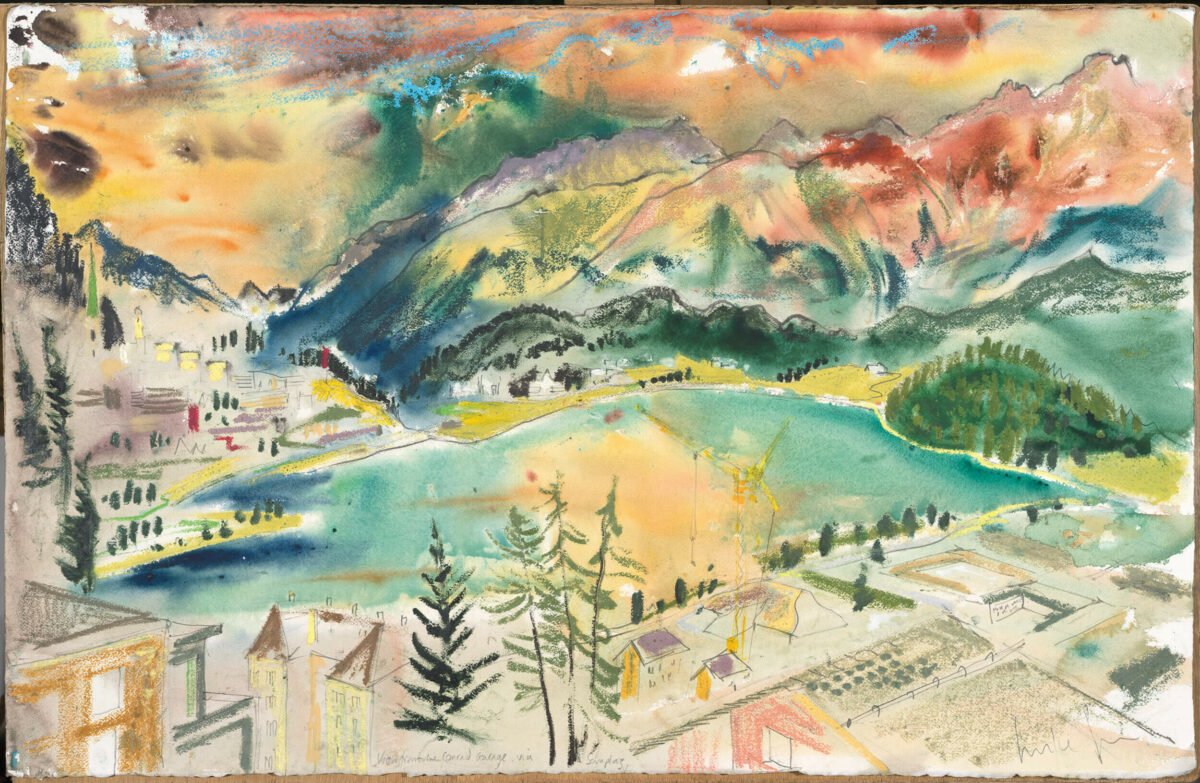 "The force of nature is so overpowering there, given that the human impact on the environment is so very little – in some parts you may just see a rough track," he says, noting the long history of artists who have been inspired by the region. "The character of the landscape gets under the skin, especially at altitude. It's the cleanliness of it all. And the scale, both at the macro and the infinitesimal levels."
Fortunately the occasional tribulations of painting al fresco usually pay off too, with the grandeur of the Engadin echoed in Piper's watercolours, inks and pastels. "Birth, life, death, it's all intrinsic to the landscape," he says. "You'd expect the mountains here to make you feel smaller. But actually I think you can feel your human aura grow larger."
Alexandra Nemeth leads private snowshoeing and fat biking tours (using off-road bicycles with oversized tyres) in the Engadin. To book your adventure, please contact the hotel staff.