What can visitors expect when they go mountain biking in the Engadin?
"Paradise," says Alexandra Nemeth, who leads mountain biking tours in the region. "You can ride through forest trails, pass beautiful lakes, glaciers and snow-capped mountains, sometimes with only marmots, deer and squirrels for company. There might be times when your lungs and legs burn, but it's so worth it when you get to the view."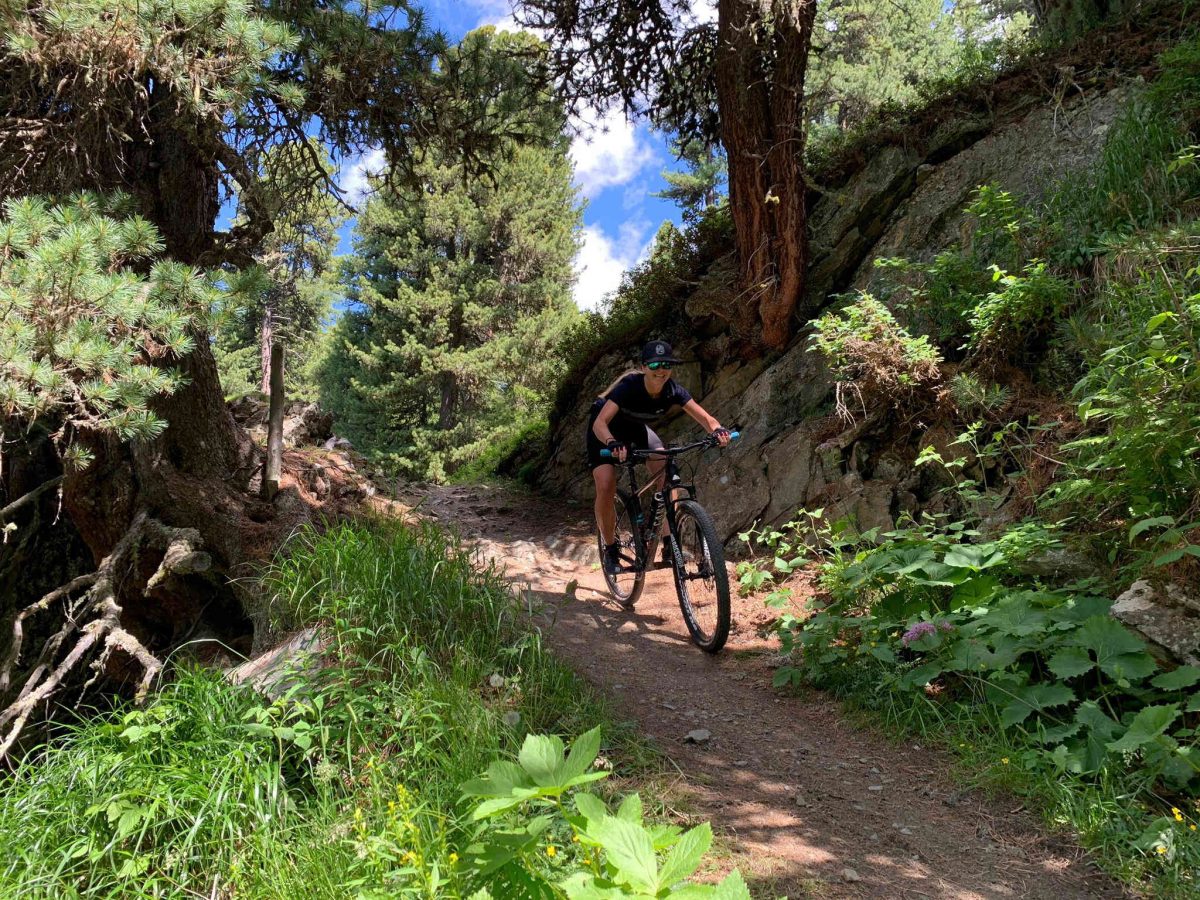 When it comes to the best views, Nemeth certainly knows her stuff. She became interested in mountain biking after completing the 'Seven Summits', climbing the highest mountains on each of the seven continents: "I naturally got into mountain biking and qualified as a leader. One day I Googled marathon races in Switzerland and the race website had images of Lake Silvaplana and the mountains. I couldn't believe my eyes that such a beautiful place existed. With two bikes and mountaineering gear packed in the car, I moved from London to the Swiss Alps a month later. Engadin was love at first sight."
For Nemeth, there is no better way to see the area: "It's a fantastic way to explore the Engadin because you can cover a larger distance than you would on foot and it really connects you to nature. You get to go up pretty high, too, and see stunning views over the mountains and the valley. Plus, it's a fantastic workout! You also have the option to take the cable cars."
A basic level of fitness is required to go mountain biking in the Engadin, but there is something for everyone. As Nemeth points out, the cable cars can take cyclists up to high points to cycle down, but there are also plenty of low trails and many viewpoints to stop and take a break.
"My tours are completely tailor-made so the riders get the most fun out of their time," explains Nemeth.
You may assume that mountain biking in the Engadin is a summer activity, but that's not the case.
"The summer months are great because of the weather and there's more light during the longer days, although it's common to find snow on the mountain trails in August. If you want a totally unique experience, I recommend coming on a fat bike tour [bikes with wide tyres running on low pressure] in winter. It's so much fun and you get to ride over the frozen lakes – cycling over Lake St. Moritz and Lake Silvaplana is thrilling," Nemeth enthuses.
"My favourite times of year, though, are late June into the beginning of July, and late September into the beginning of October. There are fewer hikers and bikers on the trails, the air is fresh and the landscape is incredibly rich in colour. In the autumn, the mountain tops are white, the lakes are turquoise and the forests golden – it's called 'the Engadin colours' and it's truly magical."
If you plan to go mountain biking in the Engadin, you can bring your own bike, but you need to make sure the chain is lubricated, the tyres have the right pressure, the bolts and screws are tight, the suspension works and the brake pads work efficiently. You can also hire a bike from one of the local shops, where staff will make sure you get the correct size and bike for the ride you're planning.
Mountain biking in the winter also requires warm clothing, gloves, a hat, comfy boots and a spare base layer.
"Last but not least, don't forget to bring your sense of adventure and a phone or camera for photos," recommends Nemeth.
Mountain biking tours with Nemeth range from half a day to multiple days, covering anything from 15 kilometres to 200 kilometres [nine miles to 124 miles]. On a fat bike ride during the winter, tours cover 15 to 20 kilometres (nine to 12 miles), "with a BBQ or cheese fondue stop," reassures Nemeth.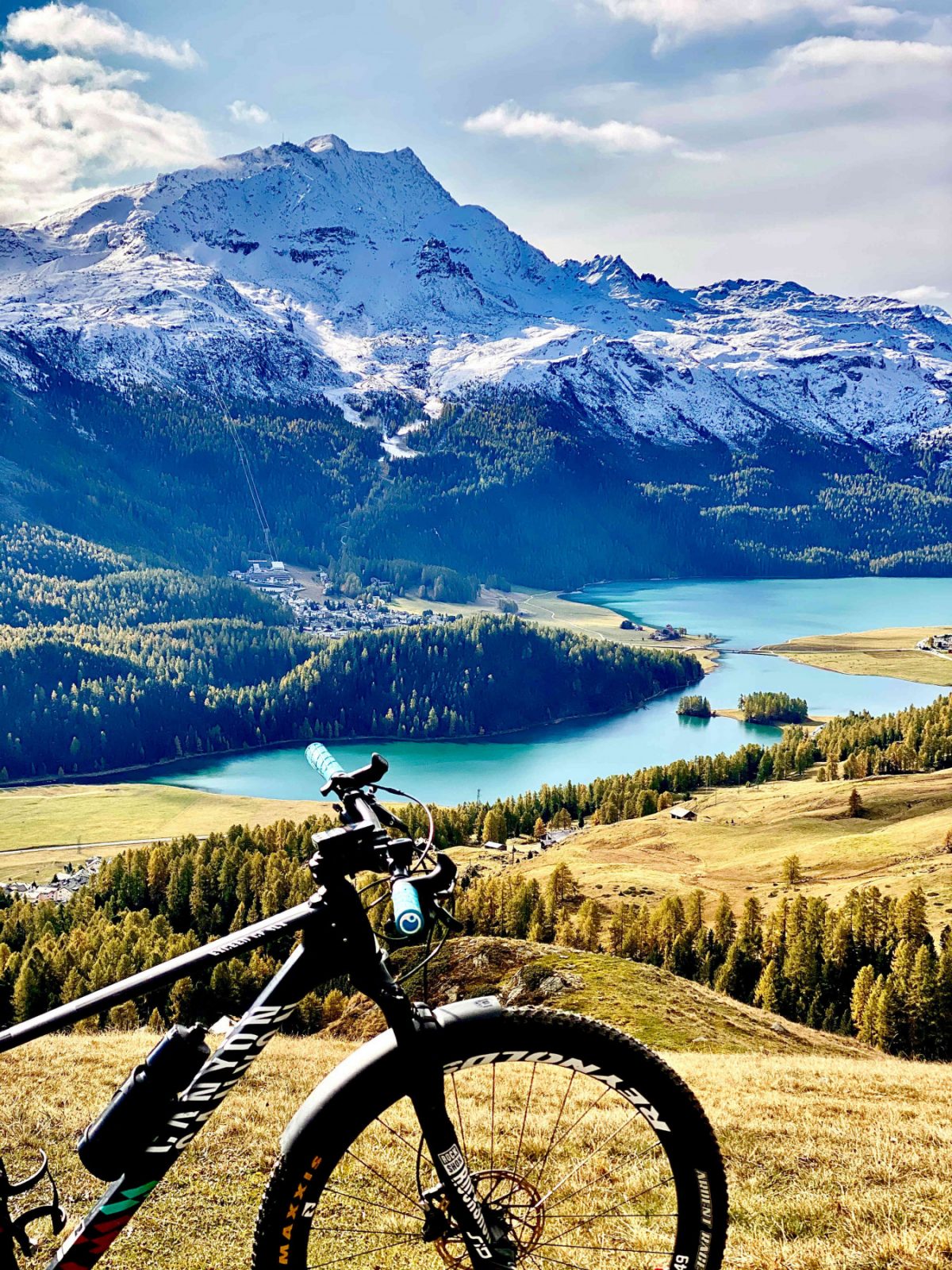 So, what are the best mountain biking routes in the Engadin?
"I really enjoy riding out to Lago Bianco and up the Bernina Pass because the trails are playful and the views of Morteratsch Glacier and the Bernina range are breathtaking. En route, there is a natural pool with a waterfall, which makes the perfect spot for a snack break.
"My other favourite route, and I often take riders here, is what I call the 'Five Lake Paradise' taking in Lake St. Moritz, Lej da Staz, Lej Marsch, Lej da Chamfer and Lake Silvaplana on various terrain."
However, Nemeth will never forget her very first mountain bike ride in the Engadin; the one that made her fall in love. "It was a loop between Brail and Zernez, and I absolutely loved it. It's a perfect training loop with enough challenging climbs, and some technical and fast rolling paths in between. Little did I know that section was part of the National Park Bike Marathon!" a 107-kilometre (66-mile) race in which Nemeth finished fourth in 2021.
Whether it's enjoying the 'Engadin colours', flying through lush green forests or navigating across frozen lakes, the Engadin is truly a wonderful place to go mountain biking, whatever the time of year or hour of the day.
"I love getting outdoors early to watch the sun coming up over the giant peaks. Being on the trails for sunrise or sunset is very special – the sky really puts on a great show here. But honestly, riding your bike anytime is just great."