The difference between the good and the great in hospitality is often measured by thoughtful touches and refined finesse. Little things can make big differences, and especially so when they are well-judged and well-timed. The same is also true of Christmas cards; a simple message at the time of year when our thoughts naturally turn to distant family and friends can raise a warm smile even in the middle of winter.
Badrutt's Palace Hotel, which prides itself on being a home away from home for all its guests, has a long and interesting history of combining attention to detail with refinement, and the result has been an impressive collection of Christmas cards.
The origin of this endeavour can be traced back to the Badrutt family itself, which has often seen personal cultural subtlety go hand-in-hand with professional diligence. Johannes Badrutt appreciated antiques and bequeathed a large library to his son Caspar, while Hans was an art collector with an excellent eye, and Andrea and Hans Jürg shared an interest in modern lithographs.
Mili Weber: a unique artist
It was usual for grand hotels of the Belle Epoque era to commission dedicated artwork for their menus, invitations and other published materials – some establishments even had their own in-house printing workshops. And, when the time came to design Christmas cards too, it was a natural choice for the Badrutt family to employ painters and illustrators to create something exceptional.
One such illustrator was an artist named Mili Weber. Born Berta Emilie Weber in 1891 but known by the nickname Mili, she was the youngest child of six in an artistic family. Growing up in Biel in western Switzerland, she was encouraged by her stepsister Anna, a skilled painter who taught at the local art school. The two travelled to Munich, where Mili trained at a painting academy – a rare distinction at the time for a woman. The outbreak of the First World War prompted the pair to return to Switzerland but, fortunately, their brother Emil had found success as an architect in St. Moritz. The entire Weber family moved to join Emil who, in time, was employed to remodel the hotel's Grand Restaurant.
It was when Mili moved to St. Moritz that she first came to the attention of Hans Badrutt. A cultured man who often devoted his time and attention to commissioning artists for the hotel's party invitations and menu cards, Hans recognised the artist's talents and often commissioned her to illustrate Christmas cards from 1925 onwards. The Palace archives have numerous examples of her work, often depicting flower children playing in peaceful natural scenes, but she also found the time to write a book of fairytales and even compose an oratorio. Today, her house in the forest at the eastern end of Lake St. Moritz has been preserved as a museum and tours can be arranged that offer a fascinating insight into the artist's life and works.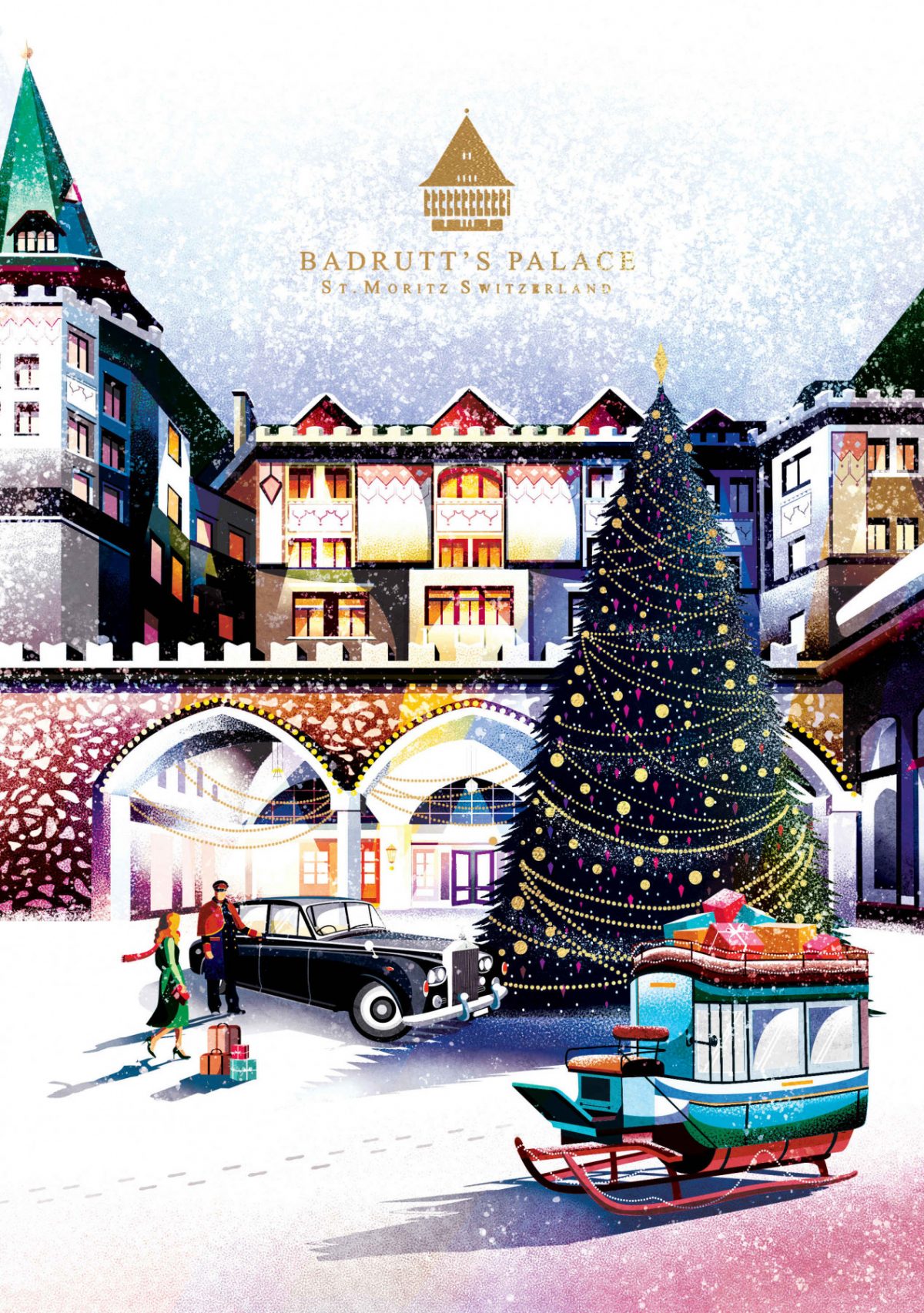 More recent commissions
Other illustrators have since followed in her footsteps and, with 2020's Christmas card coinciding with the 125th anniversary of the hotel, something special was called for to mark the occasion. Artwork that conveyed both Badrutt's Palace classic style and contemporary luxury was required, so the illustrator Sophie Minto was commissioned.
Inspired by an illustrated timeline that appeared in the hotel's guest magazine, Tower Revue, the illustration (above) is subtly formed of many elements. The combination of a grand Christmas tree and a sleigh laden with presents provide a visual iteration of the Season's Greetings message, while an elegantly attired guest approaching Badrutt's Rolls-Royce conveys a sense of glamour. The backdrop of the hotel balances grandeur and old-world charm, with its colour and warmth providing an interesting counterpoint to the falling snow. As a finishing touch, a discreet touch of gold foil around the baubles on the tree and in the lettering of the message provides a touch of luxury.
Finding a way to fit the magic of Christmas and 125 years of history into a single scene may have been a challenge, but Minto – like so many others before her – was undeniably successful. Anyone who has visited Badrutt's Palace knows that it comes to life in an unforgettable way at Christmas, so cards that allow others to share in that unique ambiance no matter where they are provide a thoughtful and quintessentially Badrutt's way to wish someone a Merry Christmas and a Happy New Year.
Find out more about the Mili Weber Museum here.