"I feel better here than anywhere else on Earth," the philosopher Friedrich Nietzsche said of Switzerland's Engadin Valley. It is a view shared by many people, particularly thinkers and creative figures, who have long found solace and inspiration in the region's spectacular landscapes and peaceful seclusion. Nietzsche joins a rollcall of famous names, from the poet Thomas Mann and the sculptor Alberto Giacometti to British artist Damien Hirst, who installed his 3.7-metre high (12 feet) sculpture The Monk on the frozen lake in St. Moritz, and Gerhard Richter, who took photographs of the valley and overpainted them to create miniature masterpieces.
The collector Bruno Bischofberger made waves when he established a gallery in St. Moritz in 1963, representing art-world giants such as Andy Warhol and Jean-Michel Basquiat. He put the town on the map as a global centre for creativity, when the most fashionable place to stay was the penthouse suite at Badrutt's Palace Hotel, rented at the time by the German photographer, industrialist and art lover Gunter Sachs, who hung 10 of Warhol's famous Marilyn Monroe portraits on its walls.
More recently, several high-profile openings have helped St. Moritz establish itself as a serious cultural player. "Seeing the town gain international recognition as a burgeoning arts destination is overdue – it has been known to insiders for a long time," says Barbara Corti, Partner and Senior Director at Hauser & Wirth. The international gallery, whose founders Iwan and Manuela Wirth are Swiss, opened its St. Moritz outpost in 2018, and has since exhibited work by Louise Bourgeois, Alexander Calder and Cindy Sherman; it is currently showing works by the Turner Prize-winning artist Martin Creed. "We have always been attracted to unusual places and spaces," adds Corti. "This gallery gives our artists and estates the opportunity to exhibit their work in an area of unparalleled natural beauty."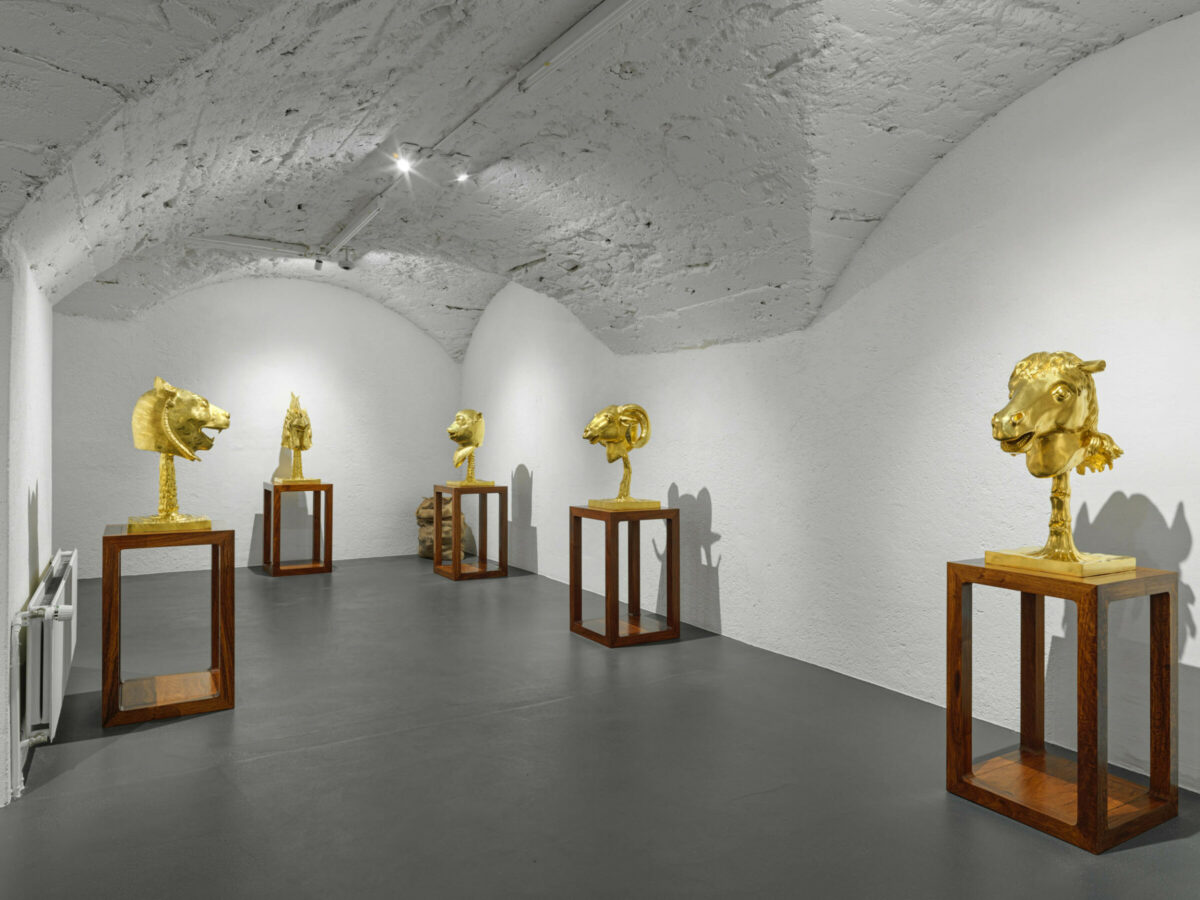 Artistic vision
A year after Hauser & Wirth opened, it was joined by Muzeum Susch, a privately funded institution situated in the nearby village of Susch and set inside a converted 12th-century monastery that later served as a brewery. Its construction alone necessitated extraordinary effort: as well as restoring the original buildings to preserve their historic features, the team excavated down into the mountainside to create a connecting tunnel and additional underground exhibition space.
For the Polish philanthropist Grażyna Kulczyk, who was (and remains) the visionary behind the project, the unique nature of the gallery and its remote location encourage people to engage properly with the works on display. "The commitment it takes to visit Susch encourages visitors to take more time with the art, and inspires deep reflection," she says. The building is positioned on the ancient pilgrims' trail that ends at Santiago de Compostela in Spain – an apt coincidence, observes Kulczyk, given that "the museum itself has developed into an art pilgrimage of sorts". Its purpose, achieved through a combination of research, temporary exhibitions and a carefully created programme of performance events, is to contribute to the Engadin's cultural heritage by facilitating artistic discourse in a way that is accessible to the public.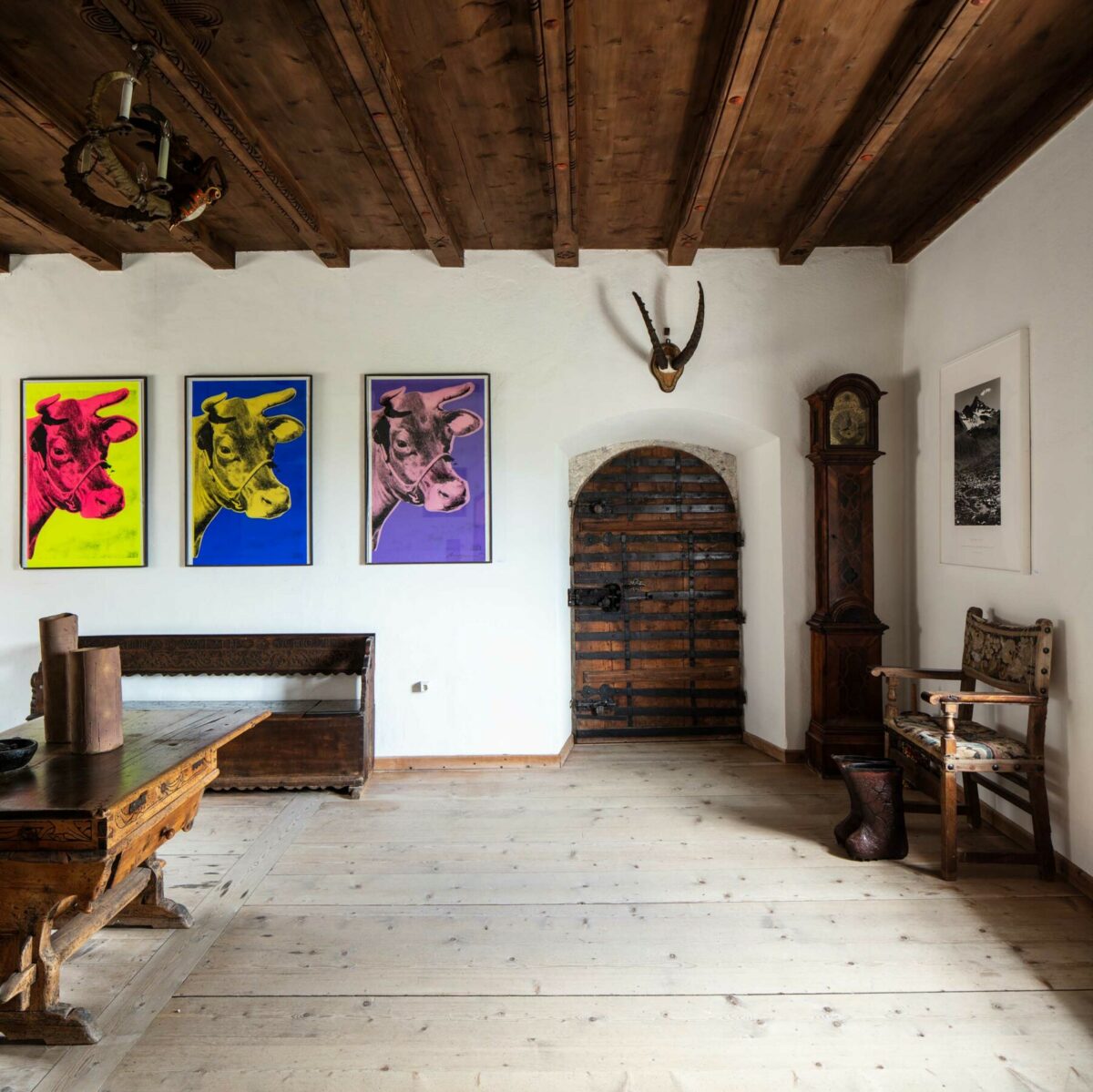 Castle with culture
In equally exceptional setting for the discovery of art comes in the form of striking Tarasp Castle, a hilltop site dating back to the medieval era that now houses a collection of antique, modern and contemporary works, thanks to its acquisition in 2015 by the Swiss artist Not Vital. The purchase was something of a homecoming for Vital, who grew up in the area with a view of the castle; since making it his own, he has installed various site-specific sculptures in its grounds, including a tree cast from bronze with letters spelling out a line of poetry, and a 13-metre-high (43 feet), four-floor concrete tower with three separate staircases that forms part of his wider Houses to Watch the Sunset project.
An estimated 18,000 visitors travel to the village of Sent each year to take part in a guided tour of Tarasp Castle, evidence, if it were needed, that the area has become a draw for far more than its mountains. Those staying in St. Moritz are spoilt for choice when it comes to local galleries, too: Hauser & Wirth, Galerie Andrea Caratsch (which represents the estate of the legendary fashion photographer Helmut Newton), Vito Schnabel and Galerie Karsten are all well worth a visit. Whichever you include on your itinerary, chances are you will return from St. Moritz feeling refreshed, inspired and ready to plan your next cultural immersion in the mountains.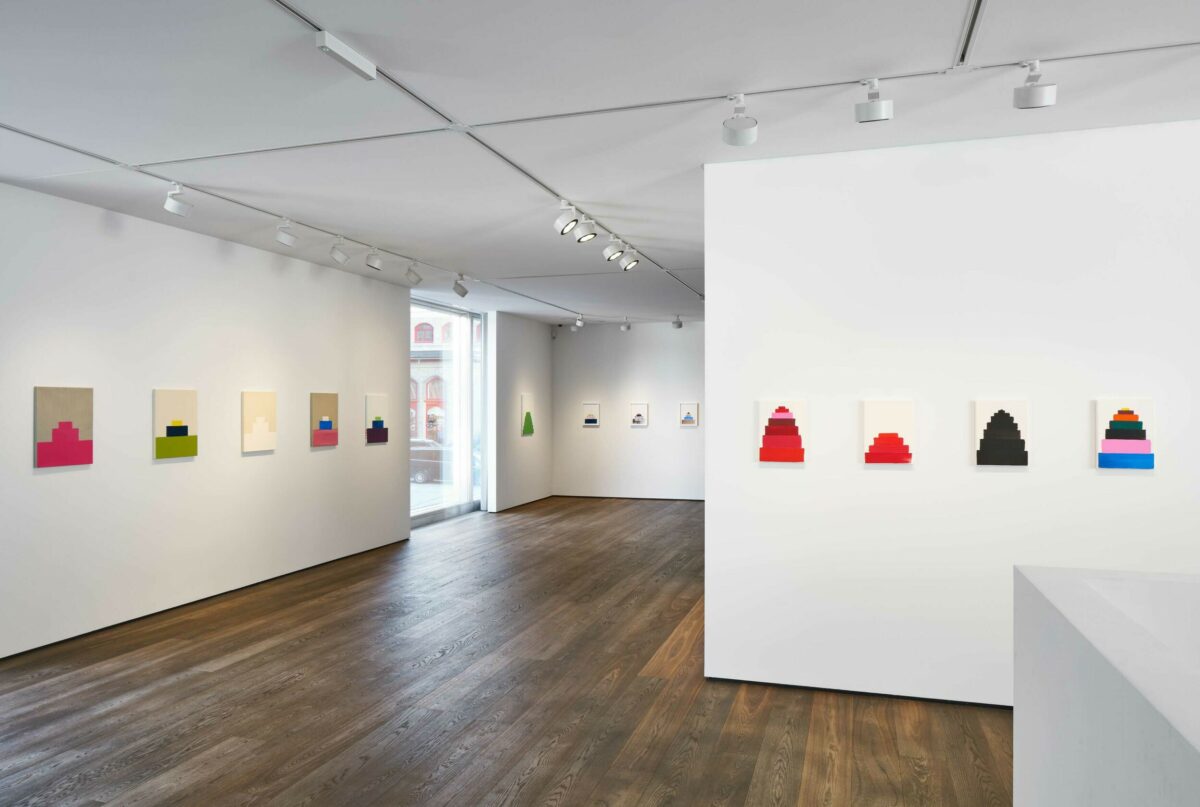 What to see now…
Ai Weiwei – Zodiac at Vito Schnabel Gallery
A set of 12 colourful Lego portraits depicting the animals of the Zodiac take centre-stage in this exhibition of work by the Chinese artist and activist.
Until 8 April 2023
Martin Creed: Step Paintings at Hauser & Wirth St. Moritz
Discover vibrant, geometrically inspired works on paper by the Turner Prize-winning British artist and performer.
Until 10 April 2023
Kathleen Jacobs – Drift at Galerie Karsten Greve
This American artist takes nature as her muse, attaching blank canvases to tree trunks for up to three years before adding layers of paint.
Until 22 April 2023
Hannah Villiger: Amaze Me at Muzeum Susch
The Swiss artist's large-scale works based on Polaroid photographs offer a fresh take on the genre of self-portraiture.
Until 2 July 2023
Roth Bar at Hauser & Wirth St. Moritz
This dynamic installation first conceived by German-born Swiss artist Dieter Roth in the early 1980s and evolved by his son and grandsons, is a hub for socialising, music, readings and talks. It is presented alongside a rare self-portrait of the artist.
Until 9 September 2023
Wanda Czełkowska at Muzeum Susch
This fascinating exhibition will celebrate a Polish avant-garde painter and sculptor whose largely forgotten work deserves to be introduced to the canon.
July to December 2023
Tarasp Castle, Sent
Explore the beguiling grounds and interior of this ancient castle, home to work from the collection of the Swiss artist Not Vital.
Pre-booked guided tours available on selected dates
Conor Mccreedy, Blue Benches
The South African, Swiss-based artist and collector has installed a set of eight custom-made benches in different locations across Switzerland, including in St. Moritz, to encourage people to take a moment to reflect in solitude or interact with others.
On permanent view