You can be sure of two things at this year's Christmas Tree Auction at Badrutt's Palace on Wednesday 22 December 2021. There will be a lot of joy as the event marks the start of the hotel's festive celebrations. There will also be a chorus of oohs and aahs ringing out throughout the evening at people's generosity amid the escalating bids.
Now in its 23rd year, the auction is not only an eagerly anticipated event in St. Moritz's social calendar but an opportunity to raise money to support the local community of St. Moritz and the Engadin.
Taking part in this year's fundraiser will be the biggest names from the worlds of luxury fashion, jewellery, art and gastronomy, each donating their own unique interpretation of a Christmas tree. During the evening, the designer decorations will be auctioned by Cécile Verdier, President at Christie's France, with proceeds going to four worthy charities.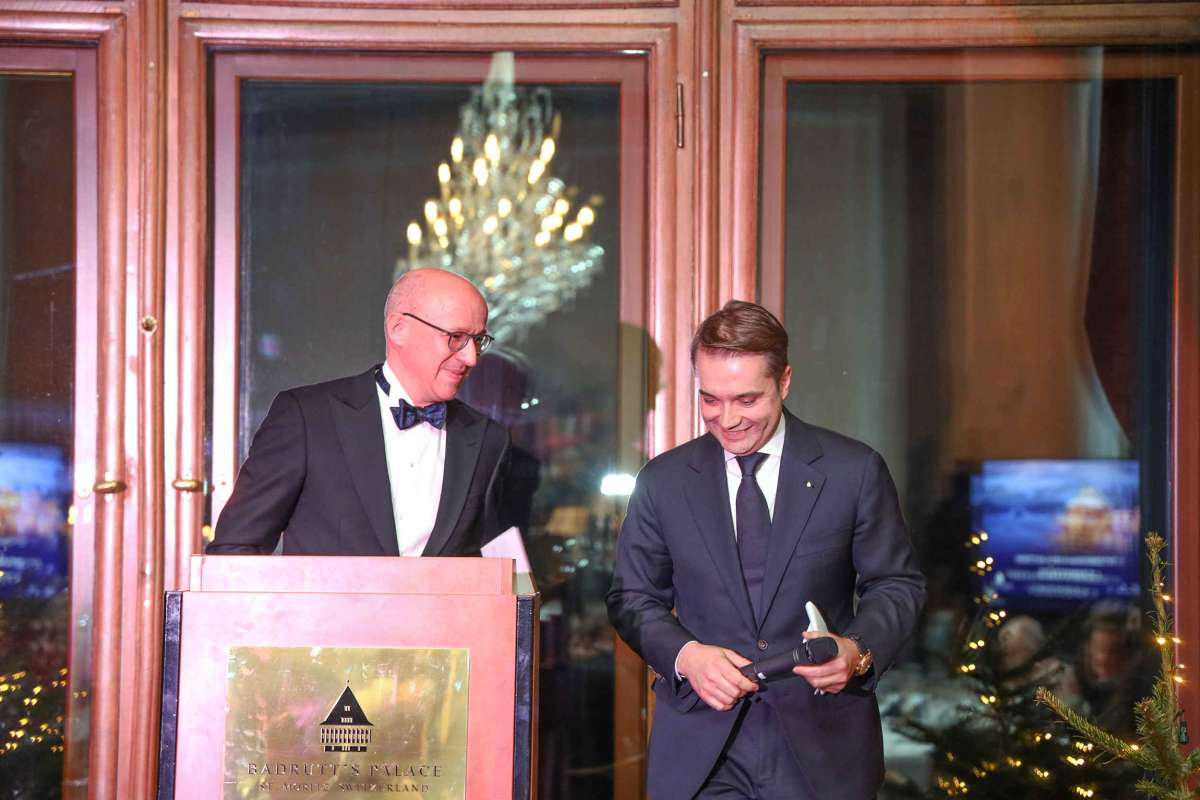 As well as the charity auction, the 200 guests attending the special black-tie evening will enjoy a cocktail reception and a gala dinner in Le Restaurant, featuring a menu created by Maxime Luvara, Executive Chef at the Palace.
If you are unable to attend the event, you can still take part in the auction, with the trees displayed in the hotel's Le Grand Hall on the day, and bids can be made online (see details below).
Works of art
The luxury brands showing off their creativity at this year's event will include Badrutt's Palace, Bulgari, Burberry, Cartier, Dior, Fusalp, Grand Cru, Gübelin, Gucci, Hauser & Wirth, Modes, Perriet-Jouët and Prada. Details of their bespoke Christmas trees are top secret but expect them to be eye-catching and extraordinary.
Memorable pieces from past auctions include Prada's statement black-and-white geometric tree in an art-deco style, featuring beautifully crafted glass baubles, and Cartier's magnificent tree adorned with panther cub soft toys and red ribbons. One of the most surreal items was donated by Hermès, which placed a tree on the legs of a mannequin.
Many of the bespoke pieces have become cherished keepsakes that will be passed down through the generations.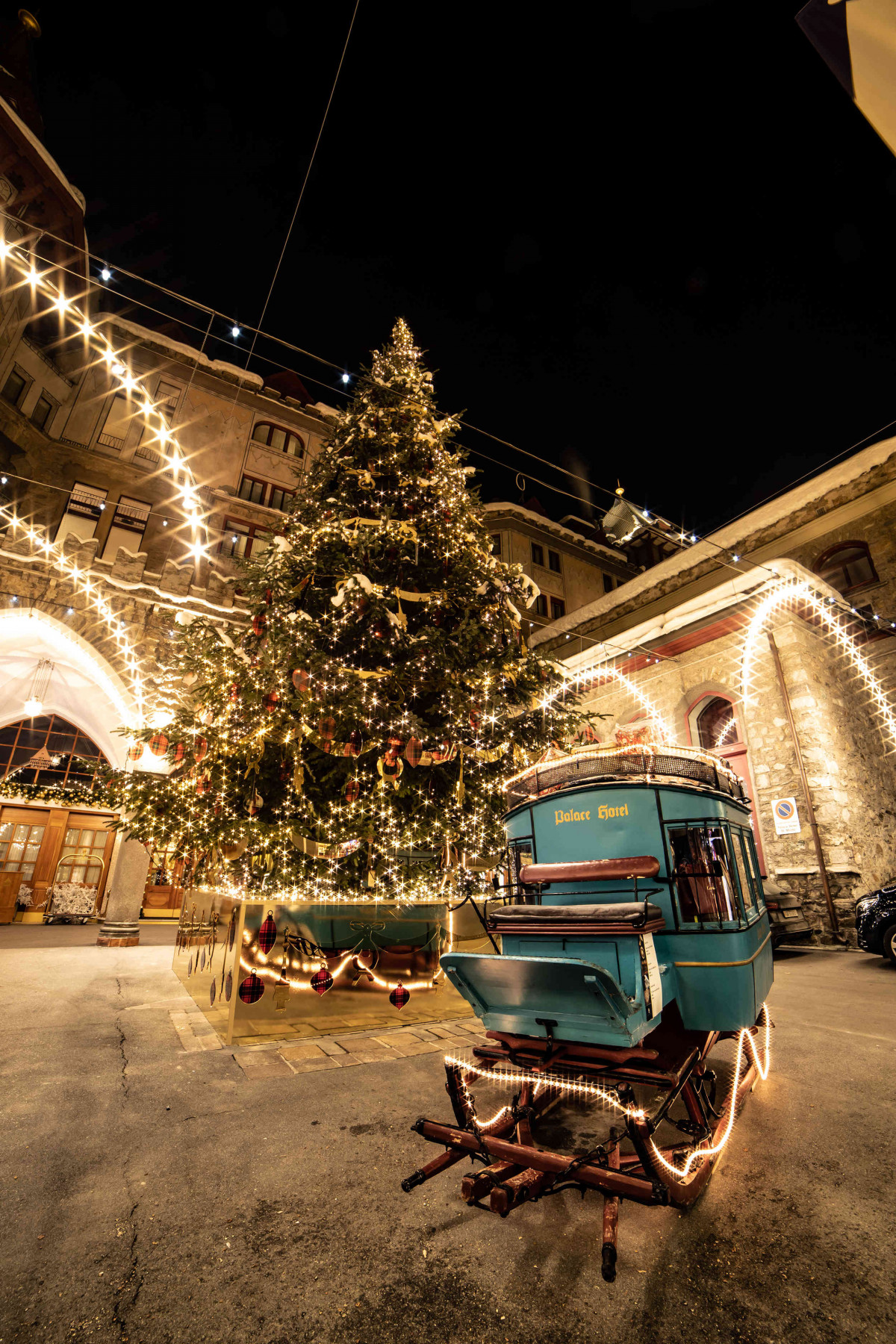 Gifts and experiences
Each of the luxury brands will also be placing a gift under their Christmas tree, so you are not only bidding for a visual masterpiece but also for an exclusive item or a once-in-a-lifetime experience.
This year, for example, Gucci's gift will include business class flights for two people to Florence with 5-star accommodation and a visit the Gucci ArtLab, a futurist centre of product innovation, included.
As part of its tree, Prada is offering a private tour of Fondazione Prada in Milan, with a stay at an exclusive hotel and a lunch at Pasticceria Marchesi 1824, with a dedicated driver provided throughout the stay.
The Hauser & Wirth tree comes with an invitation for a two-night luxury stay in Somerset, England, with the chance to see the gallery's pioneering space and arts centre, while Grand Cru is gifting 12 bottles of fine wine and Gübelin will present the highest bidder of its creation with an exquisite white gold necklace.
A good cause
The profits from the evening will support several local charities, including the Stiftung KiBE Kinderbetreuung Oberengadin, a foundation that supports and advises parents in all areas of childcare, helping pre-school children in particular to develop their social, creative and musical skills.
The Ski School for the Blind St. Moritz will also benefit from the money raised at the auction, allowing it to continue to provide ski lessons to people who are blind or have a visual impairment.
Other local charities that will benefit are Avegnir, which offers medical and nursing care and counselling to patients suffering from acute illnesses as well as support to their relatives, and Ufficina, which provides residential care, companionship and employment to local people with disabilities.
For more information on the 23rd Christmas Tree Auction at Badrutt's Palace Hotel, taking place on 22 December 2021, please contact Anne-Sophie Bonnisseau by email annesophie.bonnisseau@gmail.com or call +41 (0)79 346 11 94. For online bidding, please contact Anne-Sophie Bonnisseau on WhatsApp.