Extraordinary is a word that sums up the new Paradiso Mountain Club & Restaurant. Perched high up at 1,829 metres (6,000 feet) altitude on the fashionable ski slopes of St. Moritz, it is a one-of-a-kind place, where guests can sample the finest cuisine, dance to DJs, sip champagne and cocktails in a Gucci-designed lounge and relax on a sun-drenched veranda with magnificent views of the snow-capped Alps.
It is its unique setting and limited access – it is reached only by ski, foot, snowshoe or chairlift – that has drawn generations of St. Moritz's international crowd to the mountainside venue. Here, they have spent winter afternoons sipping champagne and partying. Legendary tennis star Boris Becker hosted his wedding to second wife Lilly here, and Swiss DJ Antoine even produced a dance track inspired by the venue (Paradiso features in the lavish music video).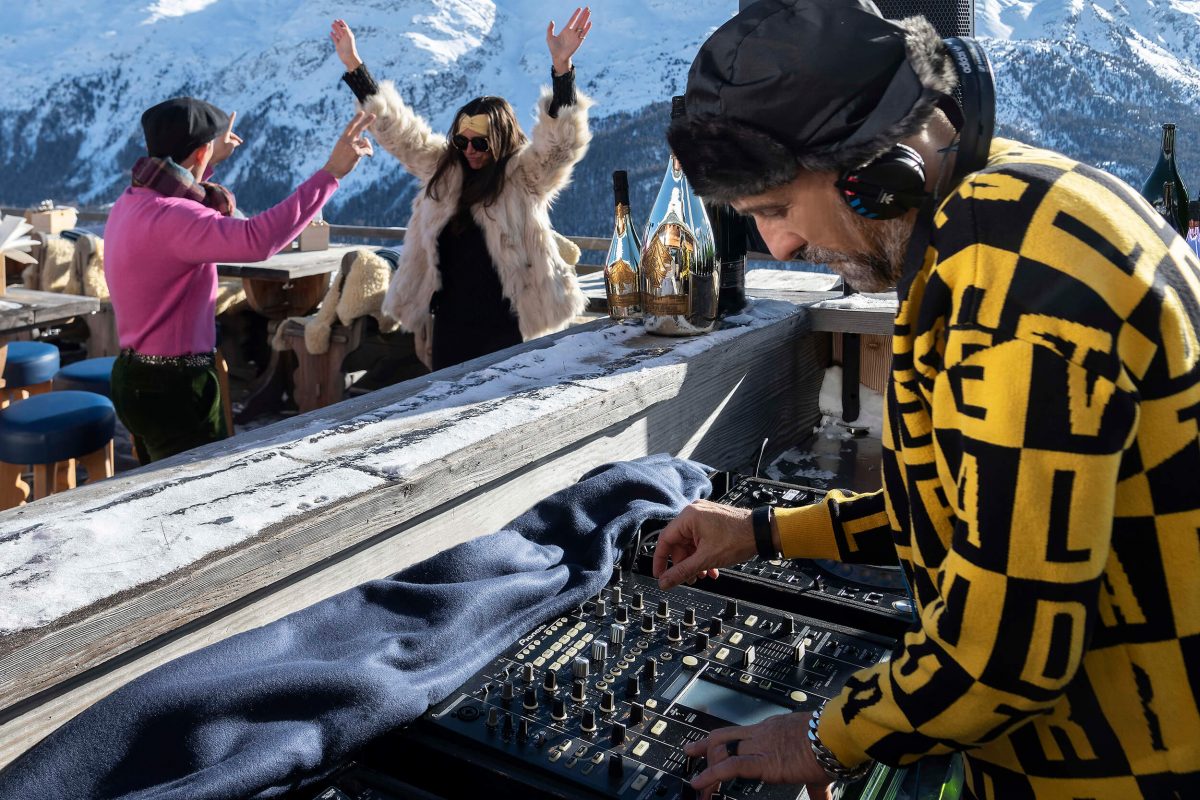 Paradiso has just entered an exciting new era as the legendary five-star Badrutt's Palace Hotel in St. Moritz has taken over its management, partnering with family equity firm KUSANA. Drawing on its unparalleled service excellence and hospitality expertise, the hotel aims to further enhance the already distinguished reputation of Paradiso. And the other good news is that Paradiso will be open during the summer, too.
"We are delighted to welcome guests and club members to Paradiso to savour elevated hospitality and an unforgettable Alpine experience," says Richard Leuenberger, Managing Director at Badrutt's Palace. "We guarantee guests will be spoiled from the moment they arrive, champagne in hand, and look forward to delivering on that promise through tailored five-star service with a side of mountain views."
Impeccable style and service
The refreshed Paradiso features an impressive new design and exciting entertainment line-up. The striking Gucci Paradiso, open exclusively to club members, has an interior designed by the cult Italian fashion house incorporating its signature features. The contemporary and cosy space is adorned with cosseting velvet chairs and sofas, as well as layers of vintage oriental rugs. It is the perfect place to relax after skiing the slopes.
The Gucci Paradiso lounge is not the only area to showcase Paradiso's impeccable sense of style. Each member of the Paradiso team is outfitted in ski suits designed by luxury French skiwear label Fusalp, complemented by Paradiso St. Moritz mountain boots from Santoni, the Italian brand known for its finely crafted, Italian-made leather footwear.
This five-star service is showcased in Paridiso's two distinct dining experiences. The upper level, the Music Deck, features a large sun-filled terrace with dazzling views, a bar and a DJ booth where DJs, singers, and musicians – all selected and trained by Badrutt's Palace's artistic director, Michael 'Mr Mike' Hall – set the vibe for guests to eat, dance and drink on top of the Alps.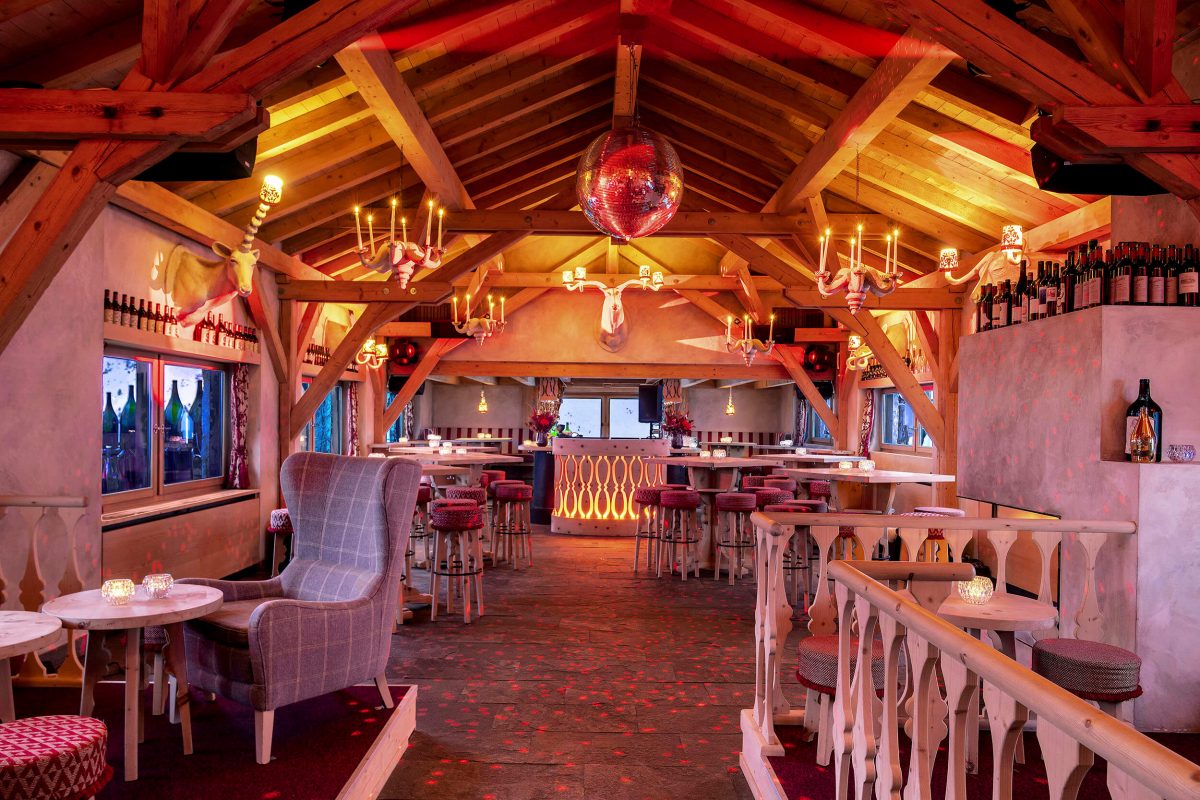 The Music Deck is also home to some renowned culinary offerings. "We serve comfort food to warm the soul, best shared and enjoyed with friends," says Loris Di Santo, Executive Chef at Paradiso. "For example, beef nachos with chili con carne and melted cheddar cheese, or potato salad with Imperial Oscietra Caviar, which is the perfect companion with a glass of champagne."
The High Altitude Brasserie offers a more formal dining experience. Located on the lower level, it serves a chic rustic take on local alpine fare, with a refined interpretation of iconic classics and a focus on responsible sourcing of high-quality, local ingredients. "The brasserie-style classic offerings include 'La Planche' Montagnarde/Paradiso Plättli, which is a selection of cold cuts from the valley, cheese and delicious terrines," says Di Santo. "For a more unusual lunch, there is Surf and Turf for two, which includes chateaubriand and grilled whole lobster."
Food plays a key role in the running of Paradiso, with menus for each level tailored according to the season. As Di Santo explains: "In winter, we concentrate more on dishes that are restorative, warm and full of energy." The summer offering is completely different. "The majority of the guests are extremely active, so the menu focuses on healthy salads, soups or superfood dishes," he adds.
Paradiso also offers a huge selection of drinks, both alcoholic and non-alcoholic, to enjoy inside or on the terrace overlooking the breathtaking mountains. "We offer more than 500 different types of drink, from cocktails and spirits to wines and champagne and regional coffee," Di Santo adds.
Paradiso Mountain Club & Restaurant is relishing the start of a new period, which will also see it continue the long tradition of delighting its clientele with a stylish and sophisticated lunch, dinner and après-ski experience high in the Swiss mountains.