With its clear blue skies, revitalising fresh air and spectacular mountainous scenery, St. Moritz has obvious charm. But it's not just beautiful to look at – everything from the sky, the lakes and the forest invites you to jump in and explore, and there are plenty of activities on offer to help you do just that.
Known for offering adventure in every weather, the region is most famous for its winter sports scene, but there are many summer pursuits to keep you coming back all year round. And even if you're not particularly active, there are lots of low-key activities to help you get the most of your time in the town and leave feeling refreshed and regenerated.
Whatever your desire, the concierge at Badrutt's Palace Hotel is on hand to help make your holiday dreams come true. Why not ask them about some of these summer activities in St. Moritz?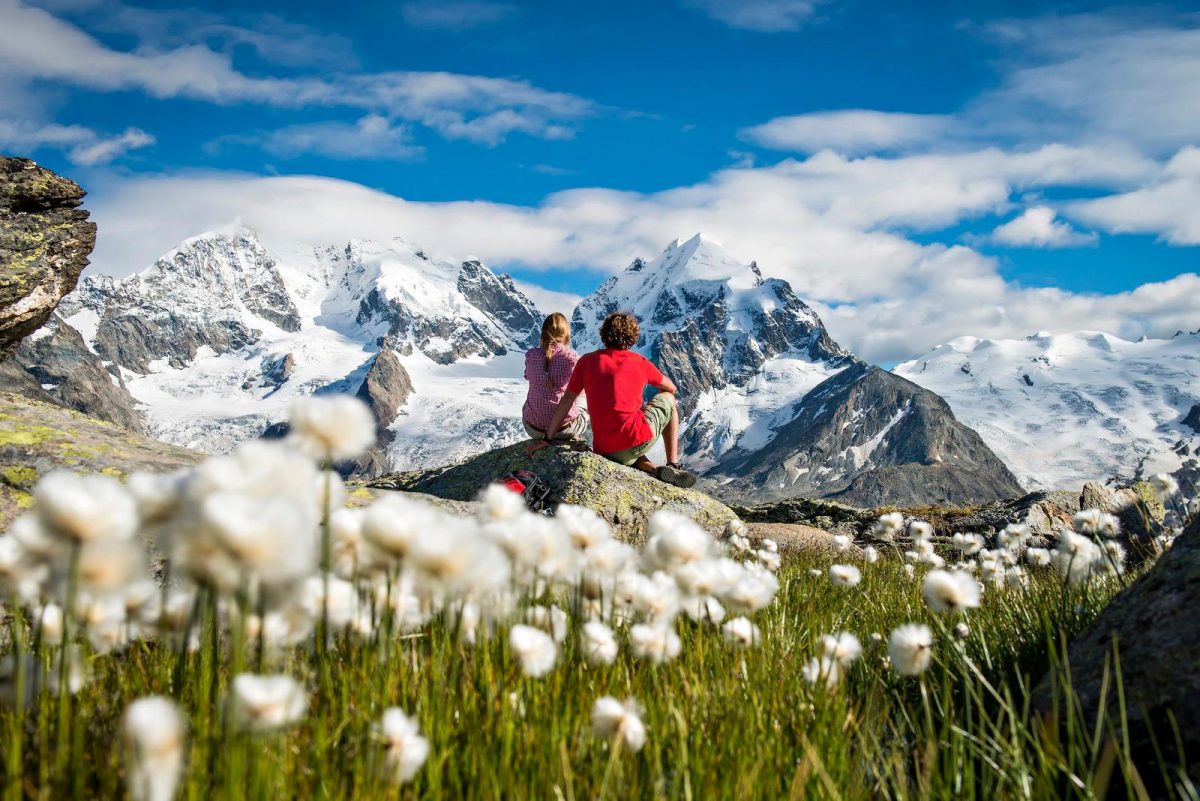 IN THE MOUNTAINS

Hiking
One of the great things about hiking in St. Moritz and the surrounding Engadin area is how easy it is to access stunning views. You can take the cable car from St. Moritz Bad (a 20-minute walk from the hotel) or catch the Chantarella funicular railway (a 20-minute walk from the hotel) up the Corviglia mountainside. There are plenty of hiking trails around here and you can enjoy the elevation without having the physical exertion of reaching that height on foot. Alternatively, a second cable car ascends even higher up to Piz Nair, which is 3,056 metres (10.026 feet) above sea level and offers spectacular views of St. Moritz and Alpine lakes, and even more hiking options. For the serious hikers, you could decide to go down the mountain on foot, which takes approximately five hours.
There are also countless hiking trails that start within walking distance of Badrutt's Palace Hotel, such as the lake trail along Lake St. Moritz to Lej da Staz, and options for hikes that take just a few hours to several days. Read more here.
E-bike and mountain bike
The mountains around St. Moritz were made for mountain biking. The views are incredible and there is a fantastic range of routes, depending on your ability. Similar to the hikers, bikers can make their way up Corviglia and Piz Nair using the cable car or funicular railway and enjoy the trails up there. And don't worry if you're not a pro – Badrutt's Palace Hotel offers e-bikes to rent, so you can still enjoy the wonderful mountain cycleways with an added boost if needed. Discover our favourite routes here.
Climbing
The glorious mountains that surround the hotel are not just for looking at – why not get up close and climb them? There are lots of climbing and bouldering opportunities in the area to suit all abilities. The Pontresina Mountaineering School, a short drive from Badrutt's Palace Hotel, is a good place to start, offering training and guided climbs. If you are unlucky enough to visit on a bad weather day, Serlas Parc is an indoor centre with a stunning climbing wall combining wood, glass and an inspiring view of the mountain landscape.
Horse riding
For a completely different viewpoint, head to the Engadin River Ranch and explore the mountains on four legs. The horses at this ranch, which doubles as an organic farm, are calm and friendly, making them the ideal companion for riders of any experience level. Wind your way through breathtaking landscapes, along lake shores and through tranquil meadows with the sound of hoofbeats creating a relaxing backing track.
ON THE WATER
Wind surfing and kite surfing
Lake Silvaplana is the place to go for wind and kite surfers. Not only is the cerulean water surrounded by impressive mountains all around, but the strong Maloja winds that flow in the upper Engadin Valley create the perfect conditions for the two sports. Whether you're a seasoned surfer or simply want to have a go, Badrutt's Palace Hotel can arrange everything you need to enjoy a day out on the water. If you're not quite ready for the speeds that wind and kite surfing offer, try stand-up paddleboarding instead. But be warned – this option is equally challenging for your balance and gives you a core workout! Read our interview with kite surfers Sophie Mathews and Tom Court for more inspiration.
Sailing
The Maloja winds also create the ideal conditions for sailing. Each year Lake Silvaplana and Lake St. Moritz host the World, European and Swiss Sailing Championships. If you're new to sailing, Engadin is a great place to learn how to sail as there are a variety of courses on offer, and it's a fantastic way to enjoy the unique scenery without getting wet! Badrutt's Palace Hotel even has its own boat that you can take out on the water.
Fishing
Perhaps once seen as an old-fashioned pursuit, fishing is now appreciated for the opportunity if offers to truly connect with nature. There are so many lakes in the Engadin region that fishers need not visit the same lake twice in one visit. The region offers some of the best fishing and fly fishing in the European Alps, with a good stock of wild trout and grayling. Even if your patience is not rewarded and you head back to the hotel empty-handed, the spectacular mountain views are more than enough compensation. Please note that you need a special permit to fish in the region, but the Badrutt's Palace Hotel concierge can help you with this.
Swimming
Though throwing yourself into an expanse of cold water might seem brave, there are many benefits to wild swimming. It improves your circulation, boosts your immunity and gives you a natural high as the cold water causes the body to produce endorphins. Larger lakes such as Lake Silvaplana and Lake St. Moritz are chilly and only suitable for a quick dip, so Lake Staz is the place to go. The smaller, shallower and warmer Lake Staz is in idyllic surroundings only accessible by foot or bicycle.
IN THE AIR
Paragliding
This activity is definitely for the brave among you. Travel to the upper Engadin and join a professional paraglider as you swoop down over the rooftops of St. Moritz. The summer offers blue skies, bright sunshine and panoramic views across the lakes.
Helicoptering
Nearby Samedan airport – the highest airport in Europe – offers helicopter flights around the Engadin all year round. The view from the helicopter is unlike any other and you will be amazed as you soar alongside the majestic peaks of Piz Bernina and Piz Palü. Not exciting enough? Why not try heliskiing? Read more about it here.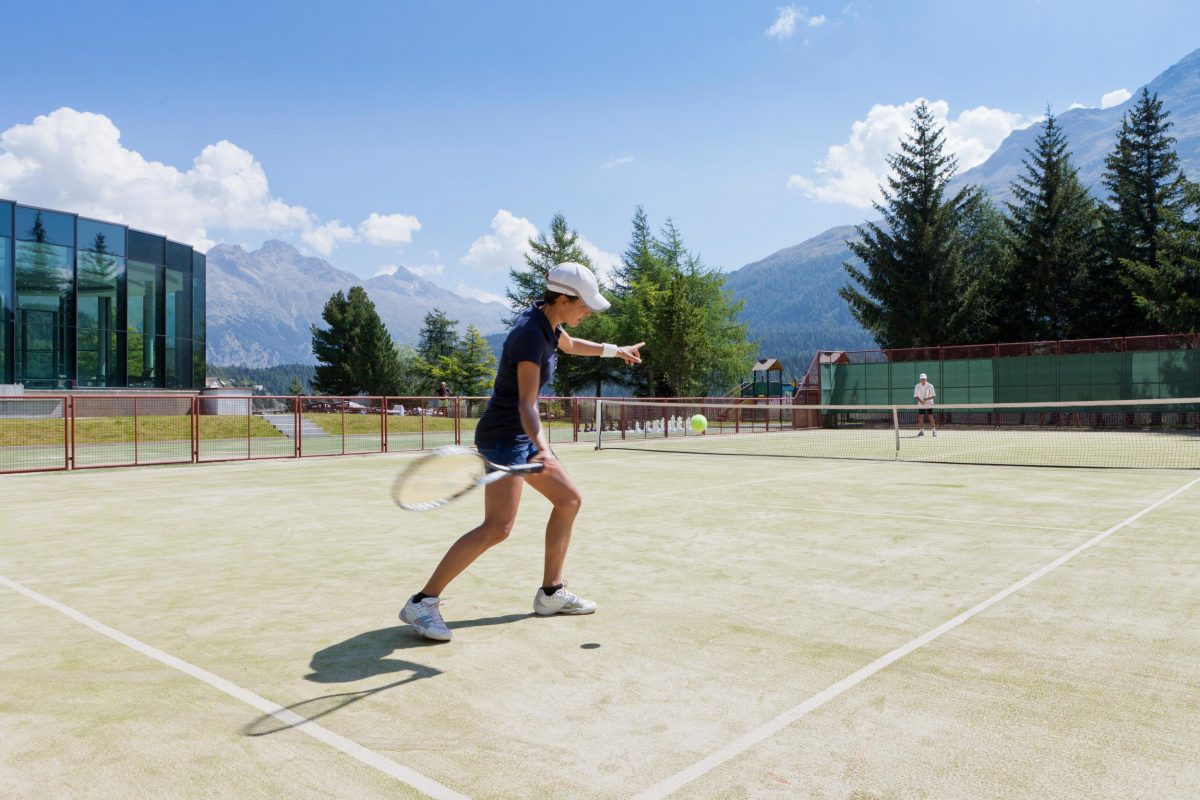 SPORT

Tennis
While many amateur tennis players may dream of playing on the hallowed turf of Wimbledon's courts, Badrutt's Palace Hotel has something even more spectacular to offer. The outdoor tennis court overlooks Lake St. Moritz, offering an epic backdrop for your game. All tennis equipment can be rented and, whatever your level, you can have a session with the hotel's tennis instructor to refine your techniques.
Fitness
The Badrutt's Palace Hotel fitness centre is full of state-of-the-art Technogym equipment, providing all you need to stick to your exercise regime or maybe try something new. There's also a self-service bar with free drinks and energy snacks to keep your fuelled for your workout. Don't fancy exercising alone? A personal trainer is available on request or why not make use of the dedicated yoga room? An experienced instructor can guide you through movements designed to balance your mind, body and soul.
Basketball
You've never played basketball on a course like this before. Located in the Badrutt's Palace Hotel garden with a breath-taking view of Alpine scenery, staying focused on your game may be a challenge! The court welcomes team games or you can take the opportunity to refine your slam-dunk skills alone.
Golf
Nearby Engadin Golf Club offers everything fans of the sport could desire. Two 18-hole golf courses – Samedan and Zuoz-Madulain – provide an engaging challenge. Discover more here.
FOOD AND DRINK

Cooking classes
The dining experiences offered by Badrutt's Palace Hotel are second to none. Across eight restaurants, world-renowned chefs carefully balance guests' yearning for tradition with modern food trends to create spectacular cuisine for all. You can take the opportunity to learn their craft with cooking classes at the hotel, which are available on request. Whatever your interest, just bring an open mind and an empty stomach for afterwards!
Wine tasting
The distinguished wine cellar at Badrutt's Palace Hotel contains more than 30,000 bottles of champagne and wines from all over the world, and visits are available on request. Meet head sommelier Daniel Kis and explore the cellar with a guided tour. Guests can also visit the 'Krug Stübli' located inside the vault – a cosy chalet that used to be home to Hans Badrutt's garden room – for a sip or two of what you find.
Picnic and barbecue
Appreciating the great outdoors is essential for a summertime visit to St. Moritz, and luckily there are many spots where guests can enjoy a picnic or barbecue, which can be prepared by the hotel chefs on request.
Cheese factory
The Engadin that is home to Badrutt's Palace Hotel is also famous for cheeses, such as Heutaler and glacier Mutschli. The hotel can arrange a visit to a local cheese factory, Alp-Schaukäserei Morteratsch, to watch master cheesemakers at work, learn the traditional techniques and maybe even have a go yourself. There is no better way to embrace the flavour of the region.
FOR KIDS

Kids' yoga and massage
Badrutt's Palace Hotel is proud to offer fun and relaxation for the whole family, including children. There is an outdoor play area including swings, a slide and a sandpit, and the Kids' Club Palazzino arranges a whole host of activities to keep the little ones entertained. In the yoga room, your child can unwind and improve their concentration and motor skills by taking part in a specialised yoga course. The hotel also offers massages for children on request.
Kids' disco
The highlight of the Kids' Club activities is the Kids' Disco, giving under-18s the chance to enjoy a fun party at the iconic King's Social House. A glittering disco ball and a playlist of hit songs keep the youngest guests on their feet and dancing to the beat.