What exactly is The ICE St. Moritz? And who would be crazy enough to organise an international concours of elegance on a frozen lake on top of the world? The answer is passionate (some might say crazy) Italian automotive enthusiasts with a history of doing the impossible.
They range from all walks of the automotive world: Ronnie Kessel is the proprietor of Kessel, the multi-faceted Luganobased petrol-powered empire that competes at all levels of motorsport and distributes some of the most fantastic and rare classic and modern cars in the world to discerning collectors. Alongside Ronnie is Marco Makaus, whose illustrious career has stretched from prominent roles at Ferrari, Chrysler and FIAT all the way to the shores of Lake Como and beyond where he has been a consummate part of the classic car world working with events such as the Concorso d'Elegenza Villa d'Este, the Mille Miglia and many more.
It is a gathering of some of the world's most beautiful and important classic sport and racing motor cars, which are brought to St. Moritz, shown and driven on the frozen surface of the lake. It is an art exhibition, where the cars are seen performing in the inimitable atmosphere created by the snowy surface, on which the masterpieces of some of the best technicians and stylists can be seen exactly like they were on their designers' white sheets of paper.
It is also a lifestyle meeting of younger and more active collectors who are not afraid to exercise their cars and to enjoy the unique jet-set atmosphere of St. Moritz. It is the logical consequence of the Swiss resort's long tradition of sporting and adventurous pastimes, mixed with its position as one of the preferred destinations for classic car lovers of the world.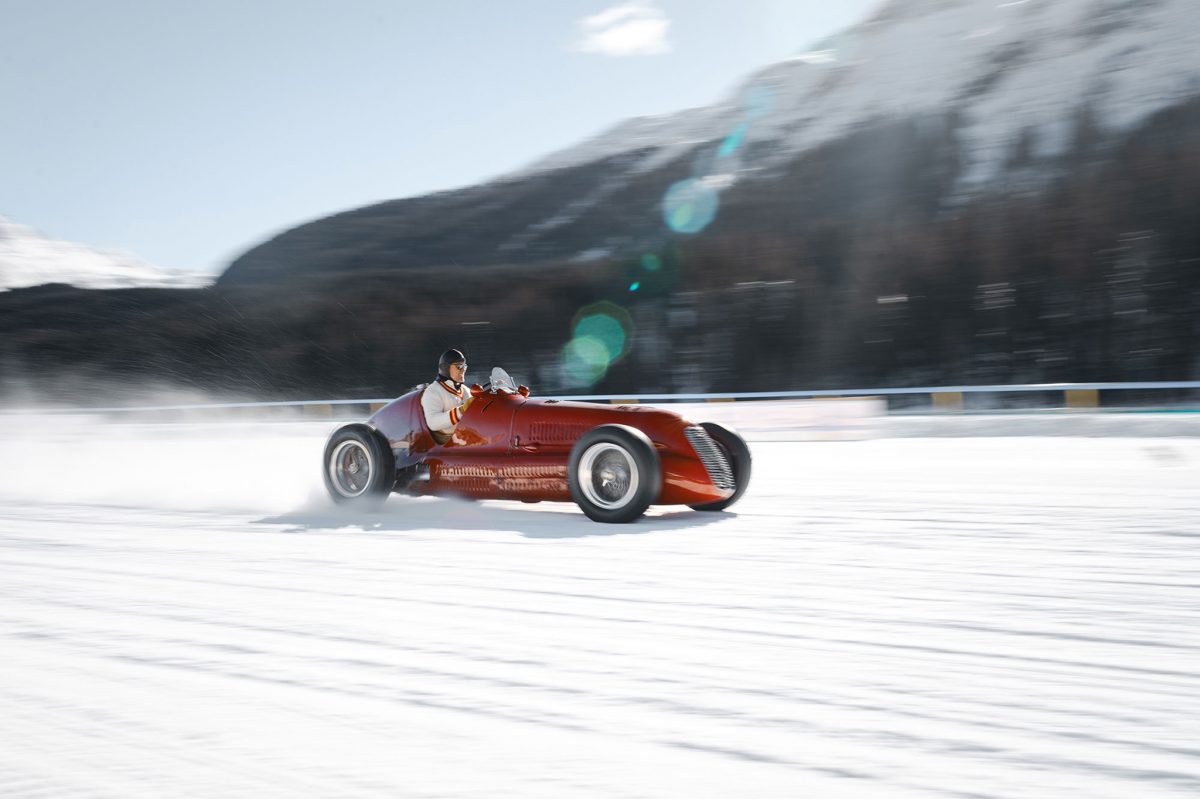 To decide which rolling works of art are allowed on the frozen St. Moritzersee the event organisers have created a selection committee of experts to examine the hundreds of requests for entries, choosing ultimately around 50 cars, which are invited to join the show.
The selected ones will demonstrate their horsepower pedigree on the very same horse racing track constructed for the illustrious White Turf event. After stretching their legs, the cars will be invited to arrange themselves on the parc fermé for the enjoyment of an audience catered to by the finest chefs and barmen at Badrutt's Palace Hotel.

Finally, an expert jury representing the most interesting automotive, art, design and architecture names from in and around St. Moritz and the automotive world will begin deliberation as to who will win the fantastic prizes awarded for beauty, style and, most importantly, fun.
See you in February on the ice.