Whether you are a complete beginner or an experienced rider, there's no better way of taking in the towering Swiss mountains all around you, as you pass through enchanting forests and verdant meadows and alongside glistening streams and lakes, than on horseback.
Horses have always been an important part of the heritage of St. Moritz and the Engadin. Thanks to their agility and stamina, they were the main form of transport for people travelling between Alpine villages for many centuries. The importance of these animals is reflected in the many equestrian events held in the region each year, from the annual Snow Polo World Cup to the White Turf festival of horse racing, both taking place in winter on frozen Lake St. Moritz.
If you like to be close to nature and are excited by the idea of exploring the Engadin from a different perspective – on the back of horse – there are a choice of equestrian activities to try in winter and summer, from half-day mountain treks to riding skills classes for adults and children of all ages, with or without riding experience.
"We have a variety of horses to suit all ages and abilities, and offer riding lessons, treks and lunge lessons," says Gina Wohlwend, who runs her own riding school in Pontresina, a short drive or train ride away from St. Moritz. "Before you come, I will ask about your experience and what you want to achieve, and then I will match the perfect horse to you."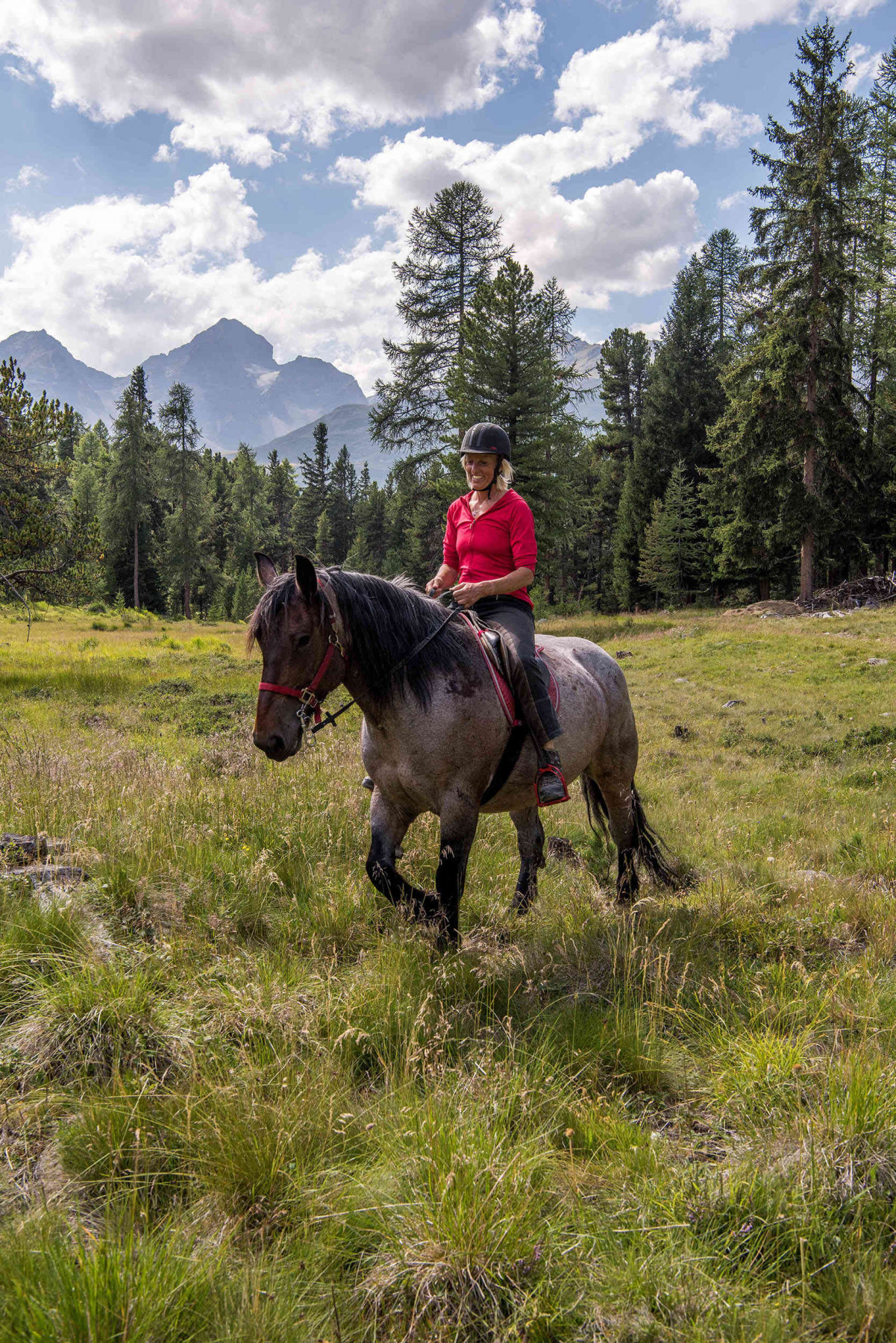 Gina's Riding School is an equestrian haven just a stone's throw from Pontresina train station. With over 20 years' experience running an equestrian centre, she is passionate about teaching her students how to ride and care for horses. Guided treks can be as short as 90 minutes or up to a full day, and a picnic lunch can be arranged. Riding helmets and half chaps to protect your calves are provided, with the option to groom and tack up the horse yourself, or have it done for you and ready for your arrival.

When it comes to horse trekking routes, Wohlwend recommends the beautiful Val Roseg and Lej da Staz areas. "If you're lucky, you'll see deer, chamois, goats and marmots as well as birds," she says. "There is also the chance to pick forest and heather berries and strawberries when they are in season."
Wohlwend's horses are trained English-style but can also carry Western saddles if preferred. "We have several kinds of horses – a pony and donkey, big heavy horses, warm­bloods and fast thorough­breds – and all are good natured and suitable for riders of any level," she says.
Children from as young as three can enjoy their first experience of riding; novice riders can improve their skills under expert guidance; and confident riders can test their skills.
"Special riding clothing is not required – comfortable trousers and hiking boots are perfectly suitable as long as they are comfortable and you don't mind them getting dirty around the horses, cats and dogs," adds Wohlwend. "We ride in all conditions so keep an eye on the forecast and dress for the weather."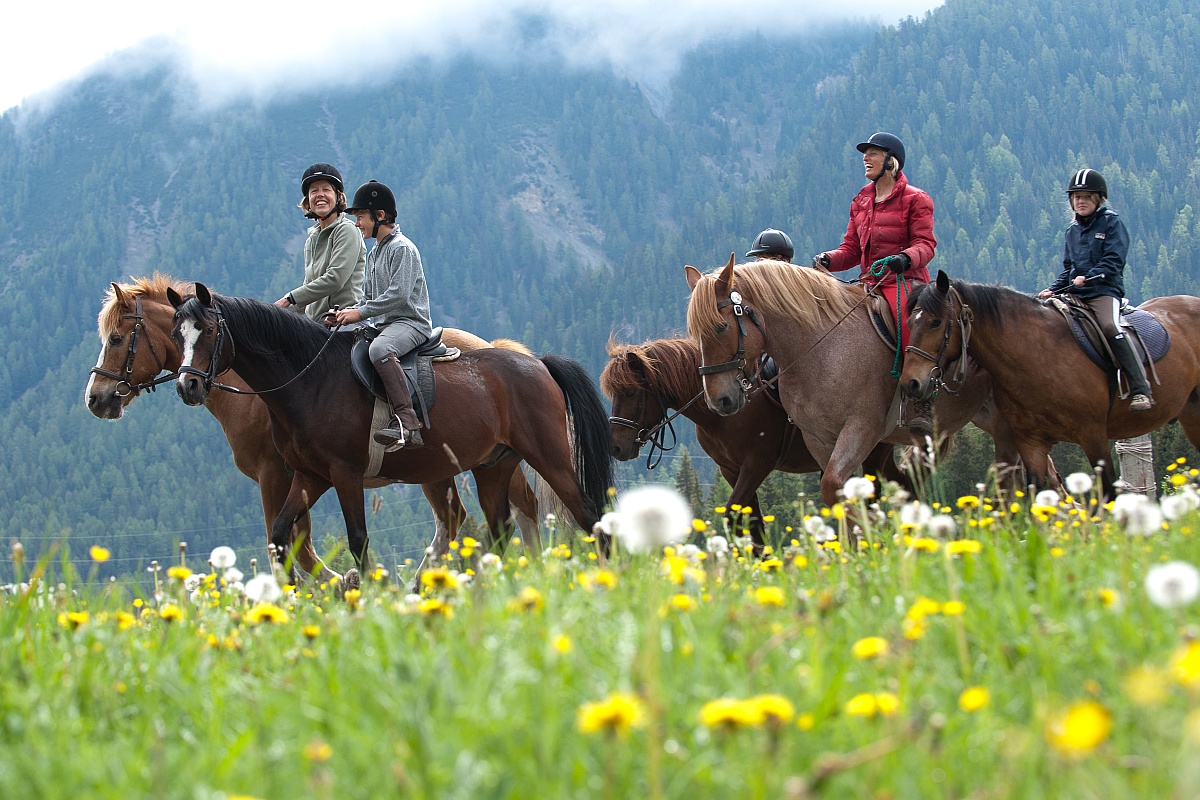 The following equestrian centres in the Engadin offer guided horseback treks and riding lessons…
The Wohlwend family's stables in Pontresina, a few kilometres from Badrutt's Palace Hotel, offer children and adults the chance to experience the Alps in winter and summer on friendly, gentle horses, ponies and a donkey. Guided trail rides through mountain forests can be arranged for a few hours or a full day. Riding and lunge lessons in a riding arena are also offered as well as carriage and sleigh rides.
The horses at the Engadin River Ranch – an organic farm a short drive from St. Moritz – are docile and therefore ideal for leisurely rides in the Engadin. Riding experience is not necessary and beginners are welcome. Before the tour, the River Branch team instructs guests in the technique of riding and accompanies and helps them along the route.
Beginners and advanced riders alike are welcome to Stalla Chapella. Choose from half-day adventures, which are suitable for families and beginners. For advanced riders, the Stalla Chapella team offers dressage lessons on well-trained horses and teaches the basics of natural horsemanship, a way of working with horses based on their natural instincts.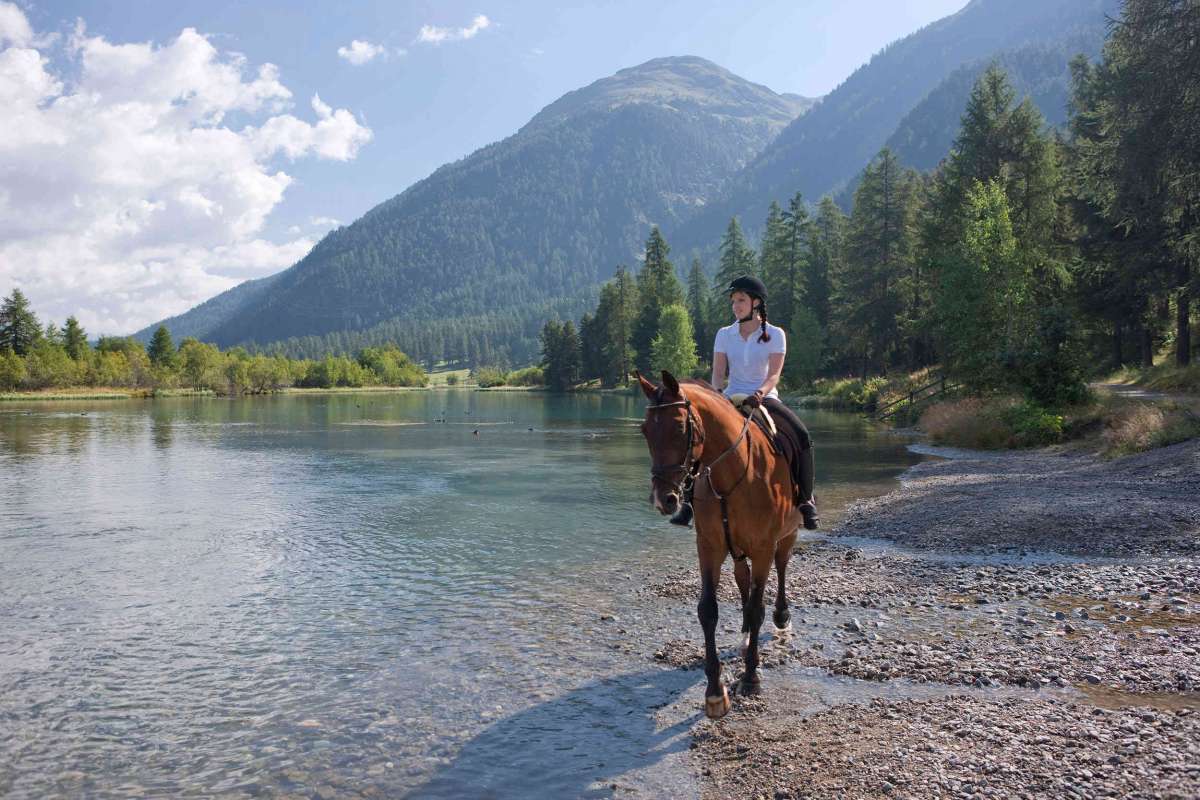 EXPERIENCE THE ENGADIN ON HORSEBACK
Whether you are a beginner or an experienced rider, why not explore the beautiful Engadin on horseback. For more information, visit badruttspalacehotel.com.