When you walk into Le Restaurant at Badrutt's Palace Hotel, you can be certain of two things. Firstly, you are about to enjoy an excellent dinner. Secondly, the wallpaper has a surprisingly interesting history to it.
Fashions in décor have changed a great deal over the past few centuries. Traditionally, the European monarchies and aristocracies of earlier times favoured covering their walls with either carved wooden panels or intricate tapestries. These were conspicuous consumption in every way, providing unmistakeable declarations of wealth and power, and the expense involved could be enormous. A single tapestry could easily take two skilled weavers three years to complete, and the expense of creating a mere 14 rows of the Gobelin tapestries beloved by the notoriously extravagant French king Louis XIV was said to rival the cost of a warship.
However, when the Industrial Revolution allowed others to enjoy a comfortable way of life for the first time too, these approaches were felt to be rather old-fashioned. Instead, the newly ascendant or the forward-thinking embraced advances in technology that offered swifter and more convenient options that didn't require the resources of a monarch to enjoy. The result was a new fashion for wallpaper that could be glued to either a fabric base or straight onto the wall – a major innovation at the time.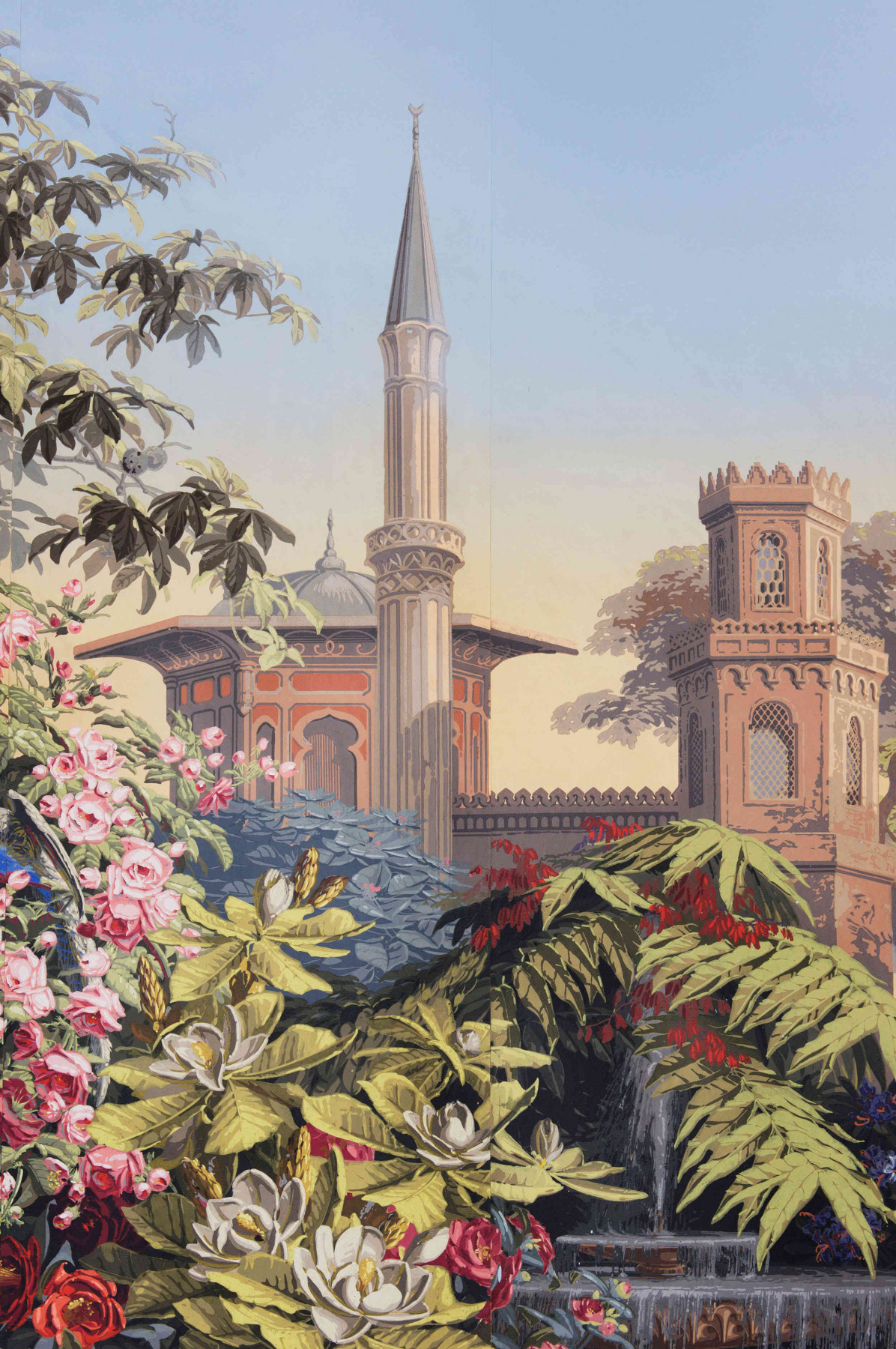 In practical terms, the tasteful decorator could now make a room more interesting and colourful much faster instead of having to wait years for a series of tapestries to be completed or a large mural to be painted. Better yet, it also provided the opportunity to depict famous vistas or inspiring scenes using connected designs. Indeed, the word 'panorama' first entered popular usage because it was used by 19th-century wallpaper manufacturers as a name for the massive landscape sets they offered.
When the question of how to decorate Le Restaurant arose, having interior scenes that were as dramatic as the view of the Engadin outside Badrutt's Palace Hotel was a natural conclusion. Turning to panoramic wallpaper was a logical choice that discerning customers would appreciate too, but which design would be best?
The grand design that was ultimately chosen was an impressive one. Known as 'El Dorado', it is named after the mythical golden kingdom that treasure-obsessed explorers tried to find somewhere in the jungles of South America for centuries. However, as the prestigious Zuber & Cie company from France – whose work can also be found in the White House in Washington thanks to former first lady Jacqueline Kennedy – did not have any real images of the fictional kingdom to work from, their artists let their imaginations run riot instead.
Zuber & Cie's archives explain that El Dorado depicts not one but four idealised locations. In the strongest connection to its namesake, a tropical paradise scene is probably inspired by Veracruz in the Gulf of Mexico. A lake scene with a more European air fits well with the nearby lake in St. Moritz, while a soaring tower recalls the architecture around Istanbul and the Black Sea to the east. Finally, dramatic ruins, pyramids and a Sphinx give a sense of grandeur that many visitors flocked to Egypt to experience for themselves.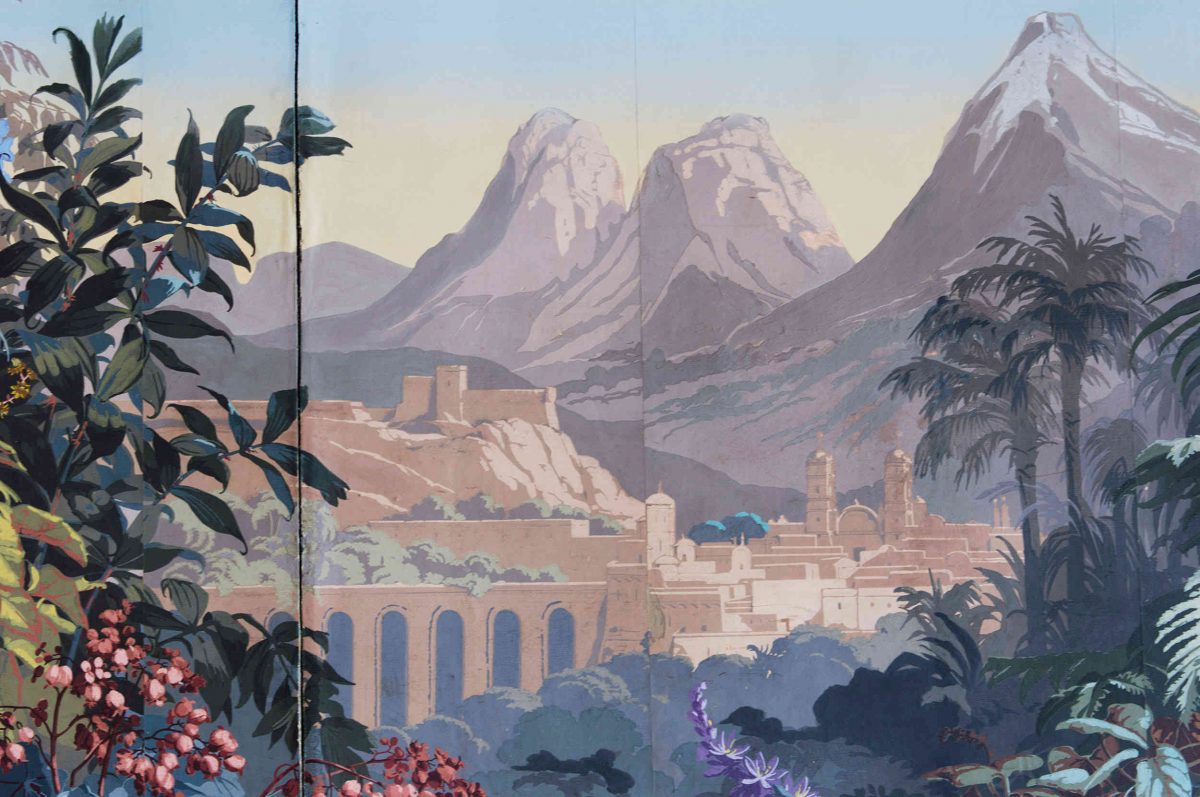 El Dorado, which was first created in 1849 and which is still in print today, is the work of a trio of people. The expertly mixed colours were the responsibility of Eugène Ehrmann, a chemist with a remarkable talent for indigo-based dyes. Ornaments and flowers, of which there are a great many, were handled by the illustrator Georges Zipélius. Finally, Joseph Fuchs was the creator and illustrator of the vast sweeping landscapes. Look very closely and you can see that they smuggled their names into the design too, using mirrored script to keep it from being too obvious.
Believed to have been installed in the early 1930s, El Dorado has provided travellers to the Palace with an exotic backdrop for well over a century. The next time you are in Le Restaurant, take a moment to appreciate it – it will help you dine in style.