Move over kale. Mushrooms have been crowned the new superfood. Named as the ingredient of the year by The New York Times, edible fungi have been hailed by culinary connoisseurs and health experts around the world as the must-have food, with global sales soaring.
Those of us who seek to adopt a plant-based diet for ethical and environmental reasons are fuelling much of the demand, thanks to mushrooms' meaty texture, but their health benefits are grabbing our attention, too. The reason is that they are packed with everything from vitamins B and D to antioxidants as well as adaptogens, with certain types believed to reduce the effects of stress. For top chefs and food lovers, however, mushrooms have long been sought-after ingredients, particularly when it is their own foraged varieties. It is something that Andrea Panatti knows all about.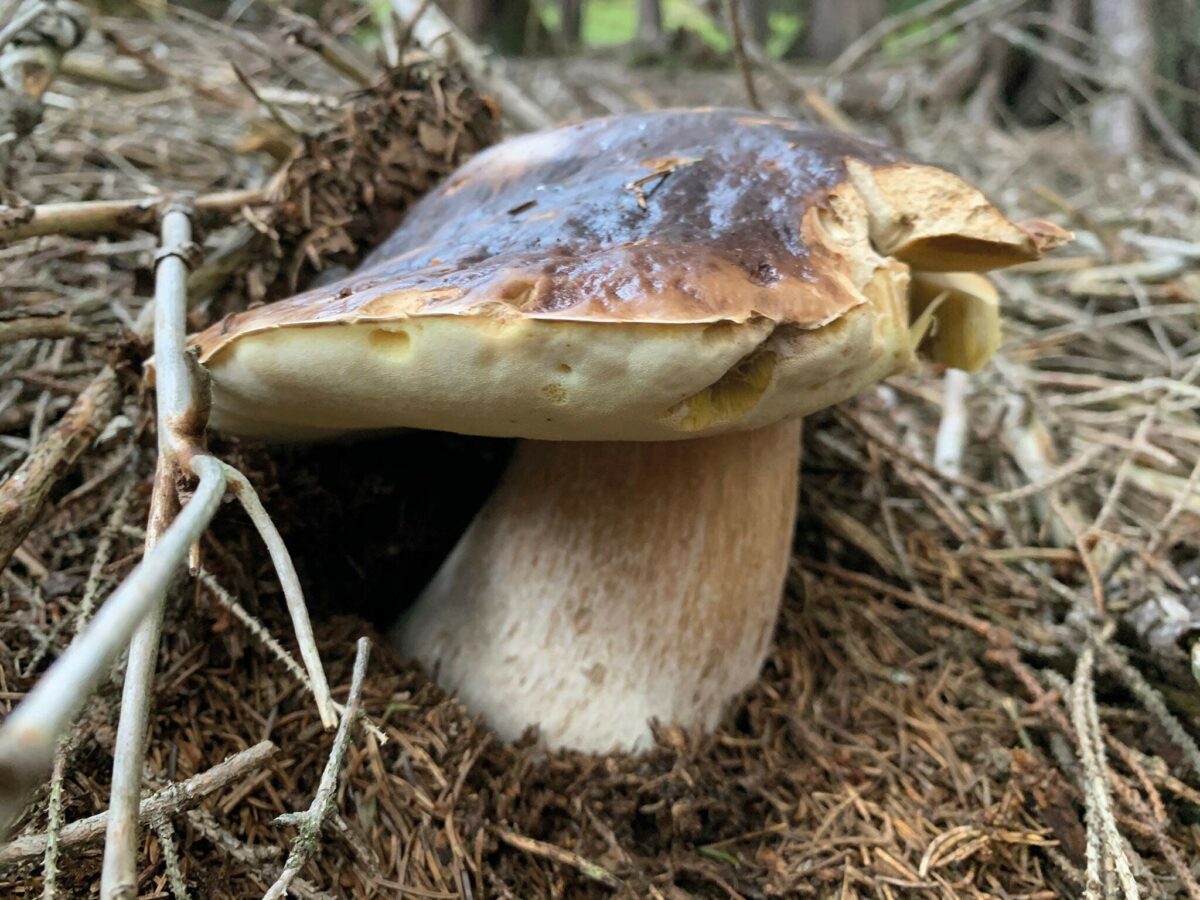 Panatti is a Chef in the main kitchen of Badrutt`s Palace . The legendary St. Moritz dining spot – with three restaurants and two bars open during the winter months and two restaurants open in summer – always offers mushrooms on its menus, whether they are the stars of the dish or key components. Panatti is a mushroom super-fan as well as a foraging expert, even sharing his passion with Badrutt's Palace guests on walking tours that explore the fragrant forest gems (more of which later).
"There is something magical and mysterious about mushrooms. They grow when the climate and the phase of the moon is just right," explains Panatti. "And there's nothing to beat a dish that is made with the freshest ones collected that morning and eaten soon after – they don't compare to those we buy in the shops that have travelled days to get to us."
So, when did a love of fungi begin for the chef? "I grew up in Valtellina in the Lombardy region of Northern Italy, 85 kilometres from St. Moritz," he explains. "Valtellina is a great place for mushrooms. I started foraging there with my father when I was 10 years old. He taught me to respect the forest and gave me all the knowledge I needed to find the best spots. I still forage there with him, and now also with my 10-year-old son Lukas."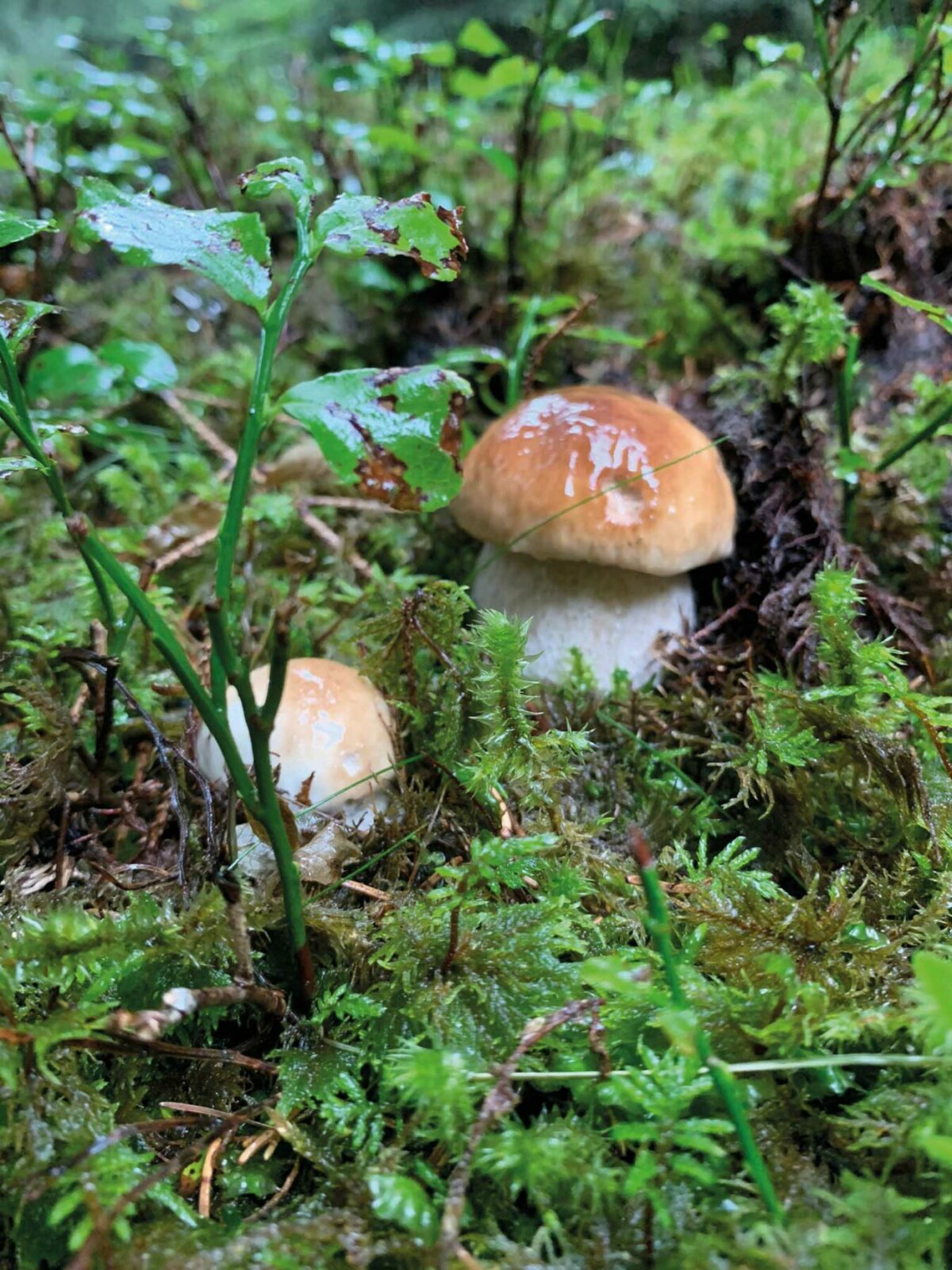 St. Moritz and the surrounding area are also rich in mushrooms, though there are strict controls in place on when and how much can be picked. "One of my favourite areas to explore is near the football pitch in Celerina, not far from St. Moritz," says Panatti. "In amongst the blueberry and redcurrant plants, you'll find beautiful boletus and chanterelles. The season in St. Moritz runs from July to early September, but if you venture down to the Lower Engadin in Zernez, the season extends through to October. There you'll find porcinis growing under fir and beech trees – you'll find a few deer, too, and they love to eat mushroom tops."
One of the chef's favourite things to do is to cook small porcini with white wine vinegar, bay leaves, juniper, black pepper and thyme, before drying them well and placing them in a jar covered with oil, which are then kept in the cellar to eat during the winter months. "I love to gaze out of the window at the thick snow and think back to when I picked them in the middle of summer," he says. He also suggests trying raw porcini in a simple salad, combined with courgettes, Parmesan and a lemon sauce (see the recipe below).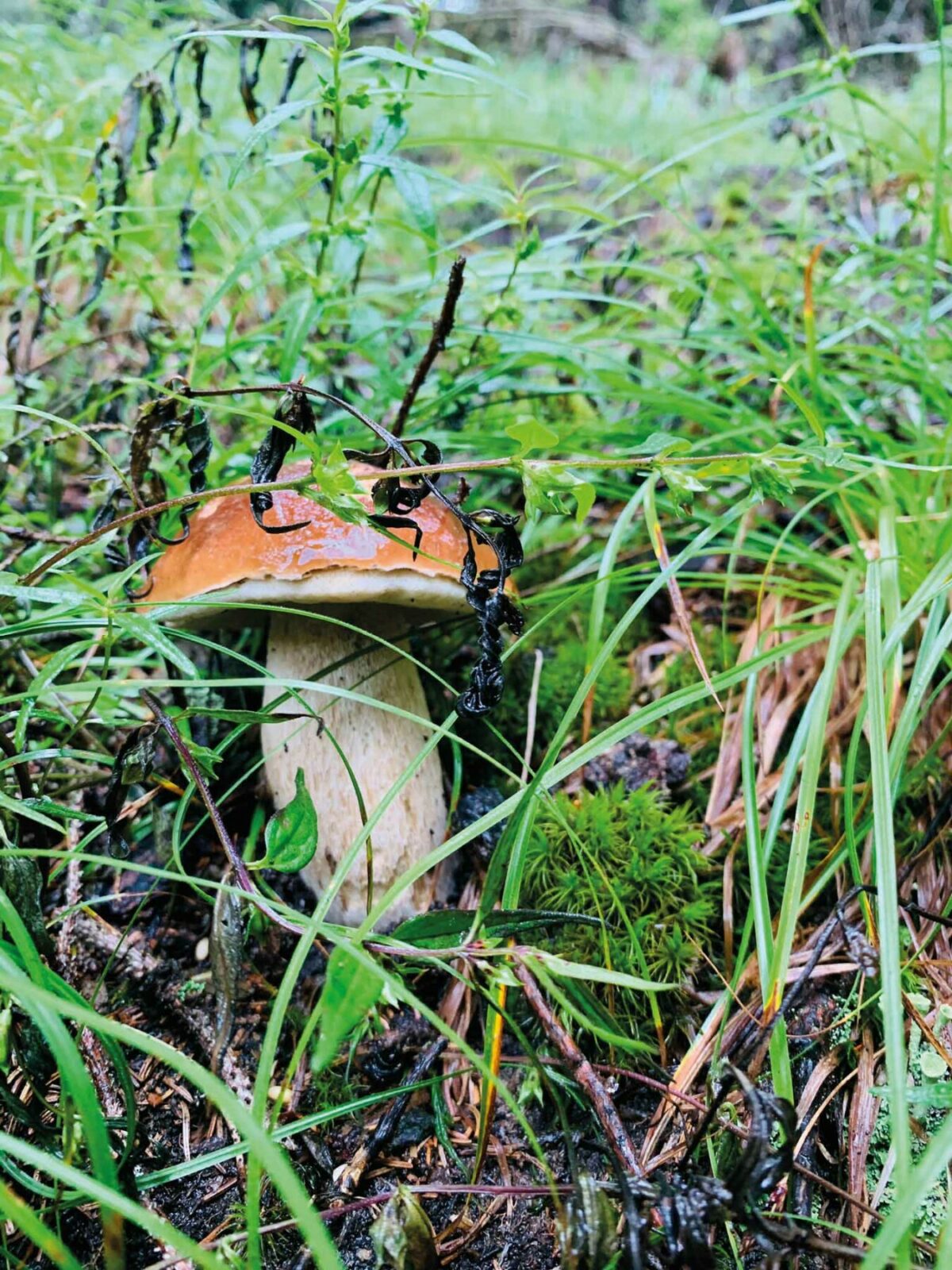 His all-time favourite mushroom dish? "Actually, I have two dishes that I love – tagliatelle with porcini, and risotto with porcini," he replies. Yes, porcini is his favourite mushroom variety – or to be more specific, the ones grown near beech trees. "They have this wonderful black colour and intense flavour," he explains.
Feeling hungry now? You will be after a walk in the woods with Panatti. Foraging trips are a popular activity at Badrutt's Palace. Guests are taken by Panatti to a 'secret' place before exploring the woods with him in search of the prized fungi, followed by a picnic breakfast by a bubbling brook and a walk (or drive) back to the hotel, where a delicious mushroom supper awaits. "If it were up to me, my life would alternate between fishing and foraging – and cooking mushrooms too, of course," he laughs.
To plan your foraging trip with Andrea Panatti, contact the Concierge at Badrutt's Palace Hotel.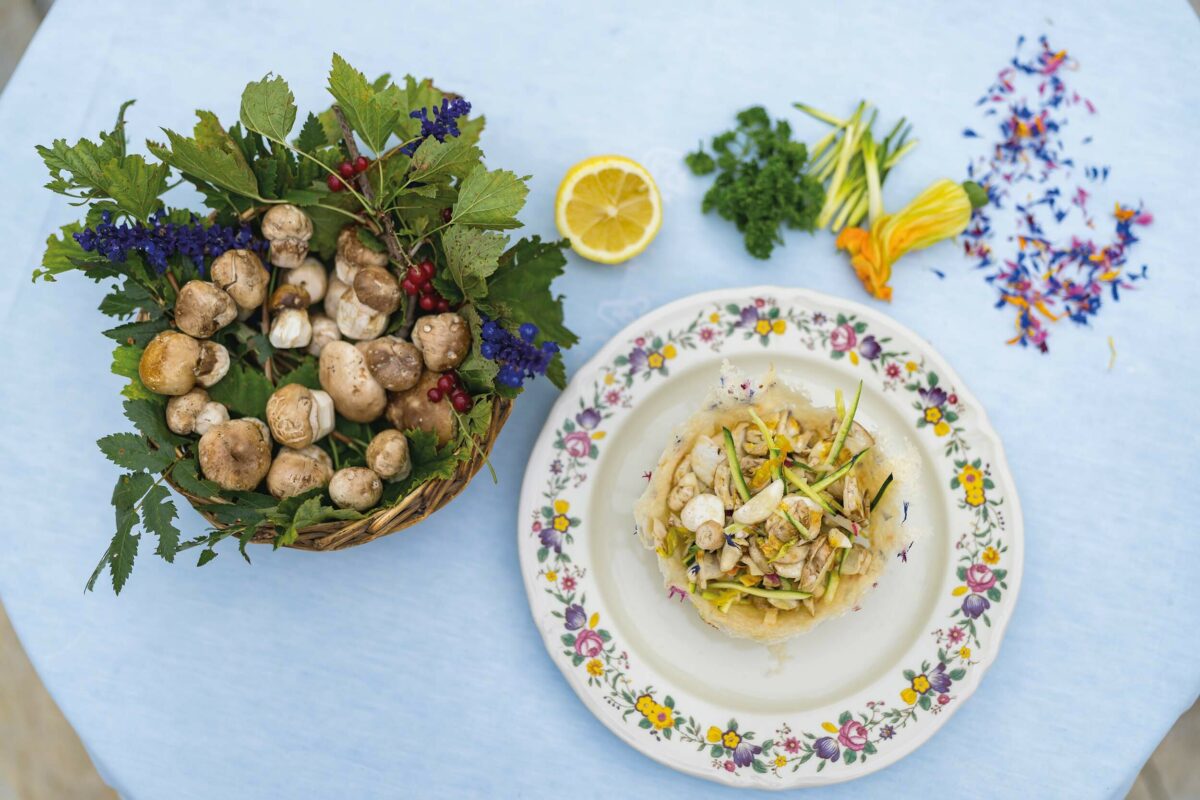 Porcini Mushroom Salad with Raw Courgettes, Parmesan and Lemon Sauce
200g fresh porcini mushrooms
50g courgettes
30g Italian celery
20g parsley, chopped
1 courgette flower
60g Parmesan cheese, flaked

For the salad dressing:
Extra virgin olive oil
Salt and black pepper
1 tbsp lemon juice
Use a Julienne tool to cut the courgettes and celery into long, thin strips and then combine all the ingredients in a bowl. Add the salad dressing. Toss to combine and set aside to let the flavours infuse before serving.