The cocktail arena has taken on a near mythical status in recent years, with cocktail-makers conjuring up fantastical concoctions that blend the best of old-school traditions with contemporary thinking. Liquid nitrogen, acid phosphate and birch sap are now all on the cocktail menu when it comes to today's creations.
At the Renaissance Bar at Badrutt's Palace Hotel, Head Barman Andrea Delvo is always experimenting and evolving his liquid creations. Even finding interpretations of classic cocktails is thrilling, he says. "Sometimes I start just twisting a traditional recipe, other times I'm asked to create something with a particular theme, which can be a challenge, so team work is important," he explains.
"On the menu we have a variant of the classic Old Fashioned that is derived from experimentation with jam and mustard"
"We consult books and conduct research to gain insight into particular trends and eras, which help provide a story," adds Andrea. "I was once asked to create some drinks for a jewel collection, so my team and I concocted drinks with the same colours of the jewels. On the menu we have a variant of the classic Old Fashioned that is derived from experimentation with jam and mustard."
Big flavour experimentation
Experimentation in the world of modern mixology appears to know no bounds. For New Yorker Dale DeGroff, who also goes by the moniker King Cocktail – earned through decades of dedication, including a stint in the 1980s in New York's famous Rainbow Room – this ever-evolving movement is inextricably linked with the gastronomic revolution that took hold towards the end of the 20th century. "This created a receptive audience of millions who go big for flavour and experimentation when dining," explains Dale. "So it's only natural that the same desire for new taste experiences, using innovative ingredients and methods, has influenced the cocktail arena."
And with this desire to create and experiment, traditions are being eschewed in the quest for crafting taste sensations that fuse previously unthinkable combinations. Take the popular bourbon cocktails Bacon Cherry Creek, featuring bacon-infused bourbon, or Butternut Old Fashioned, with spiced and sweetened squash.
The trend is extended to the increasingly sophisticated 'mocktail' (non-alcoholic cocktails). "The idea that a cocktail does not need a spirit or alcoholic base to be complex and adult-like has gained recognition among bartenders and, little by little, in the wider opinion," says Frenchman Thomas Girard, Head Bartender and Creative Director at the award-winning Operation Dagger bar in Singapore.
Weird and wonderful cocktail ingredients
The desire of cocktail-makers to push boundaries is being driven by consumers looking for something exotic they may have seen online or on Instagram, according to celebrated bar consultant and native Scot Robin Honhold. He recently worked with venerated London-based cocktail creator Ryan Cheitiyawardana, also known as Mr Lyan, making one-of-kind cocktails using unusual ingredients such as camomile, pine cordial, birch charcoal and cacao butter.
"Native employs unexpected cocktail ingredients such as curry leaves and turmeric, along with the medicinal root tongkat ali, cinnamon, tapioca, arrak coconut spirit from Sri Lanka, and even foraged ants"
Mixologists are also collaborating with companies to produce bespoke ingredients that impart colour, aroma and flavour to drinks. "The three new cordials by award-winning London-based Alex Kratena with syrup company Monin are each made with a different variety of peppercorn," says Robin.
He adds: "Bars such as Native in Singapore are mining the rich cultural and culinary heritage of the environment around them to create incredible flavours found nowhere else in the world." Native employs unexpected cocktail ingredients such as curry leaves and turmeric, along with the medicinal root tongkat ali, cinnamon, tapioca, arrak coconut spirit from Sri Lanka, and even foraged ants (sprinkled as garnishes to give an acidic zing).
Cocktail culture influencers
For cocktail-makers, various factors and influences come into play when fashioning a cocktail menu. "All our venues have the same strong company ethos," says Robin, who experiments with colleagues in a designated 'lab' on a weekly basis. "But each venue also has a different inspiration, a different vibe, and different customers – on top of that, we are based in two different countries, Singapore and Indonesia. Therefore we have to tailor-make our drinks for each place. That's actually the fun part of the job because you never stand still."
This approach is echoed by Robin, who has worked on a consultancy level for numerous high-profile clients. "Every business is unique, so I spend a lot of time getting to know the people who make up the culture of a brand, understanding what inspires them and what inspires the business," he explains. "This can be ingredients, regions, attitude and any number if things. Then I'll create to match this mood."
Bartenders are also looking to the techniques of the chef when creating cocktail menus, says Dale DeGroff. "A chef will often begin with a basic sauce and add flavour elements to define new combinations and create new menus. The bartender has the same capability – we have our own basics, such as the sour mix (syrup mixed with citrus fruit), which are starting points. We use these as platforms which allow us to create something new."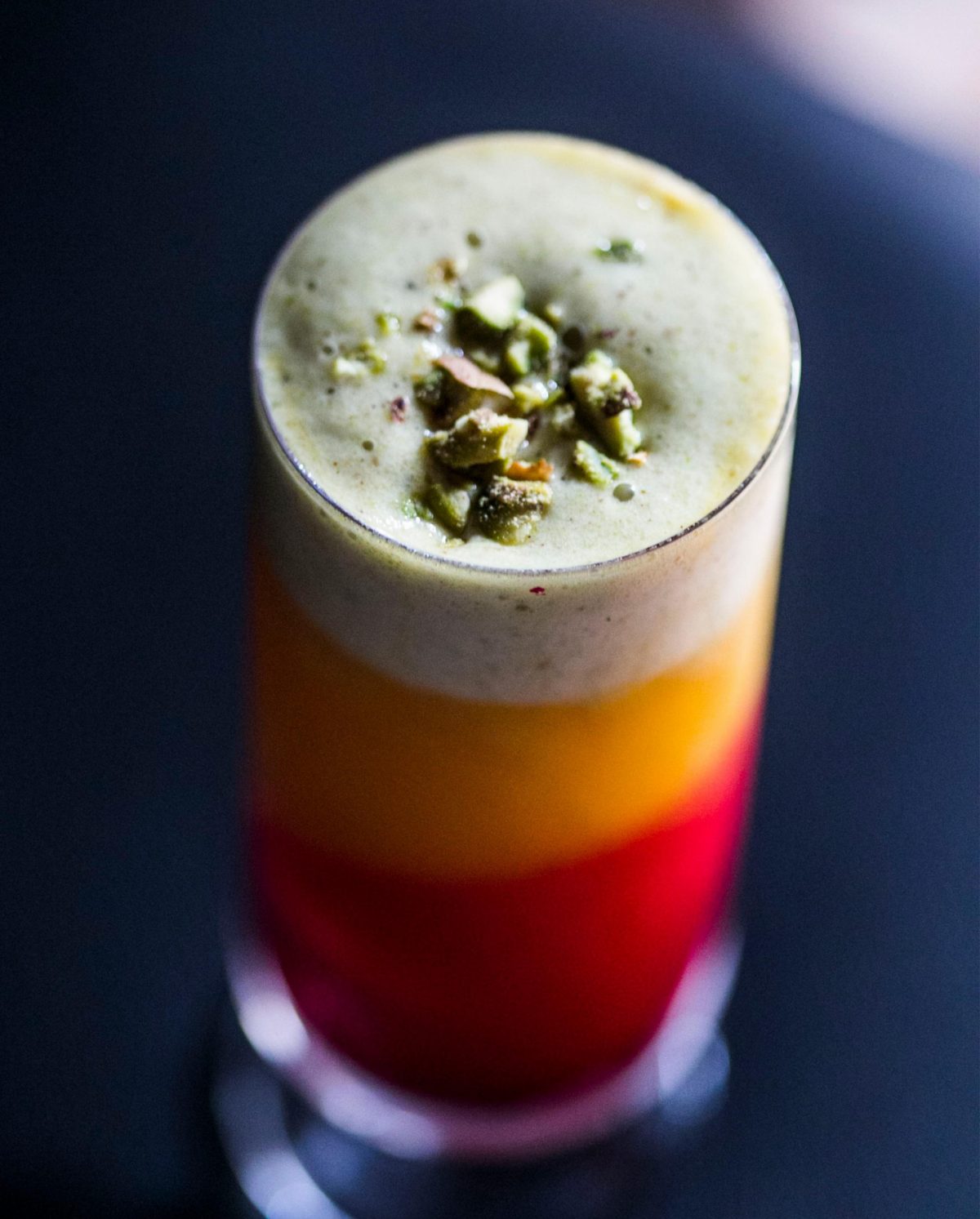 Seasons can also play a major role in cocktail making; for instance, wherever possible Robin chooses cocktail ingredients that reflect the time of the year: "A good drink hits the right mood, so things need to evolve as the weather changes." For example, autumnal cocktails employ heavier liquids for richer results: the New York Sour takes the traditional Whiskey Sour and adds Beaujolais red wine for more depth, while the Cocoa Old-Fashioned includes cocoa-infused rye whiskey and mole bitters, adding a cosy twist to a classic cocktail.
"We always try to work with seasonal fruits," adds Andrea Delvo. "As Badrutt's Palace Hotel is a mountain resort high up in the Swiss Alps we have a selection of seasonal specials on the menu we only prepare in winter, including warm cocktails. It's difficult to find clementines and pomegranates in summer time!" That's why Stefan Gerber, the hotel's executive pastry chef, chooses to preserve some summer fruit, cooking it in water and sugar and storing it in jars to be used during winter. "We use this method for white peaches, for example, which are used year-round in our famous Bellinis," says the head barman.
Sustainability and the senses
With such an energising of ideas and possibilities, where are cocktails heading? "Big brands have supported the bartending scene to the point where they have saturated it. That is going to change," says Thomas. "On the one hand, those companies will invest in other fields, such as CBD or cannabis. On the other, more and more bartenders are moving towards purer forms of drinks that use the best ingredients from sustainable origins. This minimalism has something to do with a sense of responsibility for whatever we are giving to our guests and how it impacts our environment."
"'Truthful cocktails' trace and authenticate the origins of the drink and provide the true cost implicit in the enjoyment of it"
The latter is an issue that has inspired Robin and Mr Lyan, who announced the creation of Blocktail last year. It uses blockchain technology to link the entire production cycle of their drinks, from grower and distributor to the venue and consumer. This allows the creation of 'truthful cocktails', which trace and authenticate the origins of the drink and provide the true cost implicit in the enjoyment of it.
That experience is further magnified through sensory cocktails, which draw on science and art to heighten the occasion. Leading the way in these innovative cocktails is British bartender Joe Schofield, who won the prestigious International Bartender of the Year in 2018. During his time at the Tippling Club in Singapore, he collaborated with chef Ryan Clift to devise an avant-garde Memory Triggers scent-inspired menu. Customers smelt perfume blotters infused with nostalgia-inducing aromas – such as rain, grass or leather – and chose a cocktail that evoked special memories. One cocktail was a comforting concoction of marshmallow milk, burnt syrup, ash and gin, 'reminiscent of starry nights spent huddled around a toasty campfire'.
More recently, Joe and Ryan created a bag of 12 gummy edible cocktails sweets, presented in a retro candy bag. Each bear featued the main flavour of their 12 'Dreams and Desires' cocktails, which included 'Happiness', a honeyed, yuzu drink with tequila, and 'Peace', made from almond milk, citrus, lemon balm. The two creators are now running a consultancy and working with the leading flavourists and perfumers to create multi-sensory cocktail menus.
Mixology innovators will continue to use the versatility of their platform to take cocktails to new levels. Far from reaching its pinnacle of ingenuity, cocktail drinkers can be reassured that they will continue to be thrilled by ever-more surprising concoctions of the future.