World renowned helicopter pilot Quentin 'Captain Q' Smith must feel like he is one of the luckiest men alive. Not only has he circumnavigated the globe twice, been the first person to fly to both the North and South Pole in a single engine helicopter, and been crowned two-time world aerobatic champion, he has also been lucky to survive two particularly close shaves with death.
The first time was when he was forced to make an emergency landing in the freezing waters of Drake Passage, near Antarctica, and was cast adrift on an inflatable raft, saved only by the relentless search efforts of the rescue plane pilot. He escaped tragedy a second time when his quick thinking averted almost certain disaster, after an unsecured fuel tank cover was sucked into the helicopter's rotors during a landing attempt on a superyacht.
Today, Captain Q's base is a hangar at Denham Aerodrome in Middlesex, southeast England, the headquarters of HQ Aviation, his helicopter business. The cravat-wearing pilot is charming, enigmatic and delightfully eccentric. In conversation, you never quite know where he will take you, one minute expounding his theories on life optimisation, the next giving you a brief history of Persian mathematics. It's best just to sit back, listen and enjoy the ride.
Pushing the limits
His passion for flying combined with an avid curiosity and explorer's courage have driven him to continuously push the boundaries of what is possible in a helicopter.
His curiosity began as a young boy, encouraged by a Royal Navy helicopter pilot father who would take him up into the skies. "When I was around five my father made me run around a block of houses near where we lived to take in my surroundings," he recalls. "Of course, at that time my immediate environment was my world, so off I went on my journey of discovery, which spiked my curiosity. I then wanted to see how far the houses went on for. On further exploration I came across a field, which opened up more questions. Where does it end? How far until there are more houses?"
"His curiosity began as a young boy, encouraged by a Royal Navy helicopter pilot father who would take him up into the skies"
Acquiring his pilot's license at the age of 20, he had been flying for a while before he realised how amazing helicopters are. "I found aeroplanes complicated and awkward – they are only good for distance, altitude and weight," he says. "In contrast, the helicopter is the most technically beautiful thing in the world; it's the natural form of flight.
"A bird applies muscular power to its wings to push it through the air. It's very unnatural to have rigid wings. Helicopters move their wings directly with their power, like a bird."
Captain Q's record-breaking attempts are tempered by his flight instruction activities, which take him across the globe, including to the Alps, where he is a regular visitor. He also undertakes helicopter expeditions for private clients. "I have one mission coming up where I'm flying some people to Iceland and Greenland, both spectacular places. I like to keep the itinerary flexible, so we may go via Norway or perhaps Sweden. If you plan too rigidly, there is more that can go wrong, plus a bit of spontaneity encourages one to open up to the world."
Risk versus considered calculation
Adventure-seekers are risk-takers who are willing to put themselves in situations where the outcome is not guaranteed. Take the long list of aviation pioneers of the 20th century. Badrutt's Palace Hotel has played host to two visionary aviators, who had the same spirit of adventure as Captain Q. British RAF squadron leader Douglas Douglas-Hamilton, also known as Lord Clydesdale, stopped off at the hotel in 1933 en route to Mount Everest, where he led the first successful flight over the world's highest mountain. Swiss physicist and helium balloonist Auguste Piccard passed over the hotel when he reached the record-breaking height of 52,000 feet in 1955. These men were prepared to risk everything to push the boundaries.
"If you're excessively averse to taking risk or using the faculties of your life, then you don't experience life ‒ so you haven't had one at all"
Captain Q says his past endeavours are not so much about risk but rather considered calculation. He explains: "It's an optimisation of life. If you're excessively averse to taking risk or using the faculties of your life, then you don't experience life ‒ so you haven't had one at all. Therefore, you're actually on the losing side. It's not about being crazy or irrational; it's about making rational decisions on what is a reasonable risk. Most people are very bad at comprehending this," he explains in his matter-of-fact style.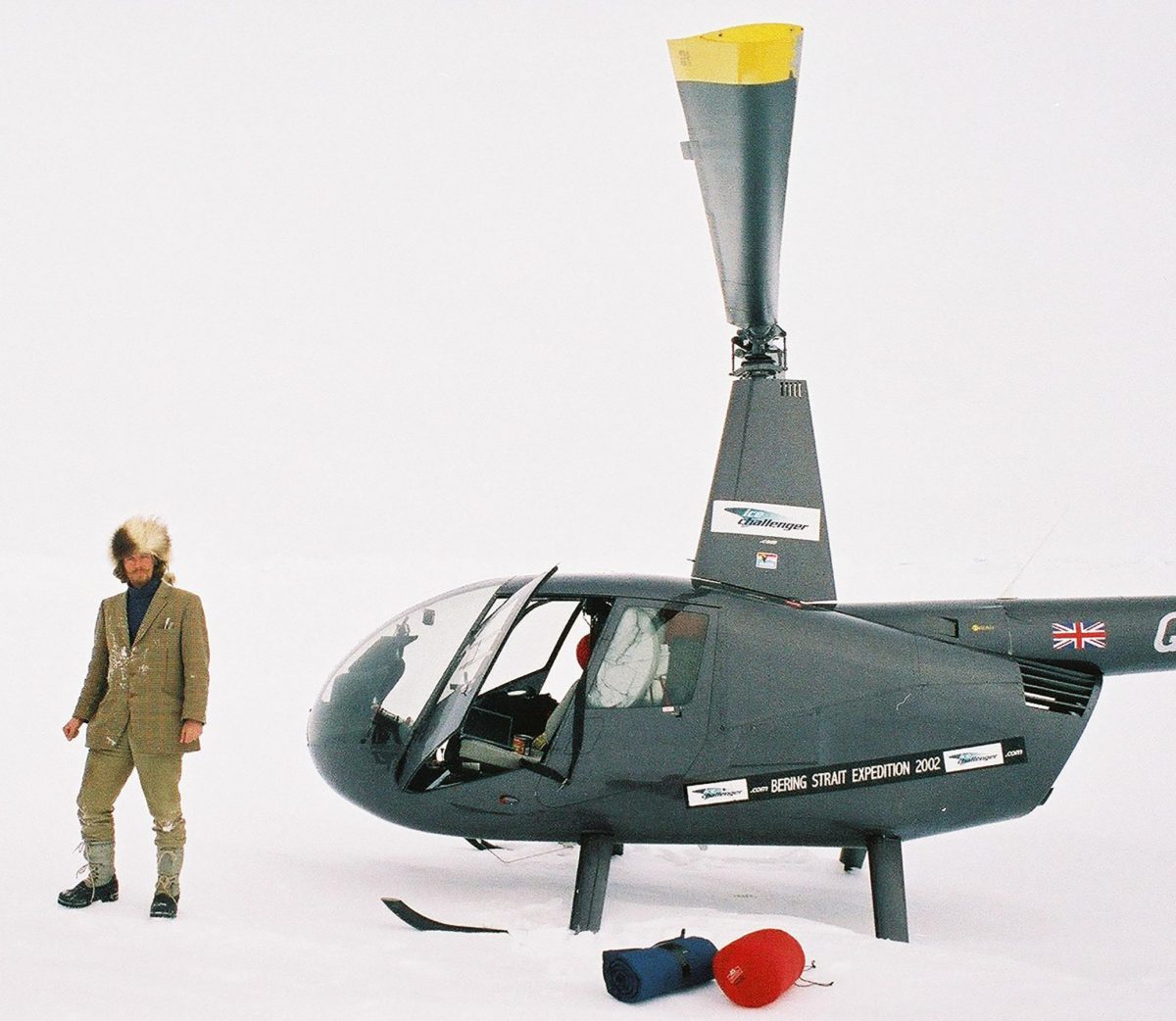 Extremes of the Earth
So, does he think flying to the North Pole is a considered calculation? He muses for a moment while casually re-lighting a cigar with a blow torch that is sitting on his desk. Then he says: "I went with my friend and co-pilot Steve Brooks, who was actually the first person to cross the Bering Straits [the narrow sea passage that separates Alaska and Russia] in a road-going vehicle. To get him out of the house so she could plan their wedding, Steve's wife-to-be suggested we plan a trip together. When he asked her where she proposed we go, she replied: 'the North Pole', and so that's where we went."
With only two weeks to plan and two weeks to execute the trip before the wedding, they headed off on a never-before-completed journey, which others had tried, but always failed.
Employing a Robinson R44 piston-powered helicopter, the self-supported two-man team worked on their fuel mapping, taking on extra capacity and dumping reserves as they toed and froed along the route before the big day.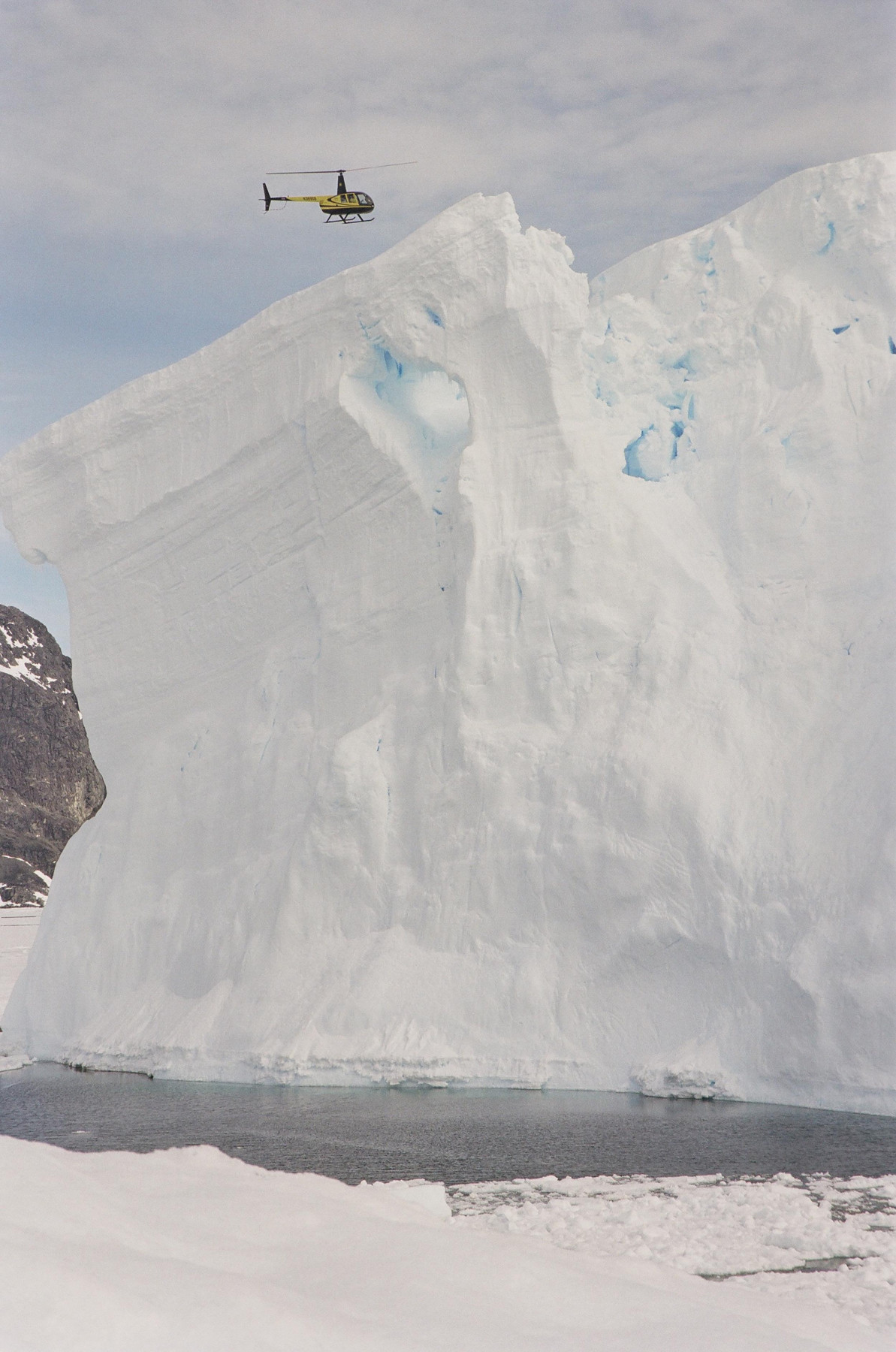 On reaching the North Pole, he celebrated the achievement in typical style, cracking open a bottle of champagne. "We sat there, on top of the world and philosophised for 24 hours – being there can do that to you," he says. "The sun stays at the same height no matter what the time of day."


Two dramatic escapes
Three months later, in January 2003, as both men were attempting to land in the South Pole, their helicopter developed engine problems and they were forced to ditch into the freezing Drake Passage, a dangerous stretch of water near Antarctica. Both men miraculously survived, drifting for nine hours in an inflatable raft until the Chilean navy picked them up after receiving a signal from his Breitling watch. Both men successfully reached the South Pole two years later.
His other escape happened in May 2017 when he was forced to land his helicopter into the sea off Norway when a loose fuel tank cover was sucked up into the helicopter's main rotor as he was attempting to land on a superyacht. He elected to land in the sea and was praised for his evasive actions, which saved the people on board the yacht and in the helicopter.
"Captain Q was credited by investigators with activating the helicopter's emergency flotation gear, which prevented the aircraft from sinking and allowed the rescue of the three men on board"
Captain Q balances his attraction for extreme adventure with being a family man. His wife Juliette, whose Gallic sophistication complements his endearingly English bombast, and their son and two daughters often join him in his helicopter.
"We've been on numerous journeys together," he says. "It's just like getting into a family car, but without the aggravation of the road. We've been up to Iceland and the Scottish Isles, flown out of Miami and around the Bahamas. They just see flying a helicopter as normal."
I wonder whether age – he is now 54 – has perhaps sated the spirit of adventure that has defined his life so far. It seems not. "I guess there are a couple of records that I still need to break at some point," he says with a glint in his eye, reclining in his chair as he fires up the blow torch and lights his cigar once again.