Dallas-based plastic surgeon Mark Deuber has memories of Badrutt's Palace Hotel from a young age. Born in Zürich in 1967, he moved from Switzerland to the US with his parents when he was just two years old. Every year, almost without fail, his parents would take the family back to spend magical summer vacations in the Swiss Alps.
"We stayed in a little hotel in Silvaplana a couple of lakes down from St. Moritz, but of course we knew about the Palace," Mark recalls. "My dad would take me up to St. Moritz sometimes. We would walk around and he would point and say: 'That's Badrutt's Palace, the famous hotel' and share stories about the legendary place."
Years later, when it came to annual holidays back in the country where he was born with his own children – Grey, 24, Lara, 21, and eight-year-old Zuri – he knew there was only one place he wanted them to stay: the Palace. And, over time, the Engadin establishment has become a special place for the Deuber family. So special that he celebrated his 20th visit to the hotel in the summer of 2021 with his wife Cary and their youngest daughter.
Traditionally Cary and Mark plan time away from their hectic schedule running the Lemmon Avenue Plastic Surgery & Laser Center in Dallas, booking an extended summer vacation to Switzerland every year. "We work hard and play hard so we were really excited to come this summer after having missed out during lockdown," says Mark.
The Deubers' business has grown from strength to strength, helped by the international exposure Cary, a registered nurse and aesthetics injector who works alongside her husband in their practice, received as a former star of the television reality series Real Housewives of Dallas.
Cary is also one of the US's top medical experts in her field and was invited by Gwyneth Paltrow to speak at an event about a particular cosmetic procedure. In addition, she was honoured with the Dallas Woman of The Year 2021 award by Mindful Business Woman for her work in empowering other women to excel.
She admits that the couple's success means she has less time for herself. "I aim to work four days a week as an aesthetics injector, but I have a lot of private celebrity clients who fly in from all over the world to see me and Mark, so whenever they are in town I am working," she explains. "It's a great place to be though. Our brand is huge and we are so busy growing the business every day. It's why holidays are really precious to us."
Given the well-travelled couple have spent time at some of the world's most exclusive residences in the Maldives, Mexico, New York and Europe, what is it about Badrutt's Palace that keeps them coming back?
The same reason Mark started coming to Switzerland in the first place: family. "When you walk through the door, it just feels like home," says Cary. "We know everyone there and the staff are amazing. It's like a big family.
"There are places in the hotel where you can relax if you have jet lag, you can dress up if you want a special night out and it is safe for our daughter Zuri to feel independent. Plus, the views are breathtaking. We all just love it."
Mark is in agreement. "Switzerland is full of these private family-owned hotels and the Palace is one of the best. We much prefer to stay in these places rather than the big brand resort hotels."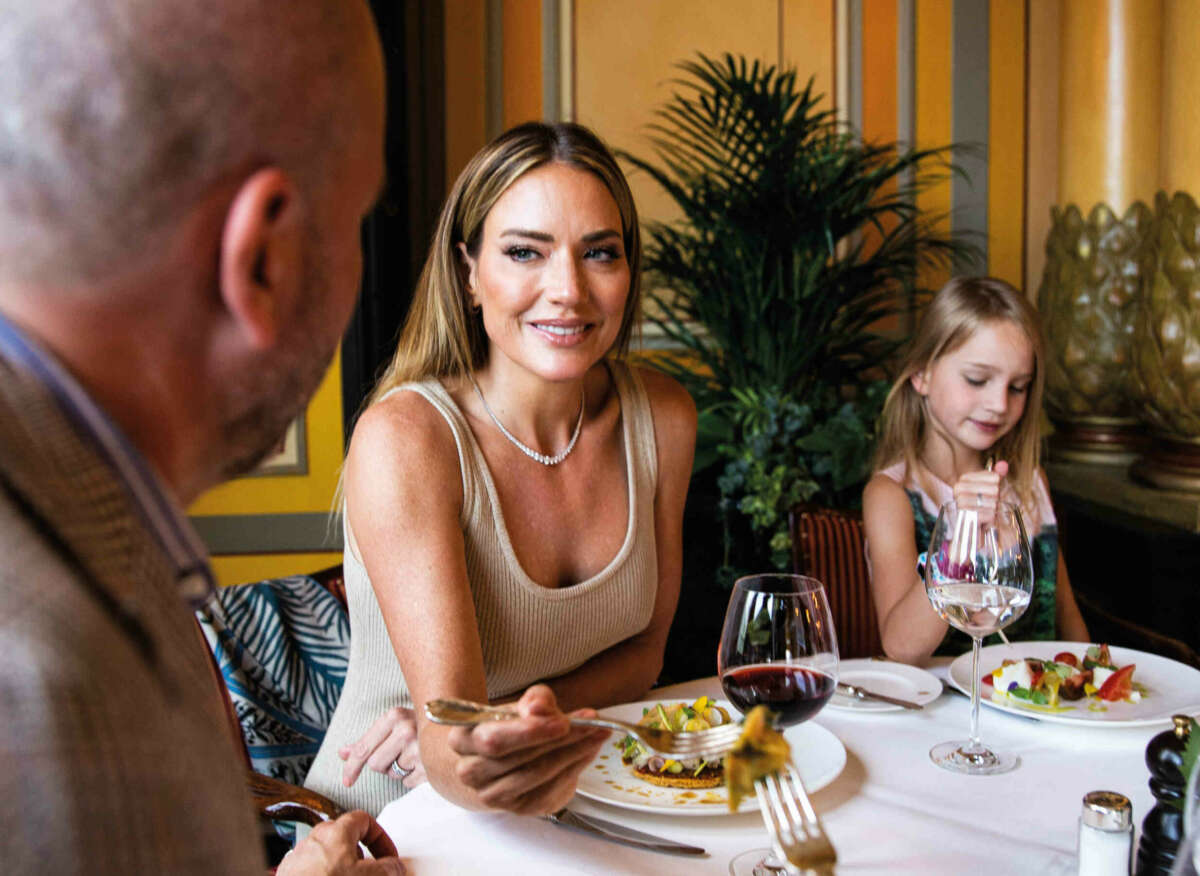 A family affair
Over the years, the Deubers have made sure the children have enjoyed every aspect of their holidays in the Engadin: from hopping aboard the hotel bus with their daughter to the local summer camp to spend time with some of her new-found holiday friends, to going on a hike together in the mountains before spending relaxed afternoons by the hotel pool.
"I remember the scenery and hiking in the mountains of the Engadin 40 years ago as a kid," recalls Mark. "Back then you could take the cable car up to Corvatsch and I swear even in the summertime there were still people carrying skis to go down a portion of the glacier. We go on many of the same hikes and I've added new ones to our repertoire, but we tend to do all of these as a family tradition."
Since his parents passed away 15 years ago, these treks have also become something of a spiritual occasion for him. "I went back and sprinkled their ashes by Corvatsch. We have a toast for them in the hotel bar whenever we go. It holds some very special memories."
Skiing in the St. Moritz area is a special draw for the family too, and they were grateful to have been able to jet in for their last trip in February 2020, just weeks before the pandemic restricted worldwide travel.
"We usually fly to Zurich and then get the train," says Cary. "It takes three and a half hours but it is very restful; there is beautiful scenery and it is the most reliable way to get to St. Moritz in the winter. Even the private jet service can be hit or miss at that time of year with the weather."
Cary had never skied in Europe until Mark introduced her to the slopes surrounding the hotel four years ago. "The experience is very different because you are way above the trees and the scenery is absolutely breathtaking," Mark says. But now, he doesn't see his wife for white dust. "She now likes to ski with a pro because she has outgrown me. I always try to hang with her but she's moved on," he laughs.
"The hotel makes it so easy," she says. "They take you to the ski room to get all of your gear; Zuri goes to ski school then I meet a pro skier there and they take me up the mountain to show me the routes. I love being outdoors in nature and particularly when I'm skiing really fast. The snow groomers on the slopes in St. Moritz are amazing. Then you return to the hotel and leave your skis and boots on the warmers, it's so nice. Also the food on the mountain is amazing," she adds excitedly. "Especially lunch at Paradiso. You can eat whatever you want because you have skied all day!"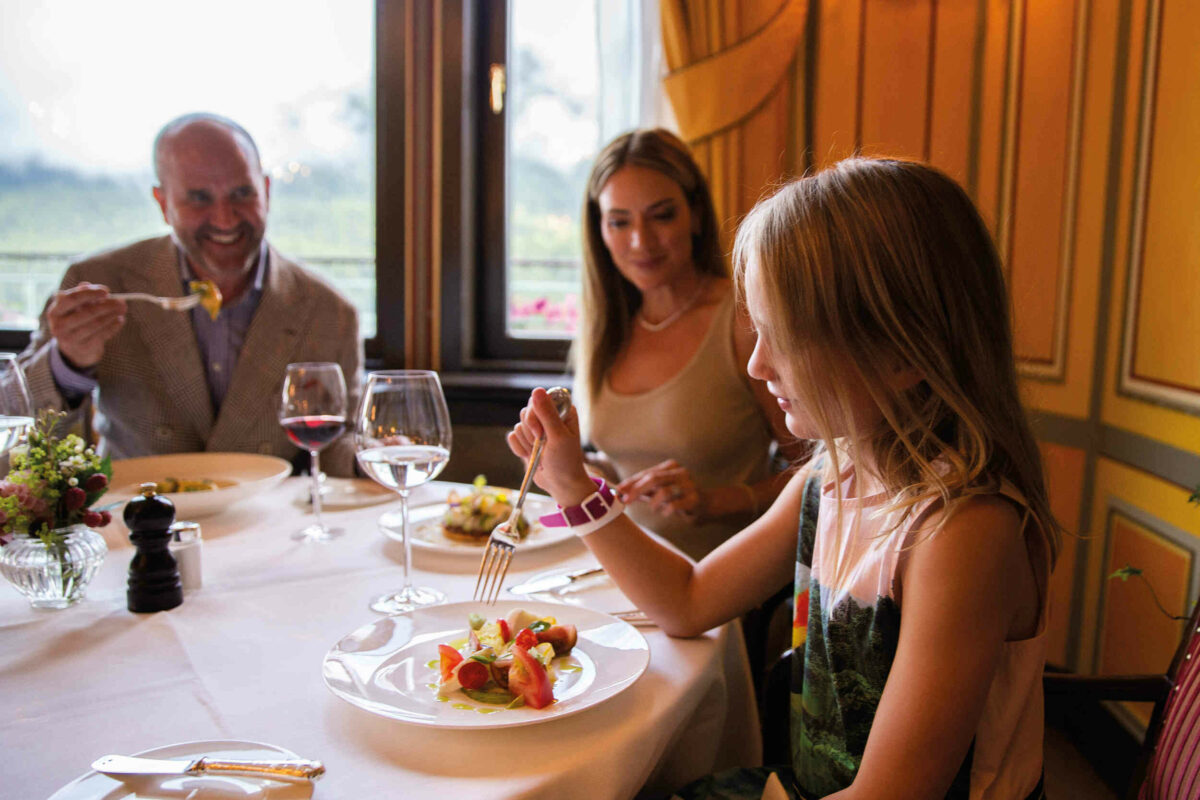 PASSION FOR FOOD
The extensive choice of cuisine at Badrutt's Palace, from Swiss classics to Michelin-starred international fare, has amateur chef Mark in foodie heaven. Back in Dallas, he indulges in his passion for fine cuisine by filming his own YouTube cookery show, Deuber Table, using a French custom-made Molteni range, usually reserved for top restaurants around the world, which he had installed in his high-tech kitchen. It is a form of stress relief from his day job, he says. "I do yoga, he cooks," smiles Cary.
A trip to the popular Pizzeria Heuboden at Chesa Veglia has become something of a St. Moritz family tradition. Lately they have also been frequenting Dal Mulin restaurant in town. And while Mark admits that he is not much of a club goer, he will make an exception and visit the King's Social House (formerly The King's Club, the oldest nightclub in the Swiss resort), run by the British Michelin-starred chef Jason Atherton.
"The food is fantastic at Badrutt's," Mark enthuses. "We will stay there for a couple of weeks and I never get tired because there are so many different choices. The summer is great, but the winter has even more gourmet options," he adds, referring to the 10 restaurants that open during winter.
They are already looking ahead to their next trip in March 2022 – their 21st at the resort. Despite being creatures of habit, the couple prefer not to stick with requesting the same room like some regular guests may do. Their most recent suite, the Beau Rivage, however, is high up on their list of favourites.
Cary is also a fan of the designer boutiques in the mountain resort. "The shopping is so good," says Cary, who frequently travelled to Paris and Copenhagen when she was a child with her father, an aerospace engineer. "They have Hermès, Chanel, all the labels you know, but they seem to have different collections to the ones you can find back in the States. So it was great that the Beau Rivage Suite had a big closet for me – I made the most of it for all my designer shopping!"
Mark is excited for a private tasting session in the wine cellar that the hotel's Managing Director Richard Leuenberger has promised to arrange for their next visit. "I can't wait for that," he says, rubbing his hands together with glee. "We have come to know some of the staff so well that we invited Richard and a couple of other members of the Badrutt's team to come and stay at our home in Dallas a couple of years ago and I cooked for them, which was wonderful."
"They come to our home and we go to theirs," smiles Cary. "It really is so special – just like a big family."