Head Concierge Giuseppe Pesenti has worked at the Palace for more than 20 years and he knows St. Moritz better than most – except, of course, his own team members, from whom he demands extensive local knowledge and experience. "Our concierges all have at least 15 years of experience at Badrutt's Palace and know our guests personally, which makes them feel at home," says Pesenti.
One person familiar with Pesenti's exacting requirements is fellow concierge Augusto Raimondi. He joined the team 18 years ago after a personal invite from the Head Concierge. "I like the fact that I have become a trustworthy person who any guest can approach to ask for a recommendation," explains Raimondi. "I also enjoy wearing my uniform – it is very smart and representative of an old-world charm that still exists at the Palace."
The two men both come from Bellagio, near Lake Como, in Italy. Pesenti attended hotel school and began his career at Villa d'Este, where he learnt the most important rule of being a successful concierge: "Anticipate the guest's wishes. This is only possible if you know your guests well."
Raimondi adds his own list of attributes needed for the role: "Kindness, culture, intelligence, a good memory, patience, listening skills, style, charm, a sincere and authentic smile… shall I continue?" he says, exhibiting that very smile.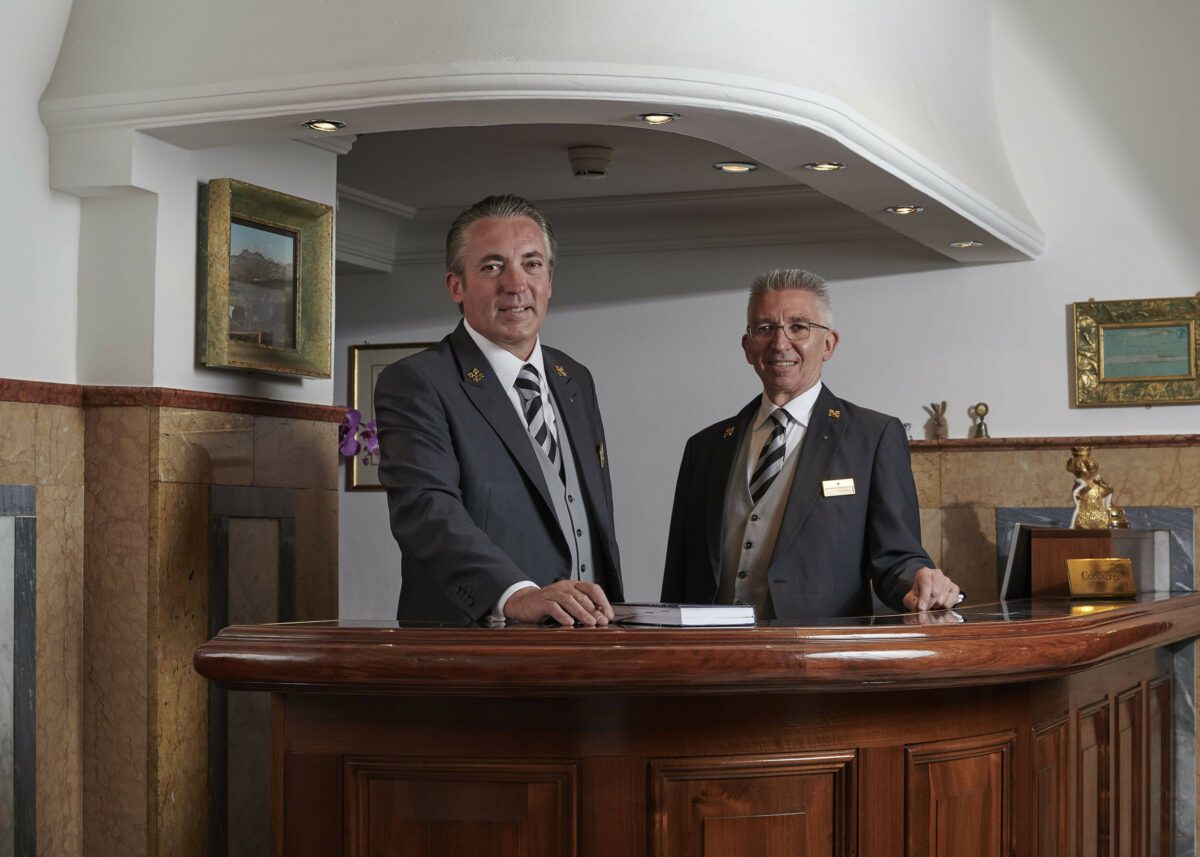 The concierges are the main link between the hotel and the guests, and are available 24 hours a day. The team speak four languages between them and are always happy to go the extra mile to help. As Raimondi explains: "The history of the hotel is one of meeting high expectations, always. Our guests keep this tradition alive and our services never fail to exceed requirements."
So, what would they recommend to do in St. Moritz to one of their guests? "In winter, start the day with an adrenaline shock on the legendary St. Moritz-Celerina Olympic Bobrun," advises Pesenti. "Enjoy a heliski downhill and stop for lunch at Paradiso Mountain Club & Restaurant and let our team treat you to some delicious cuisine. After skiing, browse the shops at Palace Galerie in the afternoon, before having dinner in one of the restaurants at the Palace. Finish the day on the dance floor of the King's Social House!"
Although every request is special to the concierge team, occasionally they are part of a truly life-changing moment for a guest. "One guest wanted us to arrange a horse and carriage for a romantic ride under the moonlight to surprise their partner with a wedding proposal in the middle of the forest," recalls Pesenti. "Once they arrived in the forest, we arranged for a violinist to magically appear alongside a waiter to serve them champagne."
No request is too big or too small. So whatever you need during your stay at the hotel, make sure your first port of call is the concierge team.