Every aspect of a hotel guest's stay is touched by housekeeping. If it does not meet the highest quality, it can change the guest's entire perception – a single hair in the sink or a mark on the pillow can compromise an otherwise perfect stay.
It is why Veronika Schmidt has one of the most important jobs at Badrutt's Palace, leading a team of nearly 50 people who are responsible for meeting the exacting standards of cleanliness and service that have been upheld at the Palace for more than 125 years.
As Executive Housekeeper, Schmidt and her team of supervisors, room attendants and porters devote themselves every day to creating a comfortable and welcoming environment for their guests. "Our role is not simply to clean rooms," adds Schmidt, who is originally from Landshut in Bavaria and joined the hotel in 2019. "We are encouraged to get to know and care for our guests' needs and preferences." She describes her job as "extraordinary", adding: "Working in an environment that is so rich in history, tradition and luxury is a very unique and special responsibility."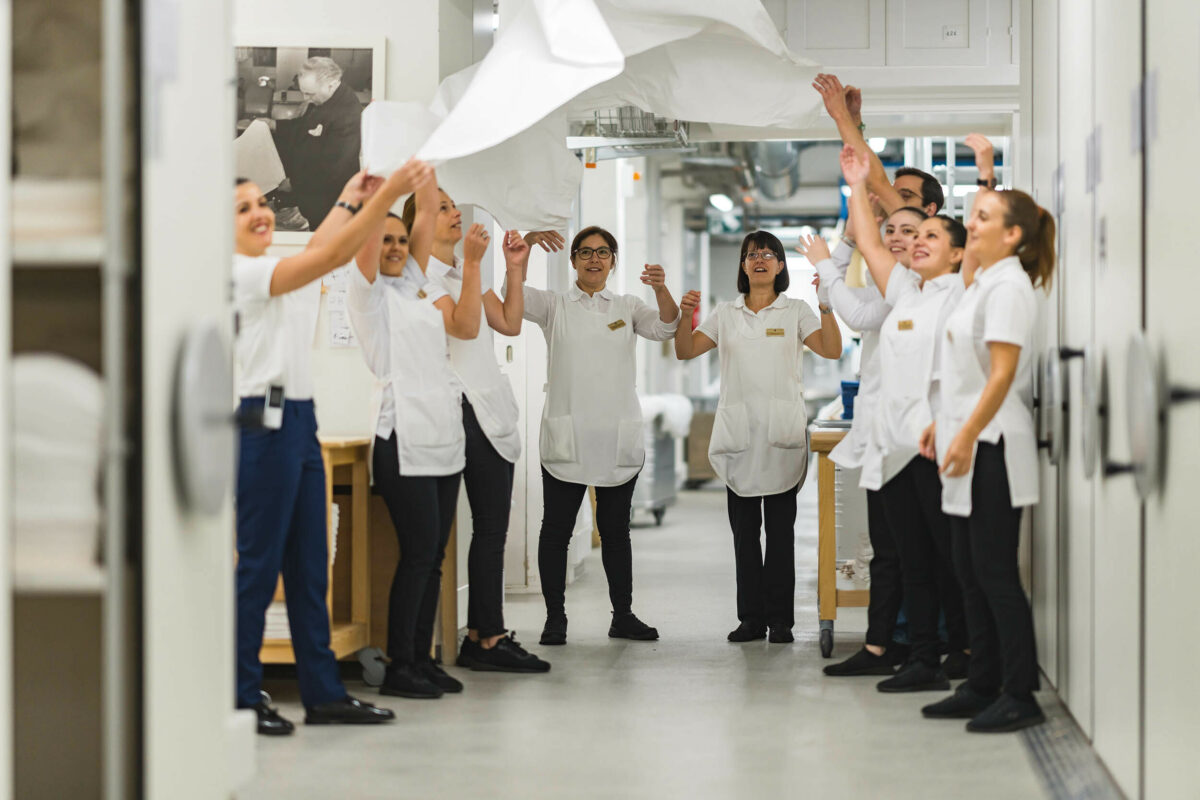 Working alongside Schmidt is Liliana Pinto. Born and brought up in Portugal, she joined the Palace in 2008 as a chambermaid before being promoted to housekeeping supervisor. In recent years, she has been leading the hotel's laundry team of 23 staff. Her dedicated group of ironers, washers and laundry attendants are responsible for washing, pressing and drying everything from linens, towels and tablecloths, to guest clothing. "No two days are the same working in laundry," she says. "But on busy days we typically wash 3,000 kilos of linen and 160 kilos of guest laundry, and we iron 200 kilos of guest laundry."
Pinto always takes time to ensure her staff are happy and in good spirits when they are at work. "I believe that hospitality starts with a passionate leadership," she explains. "I think ensuring my team are both content and cared for ultimately reflects in the excellent service that our guests receive."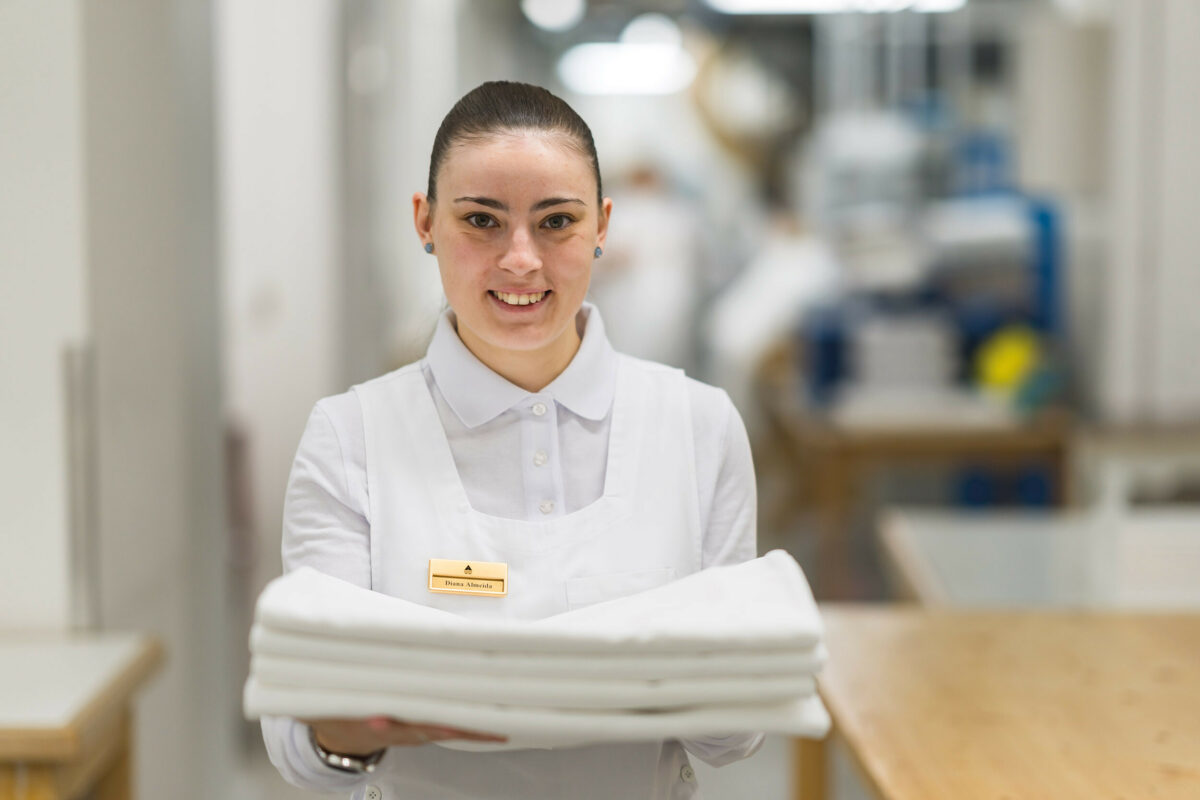 What is it that makes the guest experience at the Palace so unique? "We combine tradition with modern housekeeping and laundry procedures," says Schmidt. "All the linen from our restaurants, rooms and spa is washed and inspected meticulously. Our guests' laundry and ironing are done by our attendants with great care and supervision to guarantee perfection. We are very proud of what we do."
The on-demand laundry service for guests is an important part of the guest experience at the Palace. Pinto acknowledges that guests entrust their beloved, valuable clothing to a stranger, which is why her work colleagues care for each item as if it were their own. It is this attention to detail that permeates everything the team does, and it follows a long tradition that has been upheld since the hotel opened its doors in 1896. "We are very proud to still have so much original furniture and fabrics in the Palace, which we treat with the utmost love and care," explains Schmidt. "We know it is up to us to keep them in the best condition so they can continue to be admired for generations to come." It is a pride shared by Pinto, who recently received an award from the Hotel & Gastro Union for exceptional service. "It is an absolute honour to not only be recognised, but to set an example to our younger staff members," she says.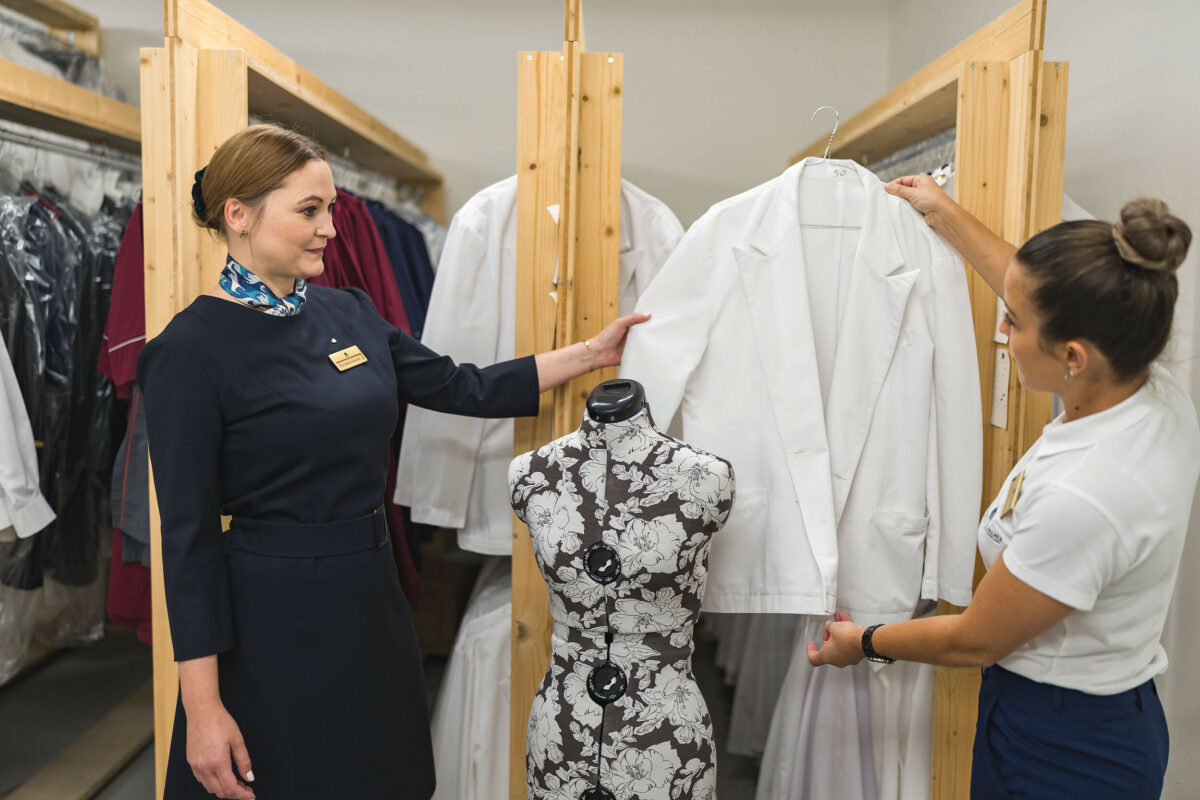 Passion and dedication
Life working in such a legendary hotel is sure to have special moments. "I remember having one particular guest who requested we move his mother's furniture into his suite. He wanted to be able to sit at his childhood kitchen table," recalls Schmidt. Pinto, on the other hand, was thrilled when she had the opportunity "to iron the shirt of my favourite celebrity".
Both Schmidt and Pinto agree that there can be few more beautiful places to live and work than St. Moritz. "I love being around nature, and we are so lucky to live in an area surrounded by some of the most stunning
scenery in the world, so when I'm not working I always try to get out and about and make the most of it," says Schmidt. Pinto also likes living in St. Moritz: "I love being active and enjoy the vibrant music scene in town. I'm grateful to have the opportunity to enjoy my free time in a place where there is so much happening."
Back at the Palace, the women get down to business. Housekeeping is not just a job; it involves a passion and dedication to make the best impression in everything you do for your guests. Pinto and Schmidt hope that their attitude shows just how much they care.